They say that one man's junk is another man's treasure. This is the golden rule of decluttering! If you are planning on tidying up soon, you may wonder how to get rid of unwanted stuff after decluttering. Don't assume the only option is to throw everything away. There are many options that will put less burden on our planet. They can also ease any guilt you may have associated with decluttering.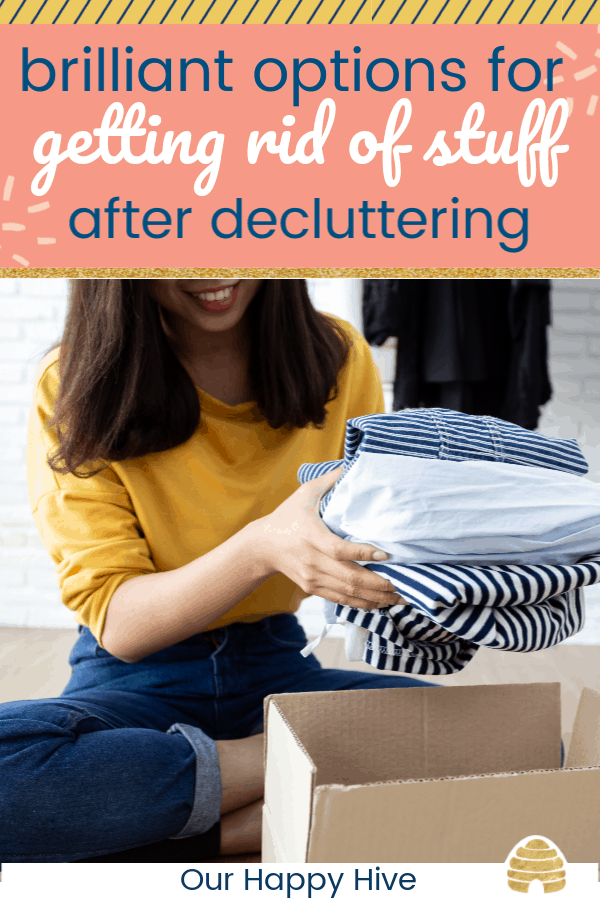 Let's explore a few options
1) Find a Family or Friend
Growing up, we had a lady, Georgia, that came to our house every Friday to help my mom with cleaning. She was like family to us. While she was only at our house for a few hours every week, she was with us from the time I was in second grade until long after I graduated from university. She and her daughter came to both of my brother and my weddings. You get the picture, there was a lot of love.
Georgia knew a lot of people in her community that had really practical needs. As my brother and I outgrew clothes, I watched my mom sort through them and create piles for Georgia to go through. She was welcome to take anything she wanted for herself, her family, or other people she knew. I loved that my mom modeled this generosity to me and it's something I practice today.
With my kid's clothes, I have a list of several families that have younger kids than mine. Every time they outgrow their clothes, I distribute most of the clothes to these families. My kids grow really fast so we always have a ton of clothes.
2) Donate To Non-Profit Organizations
Maybe you prefer to go a less personal route. Another option is to donate things to non-profit organizations. A few years ago, I was on the Board of the Cerebral Palsy Association in our area. They had donation bins set up around the city. You might see bins like this in grocery store parking lots, your community center, etc.
They would collect donations, preferably clothes, and then they sold them to thrift stores. The thrift stores pay a per pound price for the clothing and resell them in their stores. It ended up as a win-win-win. The non-profit would win because they earned money they could use for their services. The thrift stores won because they would earn money they could use for their services. Lastly, consumers that are on a tight budget would win because they could buy clothing at a fraction of the price.
Some non-profit organizations will even pick up your items. This is particularly helpful if you have a lot of clothing or bulkier items.
Other non-profit organizations actually need your gently used items to help their clients e.g. places like women's shelters, crisis pregnancy centers, and the Goodwill. You just want to confirm with them the list of items they are willing to take.
Here's a list of items many locations will typically accept. I encourage you though to check with the nonprofit where you plan on donating.
Acceptable Items
Baby and children's clothes and toys
Women's clothes, shoes, and accessories
Men's clothes, suits and shoes
Jewelry and collectibles
Soft goods like bedding, towels and area rugs
Drapes
Furniture
Housewares and home décor
Sporting equipment
Quality Check
Make sure your donations are of good quality. This typically means that they are
Gently used
In good working condition
Free of stains, rips, pet hair and other damage
Not missing any parts or components
It's also helpful to know what organizations generally will not accept. Again, confirm with your particular organization. Many non-profits have lists available on their website.
Unacceptable Items (at many places)
Upholstered furniture
Baby equipment – cribs, bassinets, swings, car seats, playpens, and safety gates.
Console or tube TVs
Mattresses, bed frames, pillows
Window blinds
Gas or propane powered equipment
Firearms and ammunition
Car parts
Chemicals
Pianos
Used helmets (ski, hockey, or bicycle)
Donate to Other Organizations
Another type of organization that will accept donations is a school, church, or library. They are willing to take gently used toys or books. If you have unopened packages of food, you could take them to a food bank as well.
3) Make Money by Selling Your Unwanted Stuff
The next option to consider is to resell your things. Isn't that great! You can make money by decluttering! I highly recommend this with kids gear. They require so much stuff when they are little and it can be very expensive. Reselling is a way you can recoup some of your money. Also, in some cases, there are items that nonprofits can't accept but that you can sell. We recently sold a car seat my daughter had outgrown and a mattress we no longer needed.
You can resell on Facebook, apps like Varage Sale, Craig's List or Kijiji. Make sure to check the regulations in your area. I live in Canada so it may be different where you live.
4) Recycle Unwanted Items
There are many household goods that you can recycle. Consider the following:
Junk mail and cards
Books
CD and DVD cases
Cardboard
Household batteries
Old TVs (take these to places like Best Buy)
Power cords
Textile Recycling
Some cities will also accept clothing and textiles for free textile recycling. Here's a list that our city accepts.
Clothing
Outerwear (e.g. coats and jackets)
Shoes and footwear (sandals, sneakers, runners, dress shoes, heels)
Purses, backpacks, suitcases and luggage, wallets, and belts
Household linens (e.g. bedding, towels, curtains, pillows, tea towels, duvets, and blankets)
Reusable shopping bags (e.g. cloth grocery store bags, Lululemon bags)
Underwear, bras, and hosiery
Accessories like hats, mittens, and scarves
Cleaning cloths, rags, and scrap fabric
5) Thow Away Unwanted Items that are Classified as Garbage
Last but not least, there are some things you just need to throw away as garbage. Unusable cookware or housewares fall into this list. Things like:
Dishes, plates, and serving platters
Lamps and lampshades
Knives
Clocks
Window blinds
Umbrellas
Air mattresses
Picture frames
Garden hoses and snow shovels
Sewing machines
Typewriters
There are so many options to do with your stuff after you declutter. If you're struggling with guilt, consider donating the items to a friend or organization. If the items are no longer viable, consider recycling or throwing them away.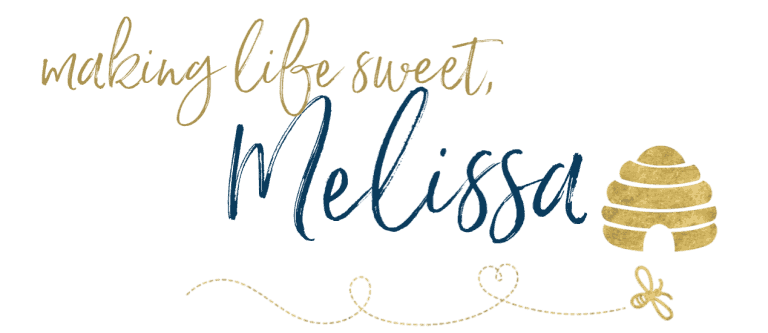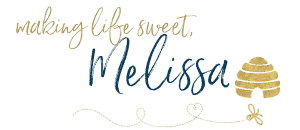 Free-Bee Resource Library
Enter my
Free-Bee Resource Library
for my latest downloadable files and printables! Password is 'honey' -- please copy and paste that in at the link above. Thanks for being a subscriber!!