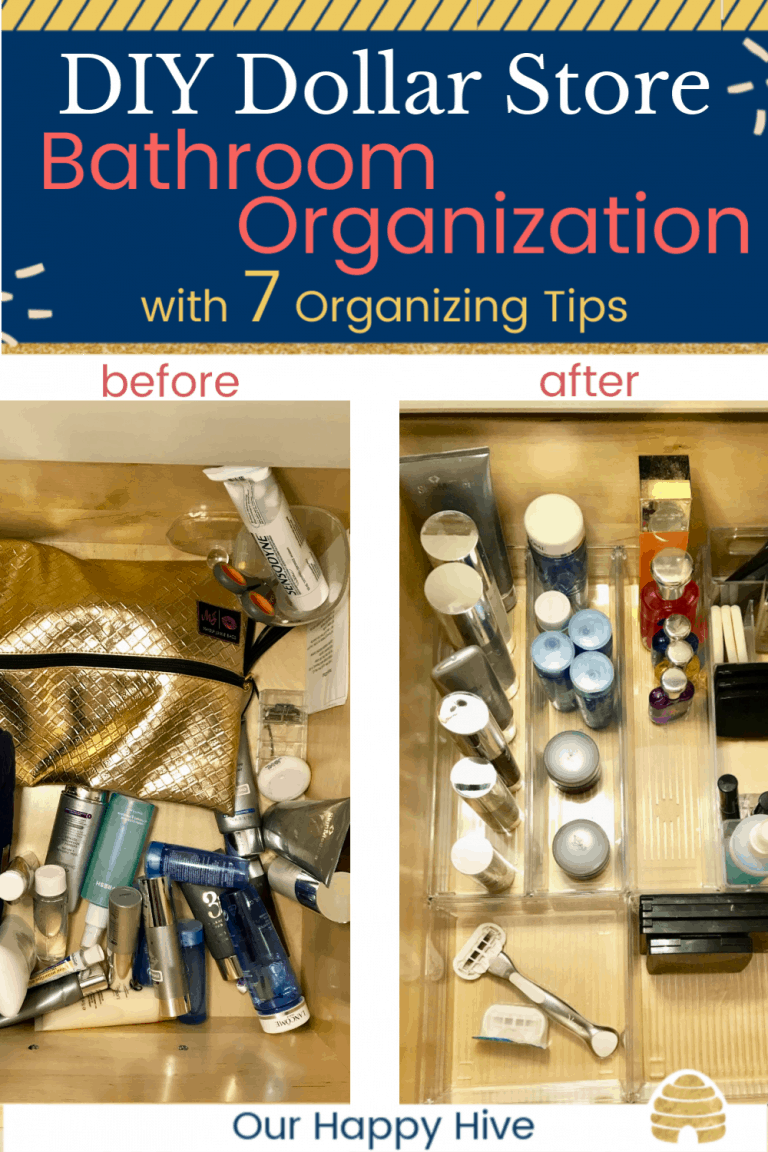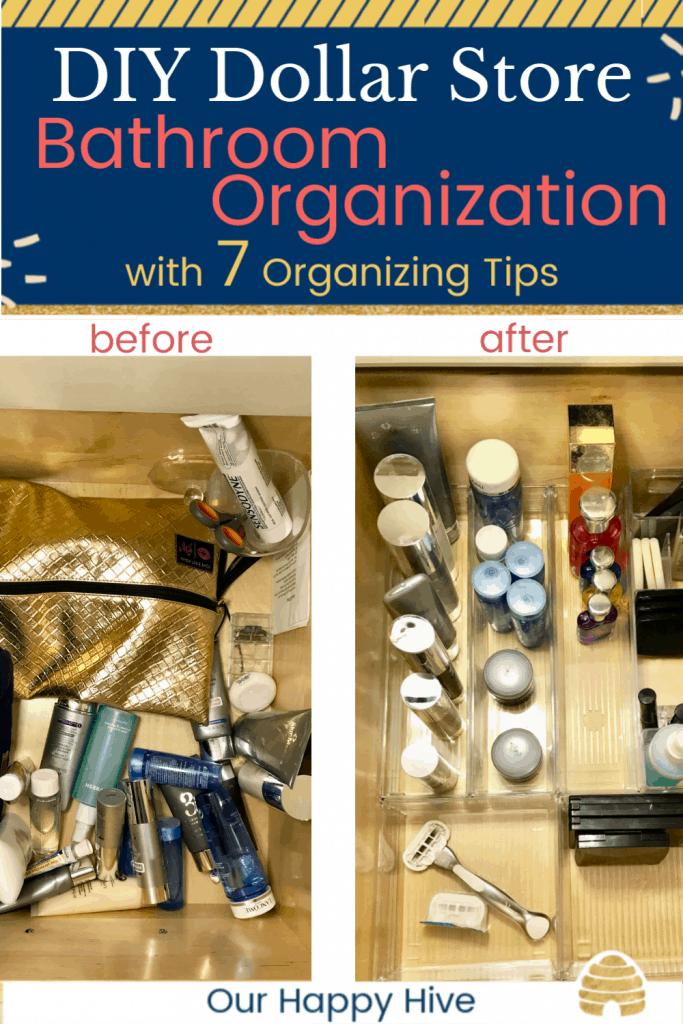 The Dollar Store is a fantastic place to go if you're looking for inexpensive storage solutions for your bathroom. We've been in our house for several years now. It's the same model as one of the show homes we toured with a few changes. Perhaps I was enamored with the décor or maybe it was the excitement of buying a new house, but now that we've lived here for a while, there are definitely things I would change. Take our bathroom storage situation, it is practically non-existent. So, I turned to the Dollar Store for some fresh ideas and inexpensive bathroom organization solutions!
This post may contain affiliate links. For more information, please read my Affiliates Disclosure.
Prepare in Advance
Assess Your Space
Take a look at your space. Do you have drawers? A cabinet with a door? Or A medicine cabinet? Do you have a lot of counter space or a little counter space? In our case, we each have 2 deep drawers and a cabinet with a drawer. There is very little counter space, so my best bet at getting organized it to store almost everything in the drawers.
Commit to Providing A Home For Everything
Remember the cardinal rule of organizing "Everything must have a home or it becomes clutter." If you don't have a home for something…toothpaste, tweezers, your hairdryer, etc. it will usually end up on top of the counter every-single-day.
Consider Volume, Variety, and Shape
With the cardinal rule in mind, consider the types of things you want to store. What shape are they? Are they tall bottles, small rectangular compact cases of make-up, odd shape bottles like perfume, or bulky things like a hair dryer? Do you have a lot of a specific item or just odds and ends?
Dollar Store Storage Solutions
Now it's time to shop. I really love the Dollar Store and I kick myself for not consistently checking it out first. Not too long ago I did a post on organizing your refrigerator and I bought all of the acrylic containers at a different store for three times the price than I saw at the dollar store (sigh). So, rule #2, always check the Dollar Store first.
I was very happy with the storage solutions I found on this trip. They had traditional acrylic square and rectangular containers, but then I also found some products I was able to repurpose for my organizing needs. For example, I found an acrylic toothbrush and toothpaste holder. It was also perfect for holding make-up brushes and other tubes. I also found a pink plastic magazine holder which I used to store my curling irons.
The Organization Process
Any time I'm organizing a space, I always go through the same basic organization process.
Step 1) Remove all of the items including make-up, perfumes, lotions, curling irons, hair brushes, etc.
Step 2) Clean the emptied drawer with a wet cloth or paper towel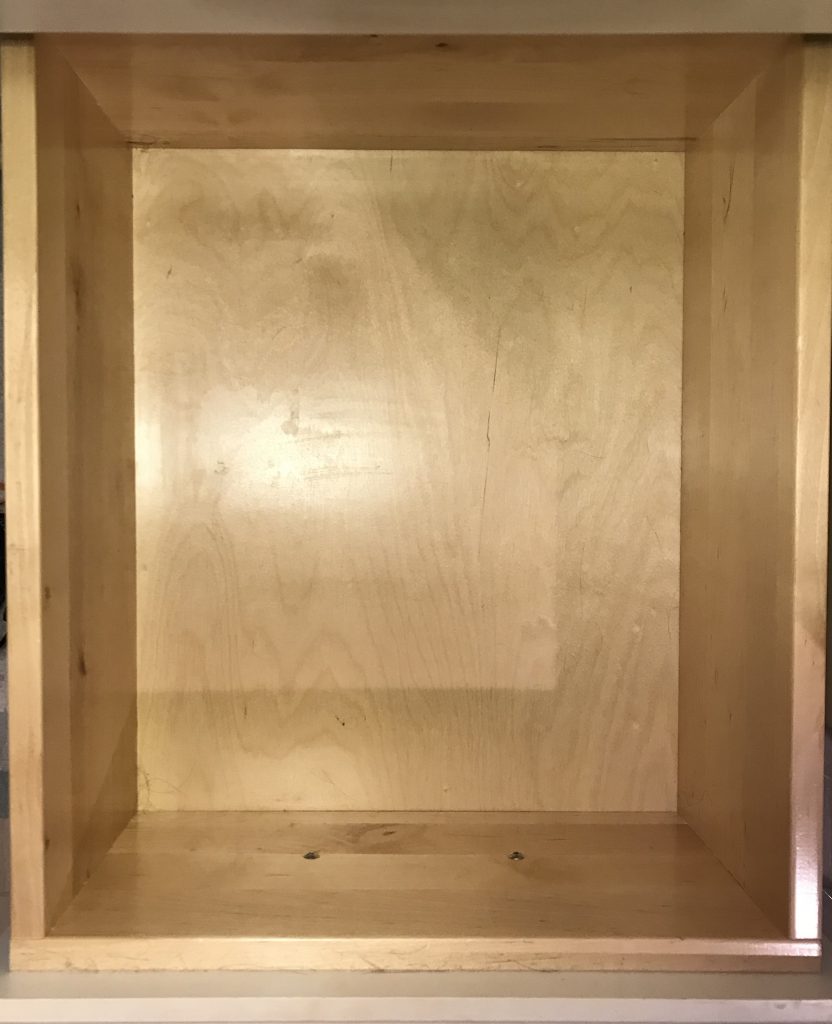 Step 3) Group all of the items into categories so that you can figure out the number of storage bins that will meet your needs
Step 4) Determine the arrangement of the storage containers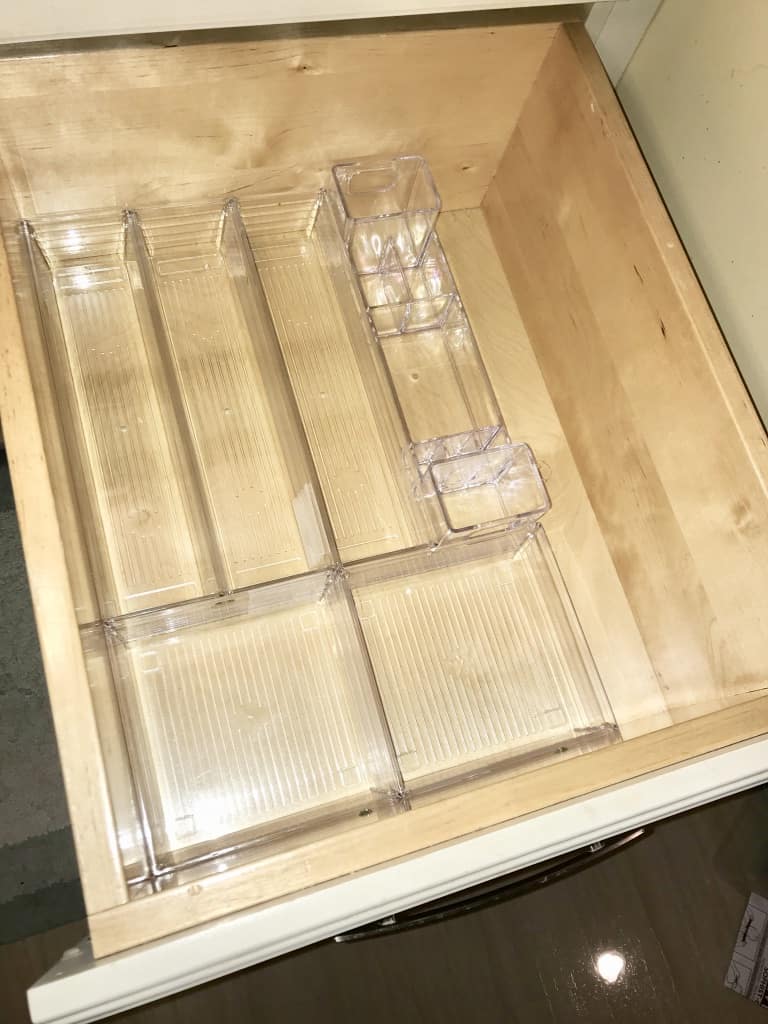 Step 5) Place and organize the items within the storage containers
Dollar Store Bathroom Organization Tips
That's a pretty straight forward process…no curve balls and it doesn't take rocket science. With that said, there are a few tips that can make your organization efforts yield the best results
1) Buy a variety of shapes and sizes
For your DIY Dollar Store bathroom organization, buy a wide variety of shapes and sizes of containers. You may want small squares or long rectangles. You may need 4 of the same shape to go from left to right in your drawer. High walls may be important if you have a lot of tall bottles.
If you're purchasing from the Dollar Store, you probably won't know the exact products they have in store until you go for a visit. If you have extra time you could take measurements at home and at the dollar store and come with a well-prepared plan OR if you're limited on time you could just buy a wide variety to try out. (tell me I'm not the only one that has to be efficient with my time)
Here's the kicker, some dollar stores do not accept returns or make exchanges, so you should check and then buy within reason.
2) Think Tetris
Did you ever play the game of Tetris? Blocks of different dimensions float down from the top of the screen and your goal is to fill in the bottom row of solid blocks before it disappears. In order to do so, you have to rotate the blocks as they come down the screen until you get the perfect combination.
I find the process of creating the perfect arrangement of storage containers within a confined space (a drawer) to be reminiscent of Tetris. I probably went through 3-4 different arrangements before I found the one that worked best.
3) Arrange Containers According to Size
Put any long rectangular boxes toward the back of the drawers and the smaller boxes in the front of the drawer. The same goes for the height of the boxes. Put the taller walled boxes toward the back of the drawer or cabinet and the shorter walled boxes near the front of the drawer or cabinet.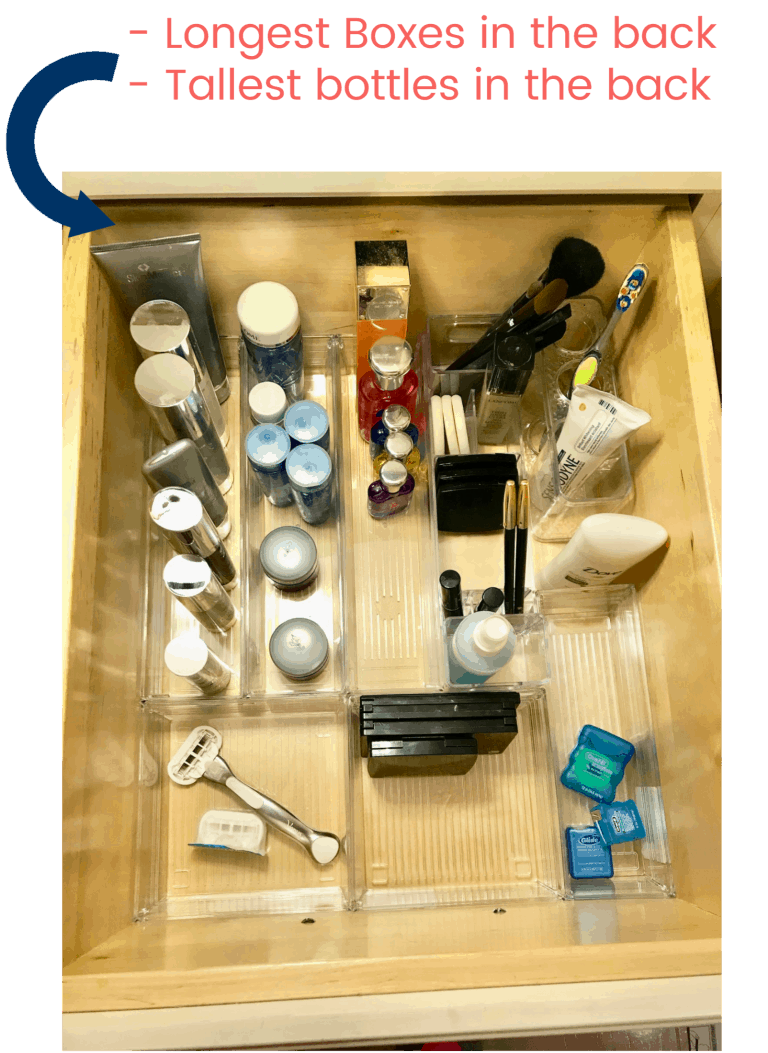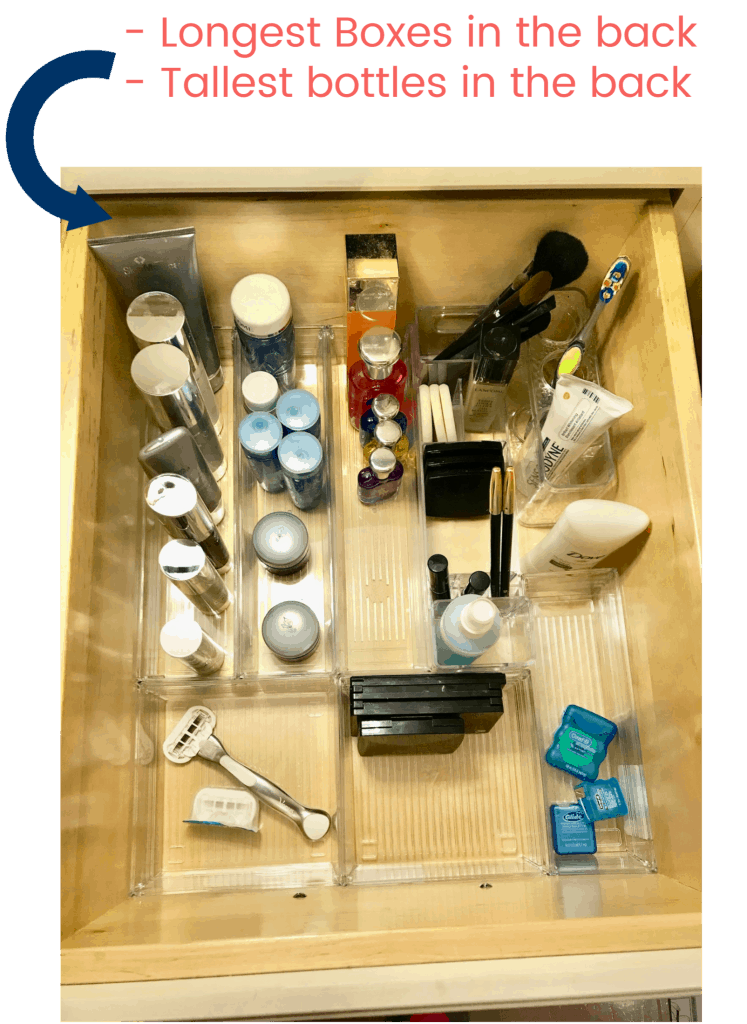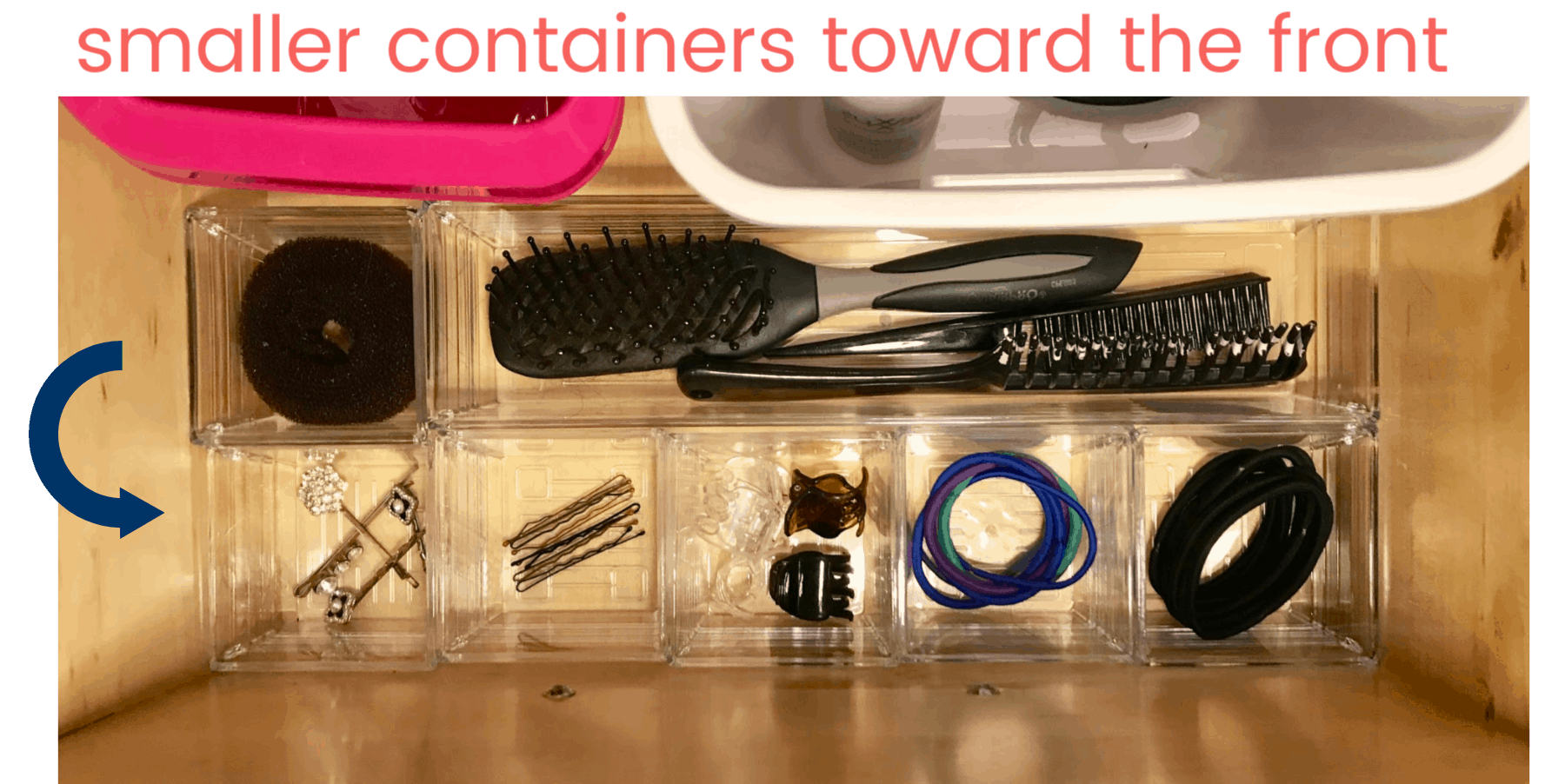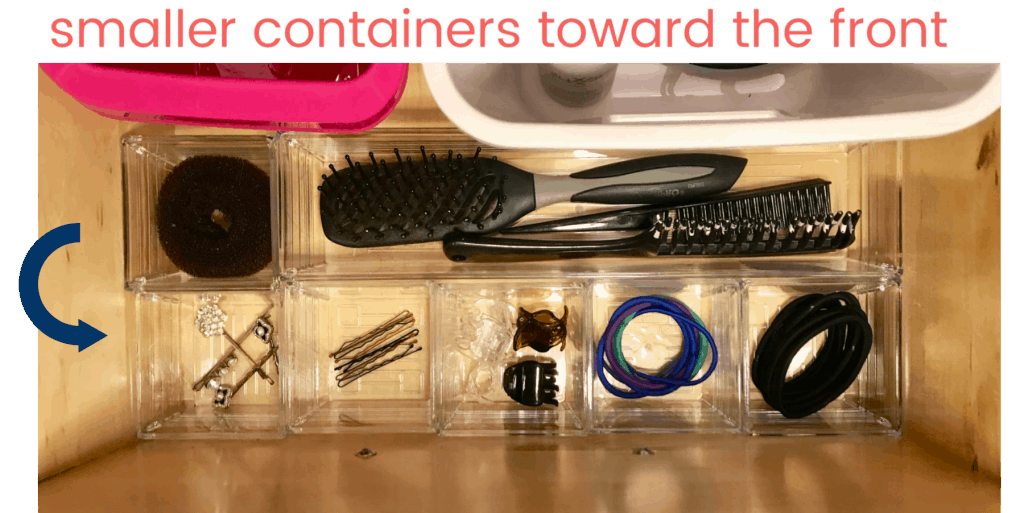 4) Define Empty Spaces
Even though we want to have the perfect arrangement of our Tetris squares, some of the time there will be an empty space that can't fit a box. That is totally okay. In these instances, the space becomes defined by the bathroom storage containers around it. I had this happen in my make-up / toiletry drawer and found the spot to be the perfect location for my deodorant!
5) Organize Make-up and Toiletries According To Size
Similar to the way we arrange our storage containers, the products we place in those containers should also be arranged by height and size. Taller bottles in the back…bulkier items e.g. curling iron in the back. Small items…rubber bands, bobby pins, dental floss, or make-up compacts in the front.
6) Go Vertical
Where possible, use your vertical space. Bottles line up one next to the other. Make-up compacts line up like a paper file going from back to front. You can do this also with make-up sponges, perfume bottles, lotions, dental floss, etc. By taking advantage of the vertical space, you can fit more products in the drawer, but it also enables you to see everything at a glance! Thank you, Marie Kondo, for the tip!
7) Do the Push Test
If you are organizing a tall bathroom drawer like mine, you'll want to do the push test. Push the drawer closed and see if your bottles stay upright or if they fall. They could fall if you have too big of a container and too few items or if you have a low walled container filled with tall items. If they fall, consider combining the contents of a couple of containers, swapping out the container for a taller one, or buying more things to fill the container with. Joking!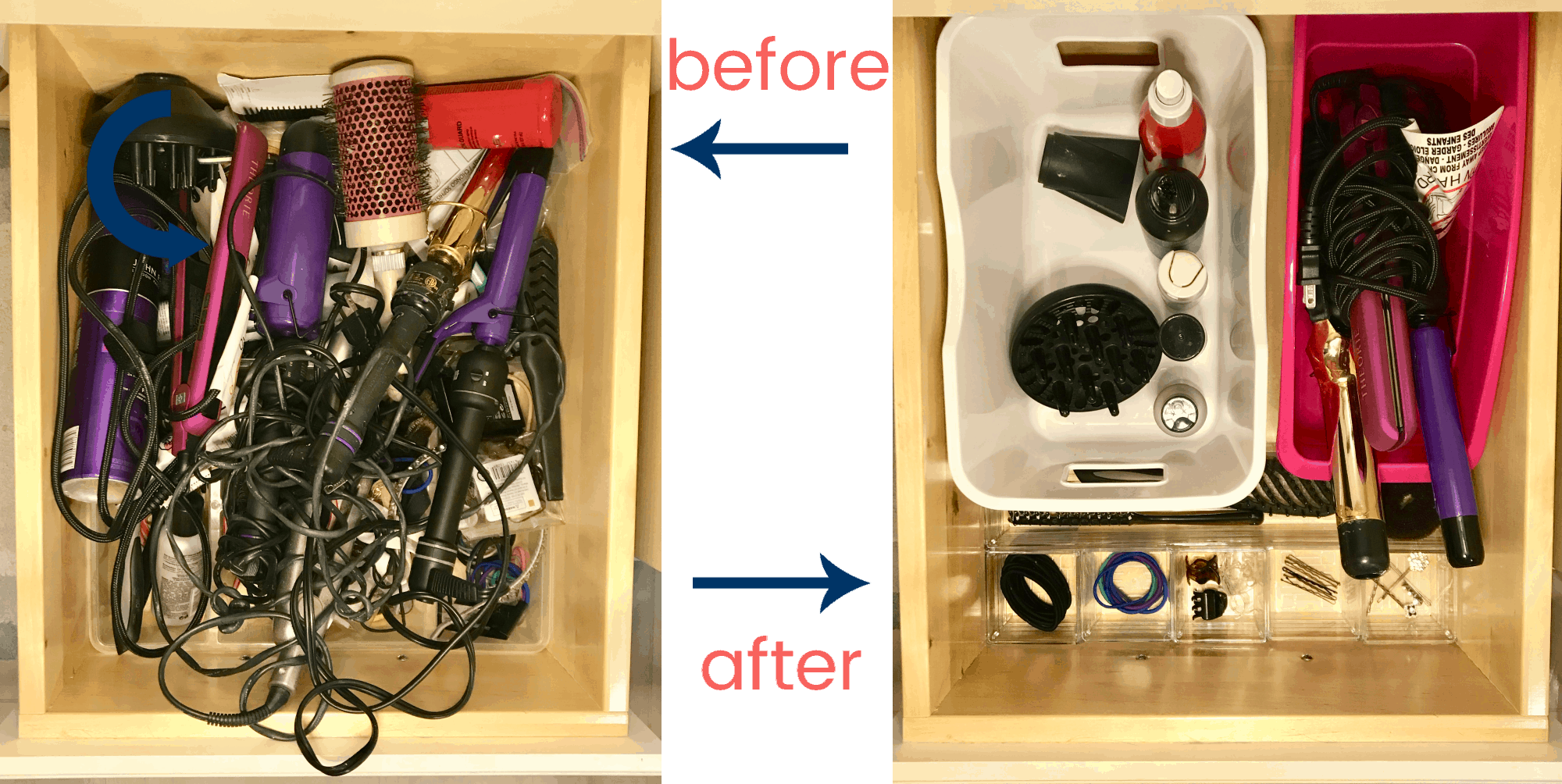 By purchasing the organizers from the dollar store, each drawer cost less than $10 to outfit. I am so happy with the outcome. Everything has a home, it's easy to see my cosmetics at a glance, and now there are fewer things on my limited counter space!
If you're looking to organize your bathroom, consider purchasing your items from the dollar store. Use the basic organization process described above, make sure everything has a home, and implement the 7 tips to make the most of your bathroom space!

Check Out These Posts For More Home Organization Tips:
Free-Bee Resource Library
Enter my
Free-Bee Resource Library
for my latest downloadable files and printables! Password is 'honey' -- please copy and paste that in at the link above. Thanks for being a subscriber!!