Inside: Stop kitchen clutter with these practical decluttering steps and kitchen countertop storage solutions.
Usually, around 7 p.m. my husband and I are struggling to not raise our voices as we deal with the kid's bedtime drama. But one night a month, I have a reprieve, G.N.O. (Girl's Night Out) also known as "book club." It's a much-needed break from the ordinary.
My neighborhood friends and I relax with a cool glass of fresh, crisp, citrusy white wine. We talk over warm appetizers and sugary desserts. Laughter fills the room as we share stories of our kids' latest antics and other life musings.
This night, book club would be at my house. And it was time for me to unleash the cleaning tornado. Time to sanitize, dust, and declutter so that the home is welcome to visitors once again.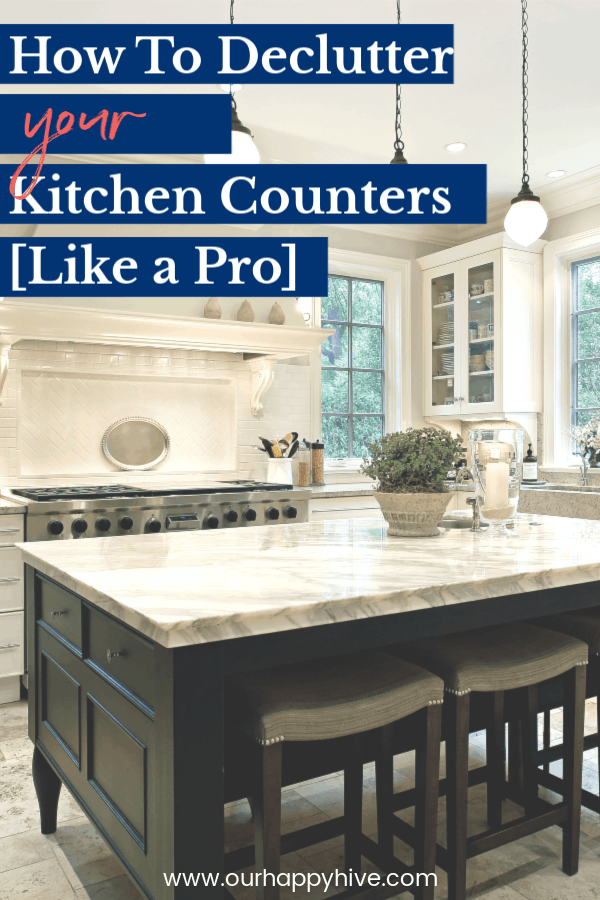 Kitchen Counter Clutter Battles
The kitchen counter is where you likely fight daily battles with clutter. It's the landing spot for so many things…mail, homework, rubber bands, and hairbrushes. And those are only the things that shouldn't be there. You've still got dirty dishes, the sticky cutting board leftover from cutting fruit at breakfast, and crumbs from the last kid that cut her muffin before eating it.
This is one clutter challenge I wrestle with on a daily basis. Because we constantly struggle with it, I have figured out some tips that can help all of us.
Dealing with Kitchen Countertop Clutter
First and foremost, you need to understand why you have a clutter problem, to begin with. Here are three reasons you should consider.
Homeless – Something doesn't have a home or designated place so it floats around and often ends up on the counter.
Poor Routine – Family members are not practicing daily routines and habits to keep the counter clear.
Lack of process – You don't have a process in place for managing the new things that come into your home e.g homework, mail, or the latest toy from the kids' happy meal.
Do it now:
Take a look around. What clutter is on your counter? Is it reoccurring clutter, meaning, it usually reappears every week.
Consider why it's on the counter. Is it there because it's homeless, family members are not putting it in the right place, or you don't have a process in place?
Write down the trouble spots and the reason for the clutter.
Professional Tips for Decluttering Kitchen Counters
Before starting any decluttering or organizing process, it's always helpful to know what the pros say. If you were going to hire an organizer, they would give you a few guiding principles to help you get organized.
Give it A Home – Make sure everything has a home or it will continue to float around and end up as clutter. If the electrical tape keeps ending up on the counter and you move it around from week to week. You need to pause and think, where is the best place for this item and put it there.
Behind closed doors – Spaces look clutter-free when things are neatly put away out of sight. Consider your cabinet and pantry space. What things can you take off of your counter and move to a hidden location? Things like a toaster, blender, or cookbooks often fall in this category.
Use Attractive Storage Containers – There are some things you'll want out on the counter, like a bowl of fruit. Instead of just placing the bananas or tomatoes directly on the counter. Find a pretty bowl, potentially one that you already have, and use it to store your fruit. The same can work for mail, sugar for coffee, or utensils. Instead of a bowl, you may use a basket, canister, or bin.
Implement the One In – One Out rule – As you bring new appliances, dishes, or serving ware into your home, make sure to remove something from the space. This will help you to maintain your space and prevent future overcrowding.
Go Vertical – Make use of every vertical space. For example, we put cutting boards vertically filed above our microwave in a space where practically nothing else could work. Vertical space works well for spices, racks, and shelves.

Kitchen Countertop Storage Solutions
Now that you have a few tips from the professionals, let's get to the nitty-gritty. These are really practical steps you can do today. Refer to the list you made earlier with the type of clutter that's on your counter.
Paper Clutter DIY Solutions
If you find receipts, recipes, and mail often end up on your kitchen counter, then you need a paper clutter solution.
Create an incoming mail bin. Find an attractive basket or box, to put mail in when your first bring it in. Give yourself a timeline to go through the mail and sort it. A best practice is to do it immediately when you bring it into the house.
Get a folder or a plastic pouch for receipts if you save them for tax purposes or in case of returns. Otherwise, recycle!
Establish a command station if you have space. My daughter brings home a ton of schoolwork every day. The sparkly glitter, colorful construction paper, and Crayon drawings became a mountain of clutter at the edge of our counter. It lasted for weeks and clearly wasn't a problem that was going away. It called for a solution. We created a mini-command station in our mudroom (near her backpack) where she could put her homework folder and any incoming papers. The clutter is now gone from the counter!
View this post on Instagram
Trinkets and Misalleanea Storage Solutions
Create an organized junk drawer. You may find random things land in your kitchen like never used birthday candles, all of the extra batteries in the house, flashlights, and rubber bands. Designate a drawer or two for these things. Fill the drawer with little containers to divide and create zones. You can use plastic bins or even technology boxes like the box from an iPhone. Even small mason jars can work, but circles don't make the best use of the space.
These zones can be used to categorize the random things that land in the kitchen. Now, instead of being on the counter, you've created a small home.
Make A Kids Basket – No matter where we go, it seems that we end up with little tiny trinkets for the kids. It could be the toys from a happy meal, stickers from the dentist, or loot from a birthday party goody bag. It comes in all forms and lands in our house regularly. While I'd prefer to toss it, the two little humans in our home want to hang onto it – for-ever!!! So, they have a designated space that includes a bin for their markers, papers, and trinkets. A bowl works great for this too, but it has to be maintained (pruned regularly) or it becomes a clutter bowl fast.
Appliance Storage Solutions
Discard First – If there are appliances that you don't use, give them away, donate, or sell them. There is no need to keep them in your kitchen especially not on your counter.
Coffee Station – If you regularly have coffee or tea, then you can contain the supplies by making a cute coffee station. Grab a trey, put your sugar on it, coffee beans or tea bags, potentially even a few spoons for stirring. The trey contains the items and makes them look like a neat cluster instead of unruly clutter.
Make Use of Cabinets – For the appliances, you do use, put them out of sight as much as possible. A lower cabinet is a great place to store them or an "appliance garage" or even the bottom of your pantry can work.
Spices Storage Solutions
You may store your spices on top of your stove or your counter. This can add to the feeling of clutter. Move your spices to a drawer, cabinet, or the pantry. I grew tired of the amount of space my spices required, so we went vertical. My husband built an inset spice rack on a pretty much useless wall in our pantry. I love it and will never go back to storing spices on a horizontal surface.
Cook Book Storage Solutions
This is another item to put out of sight. Some people make use of their vertical space and put racks on the side of a cabinet or a wall. Others make a shelf at the end of their island. Also, cabinets are a great place to store cookbooks if you have the room.
View this post on Instagram
How to keep your kitchen counters free from clutter
Once you declutter and clear your kitchen counters, you've got to make sure you have good habits or routines to keep your final product. Create a habit that works for you and your family. Here are a few ideas.
Do a nightly clean sweep and make sure your counters are clear before you go to bed.
Have family members immediately put dishes in the dishwasher
Sort mail when you bring it into the home
Here are 5 things to do in the kitchen before you go to bed.
Conquer Kitchen Clutter
Most kitchens see a lot of traffic and can quickly become clutter traps. Now you have the steps you need to take to declutter your kitchen countertops. The storage solutions will help you keep things neat and tidy. And your daily routines will allow you to keep them clutter-free for good!
Pinterest: I'm overwhelmed with the clutter on our kitchen countertops and ready to get rid of it once and for all! These practical kitchen counter decluttering tips were so helpful. Now I have great storage solutions and a clutter-free kitchen counter!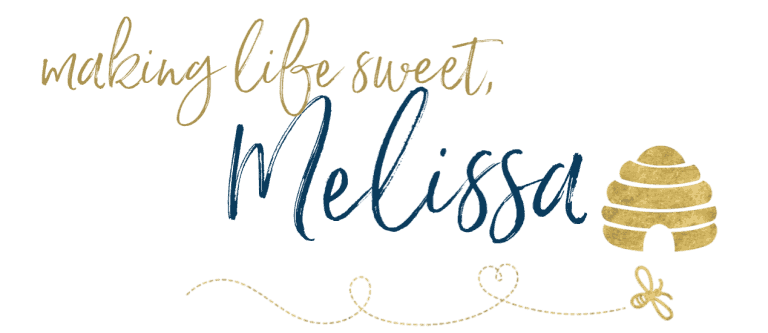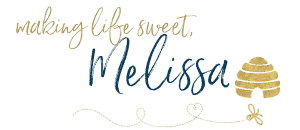 Free-Bee Resource Library
Enter my
Free-Bee Resource Library
for my latest downloadable files and printables! Password is 'honey' -- please copy and paste that in at the link above. Thanks for being a subscriber!!