Have you ever noticed that there are certain areas of your home that seem to attract clutter? You clean it off and before you know it, it's cluttered…AGAIN! There are places in every home that become clutter traps. In this post we'll explore why things accumulate in our home, the most common clutter magnets, and I'll share Decluttering Tips: How to Deal With Clutter Traps!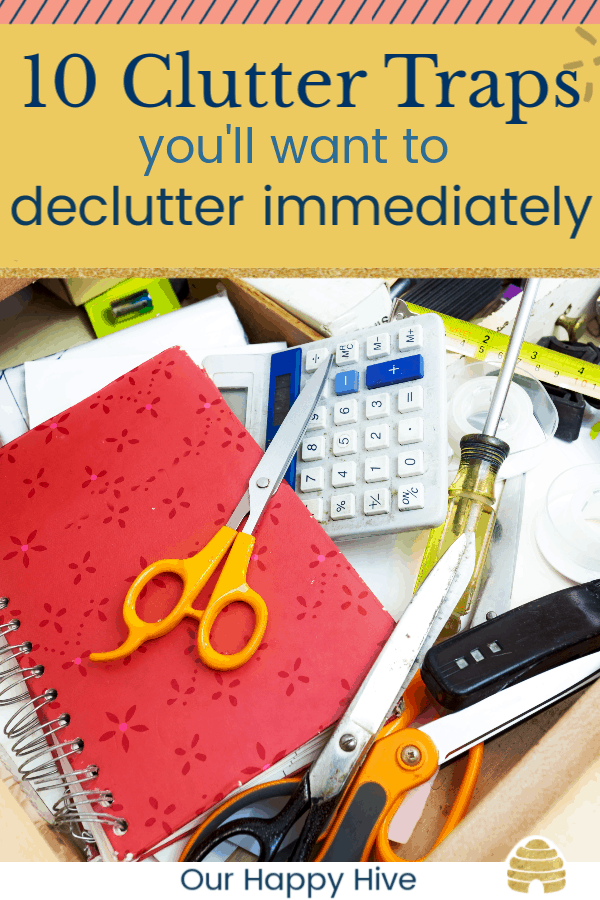 Why Are There Clutter Traps in Every Home?
Sure, we're all busy and can get distracted, but there are core reasons why clutter collects in our homes. Let's explore four main reasons clutter gathers in certain spaces.
Storage Challenges
Clutter can accumulate if you have too little space and no room to store things, you don't have good storage solutions, or the storage location is inconvenient.
Assignment Challenges
If an item doesn't have an assigned home, it will quickly become clutter. Let's say your kids just got their first playdough set. If you don't have a designated place for the playdough it will likely stay out on the counter. Assign it a home and it at least has a chance of being put away.
Routine Challenges
A third reason clutter magnets exist is a lack of routines. Routines like having the kids put up their stuff before they go to bed or you or your spouse cleaning off the kitchen counter before calling it a night can keep clutter away. Without them, clutter is more likely to gather.
Motivation Challenges
The final reason for clutter accumulation is a lack of motivation. If you're overwhelmed, stressed, or just plain tired, you may lack the motivation to execute on your routine or to put things in their assigned place.
Where To Start Decluttering
There are similar places in every home that act as clutter traps. If you are just starting to declutter or you're wanting to touch up something you decluttered in the past a good place to begin is one of the top 10 clutter traps.
1. Mudroom / Entryway
The entryway or mudroom is a challenge for many homes. People come in and take off their shoes, their coat, drop their backpack or purse. It can go from organized to chaos in the blink of an eye.
2. Kitchen Counter
The kitchen is often the hub of the home. It's central to the family and people do lots of things (in addition to cooking) in the kitchen. Mail can be left on the counter and kids' school work and art projects can easily accumulate. Maybe you pulled your laptop out and had to abandon your work or the bags and receipts from your latest shopping trip were left there. The open horizontal surface makes it ripe for becoming a clutter trap. I unfortunately speak from a lot of experience with this one. Ha!
3. Living Room / Family room
Similar to the kitchen, the family room, great room, or living room can be another place for clutter to accumulate. People in your home spend a lot of time there. Kids leave their things there, DVDs or CDs that you haven't looked at in a year are in the cabinet, and all of those magazines you never read are piled in a corner.
4. Top of Dressers
Another horizontal surface is a tempting opportunity for clutter. Your son's rock collection has found a new home there. The lotions that you were going to get rid of still sit there. A pile of clothes you need to put up is sitting on the corner.
5. Storage Closets
Like a junk drawer, the storage closet can easily become the catch-all. It may store your holiday decorations, out-of-season clothes, and sentimental momentos. However, it is an easy place to put things that have no home. Since you may not go and take inventory or re-organize it frequently, the clutter can sneak up on you!
6. Your Car
Old sports equipment, kids school papers, old sippy cups (with milk in them ewww), junk mail, coffee mugs, sunglasses are examples of clutter that easily accumulates in a car. If you're constantly on the go with limited time, don't be surprised if your car is a clutter magnet.
7. Office, Desk, or Nook
Do you have a desk or nook for paperwork? Do you have a process for dealing with that paperwork? If not, you likely have a pile of clutter. Sure, it might be in the drawer and hidden, but if it's there and you haven't touched it in a while, it's serving as clutter.
8. In the Garage
The Garage can easily become a land of misfit toys. Old hobbies, stale supplies from a DIY project, tools you or your spouse never use are all types of clutter that are found in the garage.
9. In Toyboxes
Toy boxes often become a catch-all. Maybe you started with a few select toys, but now six months later it has collected the toys from the kid's meal box, the party favors from the last five birthdays, and somehow some crayons have ended up in there as well.
10. Empty spaces
If you have an empty cabinet, drawer, or corner of a room, they are likely targets for clutter. The empty space is just too tempting. How does it happen? Picture this, you find out someone is about to drop by your house in a few minutes. The kitchen counter (see #2 above) is cluttered and in a frenzy, you collect EVERYTHING and shove it in the cabinet or drawer.
Do you have a clutter trap that's not on this list?
How Do I Declutter My Home: Dealing with Clutter Traps
We've talked about why things become clutter and where they most commonly accumulate. Now it's time to solve the problem.
Step 1: Identify your top clutter traps
Step 2: Decide why it's a clutter trap. Is it a storage, assignment, routine, or motivation problem?
Step 3: Solve the problem. Have a place for clutter to go, assign a home, or implement a new routine.
Check out these posts for ways to solve the clutter problem:
Step 4: Get your family involved. You likely didn't cause the clutter yourself and you won't solve the clutter yourself. Make sure your family is aware of assigned homes. Labels can help with this. Ensure there are strong routines in place.
Step 5: Make it a practice to frequently declutter and get rid of stuff you don't use and don't bring you joy!
Decluttering to the Core
If you want to deal with the clutter problem at the root of the issue, then consider taking on a bigger decluttering project.
Marie Kondo encourages people to discard first then store.
"Putting things away creates the illusion that the clutter problem has been solved."
"Effective tidying involves only two essential actions: discarding and deciding where to store things. Of the two discarding must come first."
16 Things Marie Kondo Says Everyone Should Discard
KonMari Shortcuts – Alternative Decluttering Methods
By now, you've identified why clutter accumulates, where it's most likely to accumulate in your home, and how you can solve your clutter problem. By assigning everything a home, implementing routines, and finding the motivation to declutter, you address the daily clutter challenge. Maybe you've gotten to the end of this post and feel like there's a bigger clutter issue at hand. Not to worry, just commit to your decluttering plan of action!