Have you ever felt overwhelmed by a home improvement project not knowing where to start, the steps to take, or even having a realistic timeframe for actually completing the project? I hear from readers all the time, that just don't know where to begin. I'm going to share a project planning tool with you that will put an end to this overwhelm and help you easily tackle your next home project.
Have a Successful Project
For over 15 years, I've used project management tools to help me get my professional work done on time and within budget. As a homeowner, wife, and mom I've found these same tools are necessary in my personal life too if I want to successfully complete my home projects. This FREE Home Project Planner can help with a DIY project, Home Improvement initiative, planning a move, or even trying to delclutter your entire home.
Home Renovation Project Success
My first home was a fixer upper. We had a long list of projects including replacing all of the electrical outlets, painting every wall, installing new flooring and crown molding. It was a floor to ceiling job.
The goal, get it all done within a month and for about $15,000. This required a lot of late nights, a few contractors, and a ton of sweat equity.
My role was to serve as the general contractor. Materials needed to be ordered, activities needed to be sequenced properly, and costs had to be tracked and managed. The approach I'm going to share with you helped us achieve our goals and save our sanity!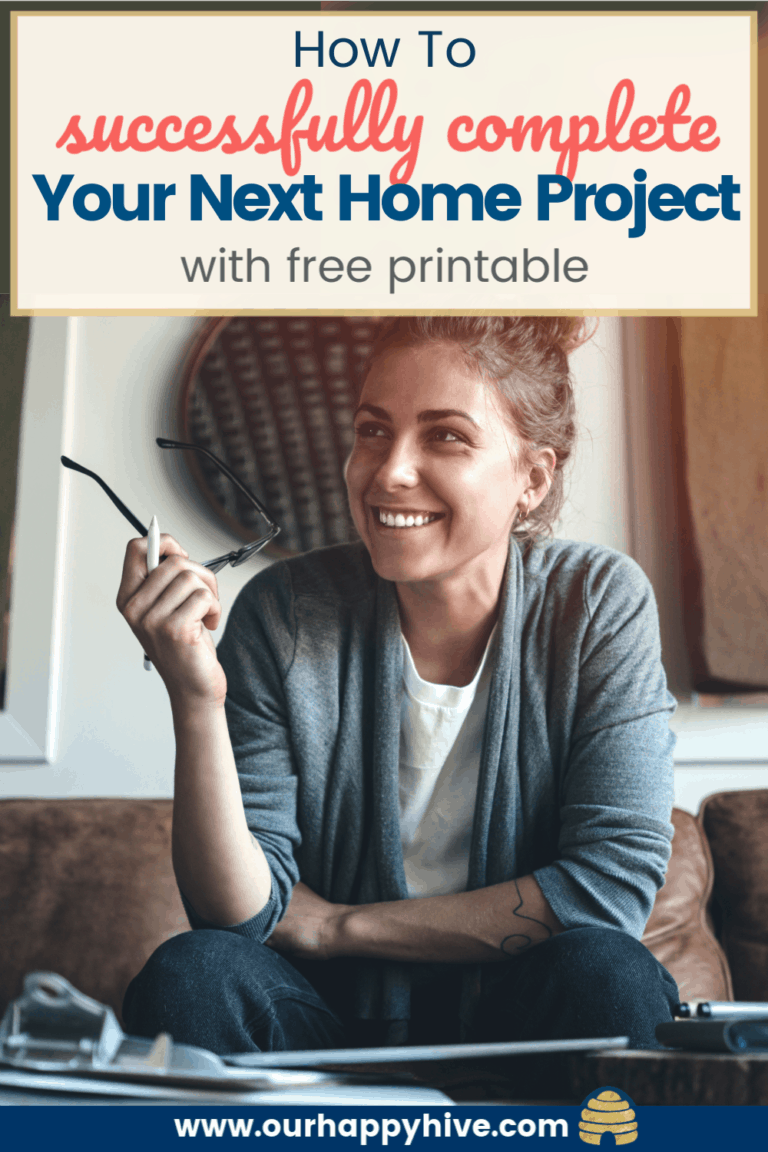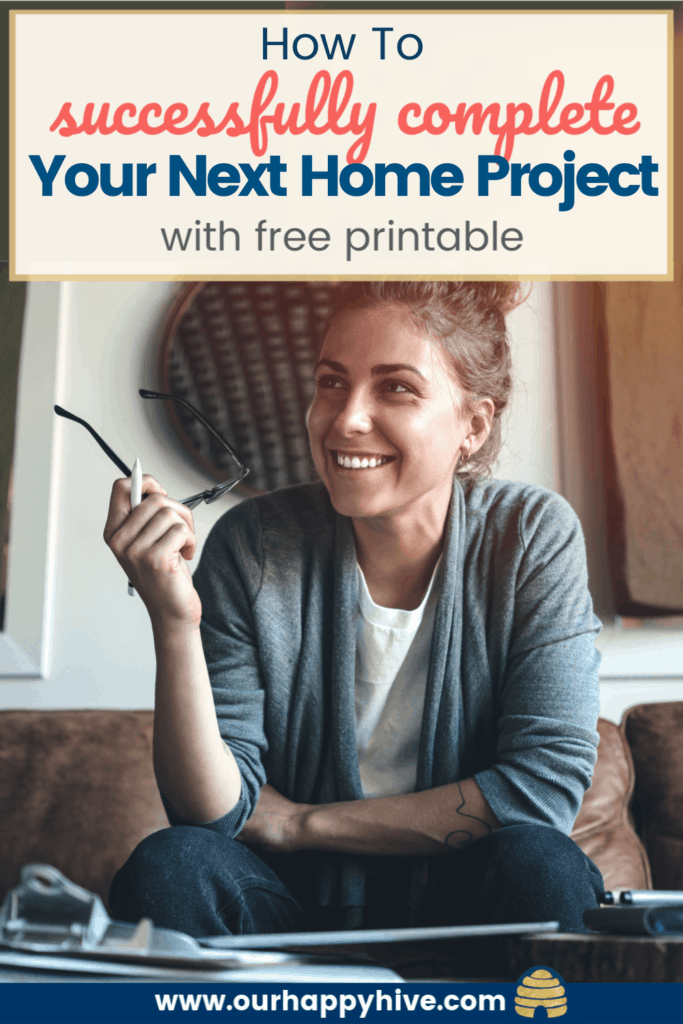 What is a Project Planner
In its most basic form, a Project Planner is a tool for creating a step by step plan to accomplish a goal. It helps you to take a big project and break it down into manageable activities. In advance, you consider the timing of each step…how long it will take and how much it will cost. You can also think about if you need outside help for the work or if you can do it yourself.
This approach is magical for DIY projects, moving homes, home renovation, or even trying to declutter your entire house.
Project Management Reduces Overwhelm
So, think about it, you feel overwhelmed because you're moving and you need to pack…you don't even know where to start. It just feels like a dark cloud over your head. You're anxious because you don't know how much time it will take or how far in advance of your move date you should begin packing.
Get Clarity on Your Home Project
By following a project management process, you take the guesswork out of the move. Think of it like bringing a camera lens into focus. The associated activities become less fuzzy (ambiguous and overwhelming) and much clearer. You can actually see with clarity what you're looking at and the overwhelm goes away.
In truth, much of our overwhelm is there because we feel like we're facing some giant thing we can't do. When you pause to break down the steps one piece at a time, the project feels much more doable.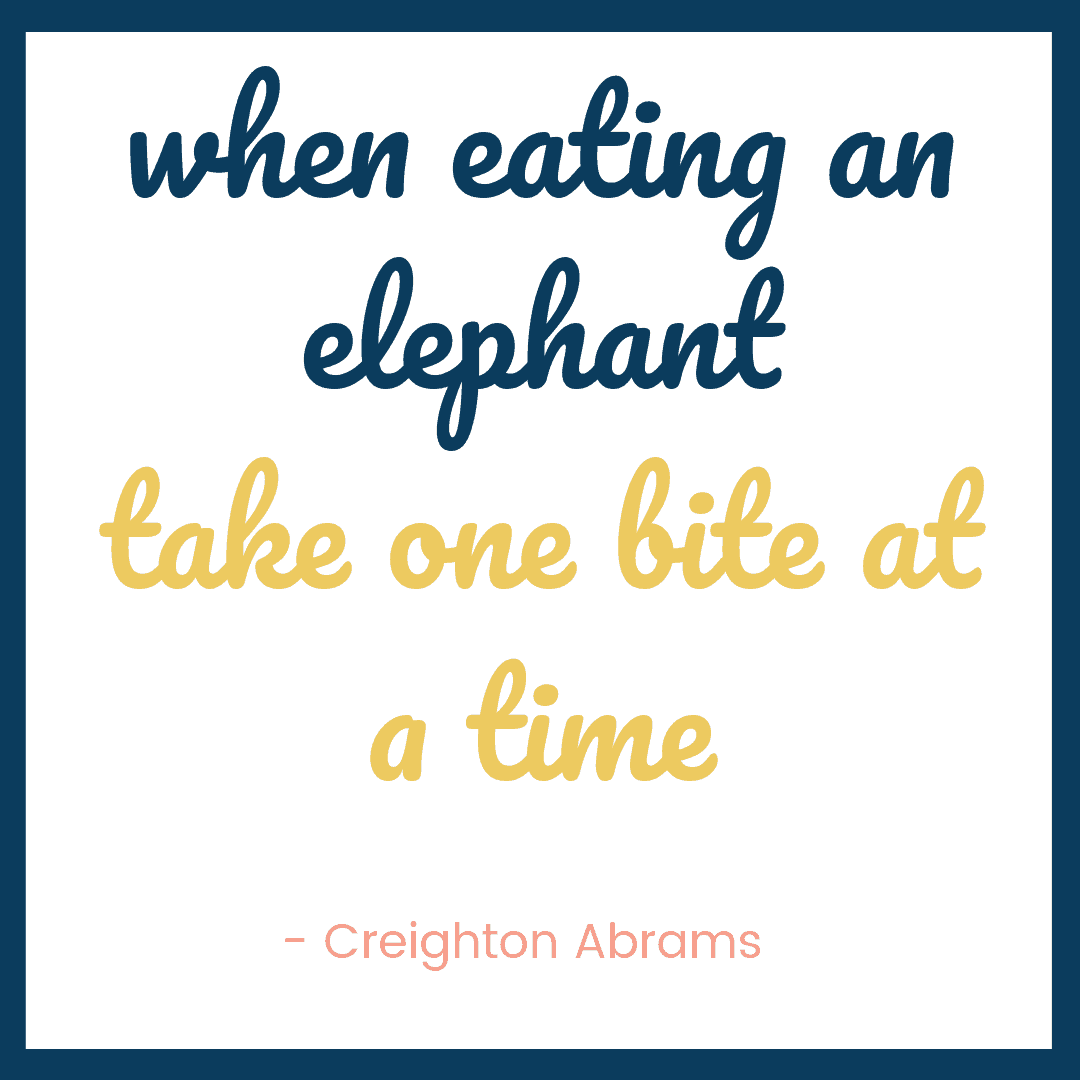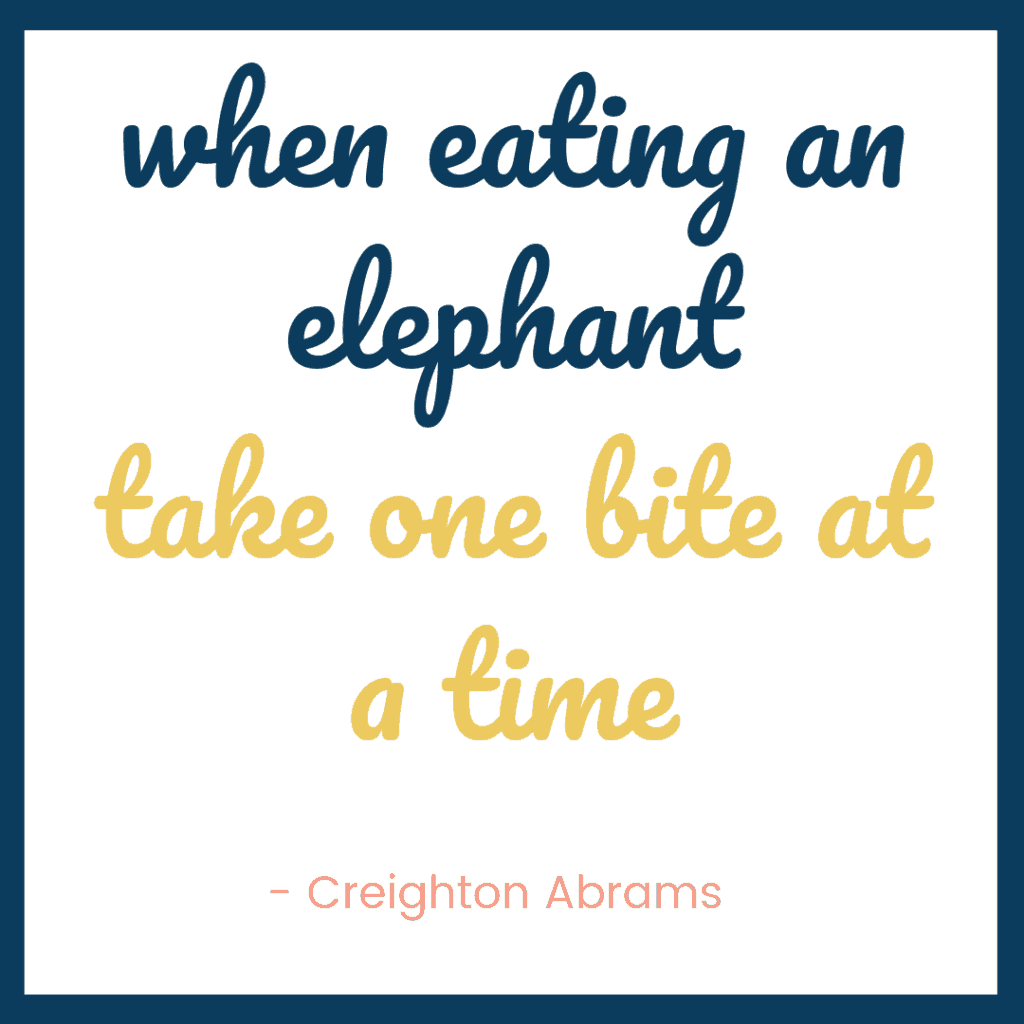 6 Things to include in your Home Project Plan
1) Project Objective
Either the name of the project or what you're trying to accomplish. This is important if you have several projects going on at the same time or if you want to look back at a project you did in the past so that you can recall the steps.
2) Action Steps
This is a list of the smaller steps you need to do in order to complete the project. Check out this example:
Preparing for a move:
Declutter home and get rid of things you don't want to take with you
Buy packing materials (boxes, tape, bubble wrap)
Create labels for boxes
Pack*
Schedule movers or secure moving van
Moving day
*Note, you need to determine how detailed you want your action steps. Something like "Pack" may be too broad, especially if you're feeling overwhelmed by ambiguity. I find that breaking things down into smaller parts gives me more peace of mind. So, instead of "Pack" – I would have something more detailed like:
Pack Master bedroom
Pack Kids bedrooms
Pack Kitchen, Etc.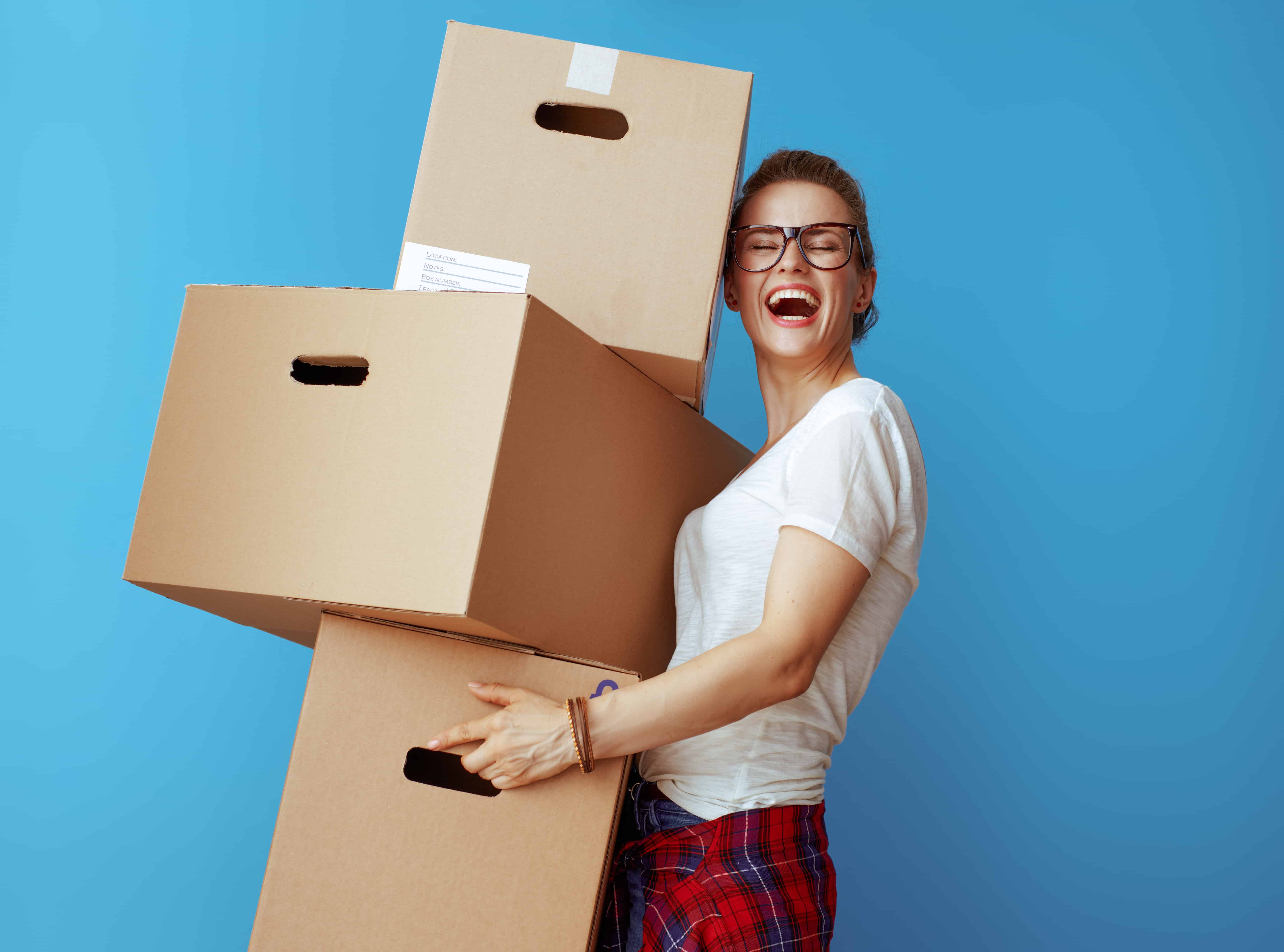 3) Start & End Dates
Next, you want to assign a timeline to each activity. You'll need to consider how many hours the step will require and what your schedule permits. For example, if you are decluttering your home you might have these action steps.
Set up bins for Keep, Donate, Sell, Discard.
Declutter Master bedroom closet
Declutter Basement storage area
Take things to the donation center
Sell items on Facebook, Etc.
You'd estimate that the first step would take less than an hour and you could start and finish it on the same day, so you'd assign the same start and end date. Decluttering your Master bedroom closet however, is a much bigger task. You know that you have boxes in there of old maternity clothes, suits you used to wear to work when you were a smaller size, and vacation wear that you haven't worn in 8 years.
So, at this point, you'd estimate that your closet is a 4-5 hour job. Ask yourself these questions:
Can I dedicate the specified amount of time in one day?
If I can't, how much time can I dedicate each day I work on it?
Do I have that specified amount of time available in consecutive days, or is my schedule already filled and I'll need to spread the work over a time period?
Your thought process might go something like this.
"Let's see, I need 4-5 hours for this project. I can't do that all at once, but I can work on it for 2-3 hours at a time. I usually have a 2-3 hour window on Sunday afternoons. I'll block Sunday to Sunday to accomplish this step in my project."
4) Necessary Resources
The next thing to consider is who owns the job. Often in home DIY projects, you are the owner, but a project plan may involve a spouse or one of your kids. Also, sometimes you need expert help, so the action step may involve a contractor.
5) Cost / Budget
Last but not least, you'll want to consider if the action step will cost money. I find this especially important in Home Renovations or DIY projects.
6) Status
If you have a really big project, like repairing your home after a flood, it's helpful to have a column where you indicate the status of the action item. Common terms used to define the status include:
Not Started
In Progress
Delayed
Complete
I find this information isn't as important on smaller projects that have 10 action steps are less. In the example Home Project Planner above, the check box next to each action step is a simplified version of a status tracker.
Don't Slip Into Old Habits
Recently, I was working on a project and I was feeling uneasy about it. I had this nagging feeling that it was too big and I didn't have enough time to complete it in my desired timeframe. I was starting to feel stressed. So, I reminded myself to write out the steps. Almost immediately the overwhelm lifted. I could visually see that the project was totally realistic for the time I had to give to it.
As someone who is very organized, I can slip into the habit of just relying on my memory and not writing each step down. The challenge with this approach is that it's hard to share the work with anyone else e.g. my husband. And, it's easy to slip into overwhelm. I find that by writing down each step, I'm reminded of what I've already accomplished (which is highly motivating to me). I can also see how much is left before the project is complete. It helps keep my emotions in check and gives me a dose of reality.
Example Home Projects that would benefit from a Project Plan
Here are a few examples of home projects that could benefit from a Project Plan:
House Renovation
Landscaping Project
DIY Projects
Decluttering your Entire Home
Packing for a Move
If you're ready to get started, but feel overwhelmed, then a Project Planner is a tool for you. Maybe you're great at getting started, but stall before you finish, a project planner will benefit you too. If you have a project in mind but are unclear on how long it will take or how much it will cost, a Project Planner will help de-mistify the numbers.
Don't let your next home improvement project, DIY endeavor, decluttering effort, or move to feel overwhelming or impossible. If you want a successful project that you actually complete, then commit to using a project planner. You can download my FREE Home Project Planner at the end of this post.