I've had two chapters in my adult life… 1) my corporate life, where I helped teams grow and prepare for the future 2) my family life where I helped raise a family and run a home. The latter was far more difficult than I anticipated and I made a lot of mistakes.
I know exactly what it's like to feel stressed, frustrated, and overwhelmed. I struggled with balancing the demands of daily life and wanting to take back control of my home. That's why I was on a mission to find simple solutions that would help me organize my house and my head.
A home management binder does just that!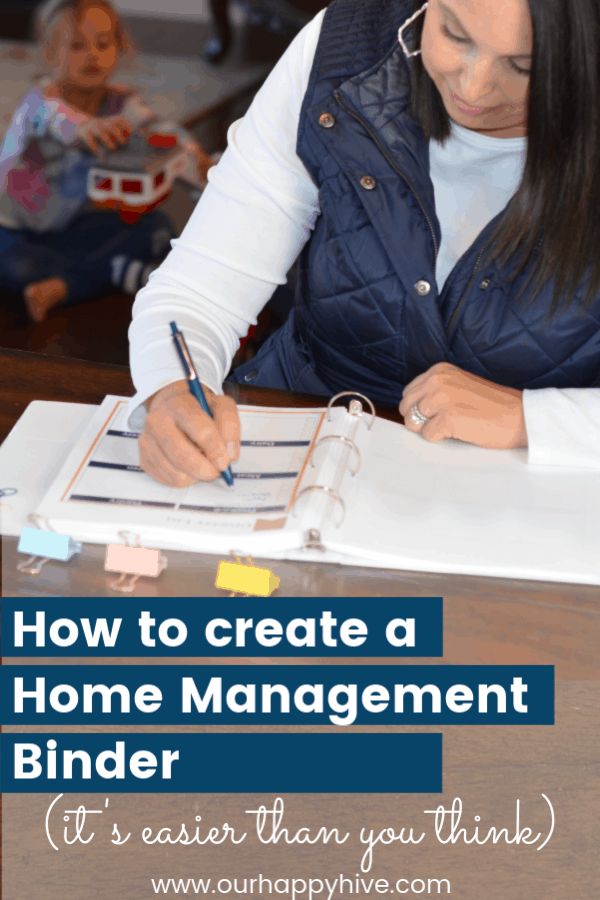 This post contains affiliate links. For more information, please read my Affiliates Disclosure.
Why Use a Home Management Binder
A home management binder will enable you to get your home and family organized. You'll save time and stop hunting for important documents. You'll be able to anticipate and plan for home maintenance, cleaning, and weekly meals. You'll simplify your life and easily navigate your daily, monthly, and annual responsibilities of running your home.
Home Management Binder Supplies
You don't need a ton of supplies for your home management binder.
1.5 – 2 inch 3 ring binder
Dividers with labels
Hole puncher
Printer
Paper
Sheet protectors
Pencil pouch
Step 1: Decide on Home Management Binder Sections
The first thing you need to do is decide on the categories of information you'd like to include in your binder.
Psst: I offer many FREE printables you can use in your Home Management binder. I'll reference them within each section. 🙂
Here's what I include in my Household Planner
Schedule / Daily Tasks
In this section, I include To-Do Lists, Daily and Weekly calendars, and blank Monthly calendars. I don't use every format every week. For example, when we have particularly busy months, I use the monthly calendar so that we're all on the same page. If I have a lot of tasks floating around in my head, I use the to-do list. I always have these pages as my very first section so that I can easily access them. You can grab a copy of a free weekly block schedule template in my free printable library if you'd like to add one to your binder.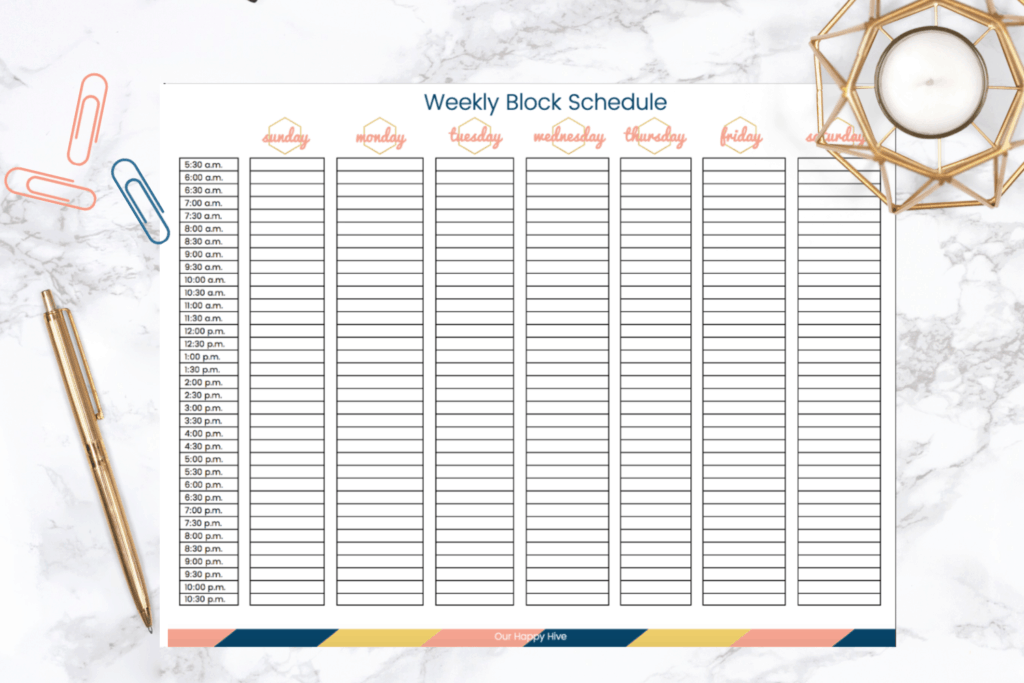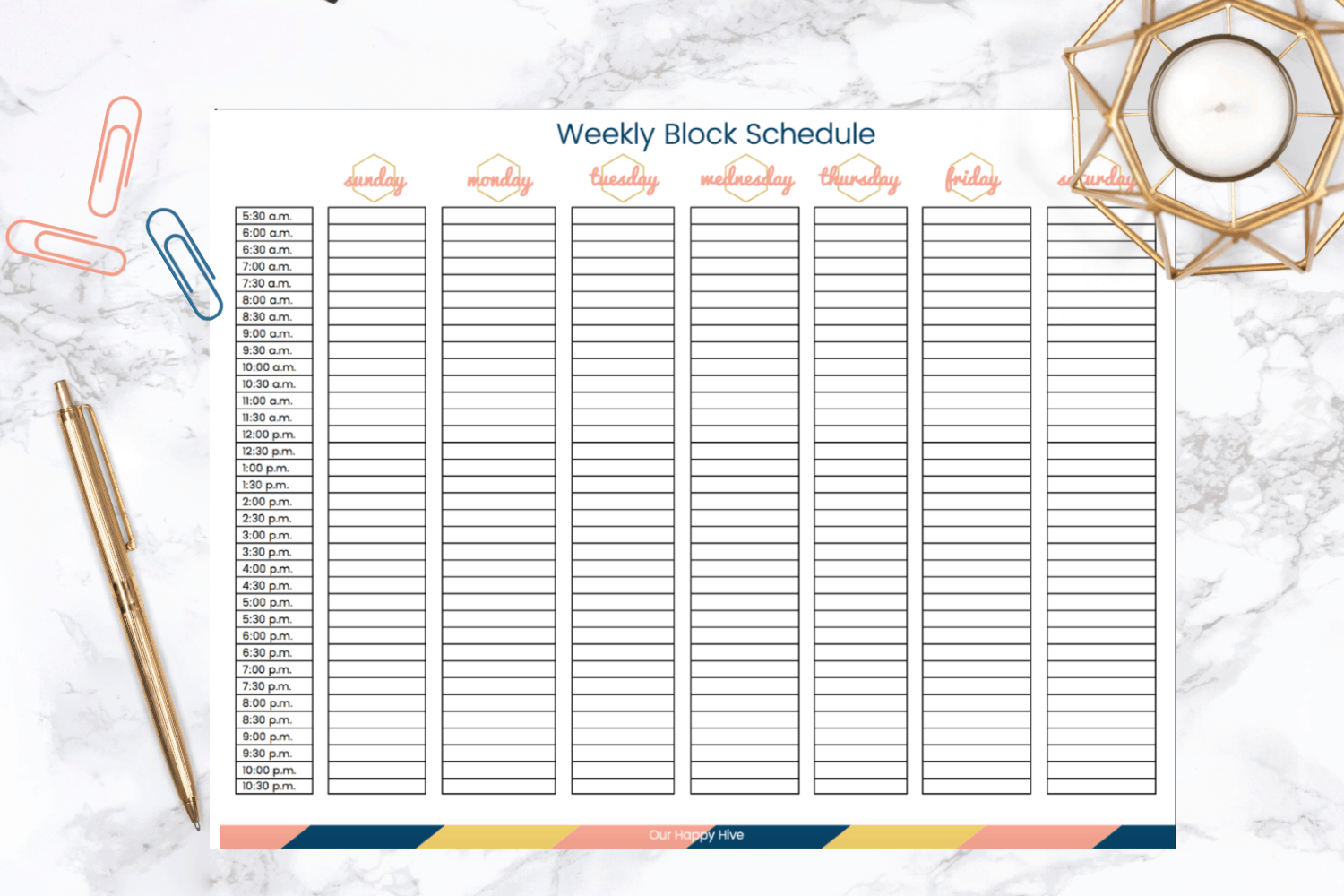 Meal Planning
Next up, Meal Planning and Grocery Lists. Planning our dinners is a weekly must-do if I want to have a chance at healthy meals for our family. A printable meal planning template is helpful to get things out of my head and onto paper. It also helps when my husband has to pinch-hit and make dinner if I'm away. I also keep my weekly grocery list in this section. You can grab a copy of a free Meal Planning template in my free printable library if you'd like to add one to your binder.
Click here for access to the free printables. I also offer a deluxe version of my planner you can purchase here.
Household Responsibilities
We all know it takes a lot to run a home. Without a plan, it's easy for things to fall through the cracks or for one person to feel like they are doing all of the work. A Household responsibilities section is a great place to spell out chores and routines for the kids and adults alike. You can grab a kid's morning and evening routine from my free printable library along with an age-appropriate chore list.
Cleaning
In this section, I keep notes on what I need to do on a weekly or seasonal basis. You can include your weekly list as well as a deep cleaning chart. It's a great place to take details out of your head and refer to on an as needed basis.
Shopping Lists
In addition to the grocery list, I keep in the meal planning section, I also have pages to track items ordered online or to make notes about things to pick up at specific stores e.g. Target or Costco. This single go-to list is handy when headed out to run errands.
Important Contacts
This section includes the name and phone numbers of the kid's schools, neighbors, and service providers like electricity and water. While I keep almost all of this information on my phone, it's handy to have it on paper as well. If I don't remember a parent's name of one of my child's class-mates, then I can look in this section. Or if we have a babysitter or grandparent over, shoot, even my husband, they can all access this important information as needed.
Kitchen, Pantry, and Refrigerator
How many times have you bought something from the grocery store only to find out that you already had it in the freezer?!? Pantry and Freezer Inventories are kept in this section. I aim to update these inventories every few months so that I can make the most of the food we've already purchased and things expiring. Reference tools like pantry food shelf life (which is also a free printable in my library,) and a conversion chart are kept in this section.
You can easily make your own inventory log or you can purchase my binder that has all of the pages already created for you.
Home Organization & Decluttering
If you've looked around my site much, you know I'm kinda into home organization and decluttering! I have notes and reference materials in this section. Things like How Long to Keep Important Documents (grab your copy in my free printable library). I also have lists of things I can easily declutter and get rid of along with reminders of smart storage solutions.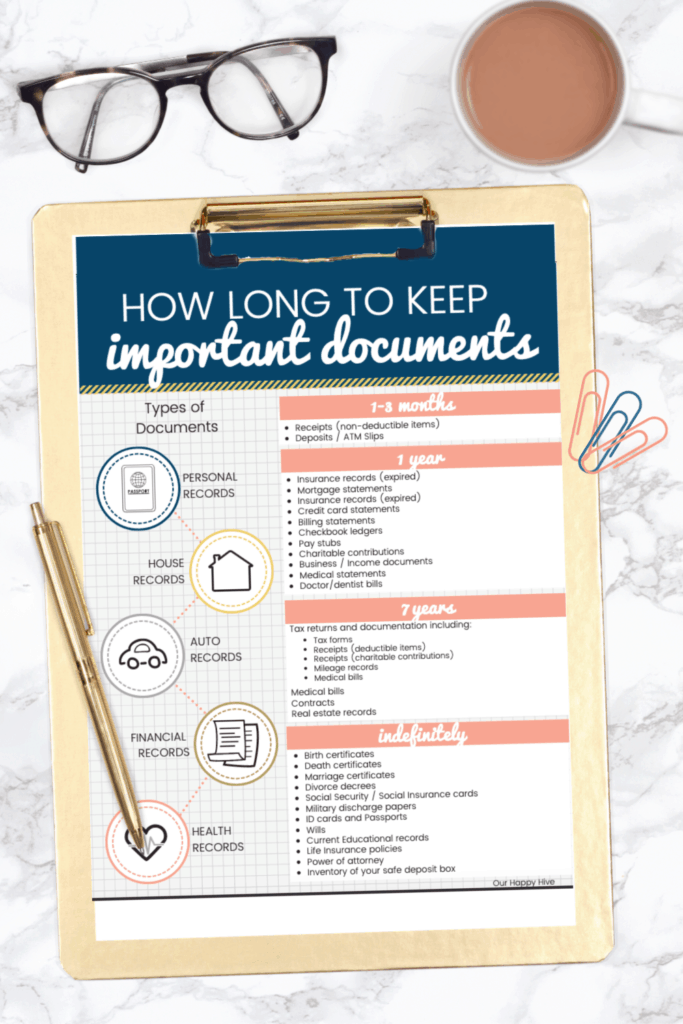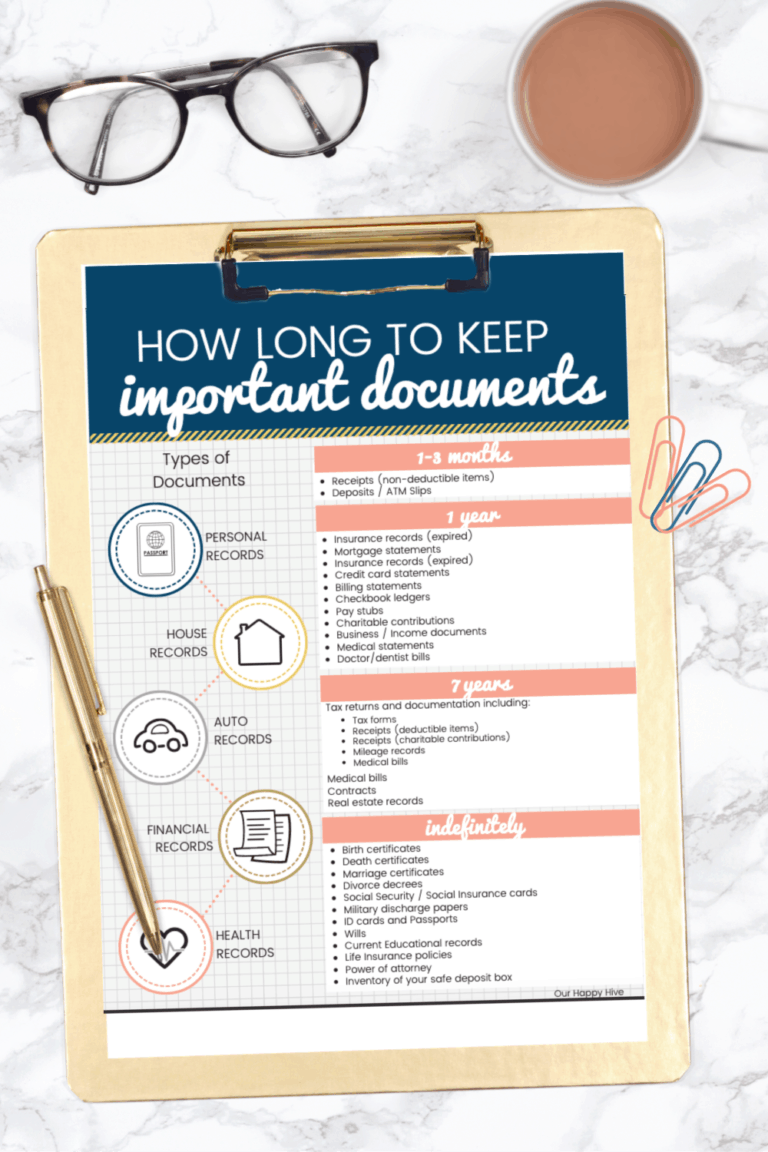 Home Maintenance Tasks
This is where I keep a list of all the things that need to be done in the home every season and year. I can track if I change the air filters each month or if we finished all of the tasks that we needed for winterizing our home. Grab your free copy of my Home Winterizing printable in the Free printable library.
Monthly Bills
While I don't keep our entire budget in the planner, I do keep a summary of our account information along with a tracking sheet. The tracker helps us remember when each bill is due and track that we've paid it for the month.
Medical Information
Each family member has a personalized page that tracks their health information. In this section, I include insurance information, family medical history, and a list of medications (and supplements) for each family member.
Confidential Information
This section includes pages I reference the least frequently. It's the information I need when in a pinch. Things like passwords, the real estate agent we used five years ago, or a tradesman that built our fence.
Now it's your turn…brainstorm a list of sections you'd like to include in your home management binder!
Step 2: Decide on the order of your sections
Now, think about how you'd like to use your binder. Arrange the sections it a way that makes the most sense to you. I arranged mine by how frequently I touch each section, but you may prefer to group it by room, by family member, or alphabetically. There's no right or wrong way.
Step 3: Create dividers with labels
You can buy dividers that have labels you can print or you can write on dividers. Just make sure each section is segmented so that you can easily access it.
Step 4: Print or create pages
Now it's time to fill each section with relevant information. Feel free to grab the free printables I mentioned above or you can check out my deluxe binder for sale here. If you prefer to DIY, you probably want to type out information initially and then print it for each section of your planner.
Click Here to Get Access To the Free Printables I Mentioned Above
Sheet Protectors for Your Household Planner
There are a few pages in my binder that I like to access frequently, but the information doesn't change that frequently. For example, I have a conversion chart that shows measurements for baking. I reference the page when cooking, but I never change the information on the page. I prefer to put pages like this in a sheet protector so that they last a long time.
Final Thoughts
Creating a home management binder is very straightforward and easy to do. You can make your own or buy one that's already designed like this one. The binder can be extremely helpful in running your home, keeping track of details, and informing other important people e.g. Grandma, babysitter, even dad about what needs to be done when. It can take a little discipline to regularly start using your home management binder. But once you do, you'll finally feel more organized and less stressed!
Check out mine for an easy solution to your household needs!