Inside: If you've asked yourself, "How do I organize my home before Christmas?" Then this is the post for you. We will cover how to organize your kitchen before the holidays, how to organize your home for holiday guests, and other key areas to get organized before the seasonal busyness hits you!
The holidays can be a fantastic time with family and friends, but they can also be a time when you feel disorganized, overly busy, and stressed. One of the ways to reduce overwhelm is to organize your home BEFORE the holidays.
Between Thanksgiving and Christmas, it's easy to feel like you're flying by the seat of your pants. Your routines get out of whack with Christmas parties, kid activities, and added chores like shopping and cooking.
By organizing your home ahead of time, you can go from the feeling of disarray to one of a well-oiled machine.
Here are 12 areas to organize your home before the holidays.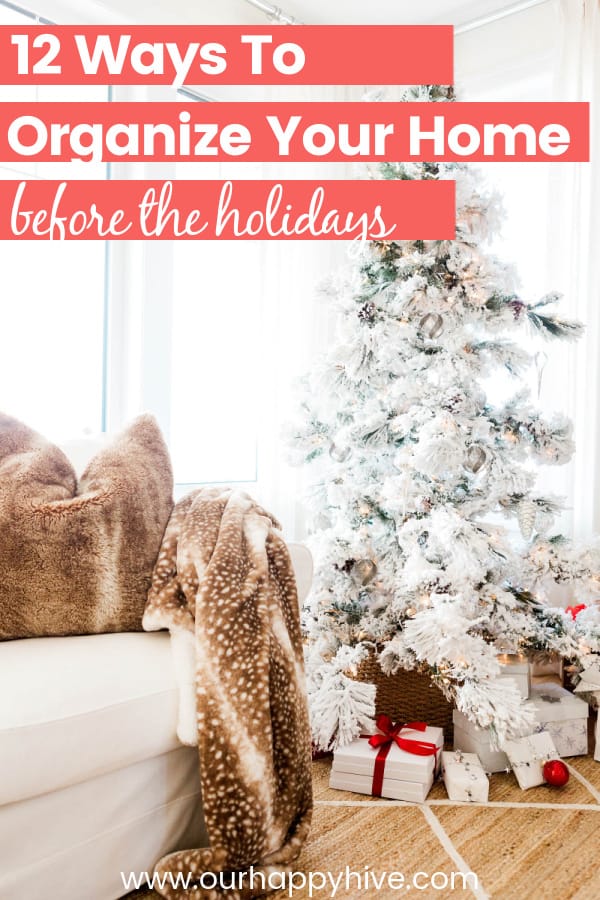 Organize Your Kitchen Before The Holidays
The kitchen is a key gathering place for any social event. That's why it's the first on my list for ways to organize your home before the holidays!
1. Organize Your Pantry
Your pantry is already a busy place on a normal week. When you add Thanksgiving and Christmas cooking, holiday baking, and house guest to the mix the pantry can go from bad to worse.
Get your pantry organized by removing anything that has an expired date. Grouping like-items in the same bin or area on the shelf e.g., Baking Items, Spices, Grains. Lastly, label your bins or shelves so that family members and guests can find AND RETURN things to their respective areas.
2. Clean Out Your Refrigerator
Similar to the pantry, the refrigerator is an area that gets a lot of traffic. Cleaning it out before the holidays will help you make room for casseroles, ingredients, and extra food for any parties or guests you're planning on having.
Be sure to take items out and wipe down the refrigerator. Mix 1 teaspoon dish soap, 1 teaspoon baking soda, and 32 ounces warm water for an easy solution to clean and deodorize your refrigerator.
3. Declutter Countertops Before the Holidays
This is a great time to do a deep clean of your counters. Declutter any piles that have accumulated. Find homes for the "homeless" things that have been collected in recent days/weeks/months. Wipe down the flat surfaces getting under small appliances and wall surfaces like the backsplash. Having a counter that is clean and clear will make it easier for you to do your holiday baking and make your home feel more inviting to guests. Check out this post for more ideas.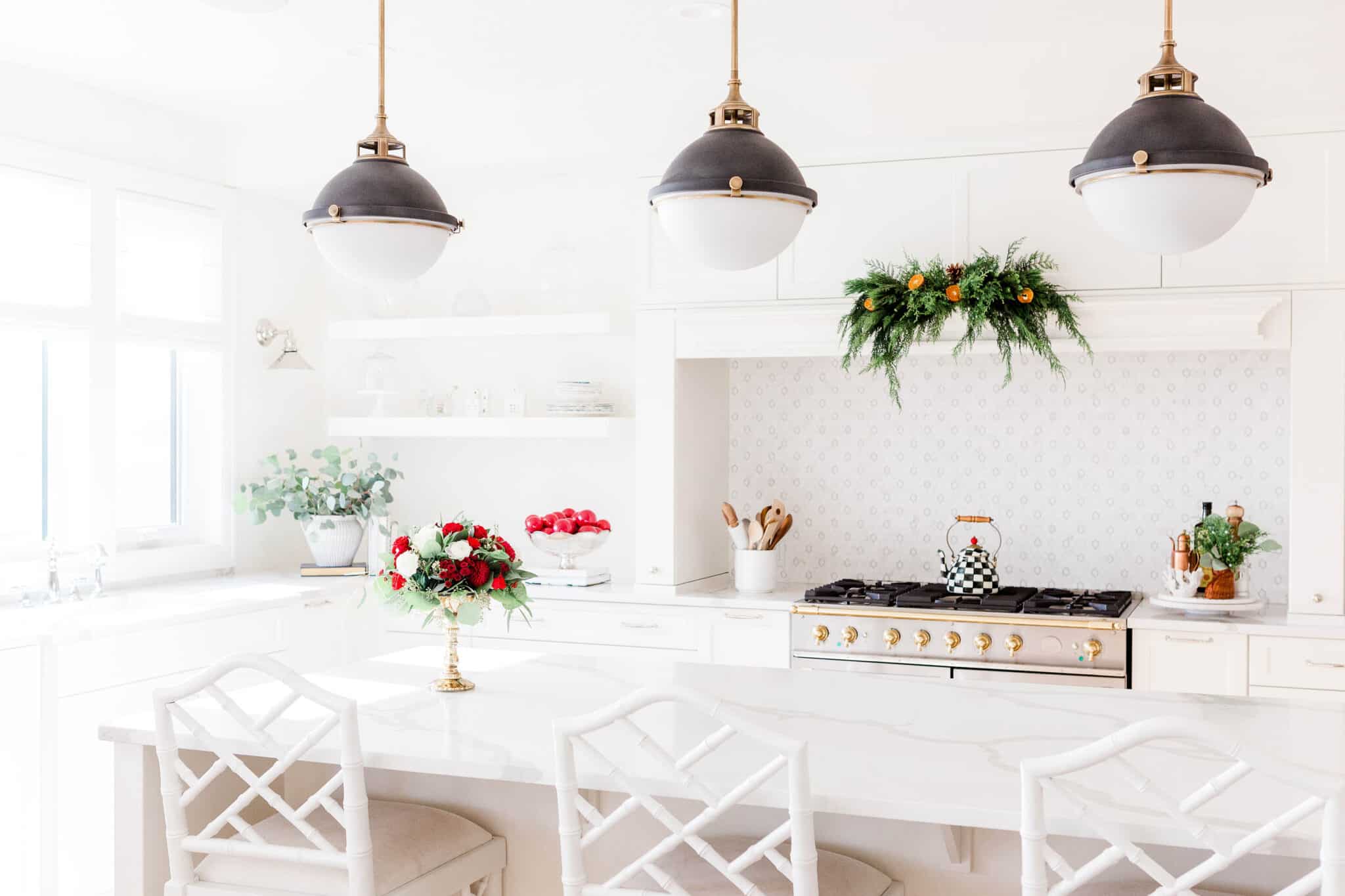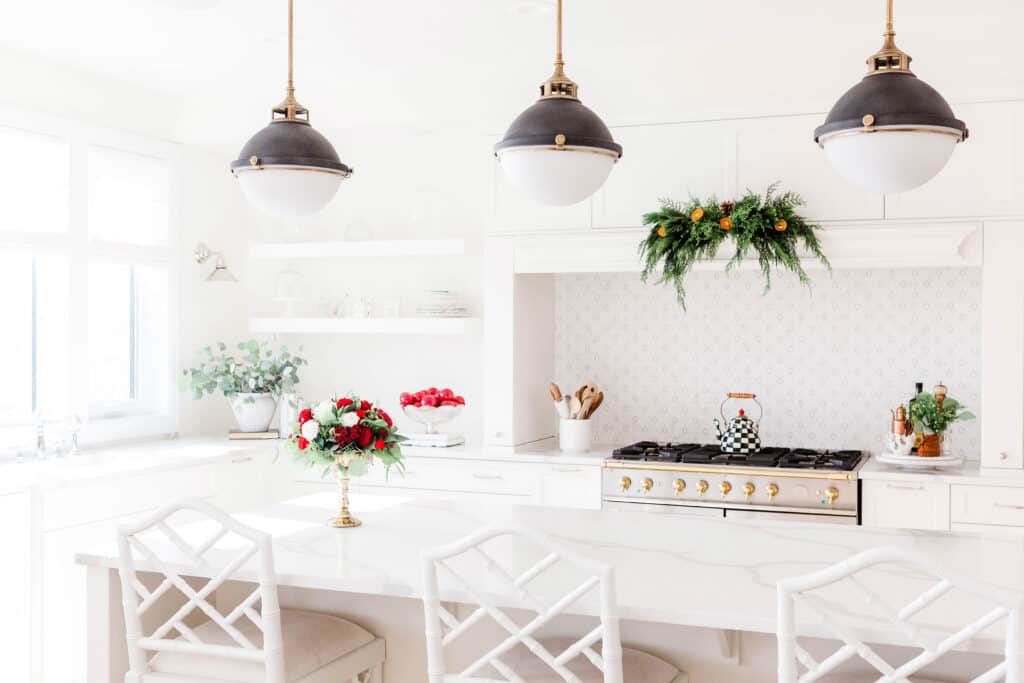 Organize Your Space for Holiday guests
Thanksgiving, Christmas, and New Year's are also special times to have friends and family over. Getting ready for guests is the second area we'll delve into in order to organize your home before the holidays.
4. Create a Welcoming Entry Way For Holiday Guests
Another way to organize your home before the holidays is to create a welcoming entryway for your guests. Add an inviting mat outside your front door and if you're in a cold climate, make sure you have a mat inside the front door for people to stand on with their messy boots. It's also helpful to have a boot tray for people to set their wet boots on when they come in so that the snow and mud don't drip all over your floors.
If you want to make your entryway more inviting, add a diffuser with some essential oils to add a welcoming scent.
5. Declutter and Prepare Your Coat Closet
With more visits (announced or unannounced 🙂 ) from neighbors, friends, and your crazy Aunt Mae, it's nice to have the coat closet ready for any cold-weather gear they might bring along.
As a Texas girl, I was not accustomed to using a coat closet (we rarely had to wear coats!). But now that I live in Canada, it is critical to have a place to hang everyone's coats as they enter the house.
Make as much room as possible. Clear out any unnecessary clothing that has accumulated e.g., old coats that you no longer wear. When possible, put the families' coats in a different place in your house. Add sturdy hangers so that you're prepared to receive your guest's gear.
6. Prepare Your Guest Room
If you're planning on having house guests for the holidays, then this room is a must to organize and freshen up. Ensure it has:
fresh linens,
spare hangers in the closet
a place for folded clothes
and/or a space for luggage like a luggage rack or a cabinet
It's also nice to put out fresh towels, soaps, bottles of water and if you want to be extra, a few packaged snacks.
For more ideas, check out this post "Easy Ways to Make Your House Guest Feel at Home."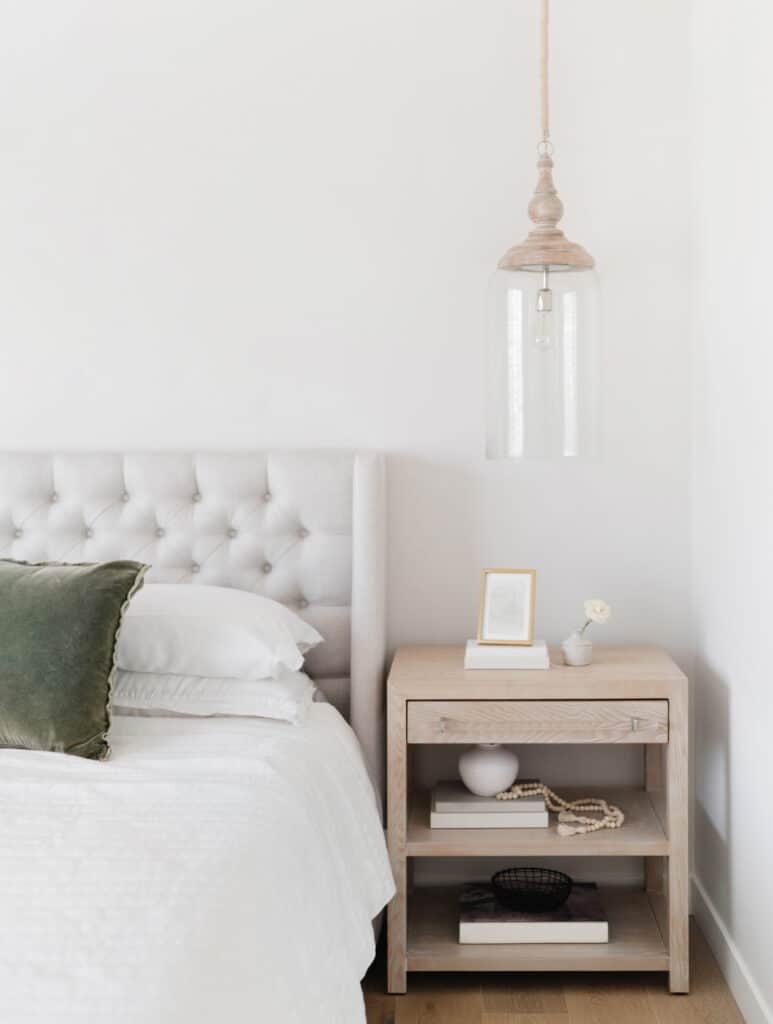 7. Winterize Your Mud Room
Remove any remaining summer gear like flip-flops, sunscreen, and straw hats. If your family keeps their shoes in this area, declutter any shoes they've outgrown.
Organize your winter gear including any gloves, hats, snow boots, and coats you have in this area. It's helpful to have a bin for each family member for their gear. Hooks for coats or backpacks keep things off of the floor. Also, shoe racks or boot treys are another great way to keep this space organized.
8. Organize and Clean Your Vehicle
It's also good to organize your vehicle before the holidays. Vacuum/wipe down the interior. Clear out the trunk to make room for luggage, groceries, and Christmas presents. Add a box of Kleenex for any seasonal colds and if you live in a cold-weather climate, add a blanket or two to your trunk.
Other Holiday Related Organization
Specific holiday-related tools and resources is the final area we'll consider in order for you to organize your home before the holidays.
9. Declutter Your Holiday Decorations
Decluttering your holiday decorations will also help you organize your home before the holidays. There's always a huge shuffle in our house of holiday decorations between October and December. We have pumpkins and fall leaves for October/November and then tons of Christmas decorations (like 11 boxes of all-the-things!). Sort like items into bins and label them. Discard old or broken décor that you no longer use. It's best to do this before the holidays, but if it's already too late this year, plan on doing it when you take down and store the holiday décor.
10. Organize Your Holiday Budget
Raise your hand if you overspend during the holidays. Or perhaps it's a splurge gift or two for your kids or food for an unexpected party with family and friends. Before the holidays hit, make a budget. Include gifts, extra food, charities you support, any out-of-the usual travel, and accommodations you've planned. This effort will help you to be prepared and avoid any surprises in January or the following months!
11. Declutter Your Christmas Card Address List
If you send out Christmas cards, take time to update and declutter your address list. Flag anyone who has moved in the past year. Add names of new friends and colleagues. Contact people via phone, email or Facebook to get their new details.
12. Organize and Declutter Your Kid's Toys
Last but not least, if you have young kids or grandkids, it's ideal to declutter and organize the toys before the holidays to make space for anything new that comes into your home. This is a good opportunity to involve kids. Have them help you pick out the toys they no longer enjoy or use. Anything that's in like-new condition, you can donate to a charity or give to another family. If you have an abundance of toys, then consider storing some away in bins and implementing a toy rotation.
The Benefit Of Getting Organized for the Holidays
The holidays can be busy and overwhelming, but some preparation and organization can help you be ready to tackle the holidays with ease and make the most of the time with your family.
Check out my FREE Christmas Planner, if you'd like to easily track your holiday details including meals, gifts, and gatherings. It includes more than 20 pages of templates to plan parties, track gifts, and organize all of your shopping To-Dos.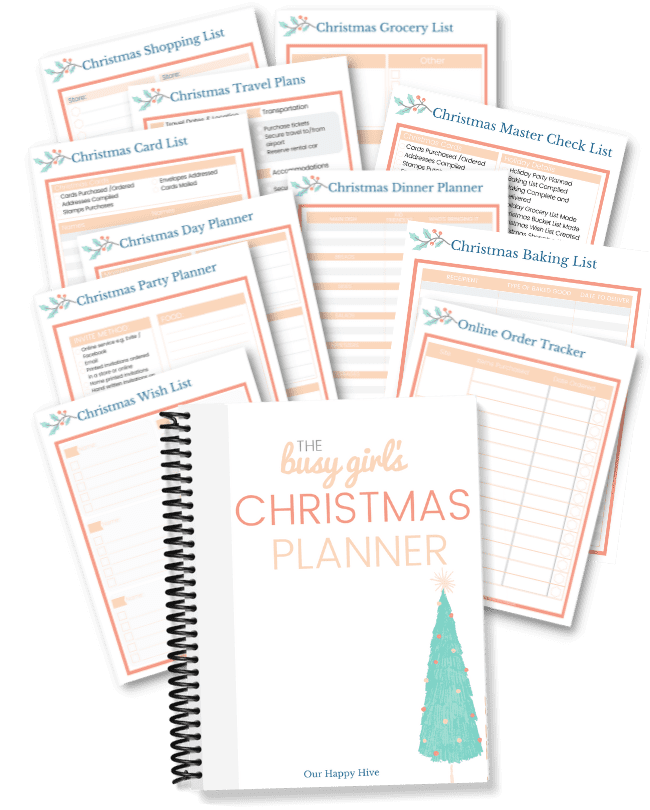 >> Click here to download your FREE Christmas Planner.<<
Wishing you an organized and stress-free holiday season with your family and friends!