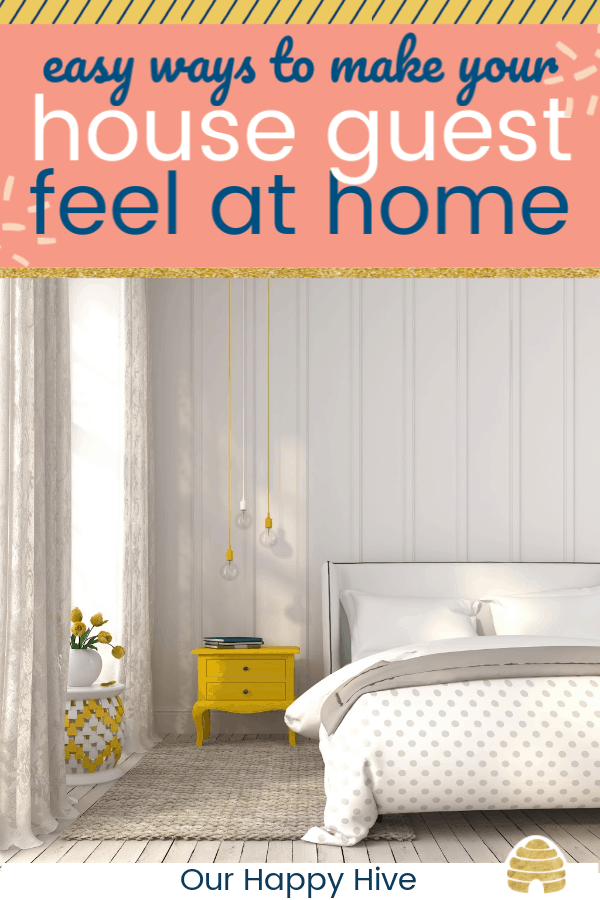 Waking up with your head on a fluffy pillow, the feel of crisp clean sheets and the smell of coffee brewing is such a delight. If you've ever stayed at a posh hotel or a bed and breakfast, you know this type of experience. You are excited to start the day and refreshed from your comfortable accommodations. Even if you forgot your toothbrush or hairdryer — they've got you covered! Isn't this the experience we want for our house guests? Check out these easy ways to make your house guest feel at home
Whether you have a dedicated guest room or you've made space in one of your kid's rooms, there are really simple things you can do to make sure your guest is comfortable. We want to make sure our friends feel like they are in their own home, that they have access to the things they need and don't feel uneasy.
Sleep Accommodations
Obviously, when it comes to overnight house guests one of the most important things is their sleep accommodations. You need to have a dedicated space for your guest. Here are a few options:
Guest Room – this is an obvious choice, but not everyone has a dedicated room
Air Mattress – if you don't have a room, consider a couch or an air mattress. It's best to choose a part of the home that has the least traffic and a bathroom nearby.
Kids Room – another option is moving the kids out to your room on an air mattress and giving your guests their room
Pillows – fluffy, flat, soft, firm, there are so many varieties of pillows it's nice to have a selection for your overnight guest.
Bedding/Linens – you'll also want to make sure you have some fresh bed linens and extra blankets. This is especially important during the winter or if your guest is staying in the basement.
Room For Their Stuff
Next, on the list, make sure your guest has a place to store their things. This is particularly important if your friend is staying for several nights. Here are a few more easy ways to make your house guest feel at home.
Suitcase rack – You can purchase one of these from Amazon or Bed Bath & Beyond. When guests travel with a suitcase, the rack provides a place for their open suitcase without the need to unpack everything!
Clothes hanging rack – If you don't have a closet for the guest, an empty clothes hanging rack is an easy solution. You can purchase an inexpensive hanging rack from Target, Amazon, or Bed Bath & Beyond.
Extra hangers – Most likely your overnight guest will need to hang up a few items. Be prepared by already having a few in the closet or on the empty hanging rack.
Empty Drawers – Empty drawers are always a nice touch if your guest is staying in a spare bedroom. If you provide the Suitcase rack, then the empty drawers are not necessary.
Consider the Climate
Now people, I live in Canada and I am from Texas, so you can bet when my parents visit and stay in our basement that they are a bit cold. We leave two heaters that they can use in the bedroom and bathroom along with extra bedding! Of course, when we go to visit them, it's the opposite, we turn on the fan and crank up the A/C. Consider your climate, the location of the room, and the needs of the guest. A few ideas you may want to include:
Heater
House Robe / House Shoes
Umbrella
Easy Access
Also, think about little conveniences your overnight house guest may need. At times, people forget a thing or two…especially if mom is packing for the entire family. It's also nice to just tell your guest, "hey don't worry about things like a hairdryer or toothpaste, we'll have some here for you!" Some people collect any extra travel size toiletries when they stay at hotels and then put them in a decorative jar in the bathroom their guest will use.
Toiletries (shampoo, conditioner, soap, toothbrush, toothpaste)
First Aid / Tampons
Nightlights
Hair dryer
House How-Tos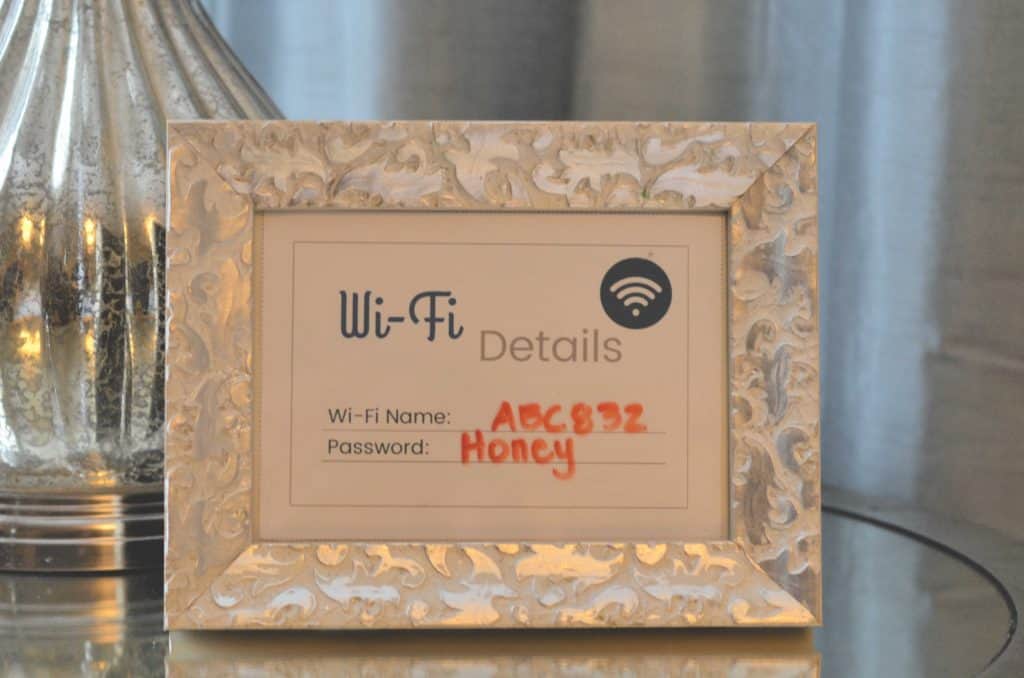 Easy ways to make your house guests feel at home include leaving important details about how your house runs. We have a house sitter that stays at our house when we travel. Between the overnight guests and our house sitter, we decided to make a guide to our home with all of the important details. You can grab your copy Home Visitors Guide including your Overnight House Guest Checklist at the bottom of this post. A few important items to share with your guests:
Wi-Fi Sign & Password
Emergency Numbers
Alarm code
Thermostat– notes about how to adjust
Food
It's always nice to put together a welcome basket with bottles of water, snacks or fresh fruit. If you want to go luxury, you could have a coffee maker just for your guests. You may want to ask about any dietary restrictions before they arrive. Also, it's always good to discuss breakfast plans before everyone parts ways for the evening. It's good to share if there's a particular time for breakfast, if it's self-serve, or if you'll be going out to eat.
Welcome Basket – bottles of water, snacks, fresh fruit
Coffee
Breakfast
Location! Location! Location:
If you want to put the cherry on top, consider pulling together a location guide. We did this for our out-of-town guests for our wedding and it was a huge hit. Things to include are local restaurants, shopping areas, local attractions etc.
It can be a lot of fun to have house guests. Entertaining and being hospitable creates special memories for your friends and your family especially over the holidays or during the summer. Ideally, you'll have a dedicated space for your guest and their things. Extra toiletries for their convenience and notes about your home so they feel comfortable are also welcoming to your family and friends. Lastly, going the extra mile with things like coffee or a location guide is an extra special touch. These steps are easy ways to make your house guests feel at home!