Picture this, white walls, clear glass, brightly colored fruits and vegetables, perfectly ordered rows of condiments from shortest to tallest, a snack bin for the kids, easy access to your favorite beverage, a place for everything and everything in its place. That's what it looks like when you have an organized refrigerator. The reality…it can go from the picture of bliss to anarchy in just a few hours depending on how many people use it and the lack of proper organization systems.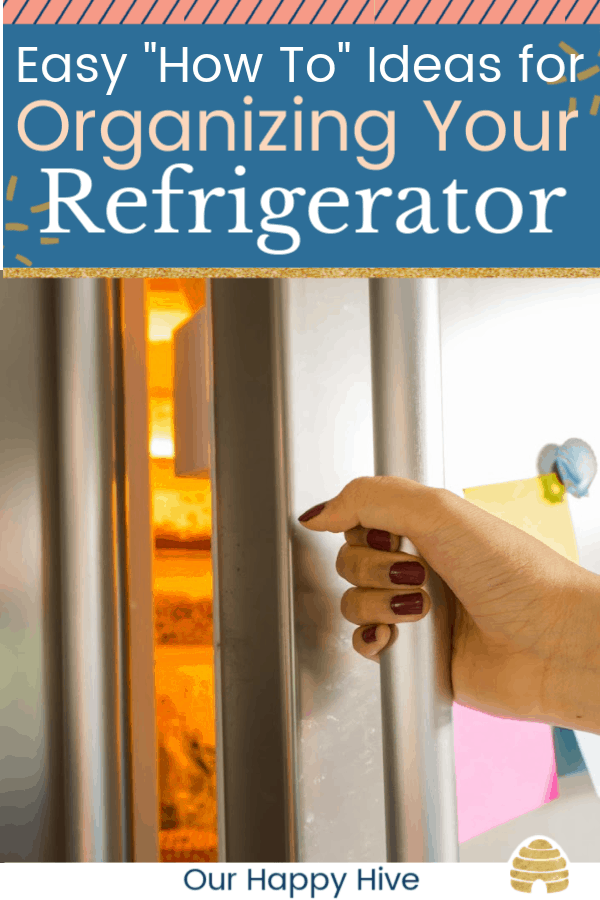 This post may contain affiliate links. For more information, please read my Affiliates Disclosure.
The refrigerator is one of the most important appliances in your kitchen. EVERYONE in the family uses it and you need it for practically every meal, snack, and drink. With high volume traffic, the more you can keep it organized the better. Once you have a system in place, it's easier to maintain, clean, and restock when you return from the grocery store. Read on for practical tips to organize your refrigerator in a way that is easy to maintain.
Cleaning out your refrigerator is very straight forward.
Remove all of the contents
Throw away expired food and condiments
Wipe down and clean with mild soap and water all of the insides of your refrigerator including shelves and drawers

Refrigerator Zones
Organizing your refrigerator requires a little more thought than cleaning it. I wonder if you'll be as surprised as I was to learn some of these best practices!
There are reasons you should store various types of food in specific places in your refrigerator. Let's go from the top down.
Door & Upper Shelves
The door and the upper shelves are the warmest parts of your refrigerator. Because they can be a couple of degrees hotter than other parts of your fridge, they are not ideal for milk or eggs. I know, shocker!!! Doesn't the manufacturer make the compartments specifically for eggs in the top of the door and isn't that top shelf in the door gallon sized just for milk?!? Check out what Consumer Reports found in their investigation.
"In our temperature performance tests, which occur in climate-controlled chambers where we crank the heat up to 110 °F, temperatures on the door climb a couple degrees higher than the main compartment. That's too warm for milk and eggs, despite the fact that many refrigerators have gallon door bins and egg-shaped compartments that seem like ideal places for these items."
So, what should you put in the door or the upper shelf?
Things that aren't as sensitive to warmer temperatures…
Jam and peanut butter
Condiments like ketchup and mustard
Butter
Apple sauce or fruit cups
Drinks like juice or soda
Yogurt because it's fermented can even do okay
Leftovers
Middle Shelves (Not in the Door)
This is the most consistent in temperature in your refrigerator. It's ideal for
Eggs
Cheeses
Milk
Coffee Creamers

Crisper Drawers & Lowest Shelves
These drawers are designed with fruit and vegetables in mind. The humidity levels in these drawers are controlled to help maintain freshness. Vegetables should be kept in the highest humidity drawer and fruits in the lower humidity drawer.
Some refrigerators have a small drawer for meats and cheeses. The bottom shelf and lowers parts of the refrigerator are the coldest places and ideal for meats.
Organizing Tips
Now that you know how to use the zones in your refrigerator, let's look at a few tips to help you organize your fridge in a way that is easy to maintain!
Container Tips
Containers can be helpful to further define spaces inside your fridge. We have a separate container for eggs, one for salad dressing, and a couple for easy-access to the kid's snacks and yogurt.
Use clear containers that you can see through
Label containers and drawers so that everyone knows where to find what they are looking for
Easy Access Tips
Put the food your family likes and/or the healthier items you want to encourage everyone to eat in the front and most visible areas.
Taller items should go either in the back of the shelf or on the outer left and right sides. Layer the rows going from tallest to smallest.
Turntable/ Lazy Susan. Some people prefer to use a turntable on shelves so they can have easy access to items and so they don't get lost in the back of the fridge. I don't prefer this option because round shapes don't maximize your space and then you have wasted space on the shelf.

15 Foods that SHOULD NOT be kept in the Fridge
The fridge is not a great place for all food. It can lessen flavor, change texture, and cause some foods to spoil faster. Check out these 15 foods that are best stored outside of the refrigerator. I was surprised by at least one of the items on this list.
| | |
| --- | --- |
| Food | Reason |
| Tomatoes | Cold air slows down the ripening process. Flavor becomes dull. Store on the counter instead. |
| Onions | They need air circulation to stay fresh |
| Garlic | Become rubbery |
| Cucumbers | Makes them watery and pitted |
| Bell Peppers | Lose their crunch |
| Potatoes | Become gritty and sweet |
| Basil | Will turn black. Put on the counter in a cup of water |
| Bananas | Become black |
| Butter | Butter can be stored outside of the fridge in moderate and cool climates. If you live somewhere warm, it will likely become too soft and will need to be stored in the fridge |
| Honey | Becomes crystalized |
| Coffee | Can become moist and loses flavor |
| Hot Sauce | Can lose some of its spicy flavor and the vinegar preserves it on the shelf. |
| Olive Oil | Will become hard in the fridge. It's better to store in a cold dark place. |
| Nuts | Lose their flavor |
| Bread | Freezing then toasting is fine, but the refrigerator causes it to become stale faster |
Keeping these foods out of the fridge will help them last longer and taste better!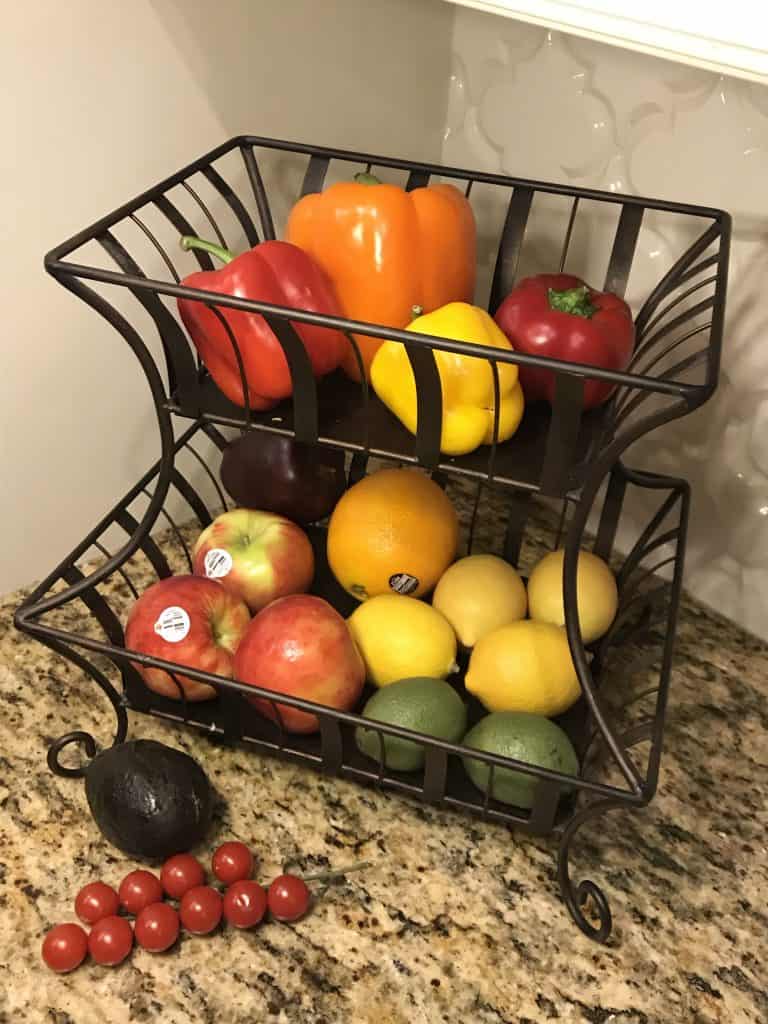 A Refrigerator That Is Like New & Easy To Maintain
Not so many years ago, when I lived in Houston, my refrigerator was damaged as a result of a hurricane. It was only one small part of the damage, but for six months, I lived with a mini-fridge for all of my refrigeration needs. It was a glorious day when a brand-new refrigerator arrived. During this time, I grew to appreciate the luxury of having a working refrigerator and the brand new appliance inspired a new rule of order. Don't we all feel happier when things are cleaned and organized? By cleaning your refrigerator, understating the zones, organizing with bins and labels, and keeping some food out of the fridge, you'll have a refrigerator that is like new and is easy to maintain!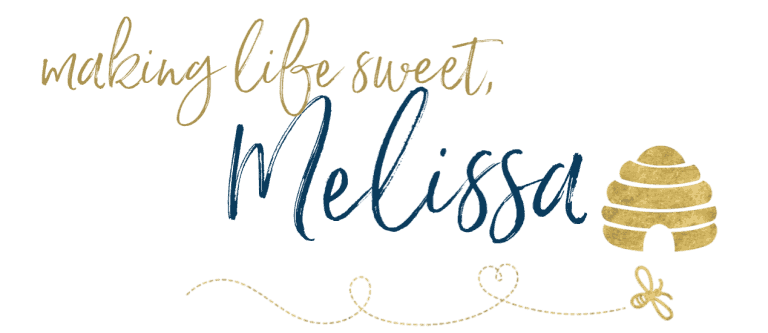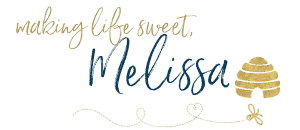 Looking For More Kitchen Organization Ideas?
Free-Bee Resource Library
Enter my
Free-Bee Resource Library
for my latest downloadable files and printables! Password is 'honey' -- please copy and paste that in at the link above. Thanks for being a subscriber!!