It's almost that time of the year again. You know, when you crave to have friends and family over and celebrate the holidays. But, like most years, you have a lot going on. I mean, do you really have time for a party?
Yes, yes you do!!! Life is busy…but there are fun ways to entertain that don't have to drain you, take a lot of time or cost a lot of money! Are you in? Let's do this!
Let's talk about DIY Food Bars. They've been around forever. A casual get together may have a DIY Sandwich station… picture it, a deli tray, buns, and jars of Mustard and Mayonnaise. You line up and DIY your sandwich just the way you like it.
Ok, now that we're on the same page, let's talk about something much more exciting than a sandwich buffet. We're going to DIY party food for the holidays. These food bars are great because they can be really cute and creative, but they can also save you time. How do they save time, well, you don't have to fully prepare the food or beverages your guests consume. You lay out all of the elements, but they put it together.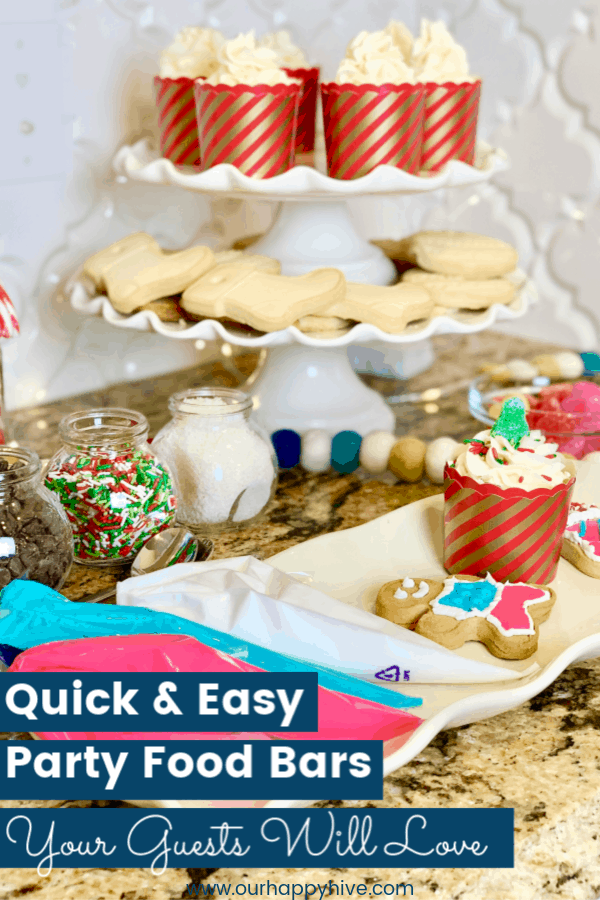 This post may contain affiliate links. For more information, please read my Affiliates Disclosure.
I was able to get the majority of the things I needed to buy including containers and food from the dollar store and Walmart! Woot woot, that meant I didn't have to put out a lot of cash!
Santa's Cup of Cheer – Hot Drink Bar
Christmas always calls for hot drinks. I grew up in Houston and despite the warm weather, I loved my peppermint mochas! This is an easy DIY to put together and requires almost no prep!!! All you have to do is make your hot chocolate and coffee in advance, buy a ton of toppings, and create your display. This hot chocolate and coffee bar will be a favorite of yours and is sure to be a crowd pleaser!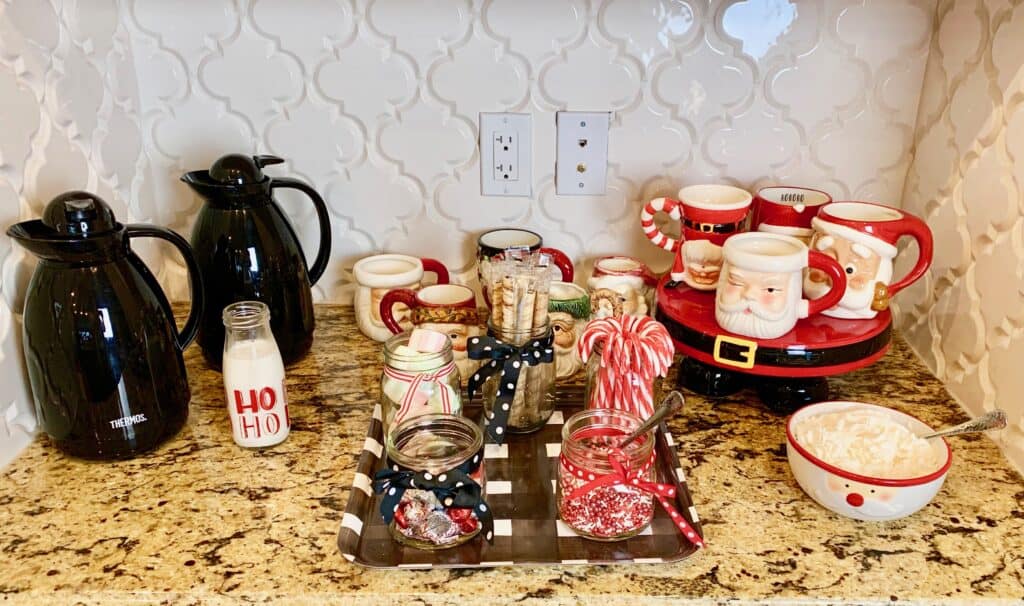 Supplies:
2 Carafes, 1 for Coffee and 1 for Hot Chocolate
Whipped Cream
Half & Half Cream or the fun seasonal flavored creams
Sweeteners (Sugar and/or the fake stuff)
Toppings and mix-ins- I used mint flavored marshmallows, Hershey's kisses, Pirouette Cookies (like chocolate straws) Candy canes, and sprinkles
Coffee cups
Stir Spoons – you can go advanced here and get (or make) the chocolate dipped spoons…they are de-lic-ious!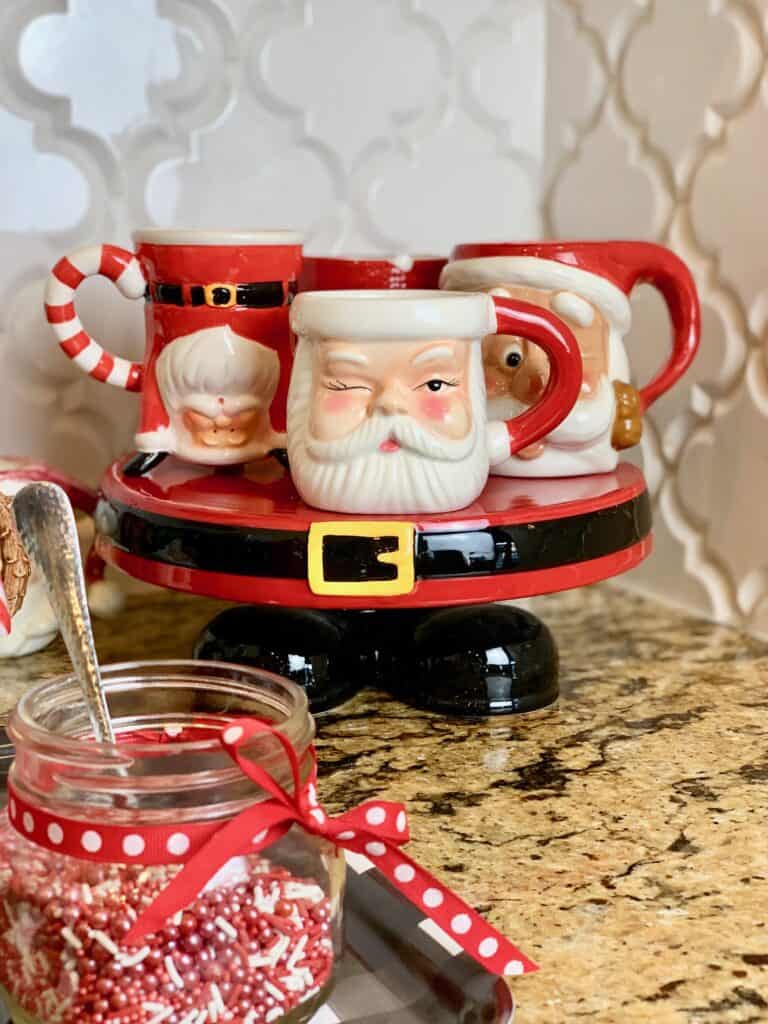 These fun Santa Coffee Cups are a collection that my mom passed on to me. She collected them over the years and passed them along to me last year. Now, I add a cup here and there when I'm holiday shopping.
You don't have to buy something just like this. Look and see what you already have and see if there's a fun collection you can pull together. Maybe you have mismatched china or a variety of coffee cups. Feel free to go traditional with matching cups or create an eclectic collection with whatever you have available! You can't go wrong!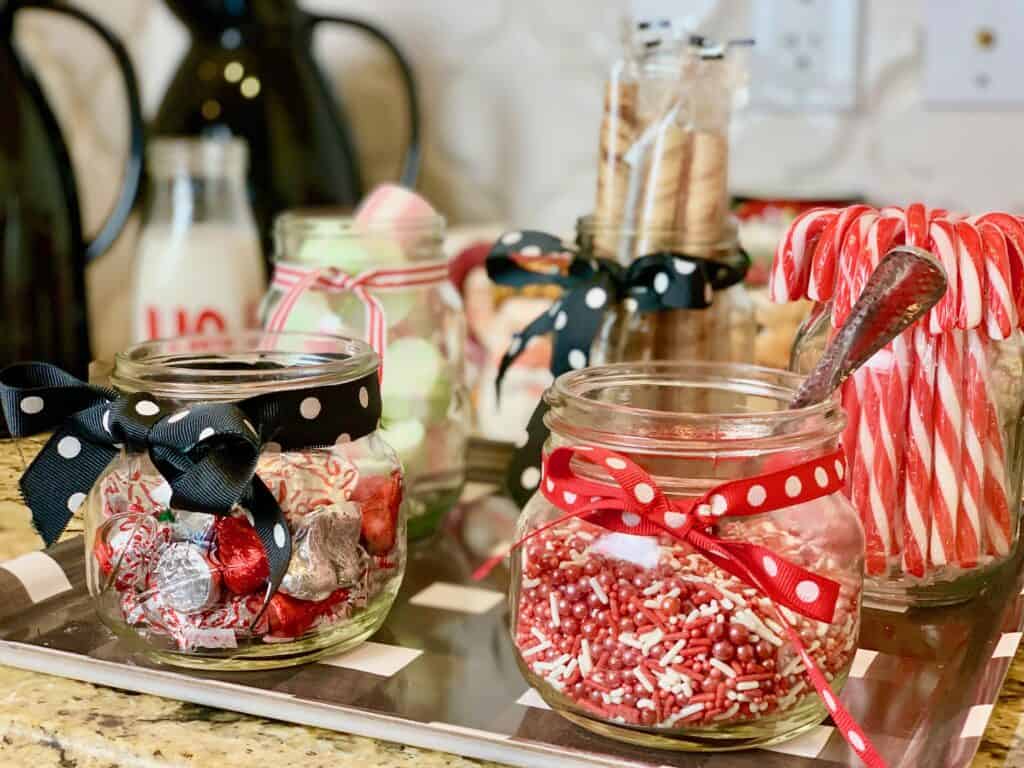 Reindeer Party Mix – DIY Food Bar
This Party Food Bar is a spin on Texas Trash or Chex Party Mix. This is great party food for all ages kid and adults will love it! When deciding on your ingredients, make sure you have a variety of salty and sweet items. You can make this a zero-cooking party food bar or, you can make your own check mix.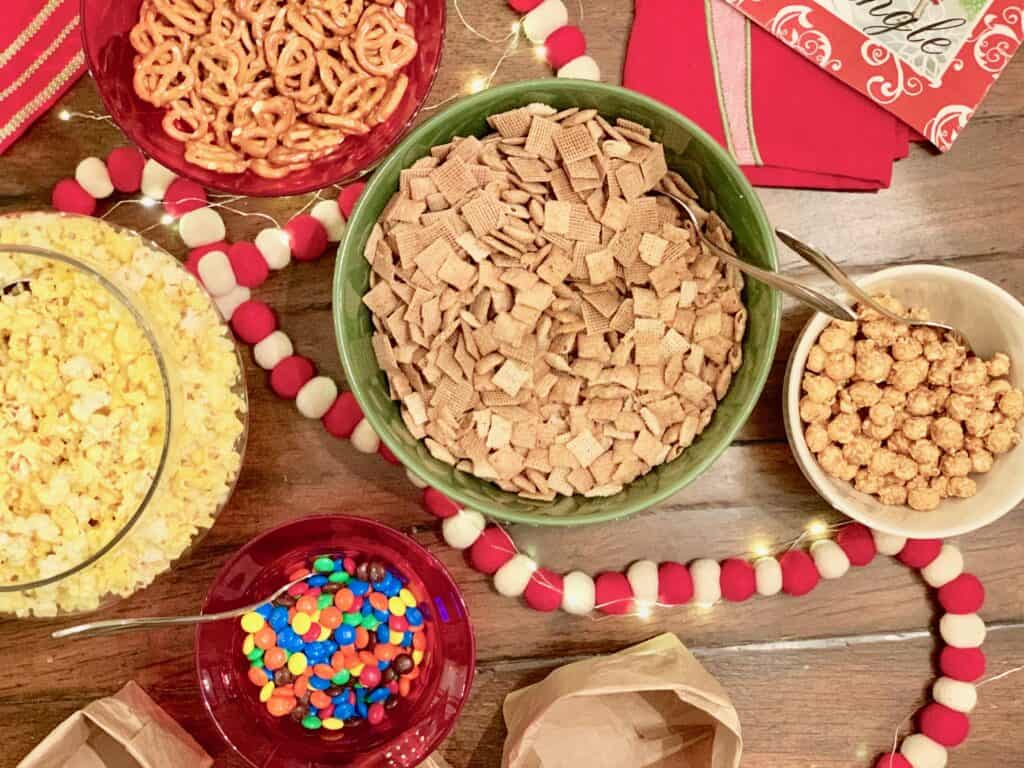 Supplies:
Cereal- I went with a variety of Chex, but you could add Cheerios as well
Pretzels
Butter Popcorn
Caramel Popcorn
M&M's
Nuts, sesame sticks, and other candy like mini-Reese's are also great options to include
Paper bags or bowls for guests to create their custom mix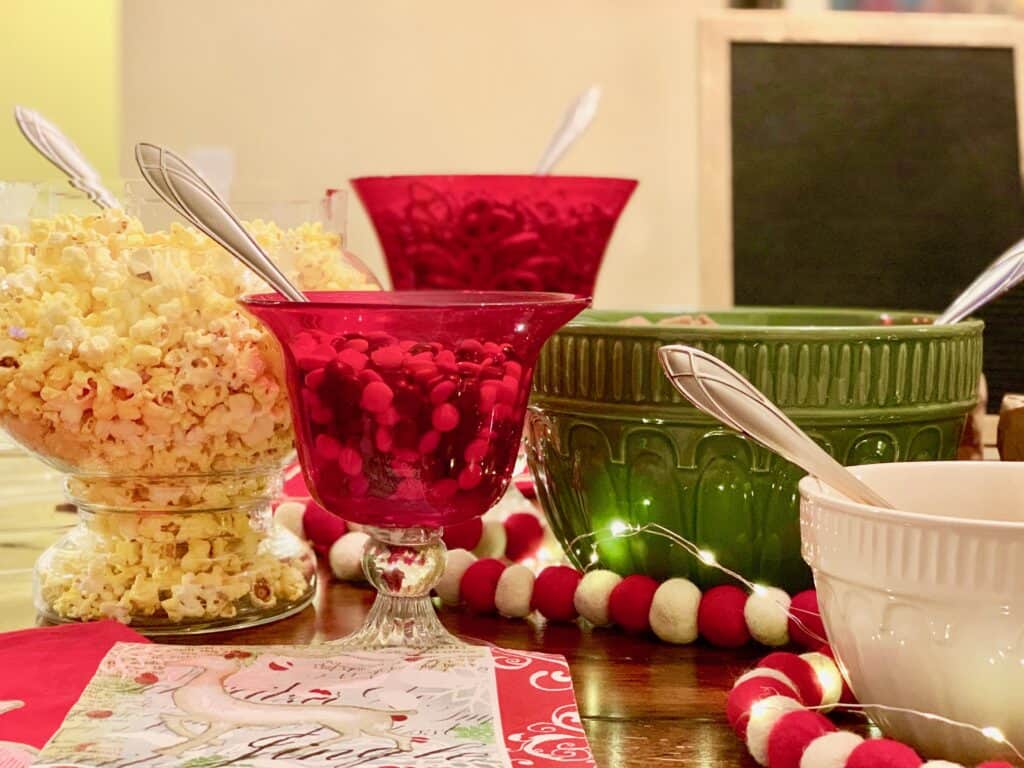 As far as décor, mini-twinkle lights and a garland are nice to weave between the bowls. You can use paper bags for your guests to create their mix!
Elf's Sweet Shoppe – Custom Cookie Bar
A party is not complete without some sweets! This DIY Party Food Bar may require a little more preparation time, but I have a few hacks for you to help out in this area. Let's talk first about the food.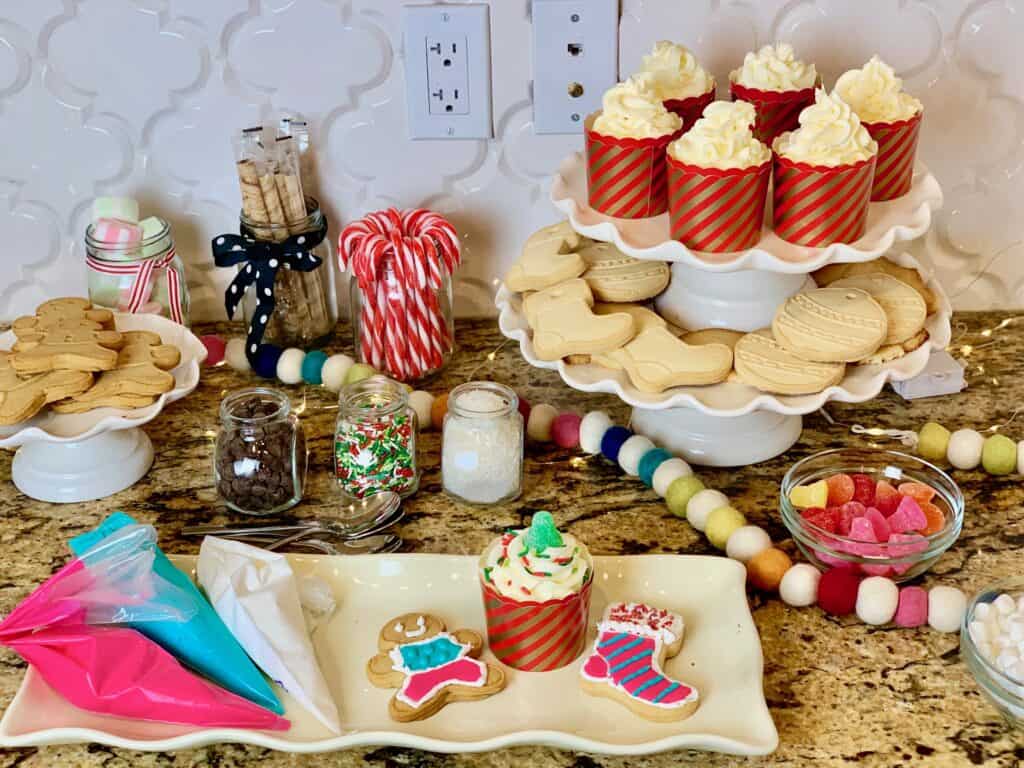 The Food
This buffet has typical holiday sweets including Sugar Cookies, Gingerbread cookies, and Cupcakes with buttercream icing. You can include any variety of cookies at a station like this, but I wanted to stick with a grouping that allowed party guests to decorate their own sweet.
For the cupcakes they can add sprinkles, marshmallows, chocolate chips, even shredded coconut.
For the cookies, I made this Royal Icing and put it in piping bags.
The Hacks
Here are the hacks I mentioned. If you're short on time, you can buy cupcakes and cookies from a bakery. During the holidays, many stores also have sugar cookie and gingerbread cookie kits available. If you go these routes, this bar can be another zero-bake party food bar!
The Supplies
Cupcakes with icing
Gingerbread cookies
Sugar cookies
Royal Icing in piping bags for guests to decorate their cookies
Toppings: chocolate chips, sprinkles, shredded coconut, marshmallows, and gumdrops.
This is another great party food for almost all ages. It's fun to do with kids and can count as an activity to keep them entertained along with something to fill their tummies. A word of caution, if you are doing this for kids, I' encourage you to use something other than the piping bags. You may be able to find small icing tubes like the ones below. I got mine in a gingerbread kit. Alternatively, you can also get bottles like this for kids to use to decorate their cookies. The thicker you make the Royal Icing the less messy it will be. The thinner it is, the more it will ooze all over the cookie.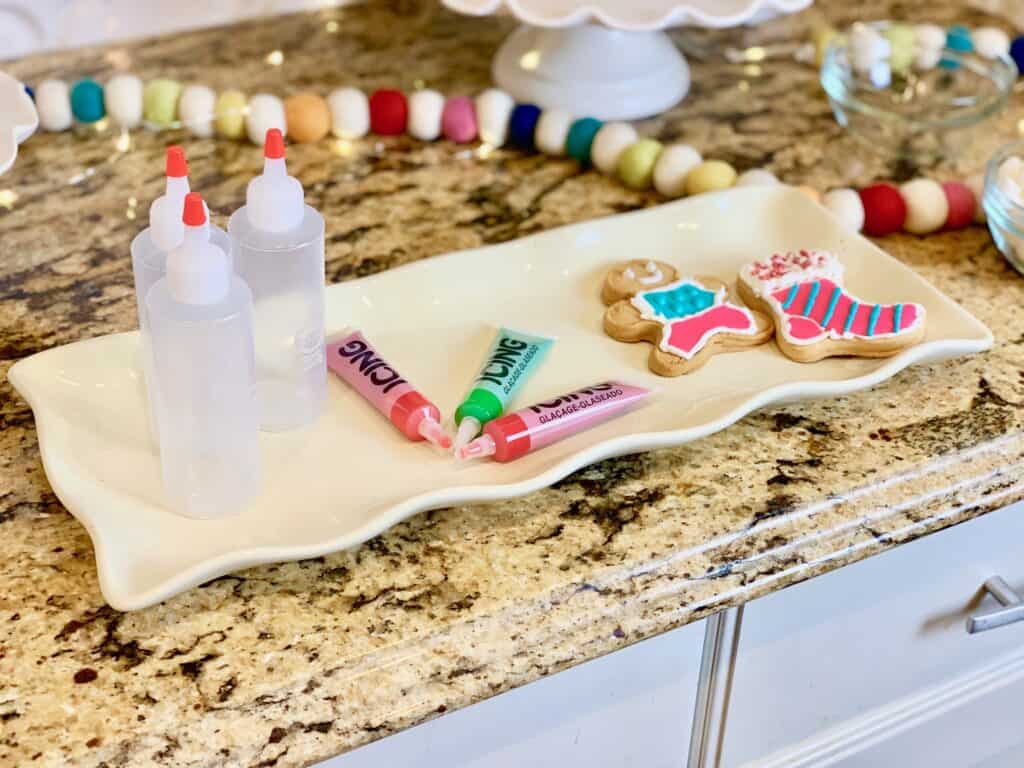 What are You Waiting For?
So, what's holding you back? Isn't it time to have a Christmas Party? These fun and easy party foods will look great, save you time, and be enjoyed by your guests!!!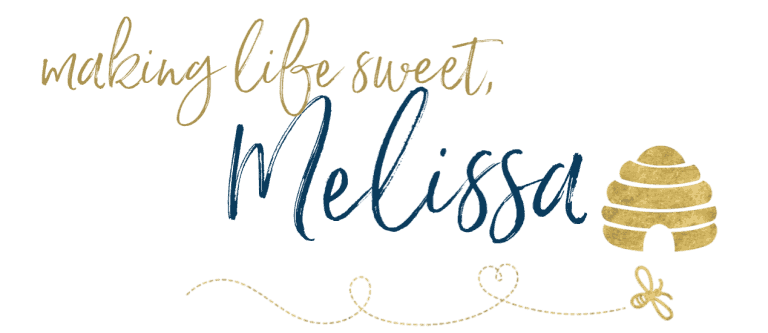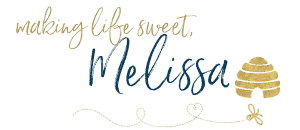 Christmas Ideas You Can't Miss!