Recently I was reviewing Oprah's Favorite Things and I came across one item that really intrigued me. If you read my last post, "Six Powerful Questions To Help You Reflect And Celebrate This Past Year," you've probably picked up that I like to focus on the positive and I love little reminders of the good things that happen throughout the year. So, when this item crossed my path, I had to have it…not only for me, but for my family! What is it? It's a Gratitude Jar – a place to make note of the good things one day at a time…for an ENTIRE YEAR!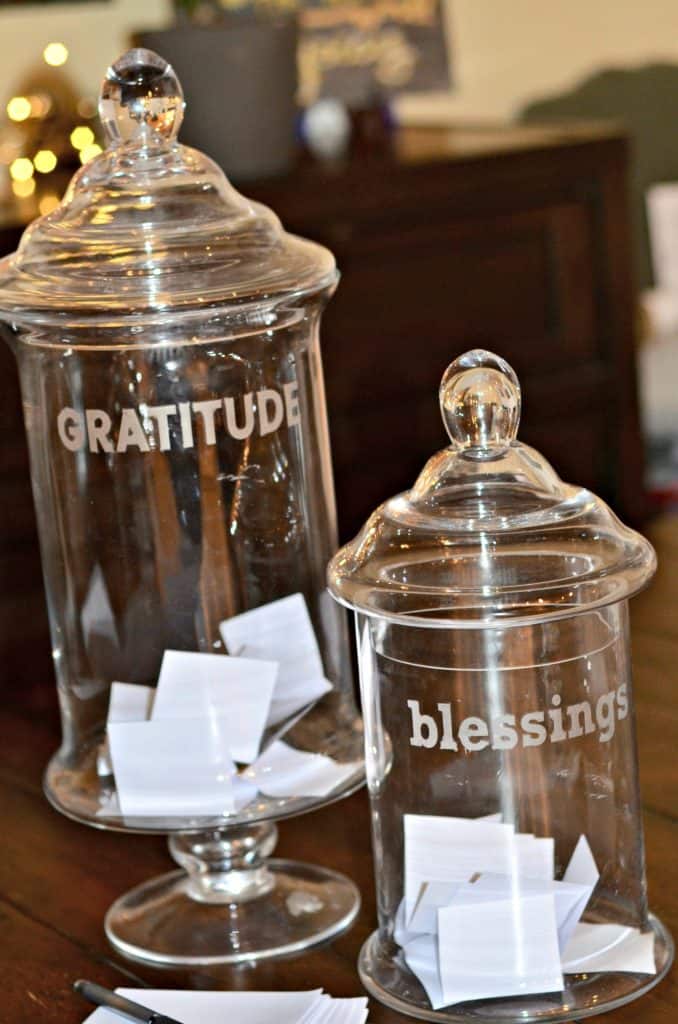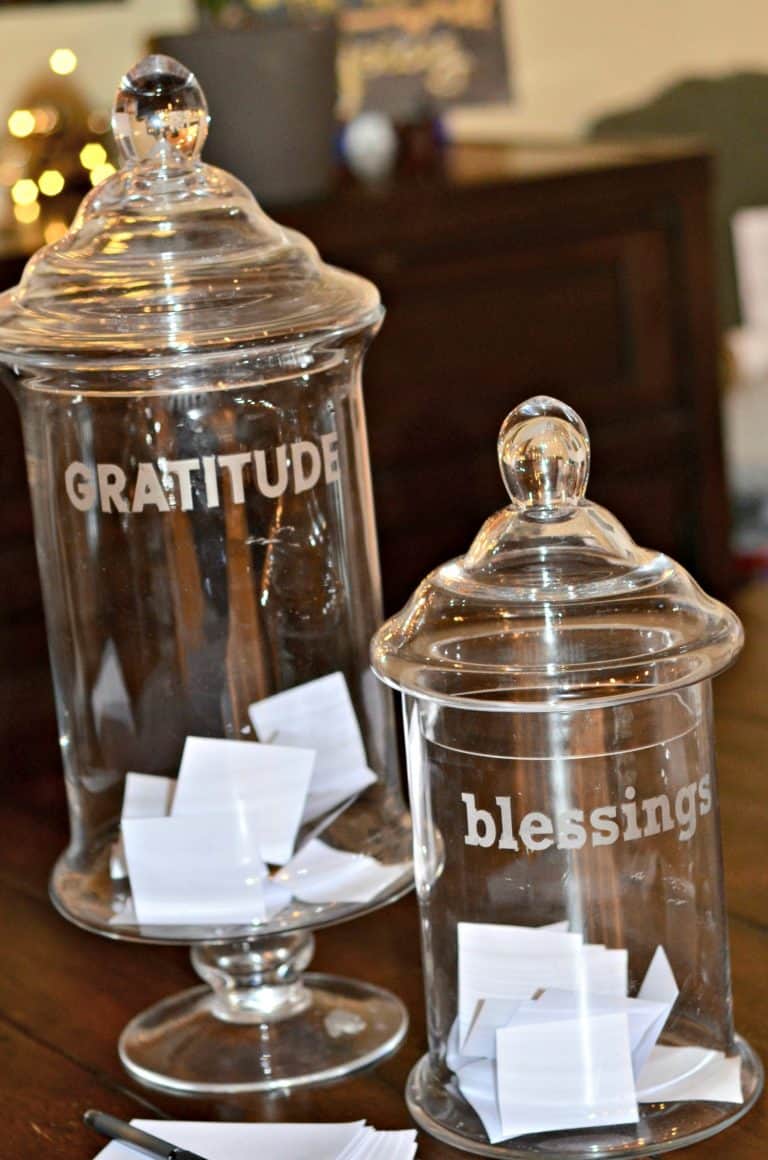 This post contains affiliate links. For more information, see my disclosures here.
The only problem, I couldn't find the jar in Canada, so, I made my own! Actually, I made two. One with the word "Blessings" and the other with "Gratitude." The ❤️ heart ❤️ behind both is the same. I won't use both; one will probably be a gift for a friend!
You can buy Oprah's Favorite Jar here (when they're back in stock). If you want to make your own, you can use any jar, but the larger the better. Choose a positive word to put on it e.g. Gratitude, Thankfulness, Blessings, Happiness, Joyful etc. I used my Silhouette Machine and Etching Kit, but you don't have to be that fancy-schmancy. You can write on a jar with a paint pin or with a permanent marker. What ever works best for you!
Oprah's Jar came with 365 cards to write a note of thanksgiving for every day of the year. Check out my free printable here if you go the DIY route. Simply print on card stock and cut!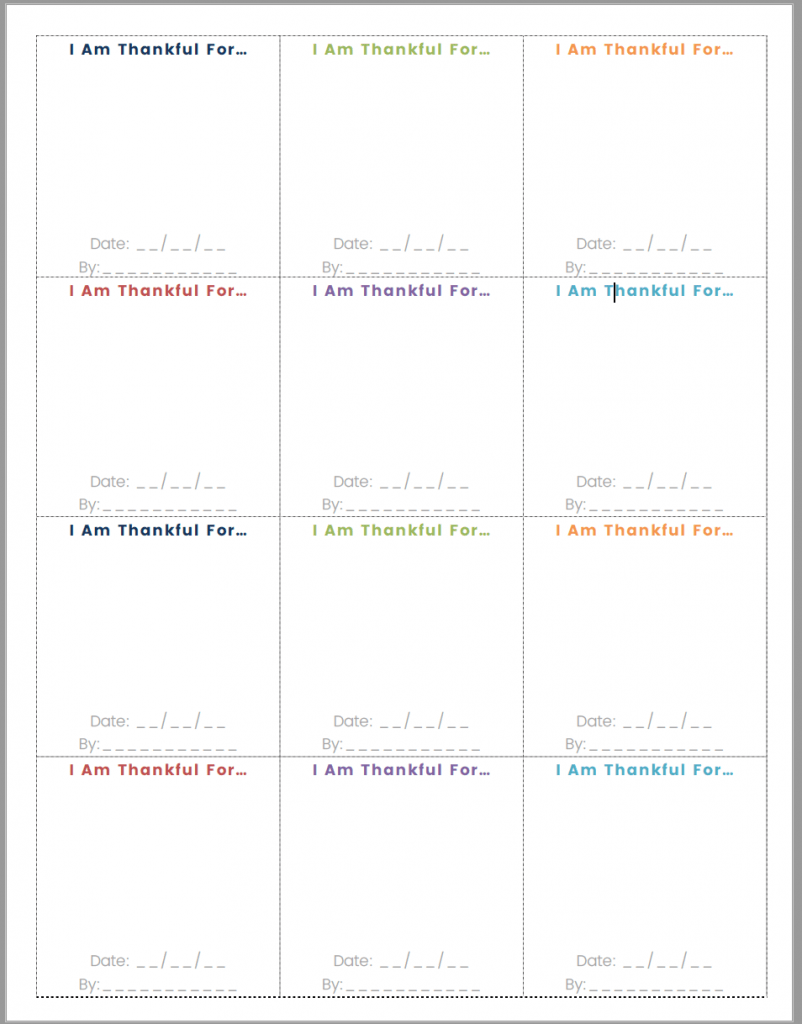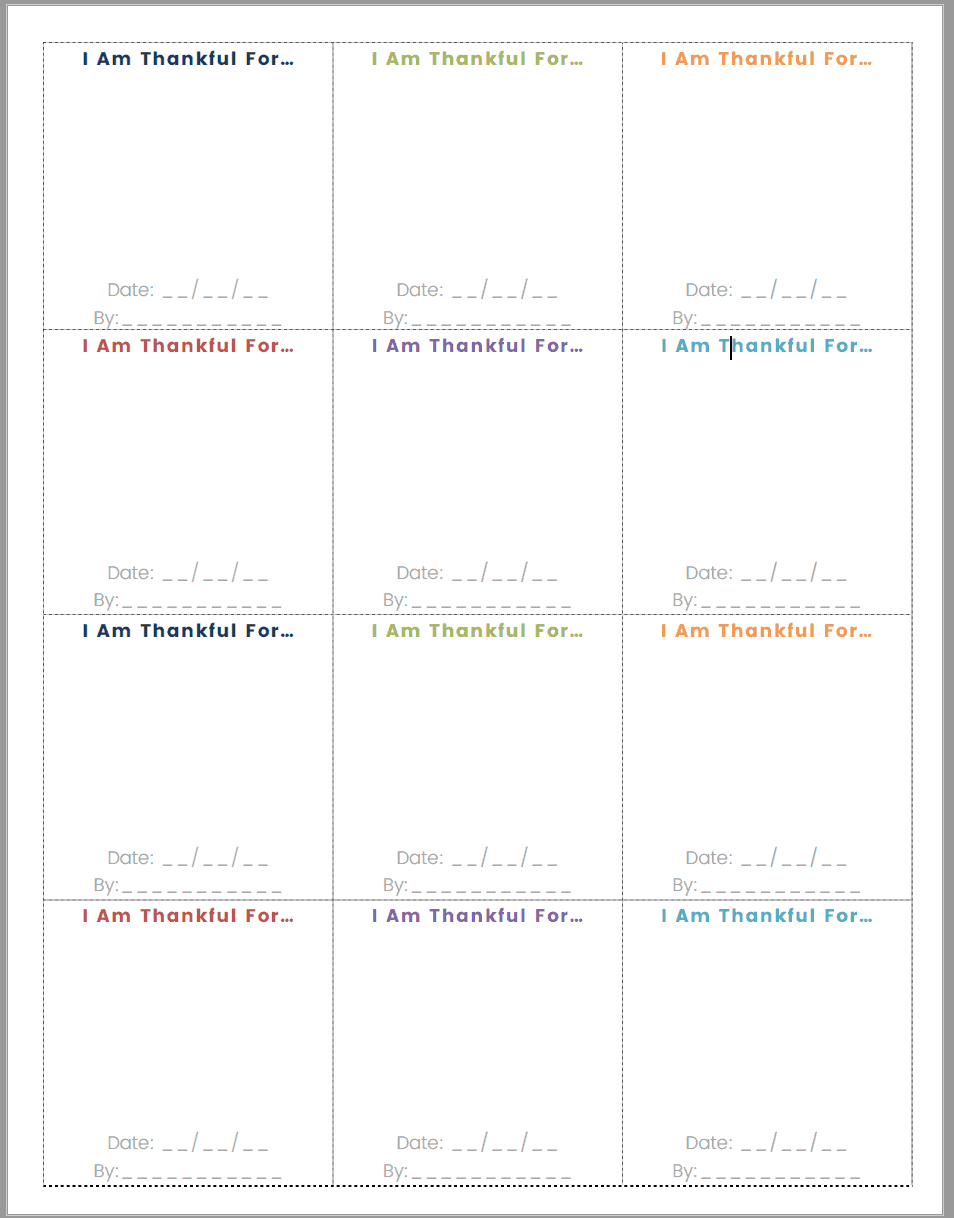 Family Involvement
This is a great activity for the whole family. If there's a time when your family sits down to eat together, that would make the perfect opportunity to reflect on the day. Maybe that doesn't happen every day for you, if not, don't sweat it, double up some days…but don't let too many days get in between your notes.
If you have young kids that can't write yet, have them draw a little picture and have one of the adults put words to it. Share the opportunity so that each family member has a chance every week to participate.
Jump Start Ideas

To get you started on what to write for your gratitude jar, find a few ideas below. Pretty much anything goes! Capitalize on the things that make you or your family smile!
Special Memories
Milestones
Daily Wins
Happy Thoughts
Something You're Grateful for
Something Funny that Happened
Do I have to Wait A Year?
The goal is to have the jar for an entire year, but you can review it whenever you want. Maybe when you've had a down day, it'd be a good time to flip through the notes. At the end of the year, your jar will be full! Your cup may run over! I haven't done this yet, but I envision compiling all of the notes and binding them so that we have a keepsake that lasts beyond the year. Perhaps this will be a new family tradition. One that trains each of us to have an attitude of gratitude, to not take things for granted, to celebrate the small wins as well as the big ones, and to always find the silver lining!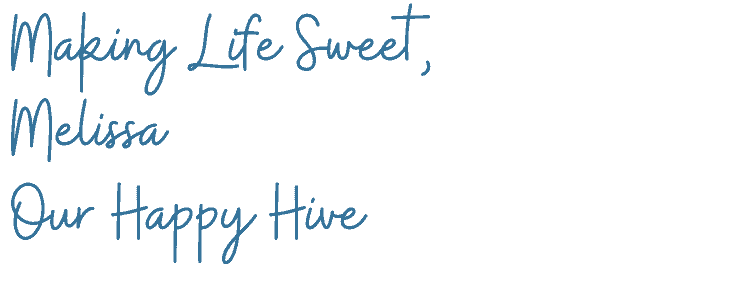 Note: We are a participant in the Amazon Services LLC Associates Program, an affiliate advertising program. For more information, see my disclosures here.
If you want to make your own you can get your supplies here: