One of our family's goals is to eat more plants. Over holidays like Thanksgiving and Christmas, we try to add new recipes that are a little healthier than the family favorites we grew up with. Since plant based eating is relatively new territory for us, I literally have to search for new recipes vs. pull from a repertoire of classics.
Thanksgiving is just around the corner here in Canada, so I'm in menu planning mode. We'll be having a small gathering with just our immediate family and my Mother-In-Love (MIL). While it would be wonderful to have all of our loved ones around, the small size will allow more opportunity to customize the menu and my MIL is totally up for trying plant based dishes.
In case you want to include some or more plant based platters for your holiday meal(s) I'll unpack our plan as we approach our first Thanksgiving meal this year (side note: often we have two Thanksgivings to celebrate both Canadian and American holidays.)
Step 1 Straight from the Farm
One of the things I can overlook is the plain old- straight from the farm, vegetables…steamed broccoli, boiled corn on the cob, or sautéed green beans etc. As a first step, we'll consider vegetables that are in season and that our family enjoys to eat. To begin with we'll add one or two to our menu. I always find this refreshing …not every dish needs to be a casserole or something complicated!
Step 2 Something New
Our new plant based recipes for this holiday season will include the following: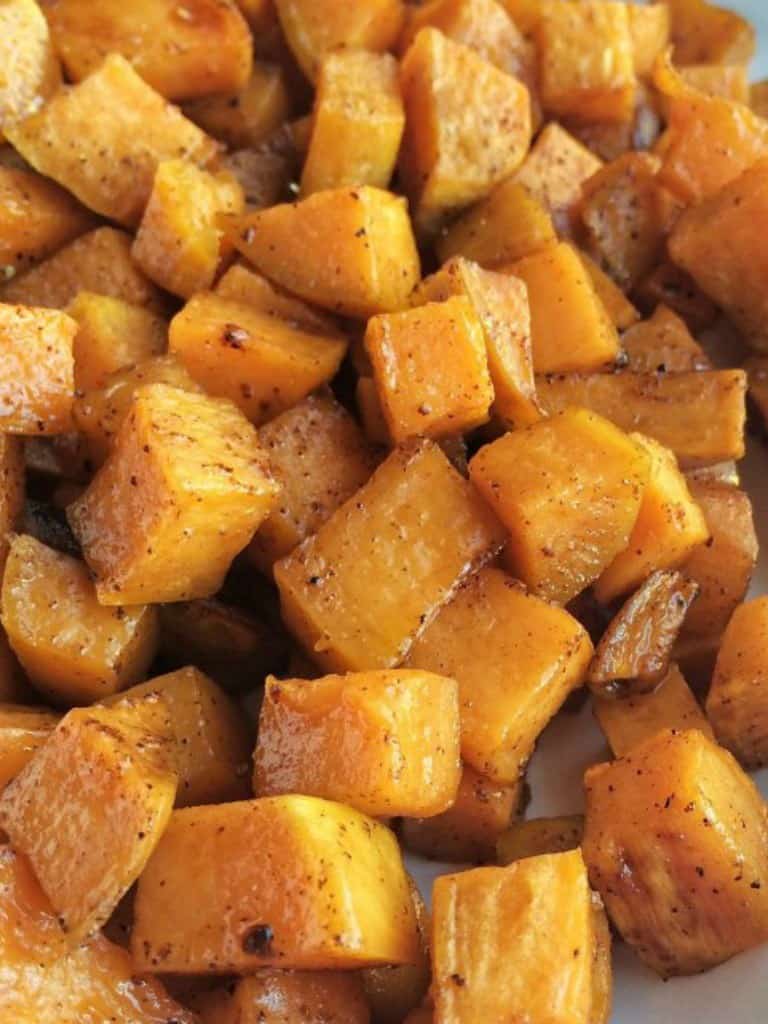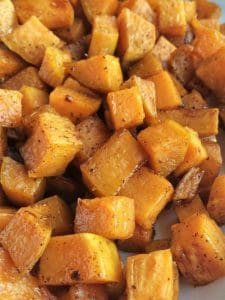 Roasted Maple Cinnamon Sweet Potatoes by Together As Family – I am anticipating this will be a crowd pleaser for the entire family. Little Miss E is pretty good about eating vegetables and Sweet Potatoes are always a hit with her…add cinnamon to the mix and I'll probably be getting requests for this dish for the next month.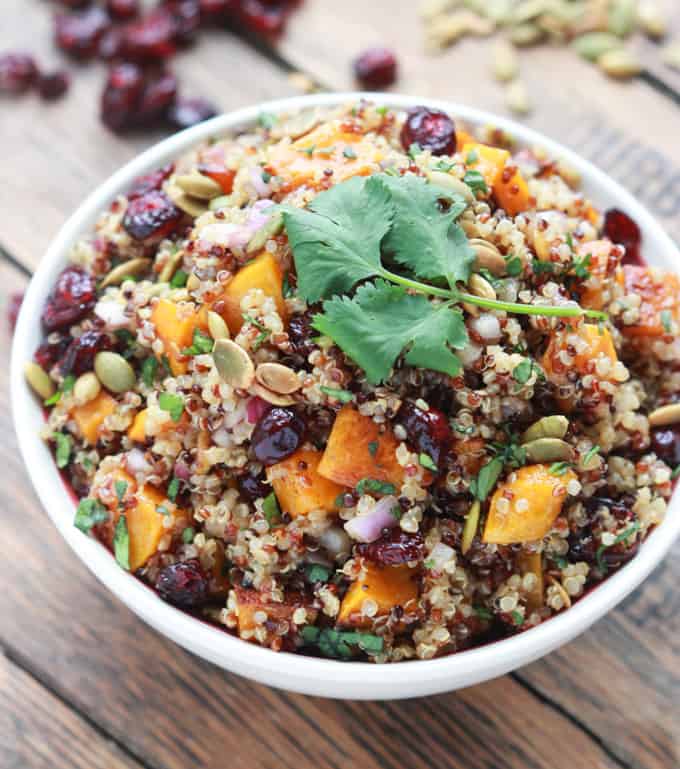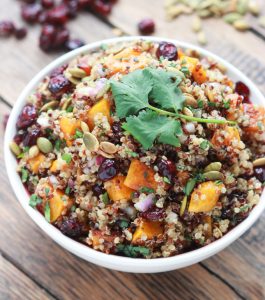 Butternut Squash & Cranberry Quinoa Salad by Little Broken – Every thanksgiving dinner has to have some cranberries in it. I grew up with Broccoli and Rice Casserole…this grain + veggie is a fresh and healthier substitute.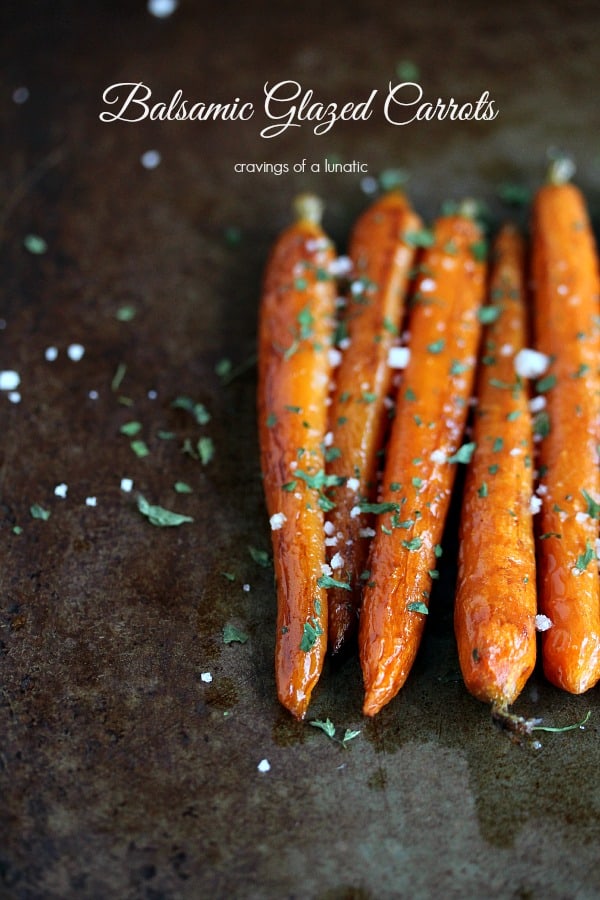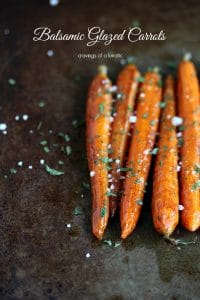 Balsamic Roasted Baby Carrots by Cravings of a Lunatic – I'm really excited to try out this dish. We spent the summer growing vegetables and carrots are the last item to be harvested. I can't wait to pull them up and cook them. How fun will it be for our family to eat something we grew in our own garden?!?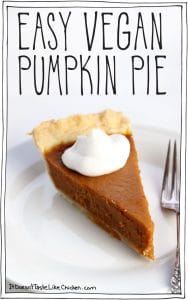 Easy Vegan Pumpkin Pie by It Doesn't Taste Like Chicken – Little Miss E came home from preschool today saying she wanted to have Pumpkin Pie and that it was something we needed for Thanksgiving. Clearly there was a lesson around the holiday and food entered the equation. So, of course, for dessert we'll have to add this one to the list!

Step 3 Modify Something Old
Before the holiday arrives, I may even add another recipe or two to the menu. One of the things I've learned is that there are some easy ways to modify traditional recipes so that they don't contain any animal products. For example, you if your making muffins or a breakfast bread, you can substitute eggs for applesauce. Or if a recipe calls for butter you can sub vegan butter or coconut oil. Check out the list of baking substitutes.
Some Other Great Recipes To Try Out
If you're still looking for plant based menu items for the upcoming holiday, here are a few more we considered. They all look delicious and with some time, we'll give them a shot.
Breakfast
Appys
Lunch / Dinner
Dessert
I'd love to hear if you try any of these recipes or if you have other favorites you like to share with your family and friends over the holidays.


Save
Save
Save
Free-Bee Resource Library
Enter my
Free-Bee Resource Library
for my latest downloadable files and printables! Password is 'honey' -- please copy and paste that in at the link above. Thanks for being a subscriber!!