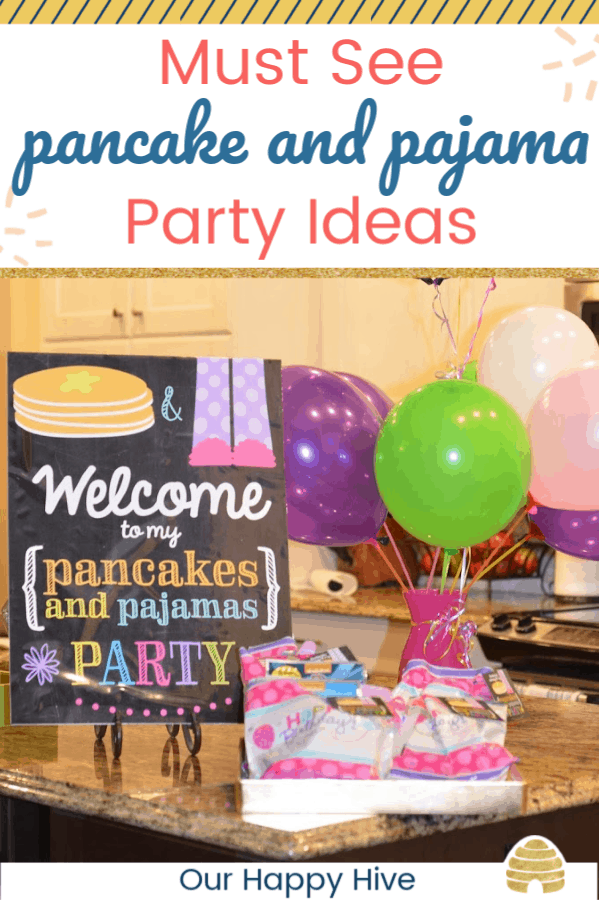 I'm so excited to share with you a fun, cute, sweet, and easy birthday party theme for your favorite little boy or girl. Little Miss E recently turned 4! Of course, I wanted her to have a fabulous birthday, but I also wanted it to be low maintenance. One of the things we've started doing is going out for pancakes and letting the kids wear their PJs. It's a favored family outing and was the inspiration for this Pancake & Pajama celebration!
You probably already know that I'm into hacks and am always striving to make the most of my time. If you haven't read it already, check out my post "10 Birthday Party Planning Hacks Pinterest Addicts Need to know"
Planning
I used Evite for our invitations. They had the perfect Pancake & Pajama theme but it was not included in their free options. It cost a few dollars, but I found a coupon code and got it for free!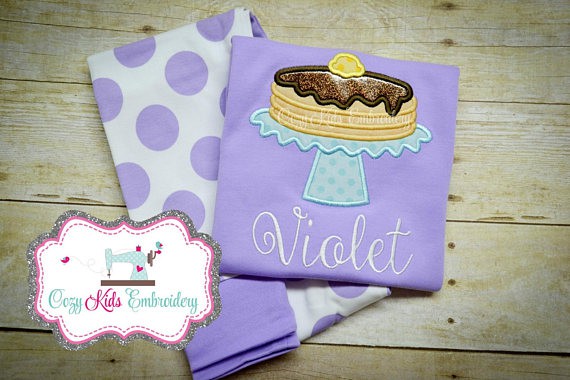 Etsy is always a great place for personalized gifts. I ordered Little Miss E special pajamas with pancakes the number 4 and her name embroidered on it. Unfortunately, due to the holidays and international shipping, they arrived 2 days after her birthday.
Here's the Etsy shop if you want to check out these and other options.
Decorations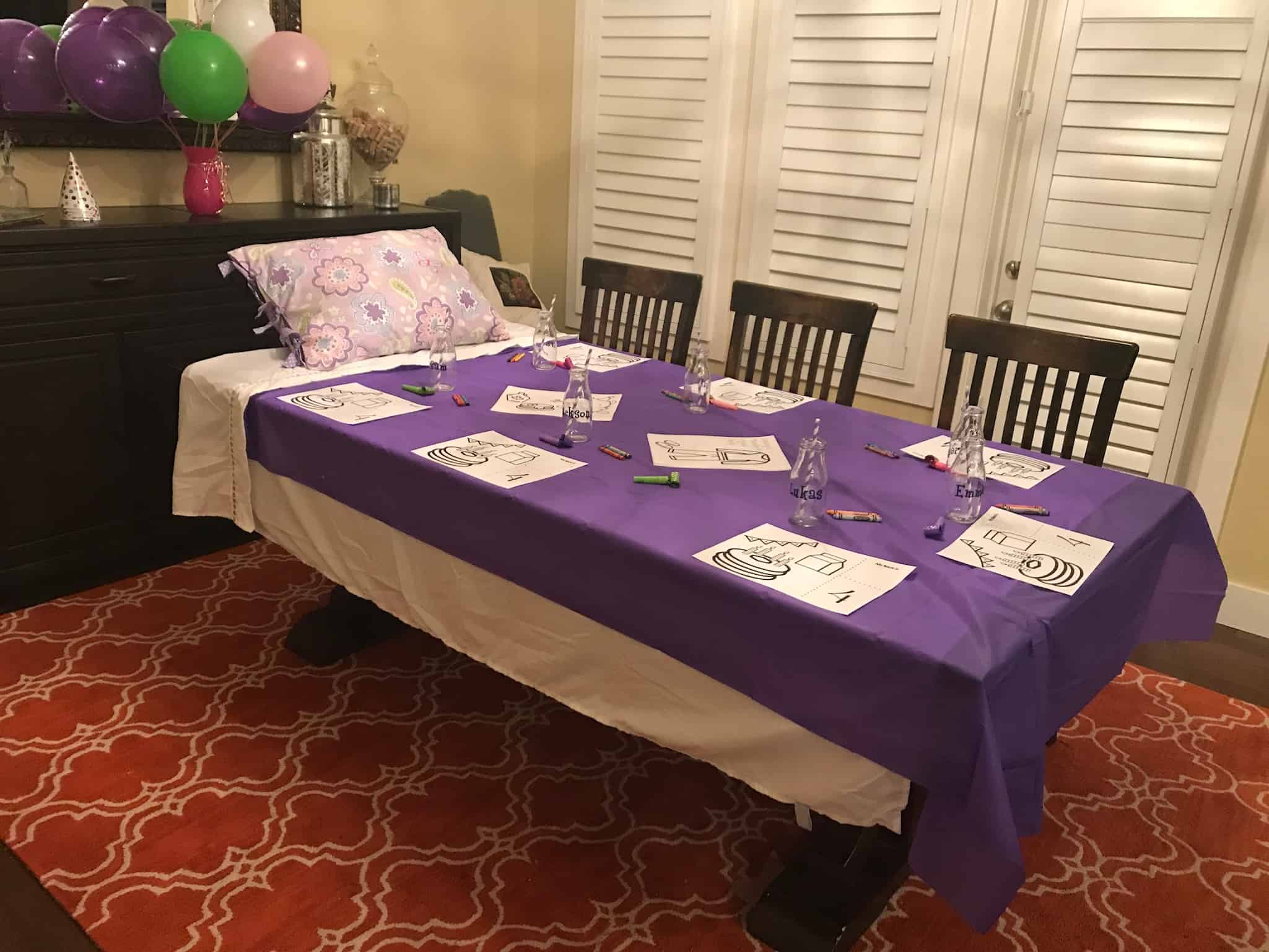 Pinterest gave me the idea to set the table like a bed. A white twin sheet was the first layer with a purple plastic tablecloth making the bed cover and a pillow at the head of the table. It was the perfect centerpiece to the morning's events.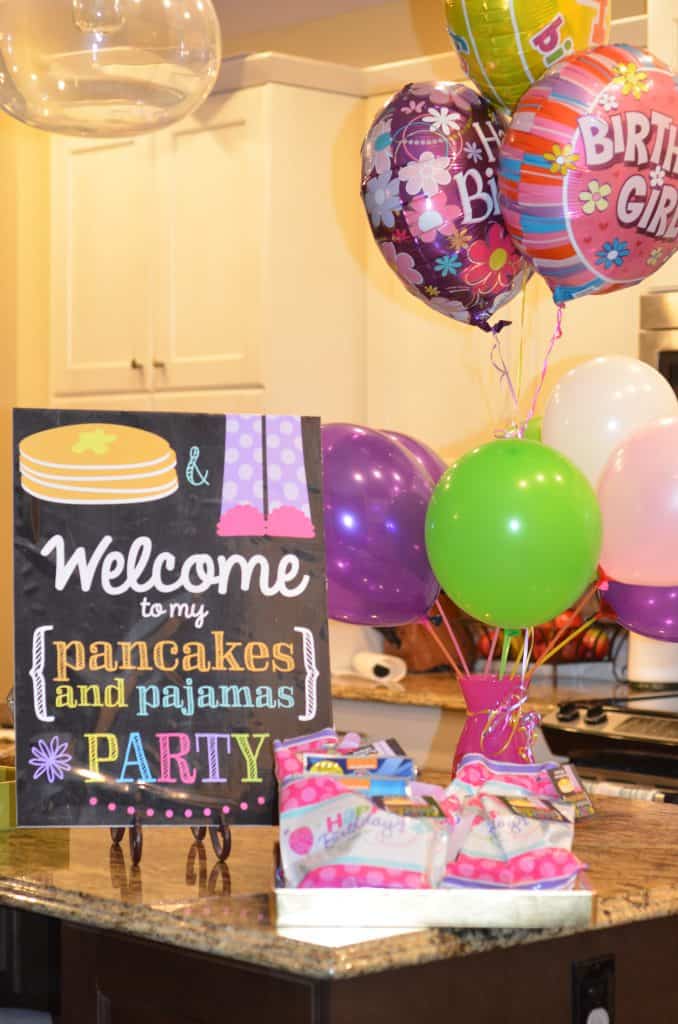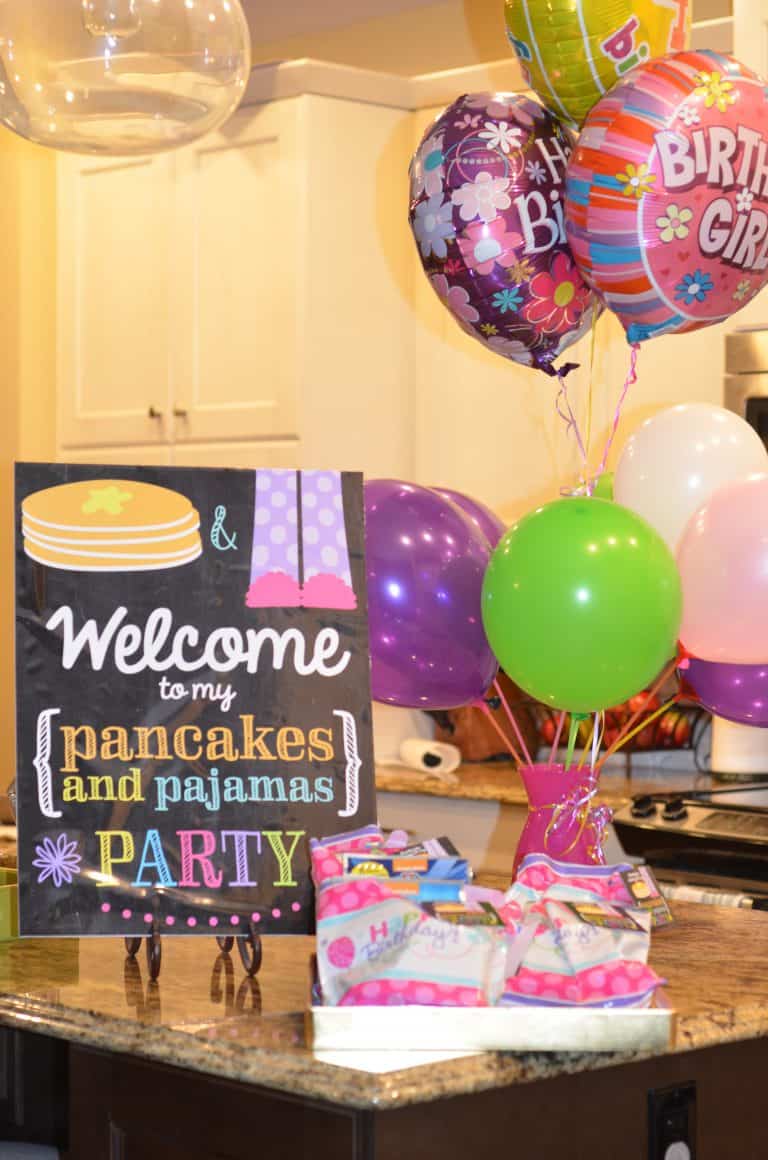 Etsy also came to the rescue with a Happy Birthday Banner and PJ's and Pancakes Poster that could be purchased and downloaded. I sent it to our local Staples and voila! Link to this Etsy store here.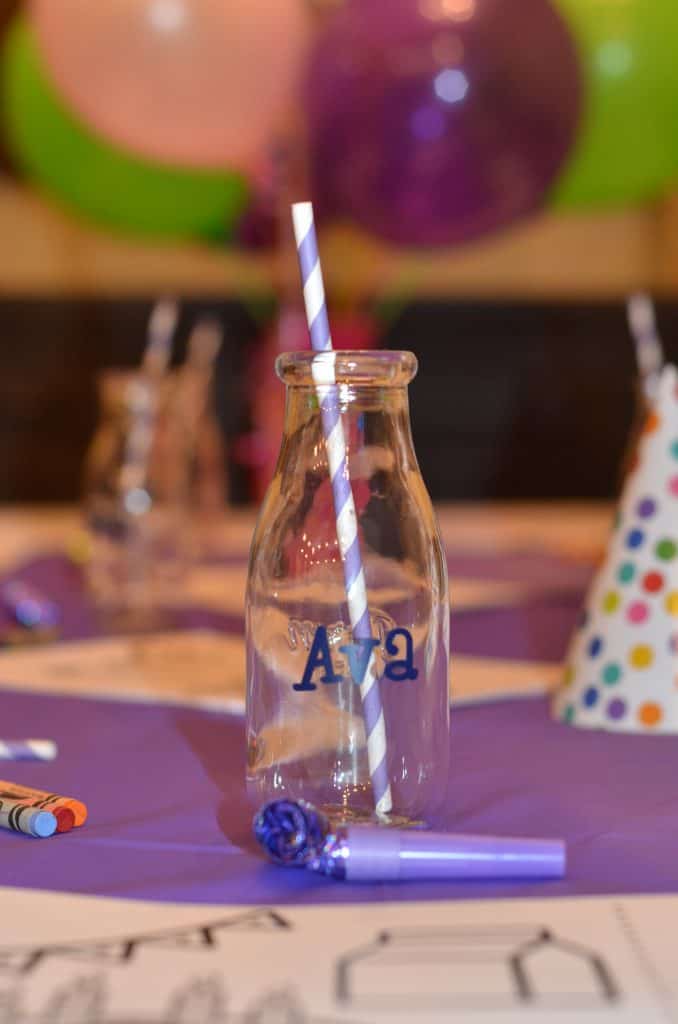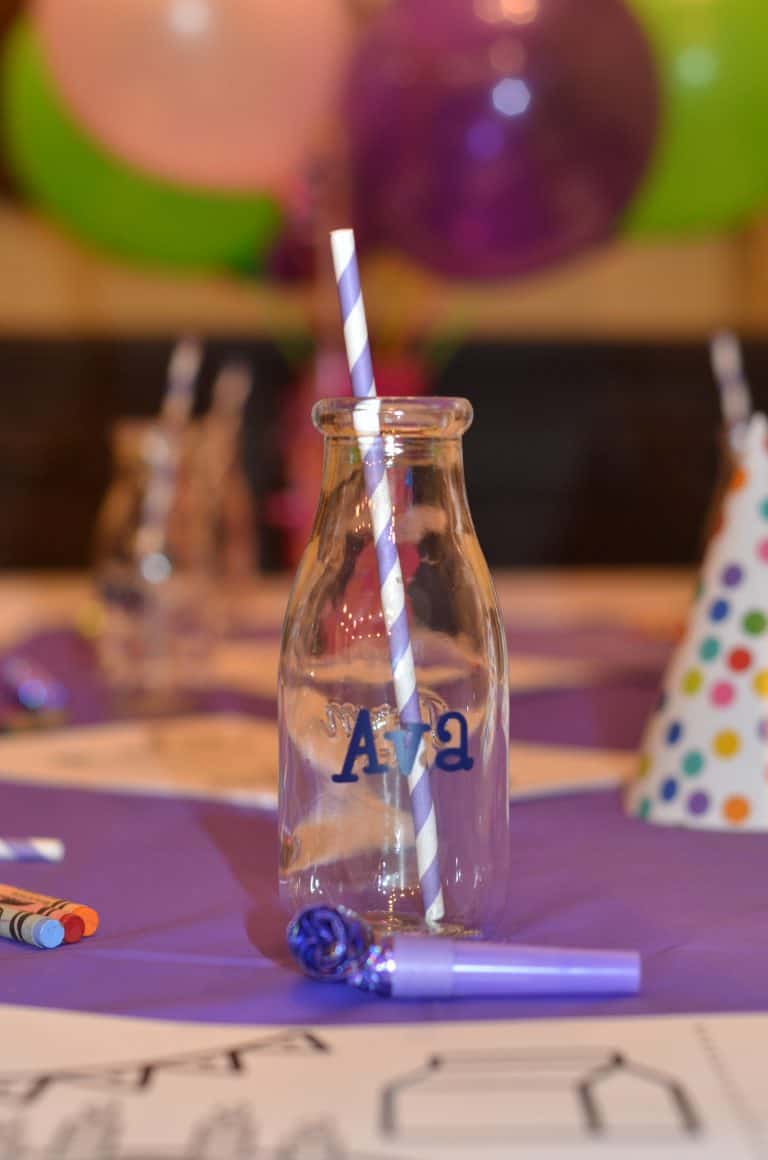 As a finishing touch, I made custom milk bottles for each guest. The milk bottles can be found at Party City and the Dollar Store.
Game Time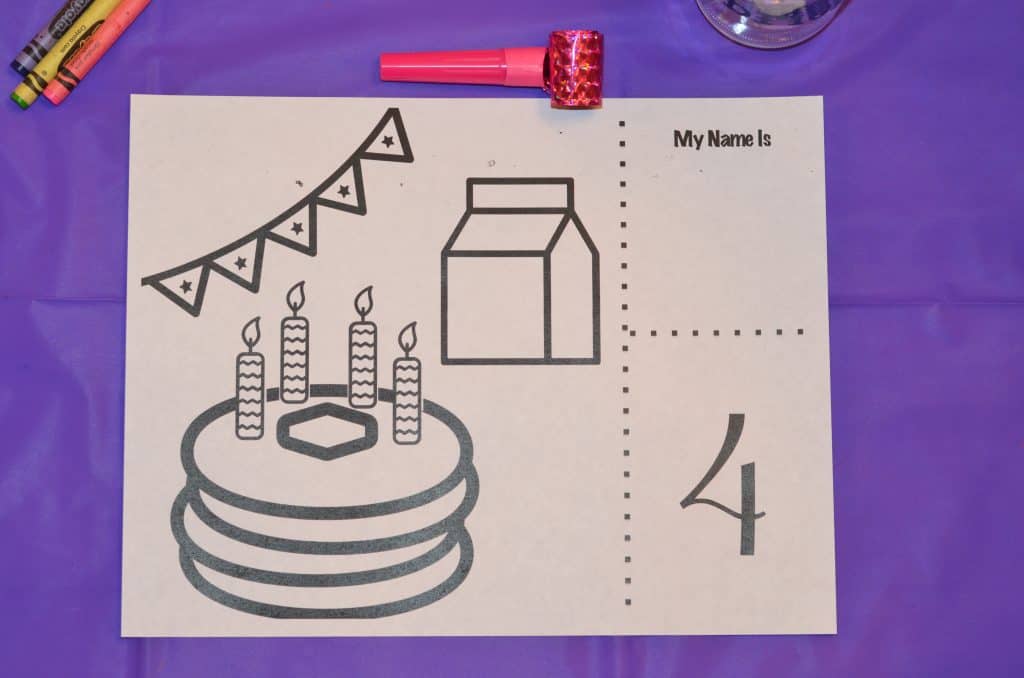 Kids need something to do every minute of the party or chaos will ensue! I had a few custom coloring pages for the event. You can download all three free printables at the end of the post. This was a great start to the event while we finished making the pancakes so they would be hot and fresh. My big mistake was the party horns placed at each child's seat (see pic above). It took mere seconds for the kids to spot them and begin making the most of the noisemakers. (sigh) 🙈🙉🙊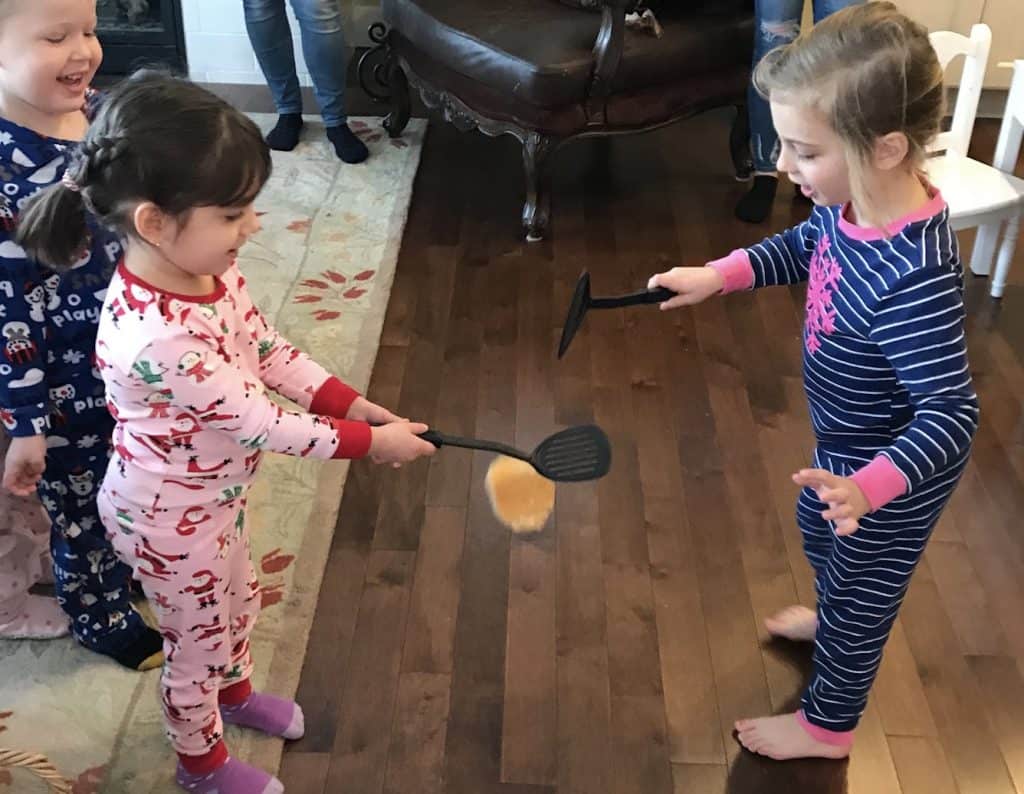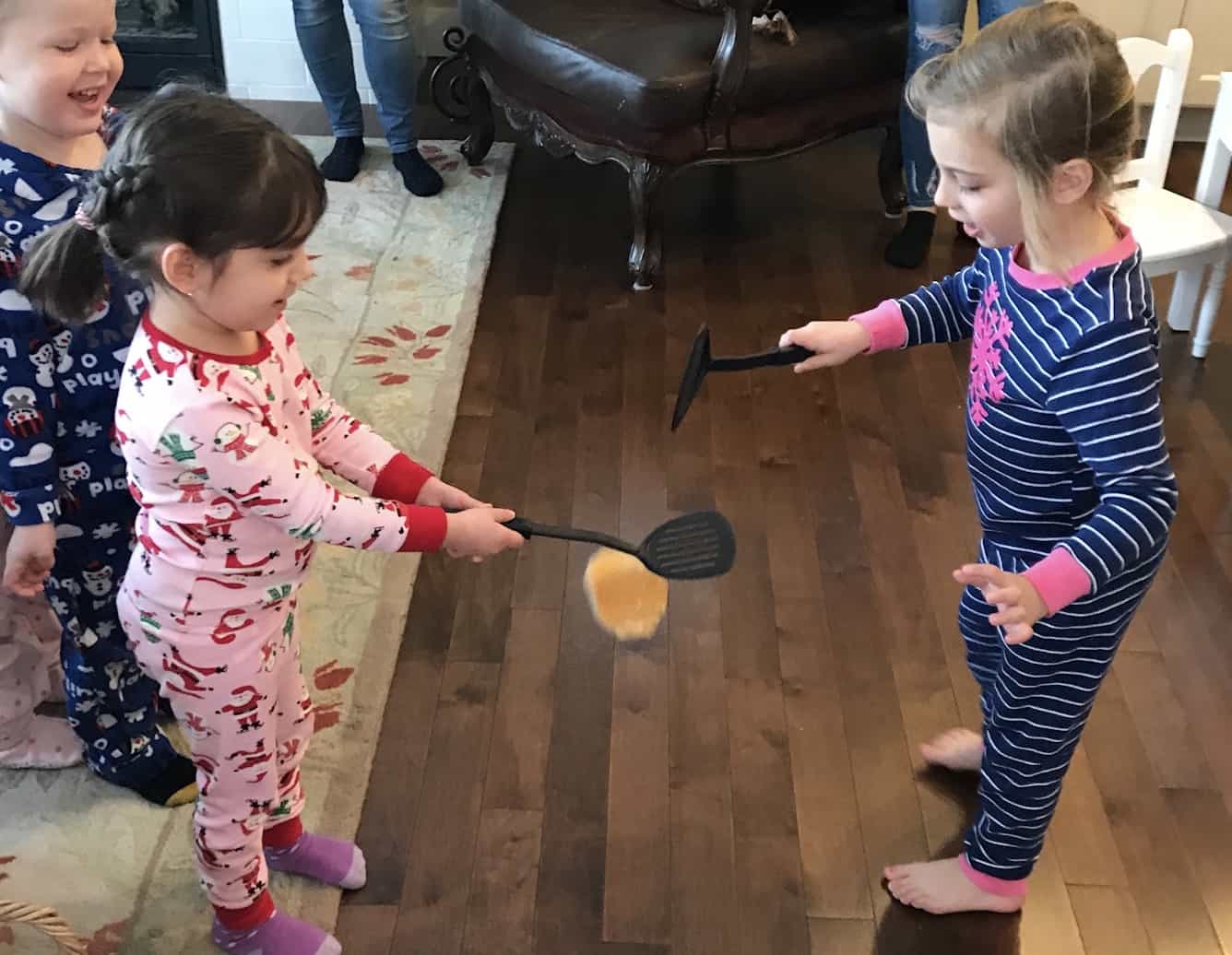 Next, we had breakfast. We kept it pretty simple…pancakes, bacon, eggs, and fruit. After breakfast, the kids engaged in games. We did a pancake relay race where the kids ran back and forth with a pancake on a spatula then passed the pancake on to the next person in line. (this was the tricky part as you can see above) Game #2 involved the kids trying to flip the pancake and catch it on the spatula. We put a splat mat down and all had fun. The games were a hit.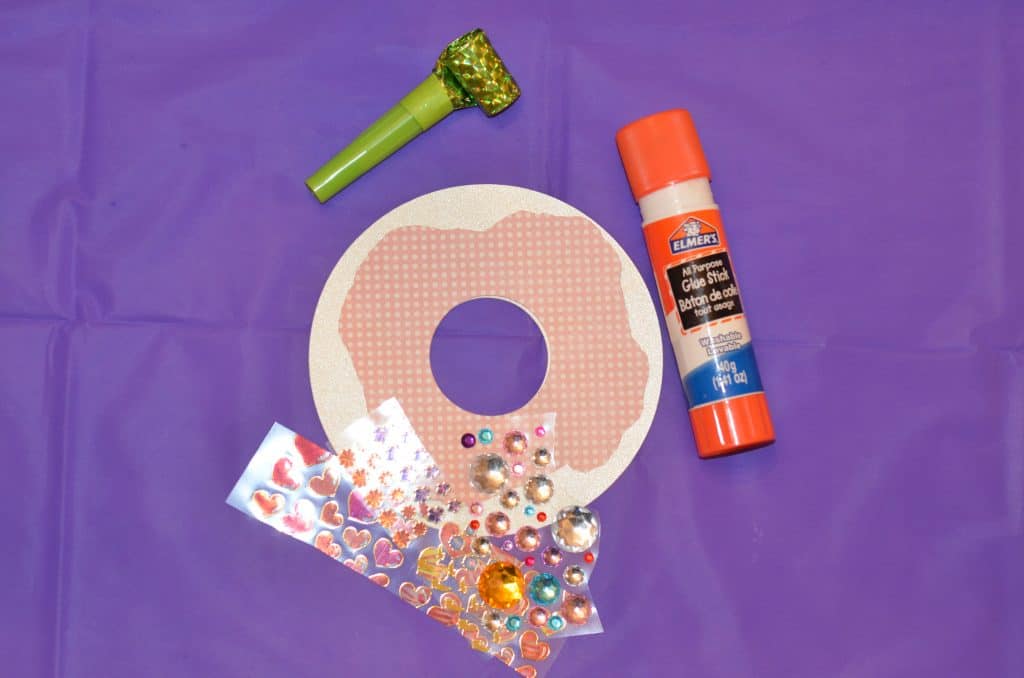 Doughnut crafts were next on the agenda. The kids made personalized sprinkle donuts by pasting on the "icing" and adorning it with stickers. I used my silhouette to cut the pieces in advance. The final activity before having cake was making doughnut necklaces using fruit loops as the doughnut beads.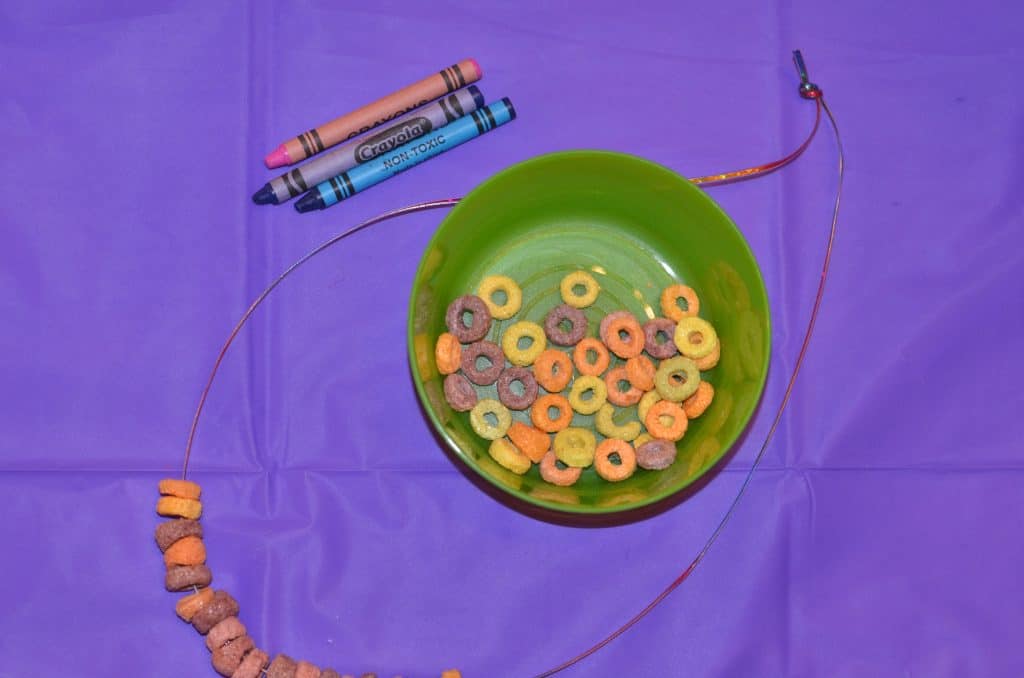 The Cake & Gift Bags
The cake was the birthday girls favorite color- purple with plenty of icing since that's pretty much all she'll eat from the cake.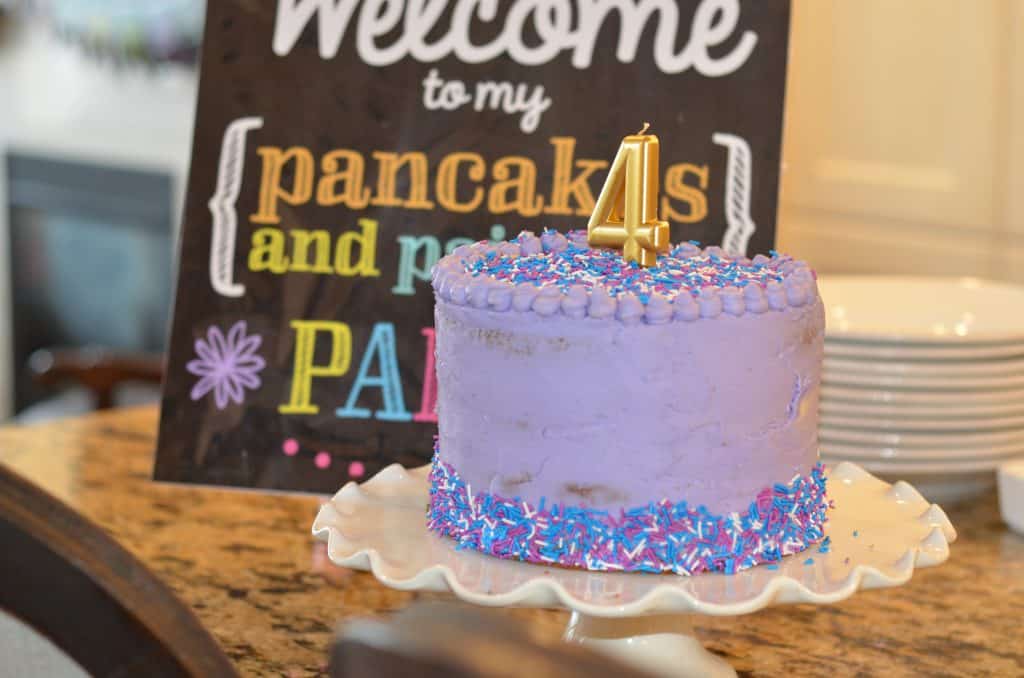 Gift bags were filled with games and trinkets appropriate for preschoolers along with PJ bottom + bunny slipper sugar cookies.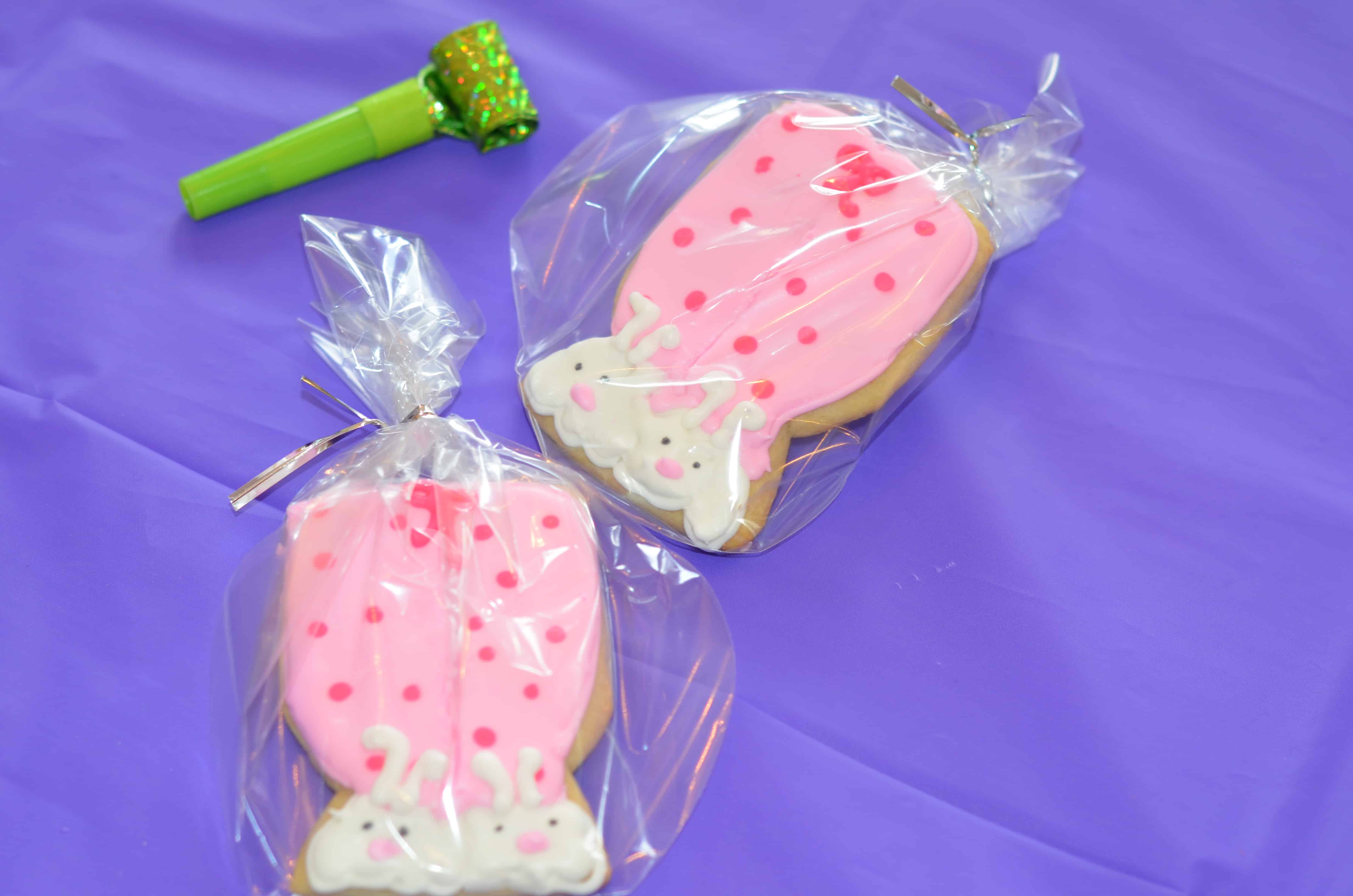 The party lasted about 2 hours. It was busy but went fairly smoothly. The guests and the parents had fun. It's a theme I'd be willing to do over for Baby G when he gets a little older with just a few tweaks to make it more masculine. If you want a fun, sweet, cute, and easy birthday party for your little. To recreate this party check out the links above and printables below.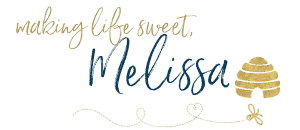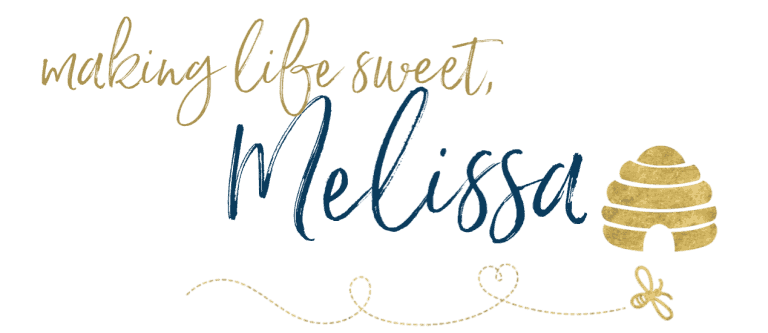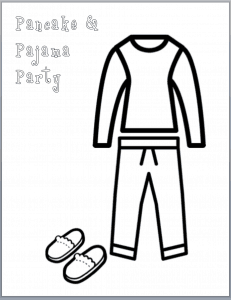 Design Your Own PJ's Coloring Page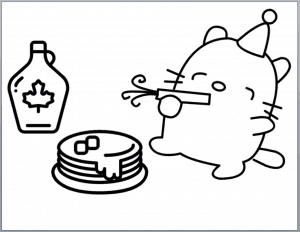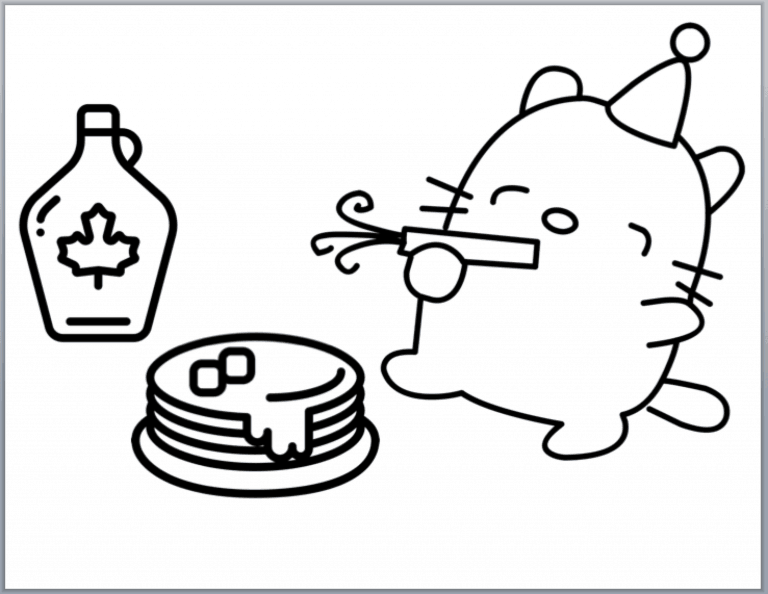 Pancake with Cat Coloring Page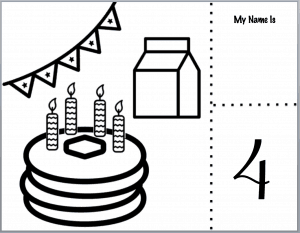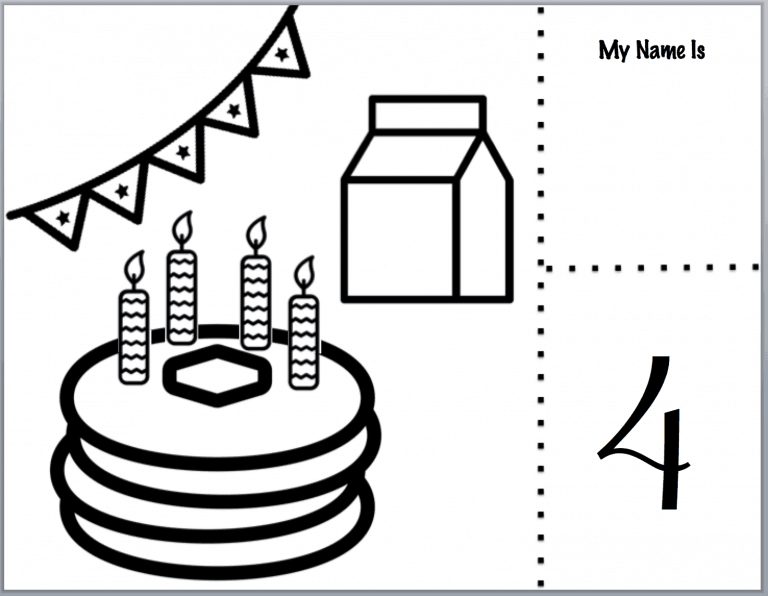 Place Mat Coloring Page with #4
Place Mat Coloring Page without number