Have you tried to get motivated to declutter and organize your home, but just can't muster the energy, focus, or time? Sometimes, a good read or listen to a good book is all the help you need to get unstuck.
If you're like so many of my readers, you struggle with finding time, sentimental attachment, or even knowing where to start a home organization project. This list of 20 books is perfect to inspire you in 2020 to declutter and organize your home. I've included a wide variety so there's something here for everyone!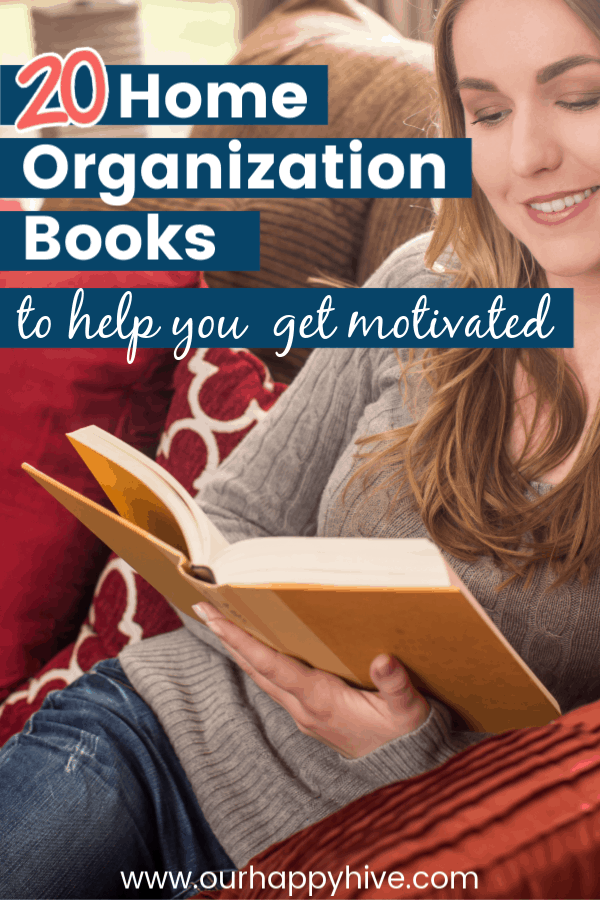 This post may contain affiliate links. For more information, please read my Affiliates Disclosure.
How To Get Control of Your Stuff and Your Life
They say a cluttered space leads to a cluttered mind. The stuff in our lives doesn't just impact our homes, they also weigh us down, increase frustration, and suck up our time. The authors of these books look at the bigger picture…the problem with clutter and how to stop it before it starts. These reads are inspiring AND very practical. Check out these books to explore the bigger problem that clutter creates while also getting practical tips to stop the clutter cycle in its tracks!
Outer Order Inner Calm, by Gretchen Rubin
Unstuffed: Decluttering Your Home, Mind, and Soul by Ruth Soukup
Organizing Your Home With Sort and Succeed: Five Simple Steps to Stop Clutter Before It Starts, Save Money, & Simplify Your Life, by Darla DeMorrow
How To Declutter
If you don't know where or how to start decluttering, then check out these books. I don't believe there's a one-size-fits-all approach to decluttering, so it's important to find the method that will work for you. Your life circumstances, time available, and family dynamics are all things to consider.
For example, I thought Marie Kondo's method had really great tips. I felt confident that her approach would work. If you've seen her wildly popular show on Netflix, you know that she has a very prescriptive approach. She details the order of things to declutter and how to go about decluttering. It's exhaustive and complete, but with two young kids, it would be difficult for me to do. I choose to incorporate some of her method e.g. vertical clothes filing, but took a more practical approach to how and when I declutter.
Dana K. White's uber-practical approach feels much more flexible. She gives tips anyone can apply and also acknowledges that there's not a one-size-fits-all approach to decluttering. I love some of her tips like start with the room that you see the most often. Recognize that the container e.g. a basket or shelf is the amount of space that you have for your stuff.
Check out these books and find one that's right for you!
How To Declutter Before you Downsize
Maybe you're at the point in life when you're ready to downsize. I hear from readers that want to start decluttering from a life of accumulated stuff, they don't know what to do with their great aunt's china, the stuff their adult kids left at their house, or the things they've collected over their lifetime. Often a lot of emotion and sentimental attachment comes with this process. If you can identify, check out these books for practical tips
Let It Go: Downsizing Your Way to a Richer, Happier Life by Peter Walsh


What is Being Minimalist?
How does a simplified lifestyle sound? What about becoming more intentional about your time?…only keeping the things around that make you happy? While I don't describe myself as a minimalist I do like the idea of havening a more intentional and focused life. If you're sold on becoming a minimalist or are curious about what it's all about, check out these books!
The Joy of Less: A Minimalist Guide to Declutter, Organize, and Simplify – by Francine Jay
How to Organize Your Home
Get ideas on how to order your home so that it functions efficiently, find stuff when you need it, and beautifully store things. From Instagram Influencers to YouTube Stars, these books are packed with visual inspiration and practical tips. These authors provide recommendations on how to tackle your junk drawer, conquer your closet, or organize your mudroom (and much more!)
Decluttering for Specific Audiences
Maybe you've read some of the books above, or you feel that you just don't relate. You see yourself as creative, easily distracted or too attached to your things to actually be effective at decluttering or organizing. Then this category is for you! Check out these books and see if you can relate!
Organizing Solutions for People with ADHD, by Susan C Pinsky
The Sentimental Person's Guide to Decluttering by Claire Middleton
If you're ready to finally conquer your clutter or get your home in order, then the above books can provide the inspiration you need. Find the inspiration you need to get unstuck, know where to start, or be motivated to finally find the time! There's something here for everyone… this list of 20 books is perfect to inspire you in 2020 to declutter and organize your home!