With November just around the corner, the hustle and bustle of the holidays is almost upon us. Before you get swept away in the emotion of it all, consider these 6 Christmas Traditions for inspiring an attitude of gratitude.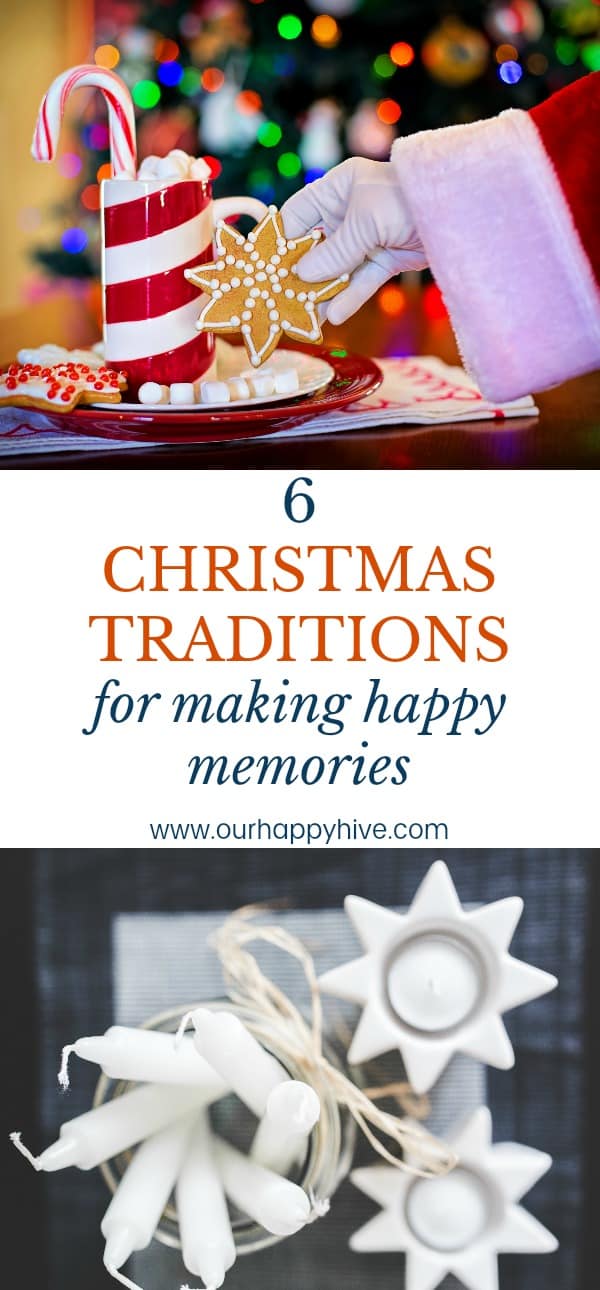 Do We Overdo It At Christmas
As a parent, I love buying gifts for my kids and seeing the joy in their eyes as they open fun little surprises. But, I have to admit, I think we tend to overdo it at times and I wonder if it causes more harm than good.
In 2011, Today Moms and Parenting.com did a survey of 6,000 moms. Over 50% of moms felt their kids were at least a little spoiled and their gift giving could be cut back. Fifty-nine percent of moms felt their kids were more spoiled than they were as a kid.
What Does a Joy-Filled Christmas Really Mean
We all want our kids to have a joy-filled Christmas, but what does that really mean? What values are we teaching them in the process?
On one hand, let kids be kids. Have fun! Give gifts! Don't over think it! If you want to shower them with presents, do so! They love it and it brings joy to you in seeing their eyes light up!
On the other hand, are you creating a gift gimme monster and a child who thinks they have to have a lot of gifts to be happy? Does over-giving diminish the meaning of the gift, create an expectation to over indulge and inadvertently teach them that they have to have a lot to be happy? At the least, does putting the focus on gift giving take away from the true meaning of Christmas?



Traditions that Create An Attitude of Gratitude
My kids are still very young and I'm mindful that with each passing year we are creating an expectation. Here are 6 Christmas Traditions for creating an attitude of gratitude at Christmas instead of an entitlement mentality.
Place emphasis on the real meaning
Consider the religious/spiritual importance of the season and intentionally participate in activities that reinforce the original intent of the holy-day (holiday) like going to church, lighting an advent wreath at home every week, or visiting a live nativity scene.
Place emphasis on family traditions
Create traditions that underscore the importance of family. Demonstrate this value by involving friends and extended family in activities throughout the season.
Participate in serving and giving activities
Get involved in serving others. Serve a turkey meal to homeless over the holidays. Adopt a family to give Christmas gifts to or participate in ministries like Shoe Box Christmas or Angel Tree.
Take a family vacation and create memories instead
I've known some families that forgo Christmas gifts all together and spend the money on a nice vacation over the holidays ultimately opting for creating memories.
Limit the # of gifts
Another approach is to limit the number Christmas gifts. You can set a number that is comfortable for your family, but one way is to give only 4 gifts…something they want, something they need, something to wear, and something to read. This approach makes the focus on quality and cuts out the consumerism junk that may have ended up under the tree.
Christmas Budgeting
If you decide to stay with traditional gift giving you should set a Christmas budget. Determine how much you will spend on each kid. For some Christmas budgeting tips- check out this site: https://www.laurengreutman.com/why-my-kids-get-only-3-gifts-during-christmas/
Values Based Christmas Traditions
At a minimum, consider the values your gift giving underscores…generosity, equality, gratitude, entitlement, more=good, etc. Many times, the values lived out by the parents are the ones the kids pay the most attention to. If you are gracious and thankful when you receive a gift they will take note of that.
At the end of the day, any of the above Christmas Traditions could work and create happy memories for you and your family. I'd love to hear what strategies you've tried that have been successful with your family.


Save
Save
Save
Save
Free-Bee Resource Library
Enter my
Free-Bee Resource Library
for my latest downloadable files and printables! Password is 'honey' -- please copy and paste that in at the link above. Thanks for being a subscriber!!