I want to share a secret with you. Did you know there's a way you can make grocery shopping with kids fun, enjoyable, and even a learning experience? Now, to be honest, at first, I didn't love bringing my kids with me to the store. Depending on the day, the typical hour long trip could be drawn out to nearly two hours, involve multiple trips to the bathroom, boarder on the brink of melt downs, and risk 100s of unwanted items in the cart.
Involvement in Grocery Shopping is Key
Now that we have 2 kids, it's truly easier if we divide and conquer. Usually, my husband does something with one and I take the other with me. When Little Miss E was only 2, I decided to try something to involve her in the grocery shopping experience. I quickly learned there were many benefits to involving her in the process vs. just having her tag along.
My "A-ha" Moment
First of all, because she was so young, she couldn't read, so I made a list using pictures. I downloaded some clip art and made a visual list of fruits, vegetables, and dairy products that she was already familiar with. I had a crayon for her to cross the items off of her list. The list helped her to focus and gave her the same responsibility as mommy.



Food for Thought
Involving your kids in grocery shopping has several benefits. It supports them in the following:
Learning fruits, vegetables, dairy etc. – By having your child identify the item on the list and find it in the store, they connect with the product and it reinforces learning.
Learning colors – If they are having a difficult time finding the item, you can use visual clues like "it's something red" or "it's right next to something green." You can also reverse the question e.g. when they grab the bananas, ask them what color it is.
Learning to count – As your child puts fruits or vegetables in the bags, you can have them count each item.
Learning about the process of making healthy food – In our fast food fast paced culture, kids are used to getting things in a snap. By involving your kids in grocery shopping, they can see the process of making healthy meals from market to table.
Developing motor skills – When children are involved in transferring products from shelf to cart (non-breakable, of course) or helping with check out, they are able to further develop their motor skills. Some stores even have little grocery shopping carts especially for kids, so they develop their own motor skills pushing the carts.
Fun and bonding with mommy or daddy- Lastly, it's an opportunity to make a routine task fun for both child and parent.
Tips for Grocery Shopping with Kids
Here are a couple of tips for setting yourself up for success.
Choose the right time to go – not just for you, but also for your child's schedule e.g. don't try to go if they've had an unusually busy day, during nap time, or close to meal times.
Take your child when you have a reasonable list of things to get. If you haven't gone in a month and you have a huge list, it's better to involve them the next time. Remember their level of patience and how long they are able to focus on one thing. I'd recommend 30 minutes to an hour tops!
Ways You Can Involve Your Kids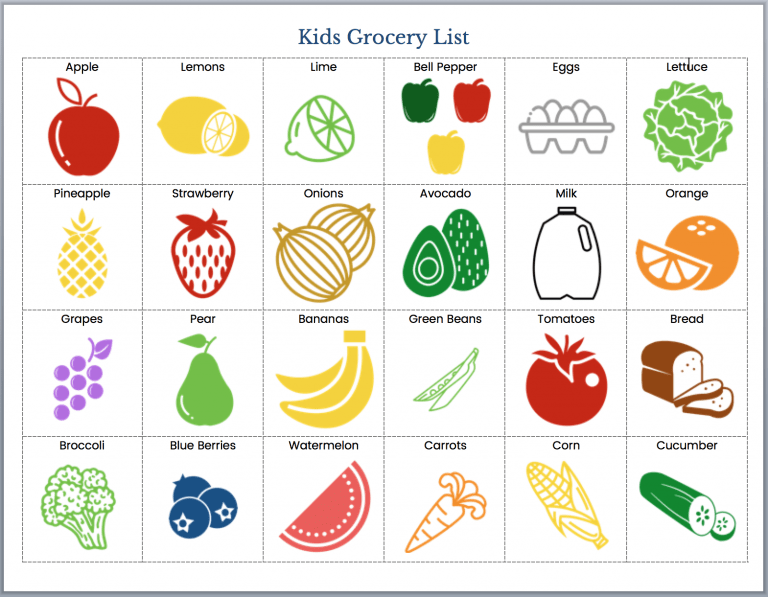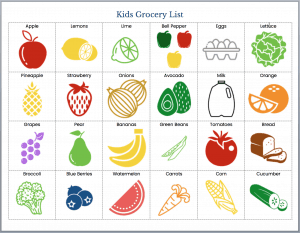 Download the printable and use it as a way to involve your kids in grocery shopping.
Visual Shopping List – You can use it to create a visual list like the one I described. Since it's a PDF, you can place an X over the items you don't need or cut out the ones that you do need and tape or glue them to a separate piece of paper.
Play Bingo – The visual could also be used as a way to play bingo…when your child sees a particular item in the store, he or she can cross it off the list. When they complete a row either vertically or horizontally, it's BINGO!


I spy – A third option that does not involve the printable is to play "I spy" in the grocery store. "I spy with my little eye…something red" – your child guesses what it is using the proper name of the fruit/vegetable etc. If they don't know the name, it's an opportunity to teach them.
I hope you've enjoyed this list of ideas and more importantly, I hope it helps transform your grocery shopping experience by involving your child. I'd love to hear if you have any other ways you've involved them…what's worked what hasn't!


Save
Save
Save
Save
Save
Free-Bee Resource Library
Enter my
Free-Bee Resource Library
for my latest downloadable files and printables! Password is 'honey' -- please copy and paste that in at the link above. Thanks for being a subscriber!!