Hi Friends- Welcome Back!!! I hope you enjoyed last week's Christmas Crafts for Your Preschooler! We have two more super simple Christmas crafts that can create some fun for your little one. As some of you shared last week, they may even bring back memories from your own childhood!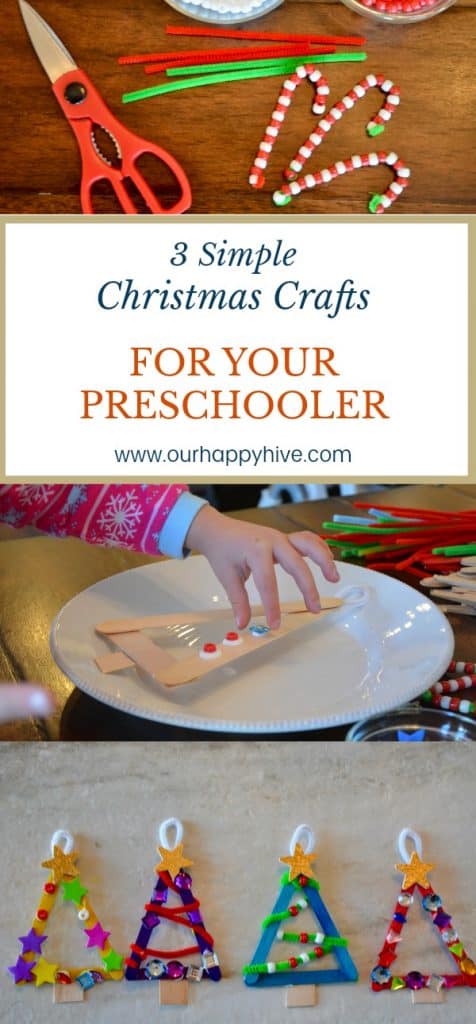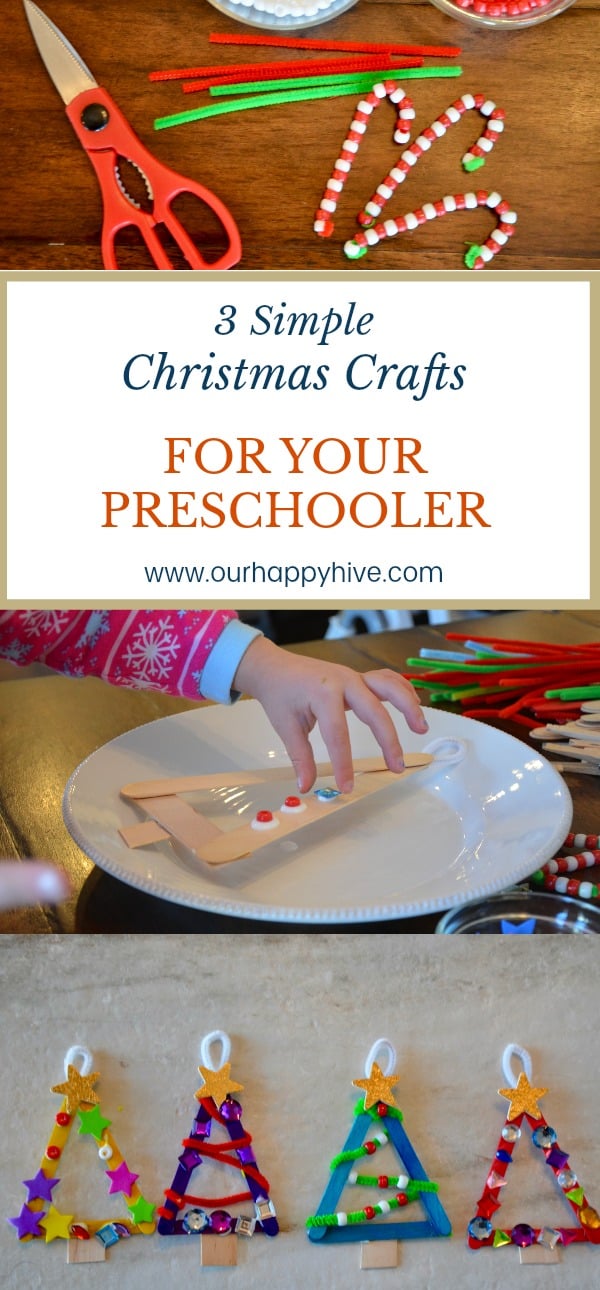 Christmas Craft #2 – Popsicle Stick Christmas Tree Ornaments
Project Materials:
Popsicle Sticks – any color and size
Hot Glue Gun – for parents use
School Glue – for kids use
Beads, stickers, pipe cleaners, gemstones etc. – I bought a couple of items, but also looked through our craft box to see what additional items I could add to the mix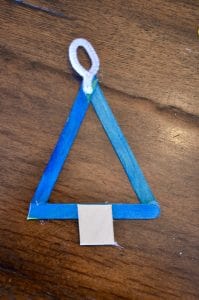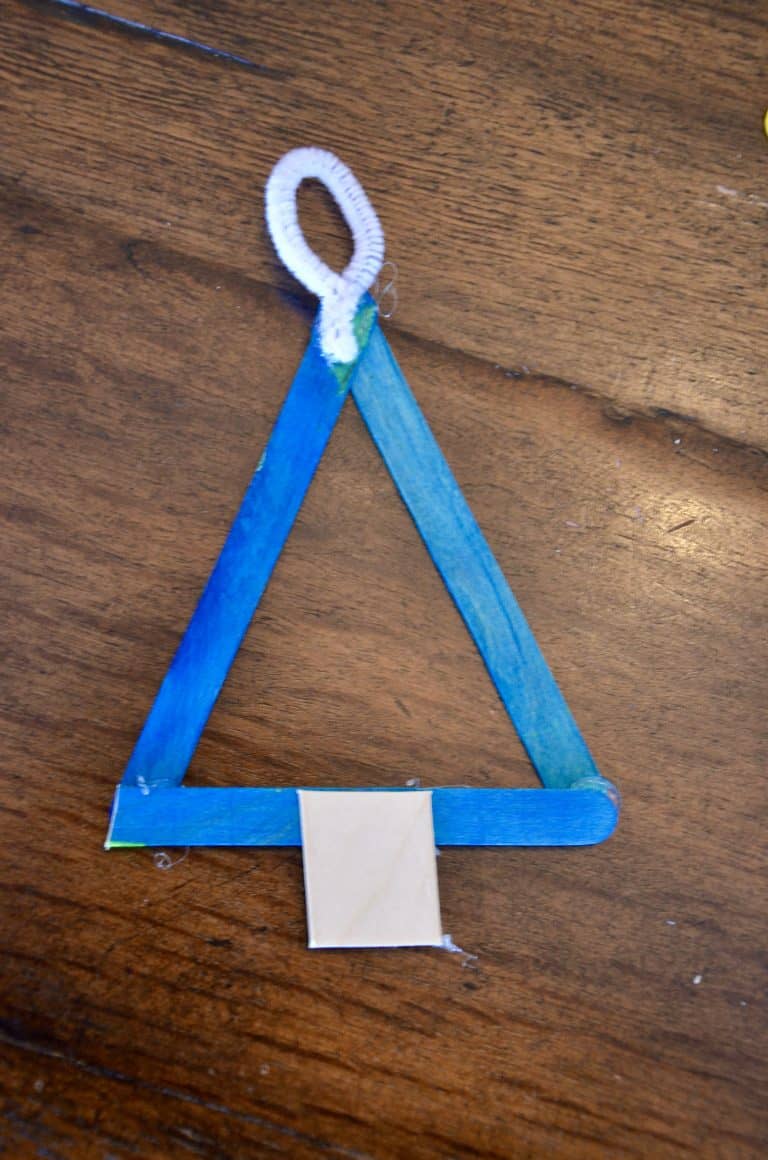 Step 1:
Create triangles to form tree. Select 3 Popsicle sticks, cut ½ – 1 inch off of one stick to make the base of the tree. Glue all three sticks together in the shape of a triangle.
Step 2:
Create the tree trunk. Take either a large or small Popsicle stick and cut off a piece that is about an inch. Hot glue it to the base of the triangle forming the tree trunk.
Step 3:
Create a place for the ornament hook. Cut a 3-4 inch piece of pipe cleaner. Fold into a loop and twist at the base. Hot glue the twisted part onto the top point of the triangle.
Yay…now your ready to decorate!!!
Step 4:
In case of spills, place something down for your child to glue on.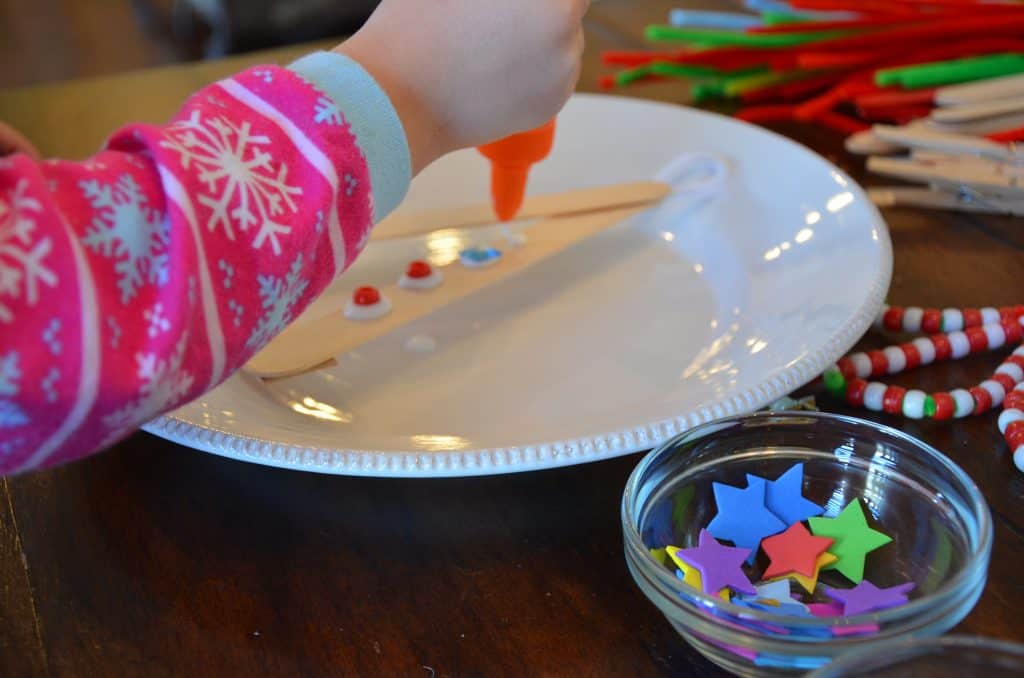 Lay out an assortment of decorative do-dads for them to use [beads, stickers, pipe cleaners, etc.] and let them go for it! If your child is young, you can place dots of glue on the Popsicle sticks and let them place the beads on the glue. One of the developmental bonuses of this activity is that it also helps with fine motor skills.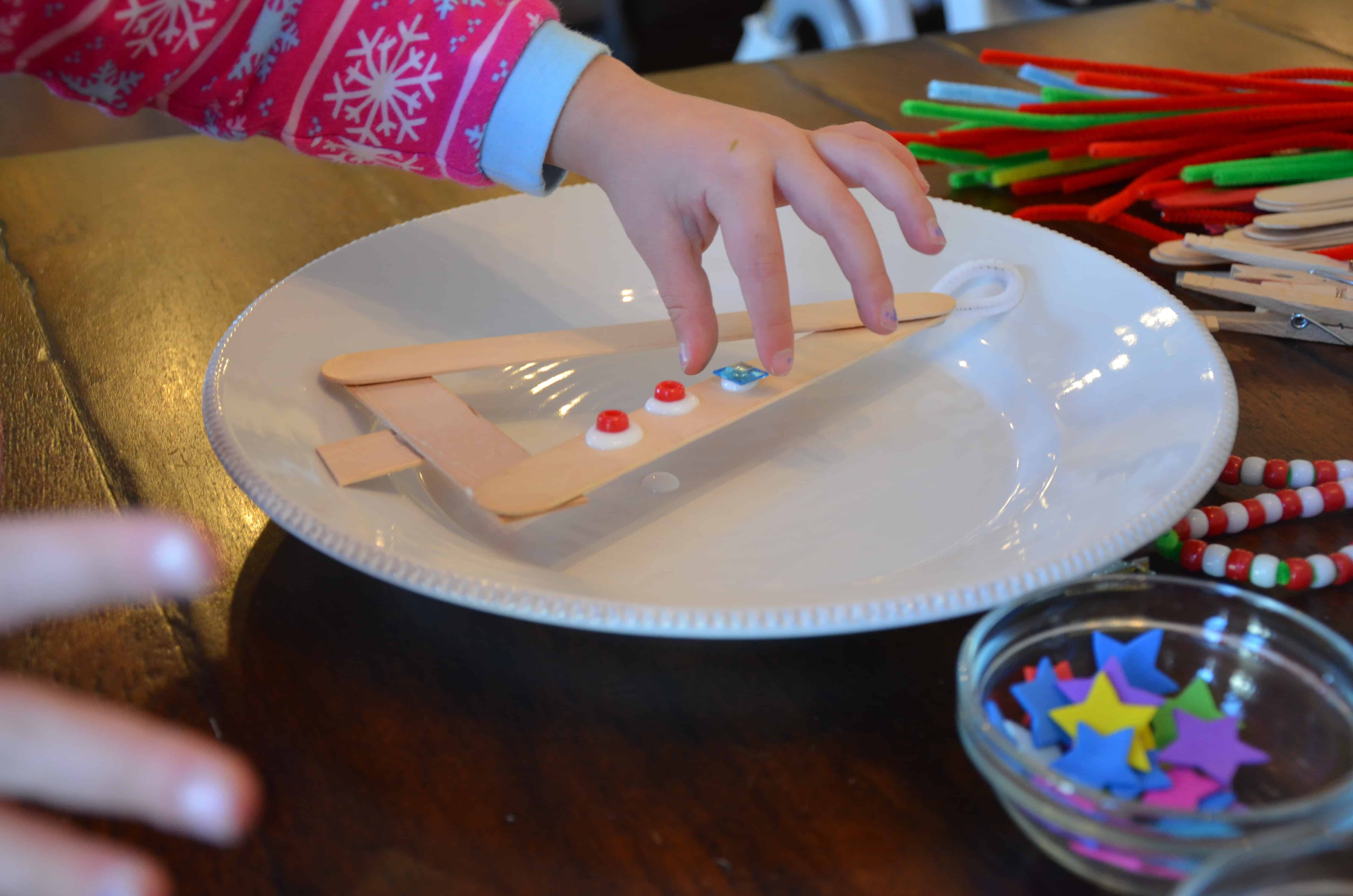 From there, you just need to let the glue dry and the ornaments are ready!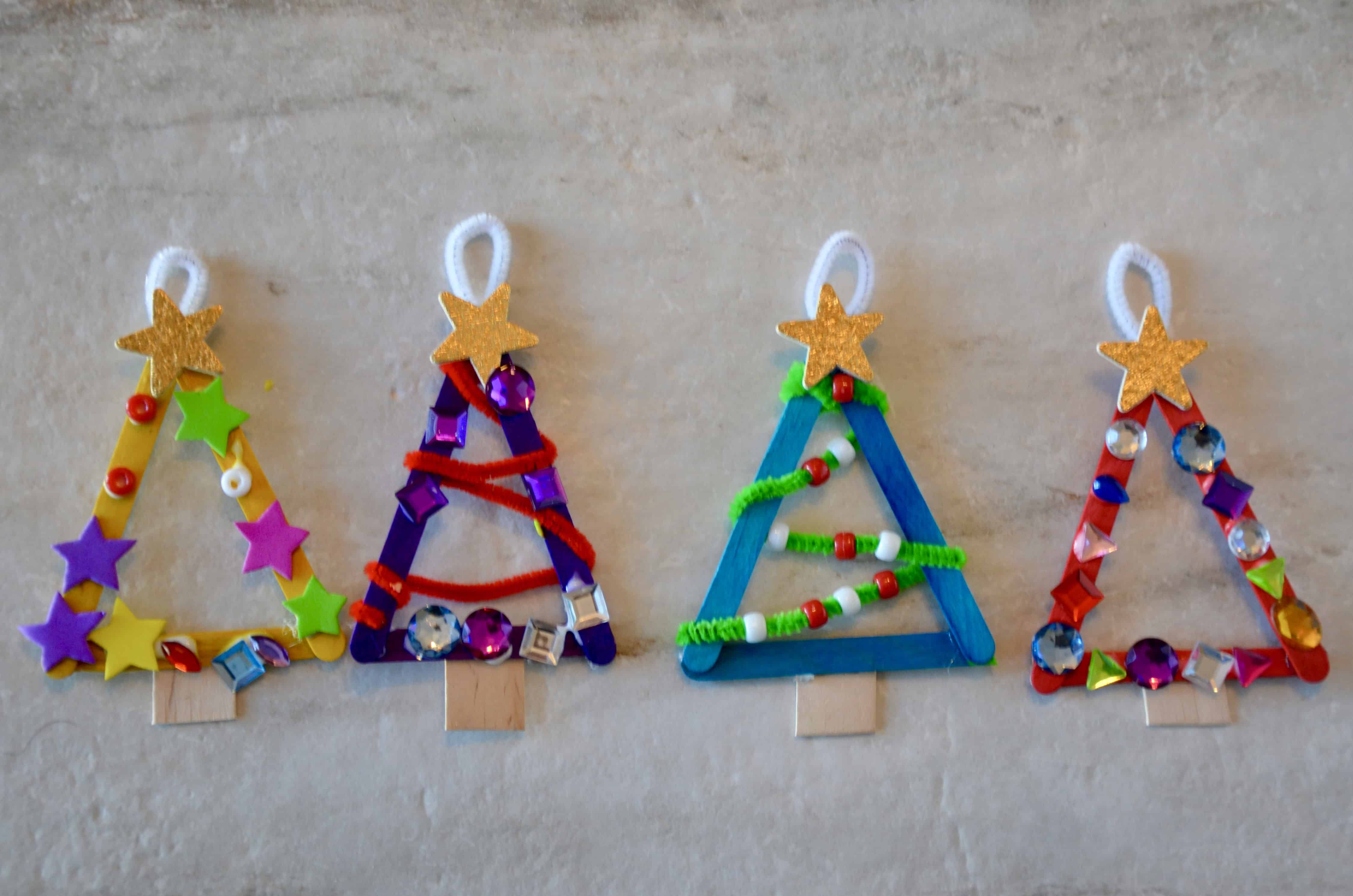 Christmas Craft # 3 – Candy Cane Ornaments
As far as Christmas Crafts go, you can't get much simpler than this!!! This project is a blast from the past! I'm surly not the first nor will I be the last to post about this simple holiday activity. If you're like me, it's just good to have a reminder of fun and easy activities we can do with our little ones.
Project Materials:
Pipe cleaners- Red, White, or Green
Pony Beads – Red and White
Scissors
Step 1
Cut pipe cleaners in half.
Step 2
String the first bead and bend the end of the pipe cleaner around it so that it won't come off.
Step 3
String on pony beads alternating red and white.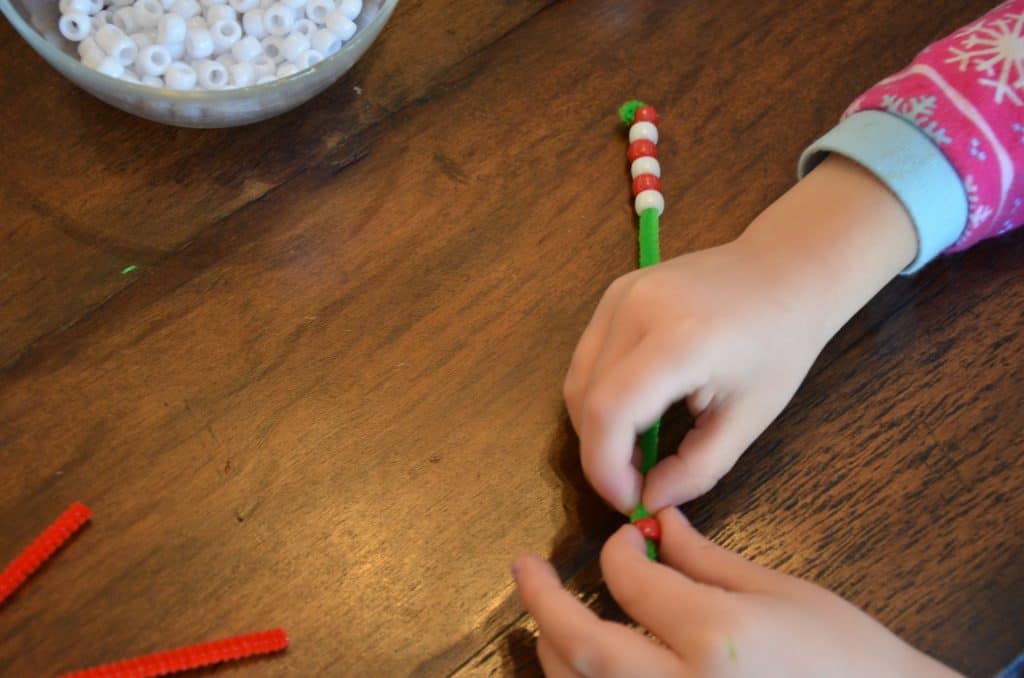 Step 4
Bend the end of the pipe cleaner around the last bead so that it won't come off. Note: Leave about the width of ½ of a bead on the pipe cleaner. This will give it room to bend and create hook of the candy cane.
Step 5
Bend the pipe cleaner to create the candy cane hook.
These candy canes make nice ornaments for a kids Christmas tree or you can tie them on a present with a ribbon for a festive decoration.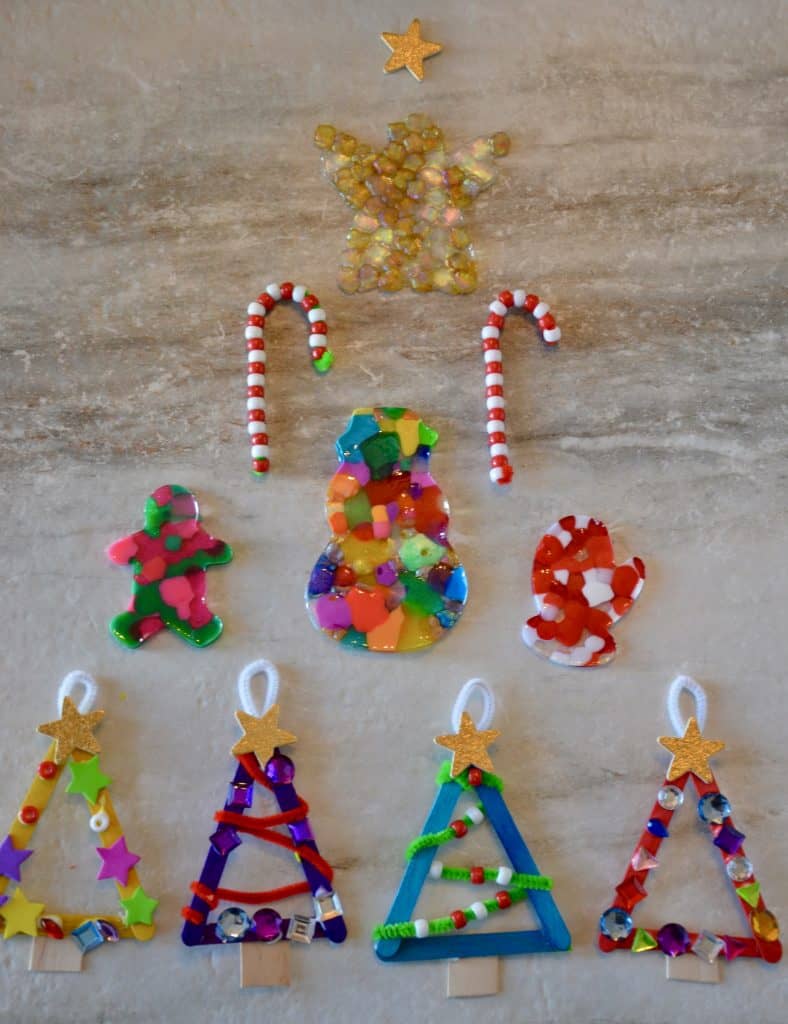 I hope these Christmas crafts create fun times and wonderful memories for you and the preschooler in your life! I'd love to hear how they go and what your favorite Christmas crafts are!


Check out these other Christmas Posts for more holiday inspiration. 🎄🎁😍