It's hard to believe that I officially launched my blog a little over 3 months ago. If you had asked me a year ago if I would be blogging, I probably would have laughed out loud. It definitely wasn't something I had planned on doing, but I stumbled across the idea this summer and decided to give it a try.
Why did I start blogging?
Blogging:
Provides a creative outlet
Is an opportunity to build something from the ground up
You can track and measure progress in real time
You get to know people (other bloggers) from all over the world
It's a way to build community with other parents that are on the same journey
It's compatible with family life and other commitments
And, to my surprise, it can be another revenue stream
What I didn't anticipate
Not only did I not predict that I would be a committed "blogger" in 2017, I also didn't anticipate
The family, friends and colleagues that would encourage and support this new endeavor
How much time I'd spend each day / week on blogging activities
The friendliness and support the blogger community provides to each other
That I would be using tools like PicMonkey, Mail Chimp, Tailwind, Boardbooster, Blue Host, or Google Analytics. (It felt like a whole other language when I started)
There would be 11,600 total page views in the first 3 ½ months
That I would belong to so many Facebook Blogger Groups (15 and counting) and it would take over my FB feed!
My husband would be my Chief Editing Officer
That several of my posts would be shared by other bloggers on the other side of the world including England and the Philippines
I could find the time to squeeze something of this magnitude into our already busy lives!
Our Happy Hive's Progress
The below chart is from Google Analytics and shows the number of page views on Our Happy Hive each month. I'm not sure if there's a target one should have in their first few months, but I'm glad it's headed in the right direction.

I've focused on Instagram, Facebook, and Pinterest for Social Media. The chart below shows the number of "followers" for each platform at the end of December 2017.  Note: I started with zero followers for all platforms.  Again, I'm not sure what the gold standard is, but thought that some new bloggers might be interested in seeing how another "newbie" is doing.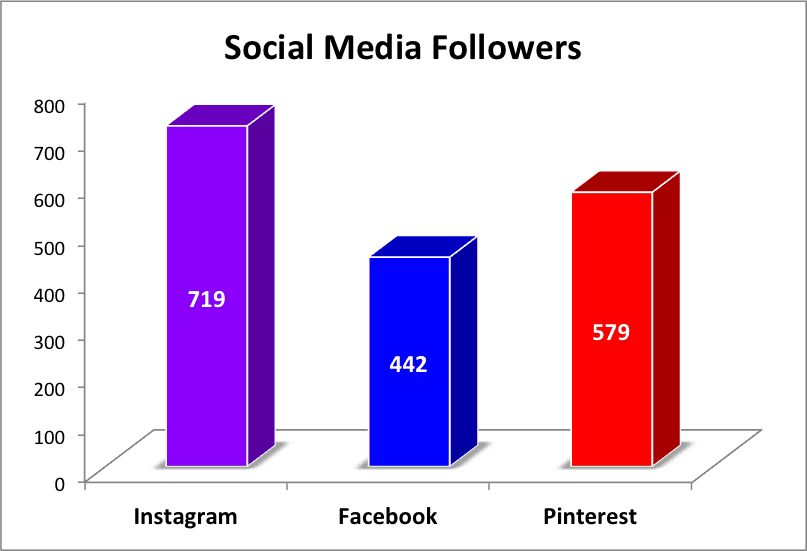 My Top 5 Posts in 2017 were:
Tips for Aspiring Bloggers
If there are any aspiring bloggers out there, here are a few tips that helped me launch.
1. Know your strengths / weaknesses
The technical side of blogging was intimidating enough to make me want to quit. One of my first decisions was to get someone to help me set up the blog so that I didn't get bogged down or discouraged. You can do this for as little as $60.
2. Identify a topic that is broad and that you're passionate about
If you want to post consistently, you need to have a broad enough topic and one that you won't get bored with.   Before I ever wrote my first post, I brainstormed 50+ potential titles of posts I could write about that aligned with my main categories.
3. Identify your audience
Who do you want to connect with, to reach, and to build a community with? How will that influence your voice, your graphics, colors, topics etc.
4. Join a community of bloggers
Like the Facebook groups I mentioned previously, these communities can help when you have questions. There are hundreds of groups out there, some are focused on promoting blogs while others are centered around helping new bloggers learn the ropes.  Find one that's right for you.
5. Set a post schedule and stick with it
Life gets busy and there were many weeks when I could have said, "I don't have time for this," "I'm just going to skip today's post." With the idea that I'm building for the future and treating this like a business, even if it meant burning the mid-night oil, I made sure I kept my commitment.  It will pay off in the long run.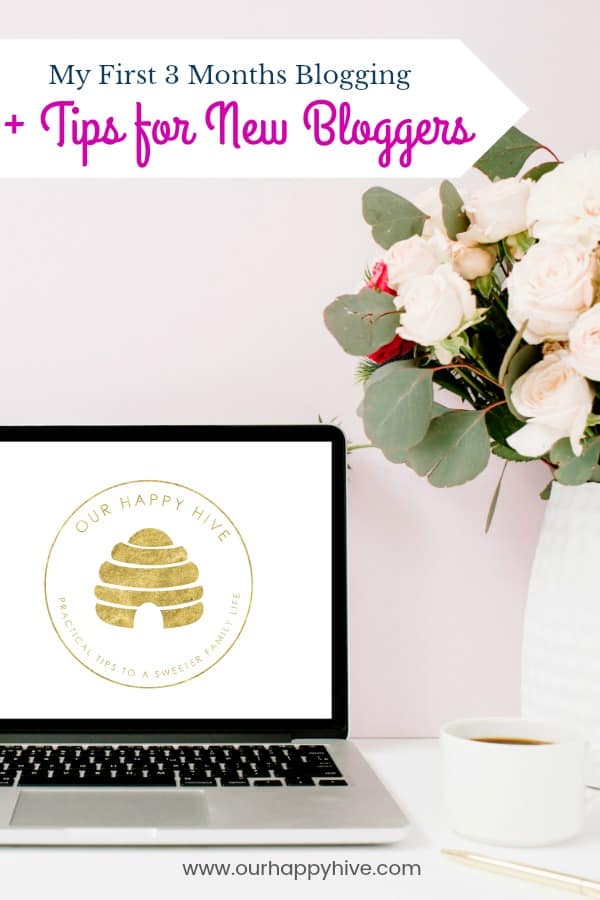 The Bottom Line
It's taken a lot more work than I ever anticipated, but I've really enjoyed the journey. It's fun to have a creative outlet to share ideas, hear the thoughts of others, and hopefully help people along the way. I'm still early in the journey; still finding and refining my "voice", but at the same time, I'm encouraged by how far "Our Happy Hive" has come.
As I mentioned earlier, the technical side of starting the blog was the most intimidating part of the whole process. In an upcoming post, I'll detail the steps required for launching a blog in case any of you are interested in venturing out on your own. At the end of the day, I see this as a win win experience and would encourage anyone considering it to give it a try! There's really very little you can lose!


Related Posts:
Free-Bee Resource Library
Enter my
Free-Bee Resource Library
for my latest downloadable files and printables! Password is 'honey' -- please copy and paste that in at the link above. Thanks for being a subscriber!!