Inside: Learn how to declutter your room with 5 proven steps. These tips will help you know how to start and finish your decluttering project without being overwhelmed.
You might be here because you have a decluttering nightmare that you've put off. Or
perhaps
you're ready to tackle your home organization project but don't know where to start. It's overwhelming and even if you found the time, you're confused about where to begin.
If you've felt overwhelmed and unsure of how to start decluttering, this post will provide a step-by-step guide
. I'll use our basement storage area as a case study for walking through the 5 simple decluttering steps.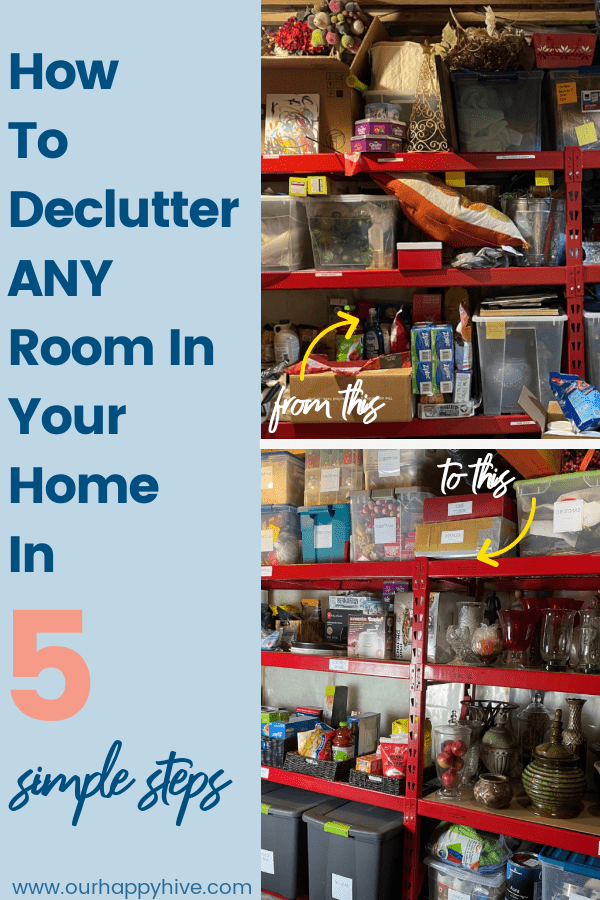 An Overwhelming Space that Needed Decluttering
Check this out! This was the starting place of our basement. There were things on the floor, stuff piled in front of doors, and boxes up to the ceiling!
At one point shelves and boxes
were labeled
, and there was an assigned home, but then life happened. We got more Christmas Decorations. K
ids outgrew their toys. We redecorated a room and had an extra lamp, artwork that we no longer used, and a spare side table.
The bottom line, it got out of control and needed a major overhaul!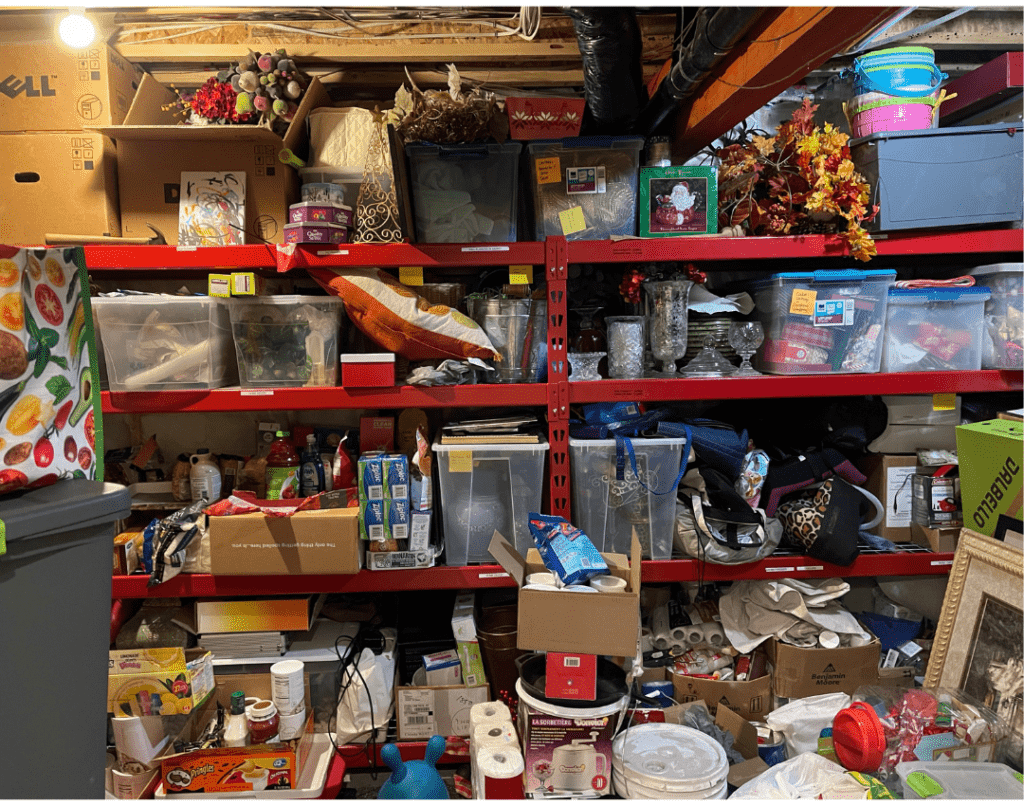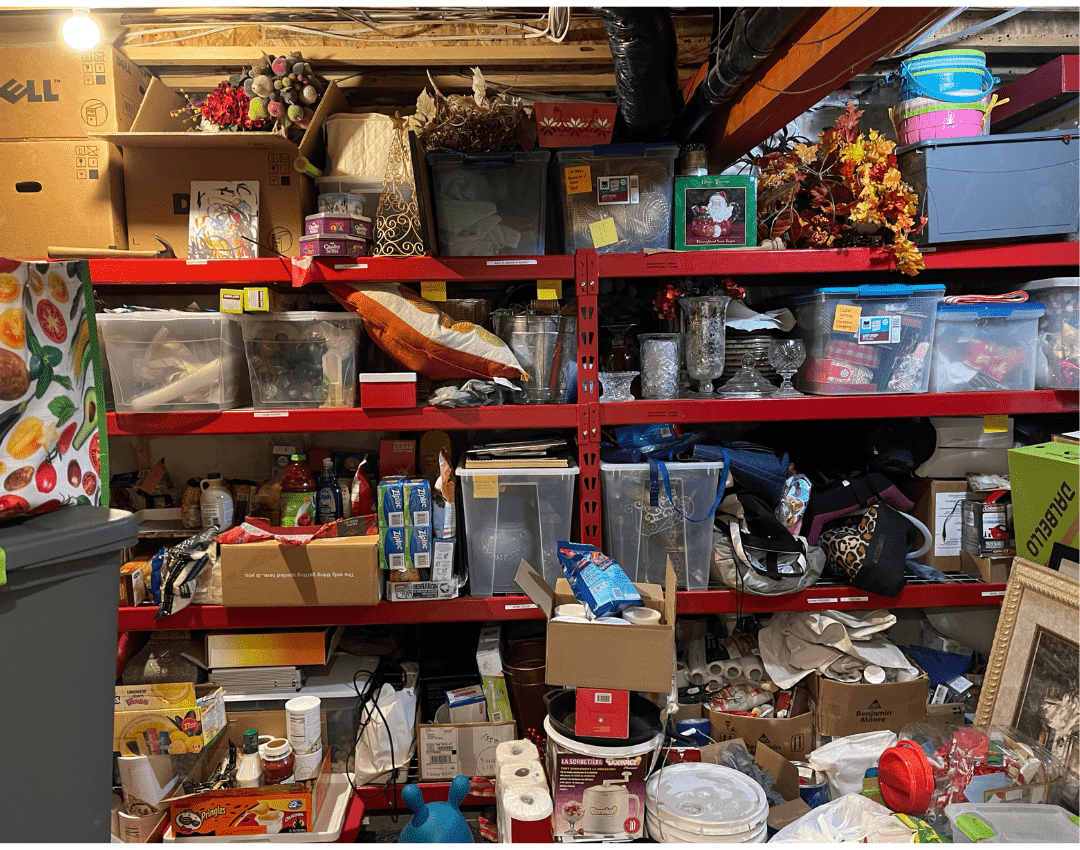 My primary goal was to make this space functional. I was not aiming for Instagram beauty, but family functional. The reality is, our basement storage closet never has visitors. Thus, it was important to me to use things we already had to organize this space and not go out and buy all new matching bins and baskets.
The 5 Step Decluttering Process
The decluttering process involves five simple steps. And it's the same whether you're organizing a drawer or a nightmare project like mine.

Step 1. Discard – get rid of as much stuff as possible.
Step 2. Sort into categories the things you want to keep
Step 3. Plan your space. Take an assessment of how much space you have. How many shelves, drawers, and even usable floor or wall space do you have, etc.
Step 4. Contain. In this step, you dedicate drawers or shelves to similar items. You use a bin or box to group things. Or you create zones to separate items.
Step 5. Label. Make sure every area is identifiable and labeled.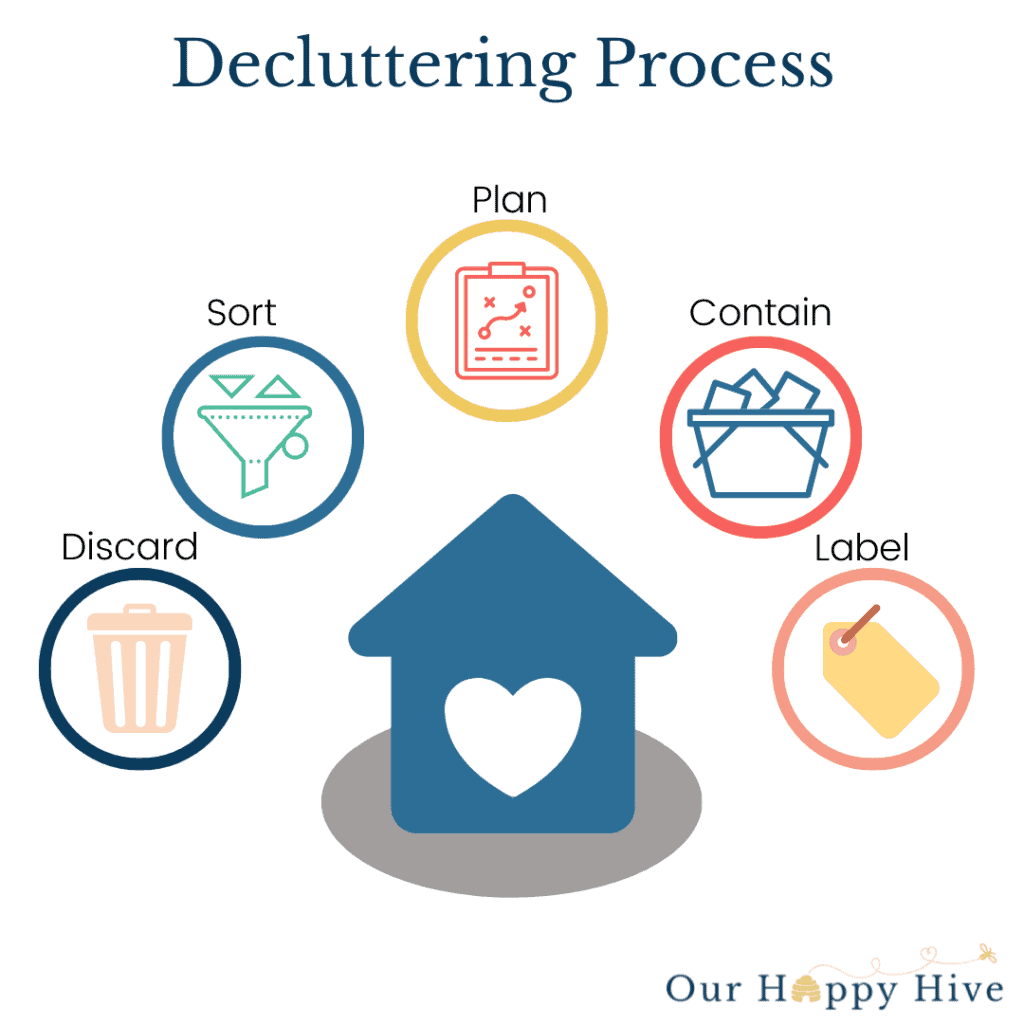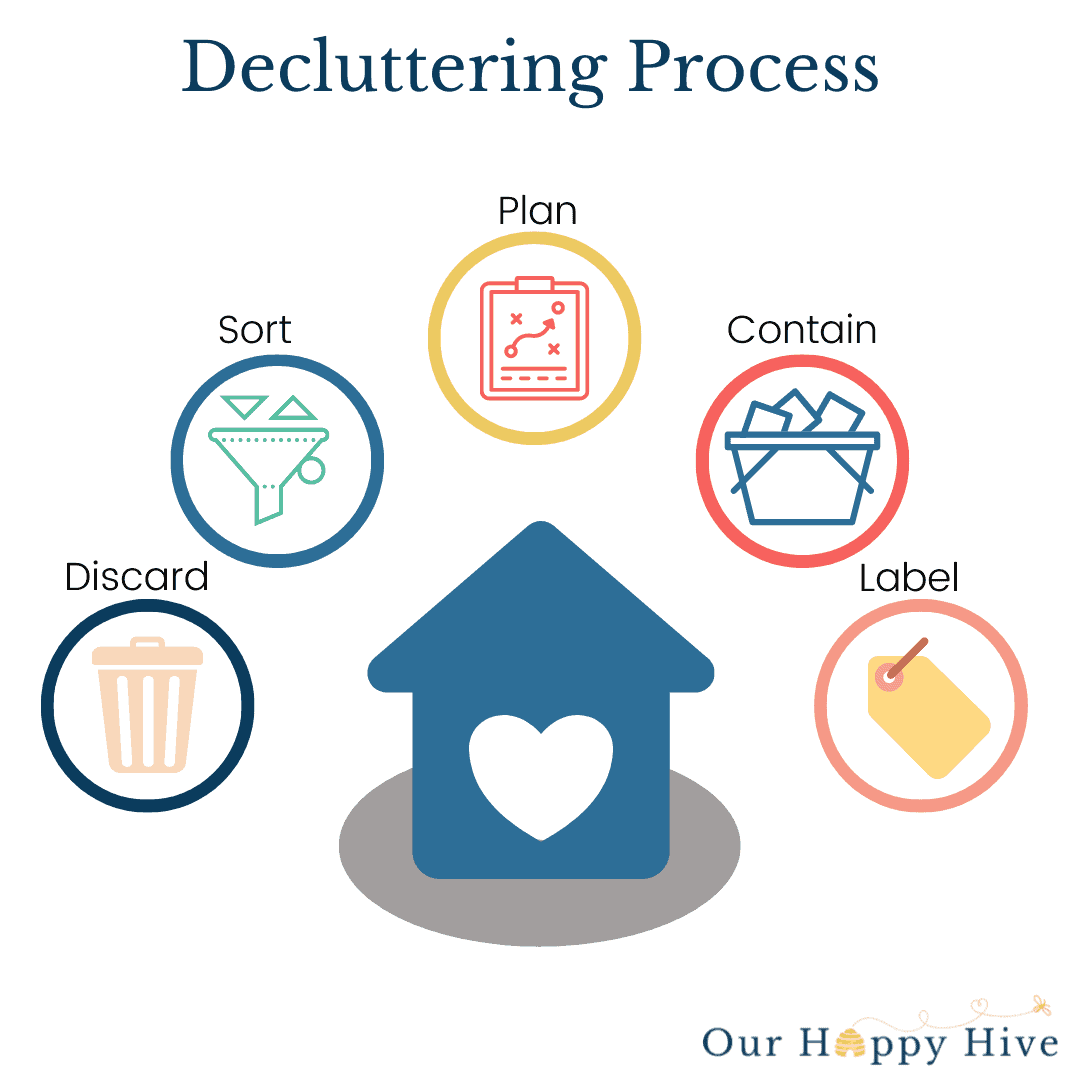 Let's look more at each step.
Decluttering Step 1 –
Ruthlessly
Discard
Step 1 is the most important step in this whole process. You want to be ruthless and get rid of as much stuff as possible. Having extra things will cost you time and space- and if you never or rarely use them, it's a big drain on your energy. We
were tired
of the "junk" — and ready to get rid of things. Which was helpful for making decisions. As you discard, you want to consider if each item is something you keep, recycle, donate or trash.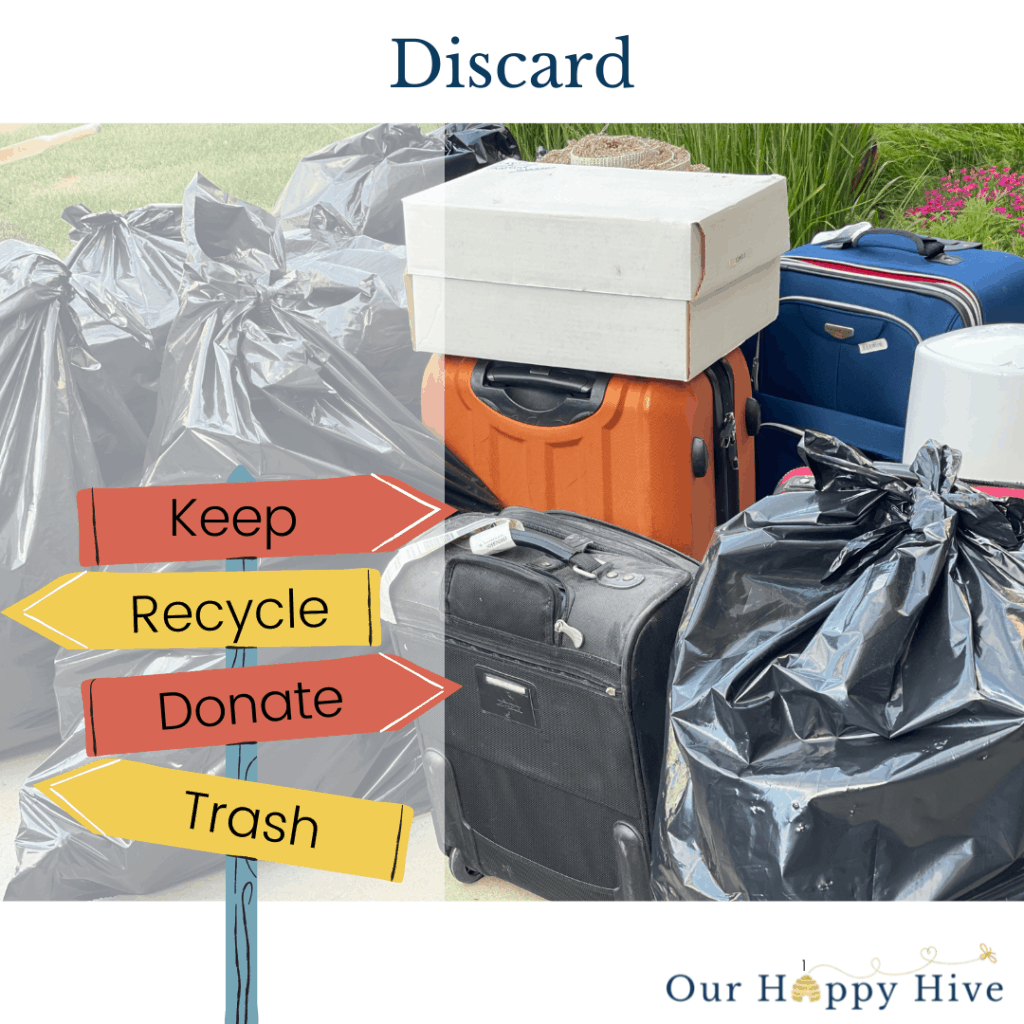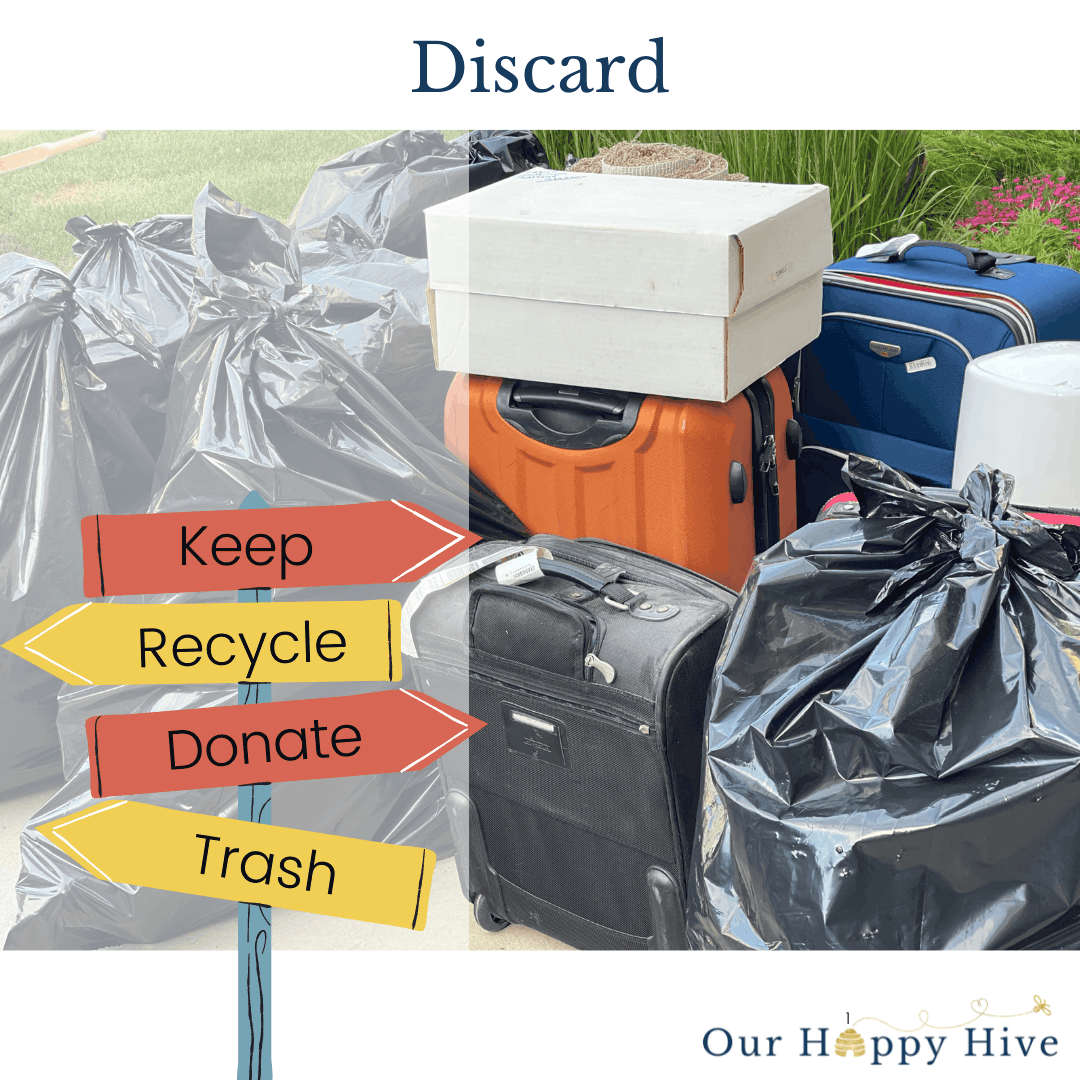 At the end of our nightmare project, we had a load of things for the dump…e.g. broken suitcases, toys with missing parts, and outdated car seats. And we had many things to donate to a local charity
.
I know that not everyone is at the place where we were…the place of being ready to get rid of things.
If you find yourself struggling to make decisions about what to keep and what to discard, ask yourself these questions
.
When was the last time I used it?

Does it have sentimental value?

Do I have anything like it that I could use in its place?

What would I do if I needed it and didn't have it?
Decluttering Step 2 – Sort into Categories
In this step, you want to group like items together. Create categories based on the number of things you have that are similar. For example, go BROAD when you have a few items. Go specific when you have a lot of items.
We have a ton of Christmas decorations ahem 11 boxes! So, I went very specific in how I grouped that one holiday, we also had a good deal of fall decor, so it got a category of its own. But almost all other holidays
were grouped
into one broad category "seasonal décor."
Decluttering Step 3 – Plan Your Space
Take inventory of how much space you have and how much stuff you have. Eyeball if you have enough space or if you need to further discard. Consider if the space meets your needs. Can you use it as is, or do you need to adjust it somehow?
For example, in our space, the wire shelving was not ideal for things that were not in bins. I had some extra boards lying around that I used to make the shelf more functional for my needs.
The home goods
were placed
directly
onto the board instead of the caged shelving. This created stability for the items and made it functional.
As you plan your space, you'll also want to consider how you use the vertical space. This was a great place for us to hang our wreaths, on another wall, we have rugs scrolled up and hung on the wall. Going vertical keeps things off of the floor and maximizes your space!
Decluttering Step 4 – Contain Things
In step 4 you'll want to contain your items with bins, baskets, shelves, drawers, or by creating zones.
Zones are helpful for items you don't want to store in a bin.
In our basement, we have home decor items that are not in baskets or bins and we also have some pantry supplies we have in zones
.
Baskets are an easy way to gather like items that you need to
easily
access. We also have some pantry items in baskets in our storage closet
Plastic bins are helpful to when you need to transport items like seasonal decorations or in our case, ski gear. We can take the entire box and put it in the back of the car without unpacking/repacking it.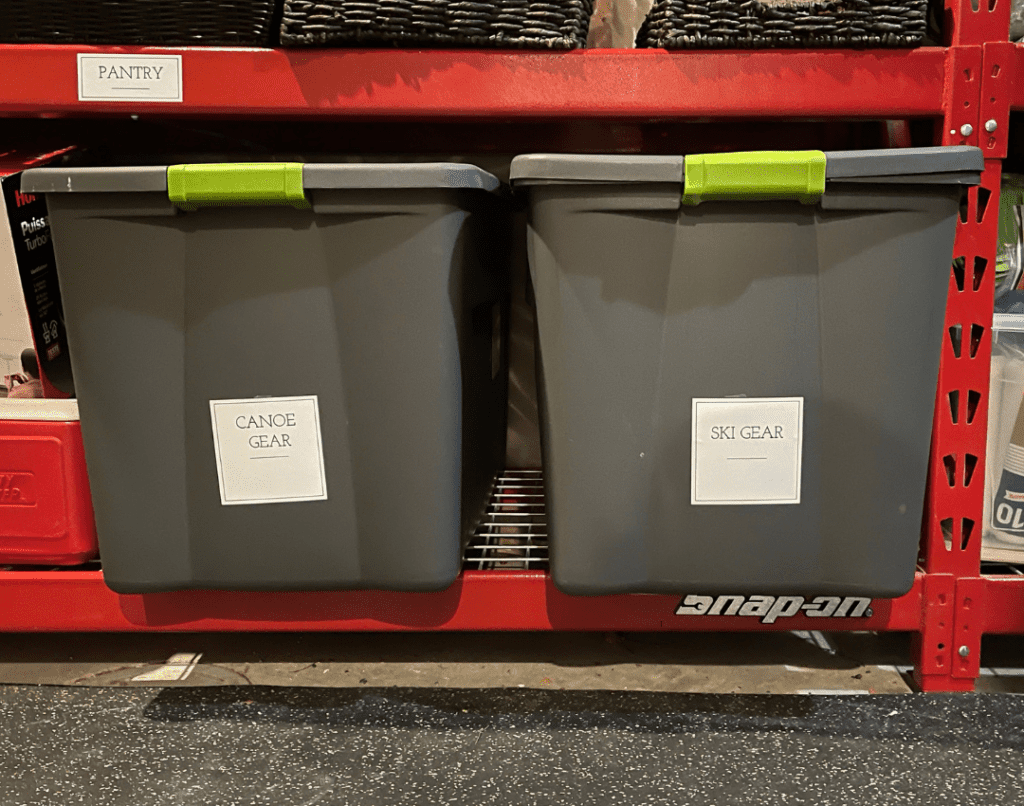 We reused bins we already had, but if you need to buy bins, consider which style you like best.
Do you prefer to see what's in the bin so that it's
easily
identifiable or do you prefer to hide what's inside to give a cleaner design
?
Decluttering Step 5 – Label
Last but not least, the final step in the decluttering process is to label your zones and bins.
This step helps you maintain the space, recall where you stored things, and allow your family members know where to return used items etc
.
I made my labels with the Cricut joy machine, but if you don't have a label maker there are many other options.
You can order custom labels off of Etsy, order chalk labels off of Amazon, or get plain white labels you write on from an office supply store
. Last but not least, the final step in the decluttering process is to label your zones and bins.
Label any place that will help you maintain the space. I labeled both boxes and shelves in our basement storage area.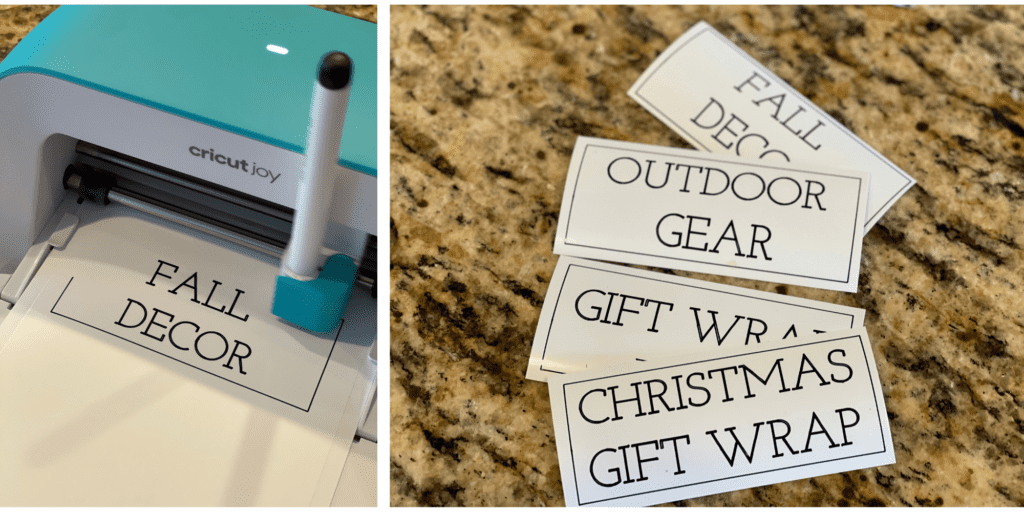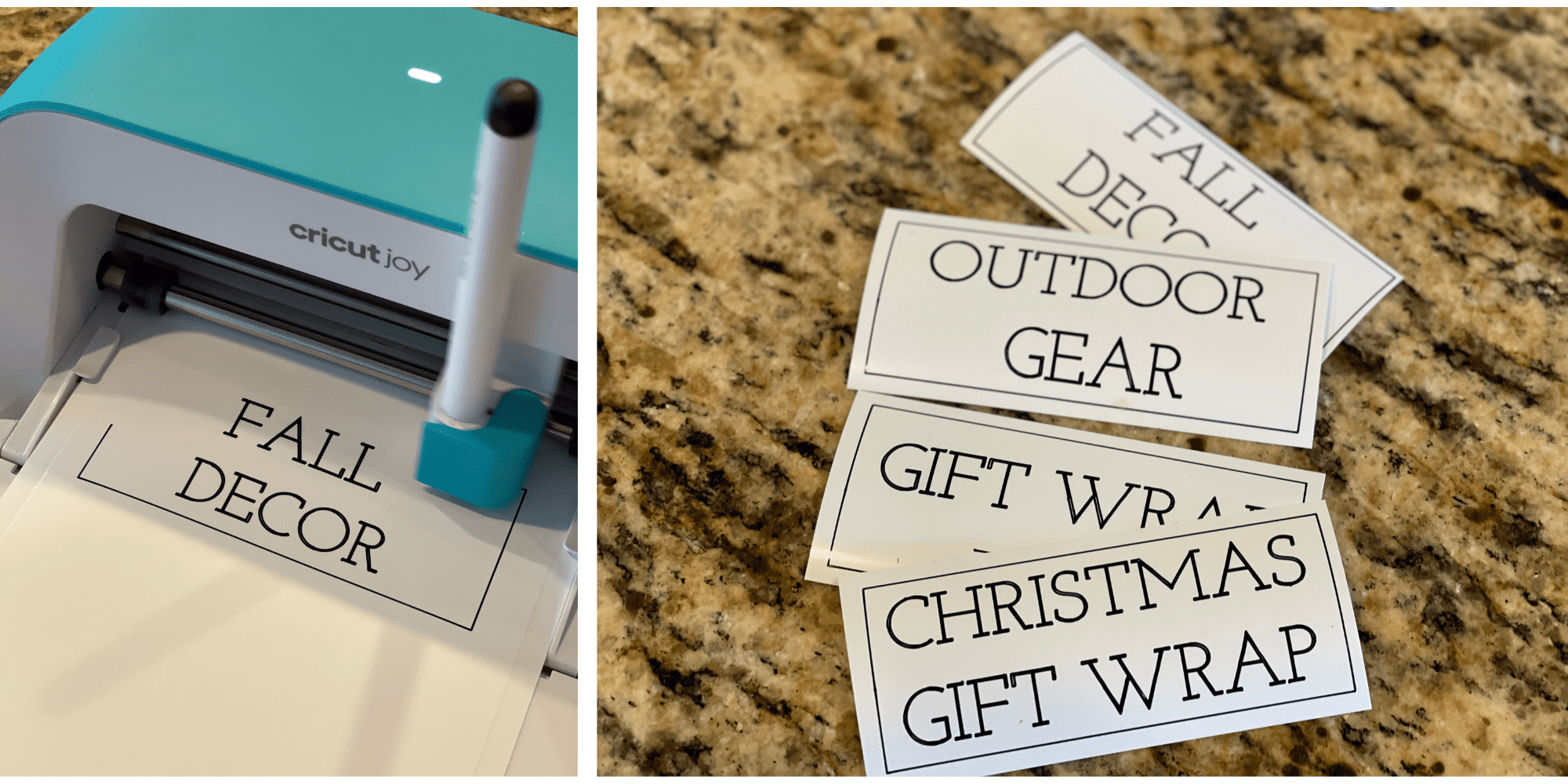 The Completed Decluttering Project

After going through these 5 steps, you will have transformed your space.
As I shared in the beginning, my goal was to have a family functional storage area. I was not going for a
beautifully
designed space.
I'm happy to share that I spent less than $25 on this space. Everything
was recycled
and reused
with the exception of
the labels.
It was a dramatic transformation for this space.
Previously
, I couldn't even access the cabinet on the right side of the area.
We pivoted it 90 degrees and got rid of lots of stuff and now it is a well-lit area that I can
easily
access.
You walk down the narrow hall now and we even recycled some extra rubber gym flooring to make the area that we walk on the most more presentable and usable
.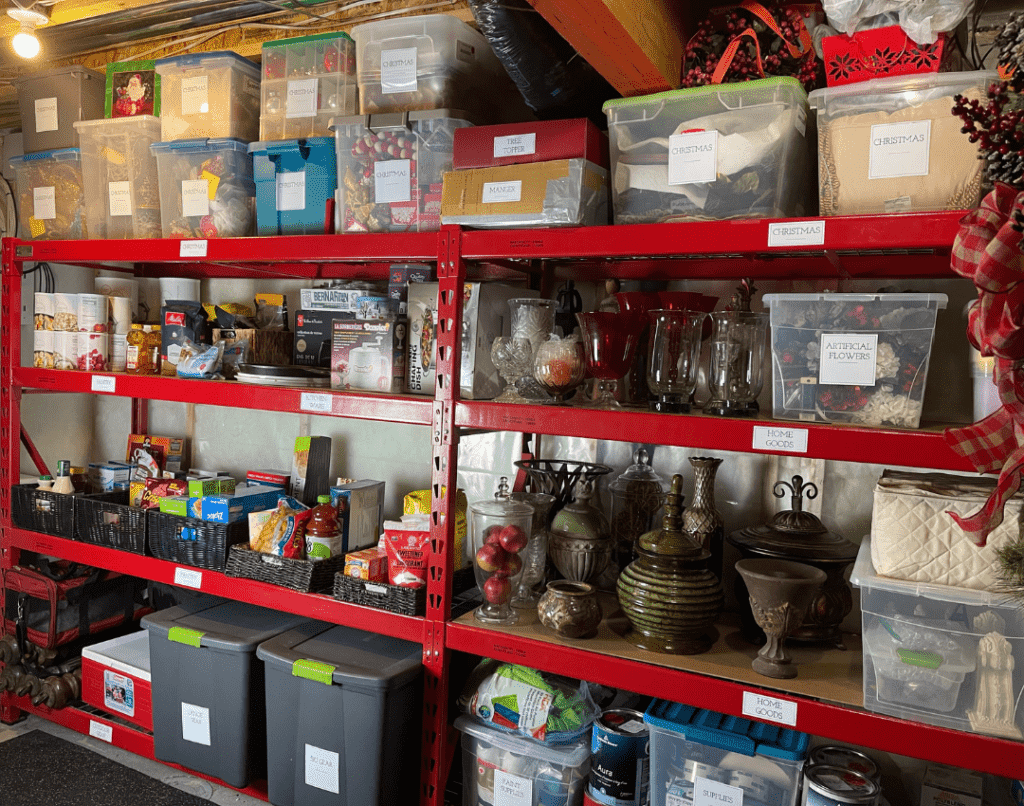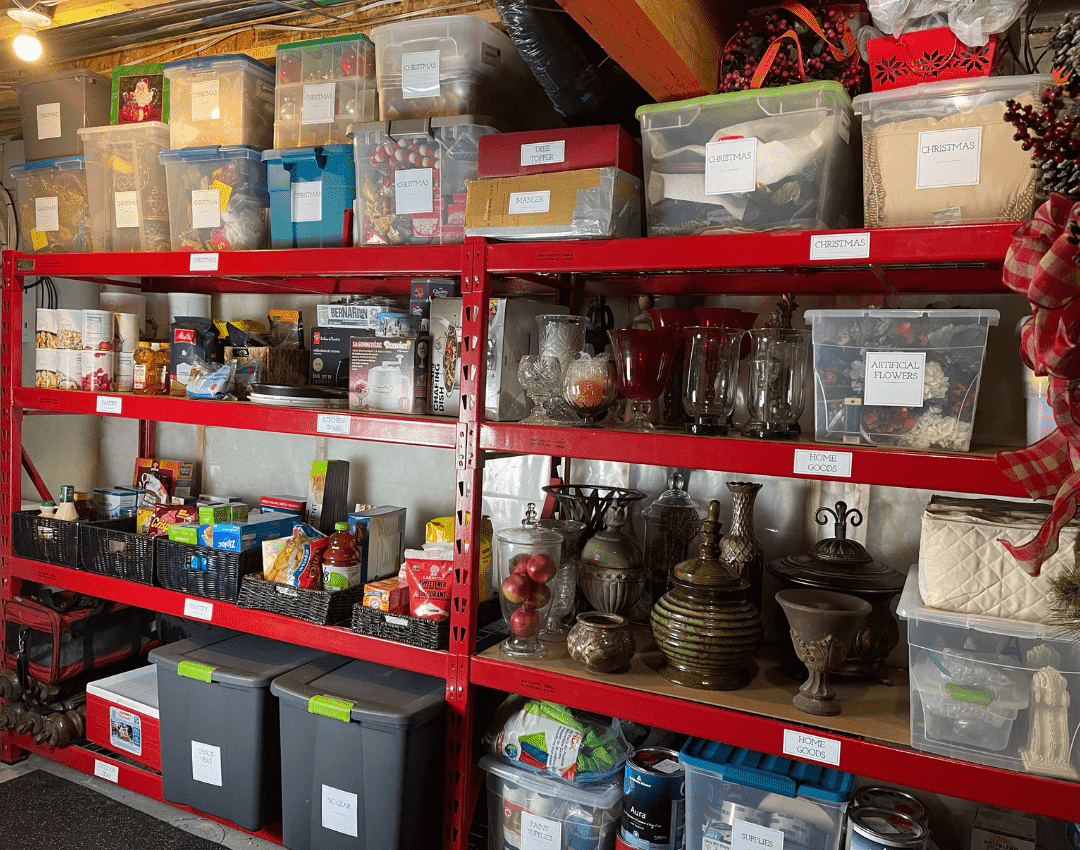 Get Started On Your Decluttering Project
Discard, Sort into categories, Plan your space, Contain your things, and label are the five steps you need to take to discard any space
. You can do a small space like a drawer and tackle it in one day. Or you can take on a major project like my basement and work on it over the course of several days or weeks. Either way, you'll walk through the 5 steps outlined here. So, what are you waiting for? Go forth and declutter!