Inside: Organize Closet Ideas to help your space have both form and function. These hacks to organize your closet space will walk you through the exact steps I took to go from being overwhelmed to an organized closet.
I have a dirty little secret. There's a space in my house I've been avoiding for years. I was intentionally saving it for last. I wasn't ready to make decisions about what to keep and what to discard. So- I just left it.
But something happened recently that helped me finally have breakthrough and organize my closet. If you're looking for ideas on how to organize your closet space, you're in the right place.
The Cluttered Closet
When I moved from Texas to Canada, I brought an entire summer wardrobe with me. Because that's how we dress in Texas. I had clothes for fun and clothes for work. Then after marriage, I moved to Canada and started working from home.
I bought warmer clothes and more casual clothes.
Then I had a couple of babies…I bought bigger clothes, then smaller clothes. Then we went on vacation, and I bought vacation clothes.
And just like that, our closet was full of a variety of sizes and types of clothes. And because life kept changing, I wasn't ready to make decluttering decisions.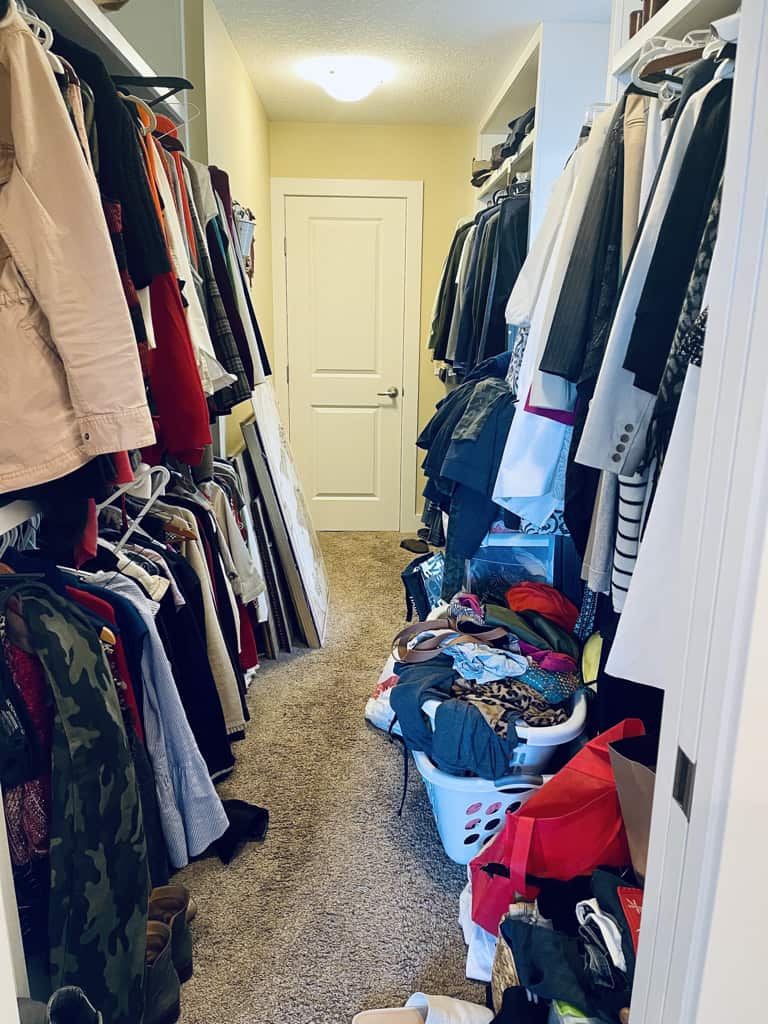 I got plastic bins to save items…but there they sat in our closet.
Meanwhile, other clothes collected dust on the top of the hangers.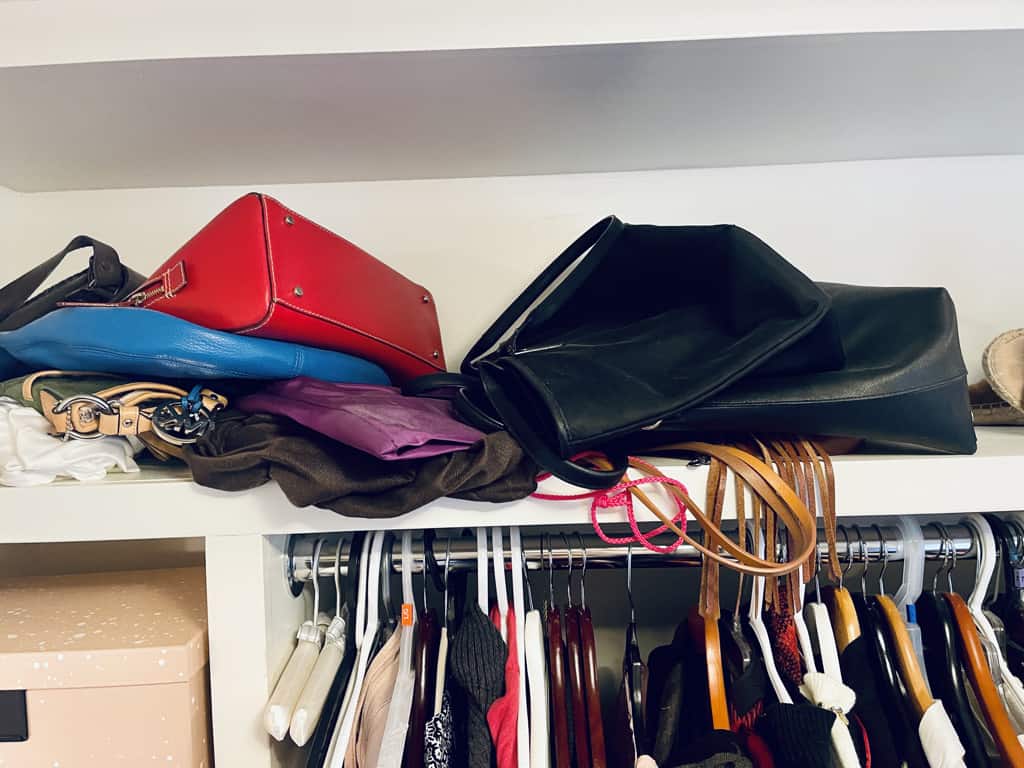 The inadequate system and desire to avoid, allowed for the closet to become messier and messier with things piling up.
And then I had a breakthrough.
Hacks to Organize Your Closet
I silently thought "I AM NOT ORGANIZING THIS ENTIRE CLOSET…but, if I could just get things off the floor and vacuum, it'll be a whole lot better."
Within 30 minutes, I had the floor cleared and vacuumed. The bins and boxes still had to be decluttered, but the visible progress felt like a victory and encouraged me to go on.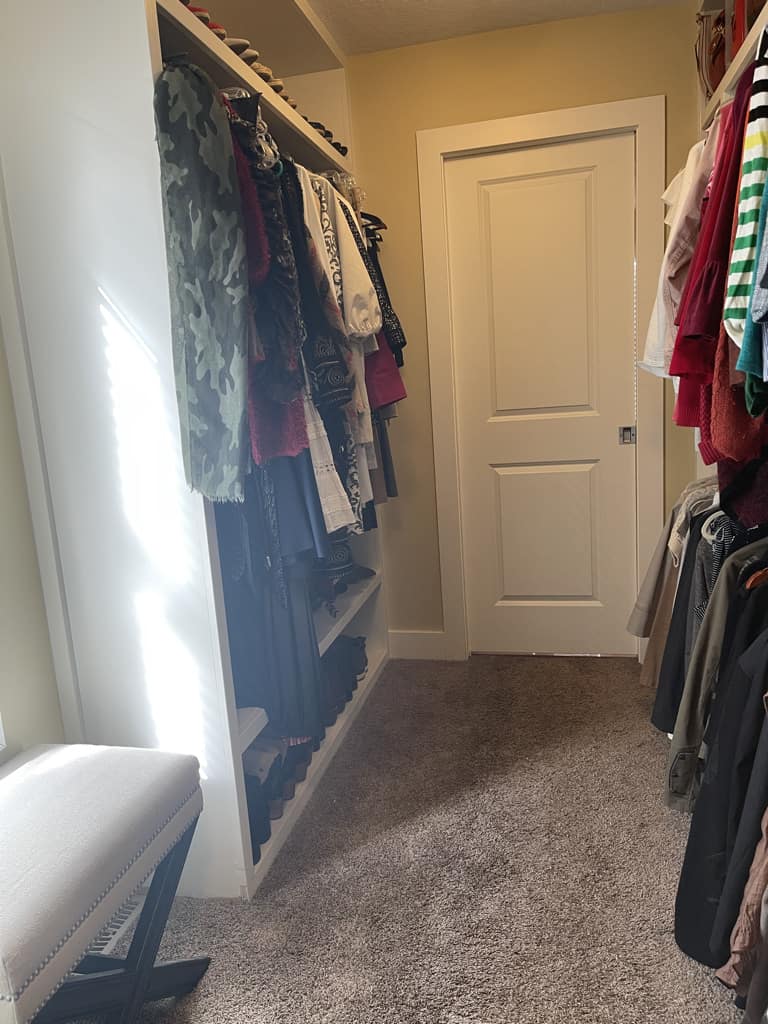 Areas to Organize In Your Closet
The way to organize any space without overwhelm is to create smaller doable tasks within the area. Systematically break down the zones in the closet into bite-sized projects. All tiny tasks should take less than 30 minutes. In my closet, I had the following zones:
Clear the Floor
Organize the Handbags
Rearrange the Clothing in Color Coded Sections
Organize the Shoes
Create an organized space for jewelry
Steps to Organize Your Closet Space
You'll then need to walk through the following steps within each area.
Clear it out
Clean the space (wipe down/vacuum)
Decide how you want to store items
Take measurements and buy any necessary containers/dividers
Organize and store
Organizing Your Closet by Color
Taking a cue from The Home Edit, I arranged things in a rainbow pattern. I started with the purses, then the clothing, then the jewelry.
Organizing my handbags was an easy and rewarding mini-project. This tiny task took less than 30 minutes. I also found these nifty acrylic dividers that gave the space more form and function. If you have bags that are soft and won't hold their form on their own, then stuff them with tissue paper to help maintain their shape.
I am a woman that loves purses, so I did have to make some decisions to get rid of a few. But I am so happy with the end result.
Organizing your closet will bring a smile to your face every time your walk in! It's a great way to start the day!!!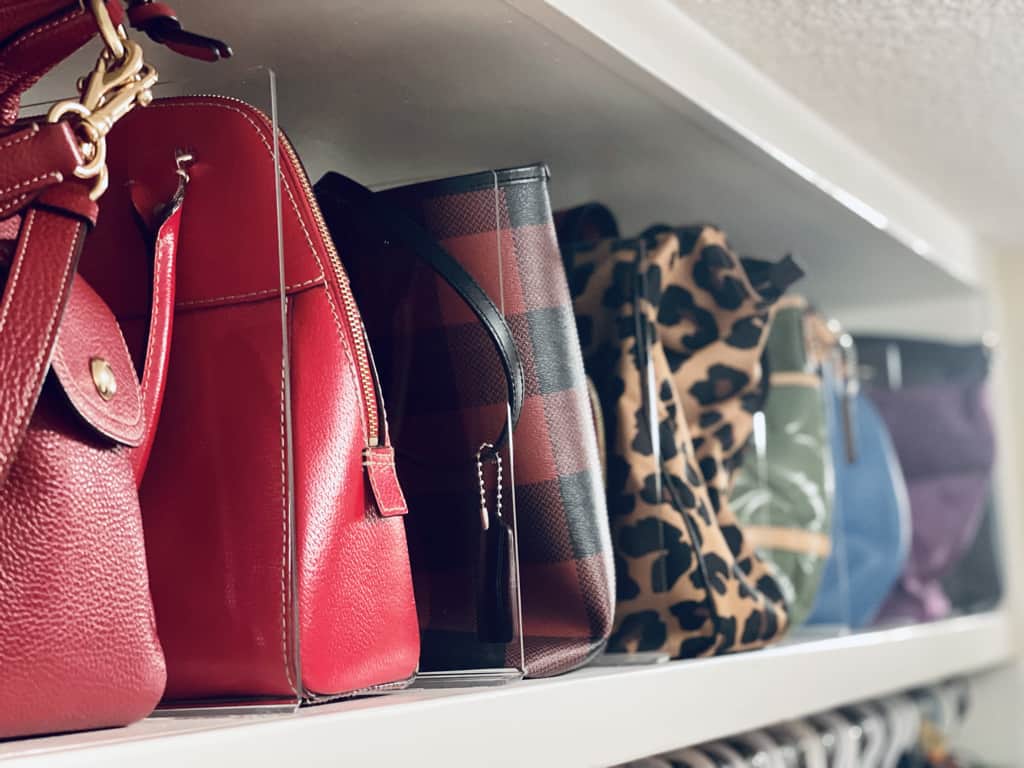 Organizing Ideas For Your Clothes In Your Closet
It's best to sort through and discard clothes as you organize. But, if you're like me and don't have a lot of time, it's good to remember that progress is better than perfection. That's the route I opted for this time. Just rearranging the clothes and organizing them made a huge impact. You'll find that all of your mini-wins put wind in your sail and encourage you to keep going.
Historically, I've organized my clothes by season and length, but the change of organizing the closet by color brought new life.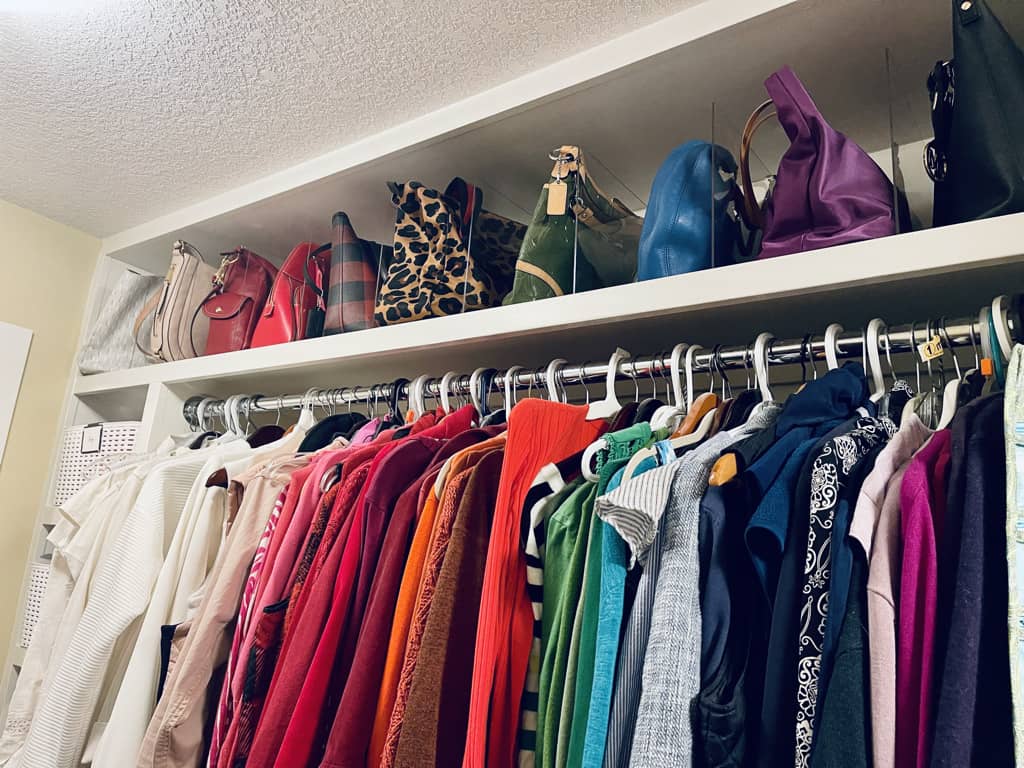 Creating a Jewelry Station In Your Closet
Creating a jewelry station in your closet is a practical place to store your everyday jewelry. It's not near your vanity where it might get perfume or hairspray on it. It's easily accessible for when you get dressed. And it adds a nice pop of color to the area. Once again, I found this a great area to organize by color.
I used an acrylic shelf from Ikea with pillbox inserts to organize my earrings and rings. Then I hung a bar with hooks from Ikea for my necklaces. They will never get tangled this way!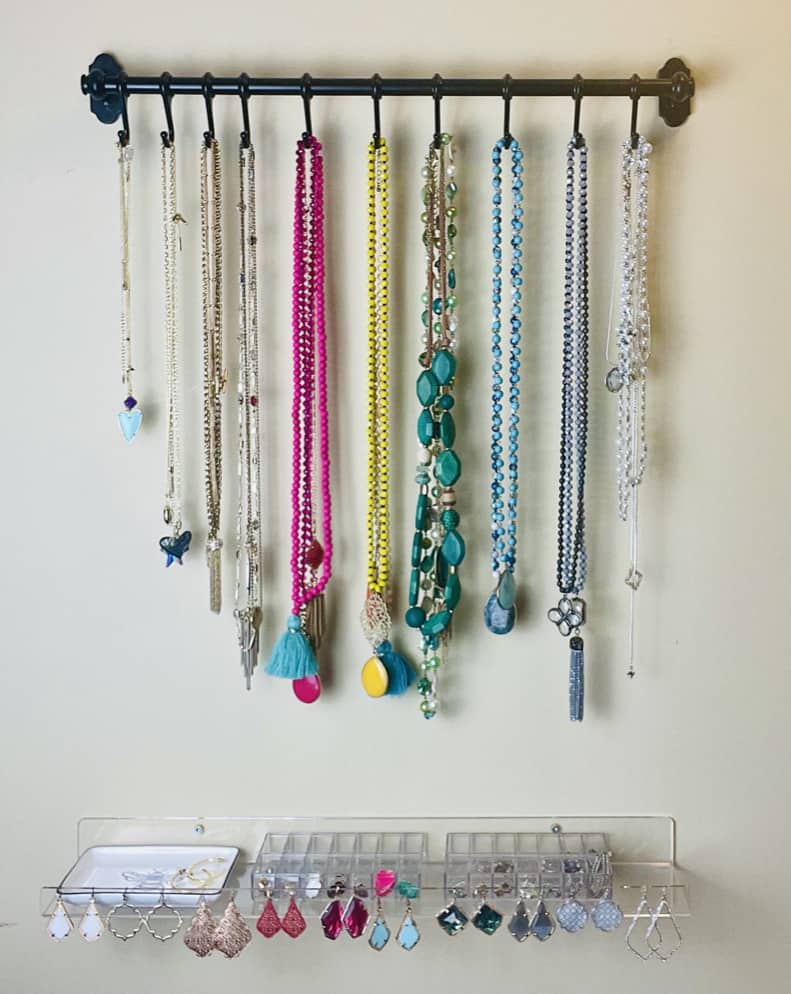 Organize Your Closet Like a Pro
Years ago, I read Marie Kondo's book, The Life Changing Magic of Tidying Up. She encourages her clients to only keep things that "spark joy." And then she pushes them a step further and says if it brings you joy, you shouldn't hide it away in some storage area, but you should put it out and enjoy it.
I took her advice to heart. I had a couple of items I got from my parent's home decor store. They no longer had a place in the other rooms in our home, but I still really liked them. While they don't totally make sense in our closet, I felt they created warmth in the space and brought in some joy. So, I added some artwork to the wall and a couple of small chests below the jewelry station.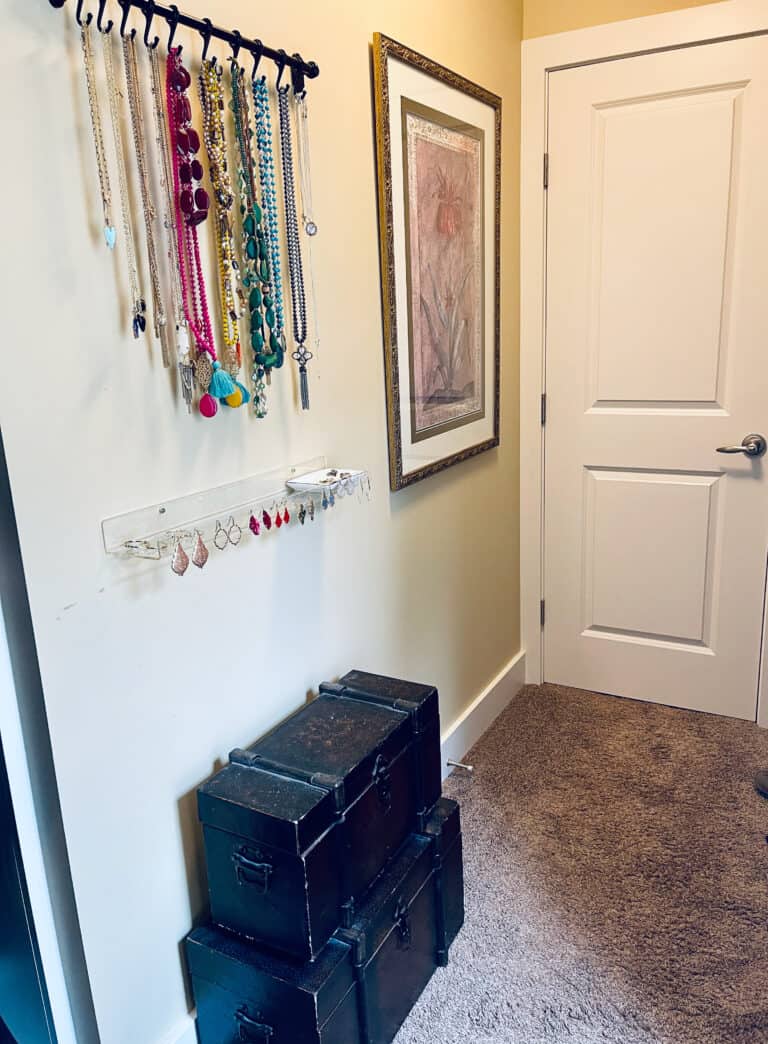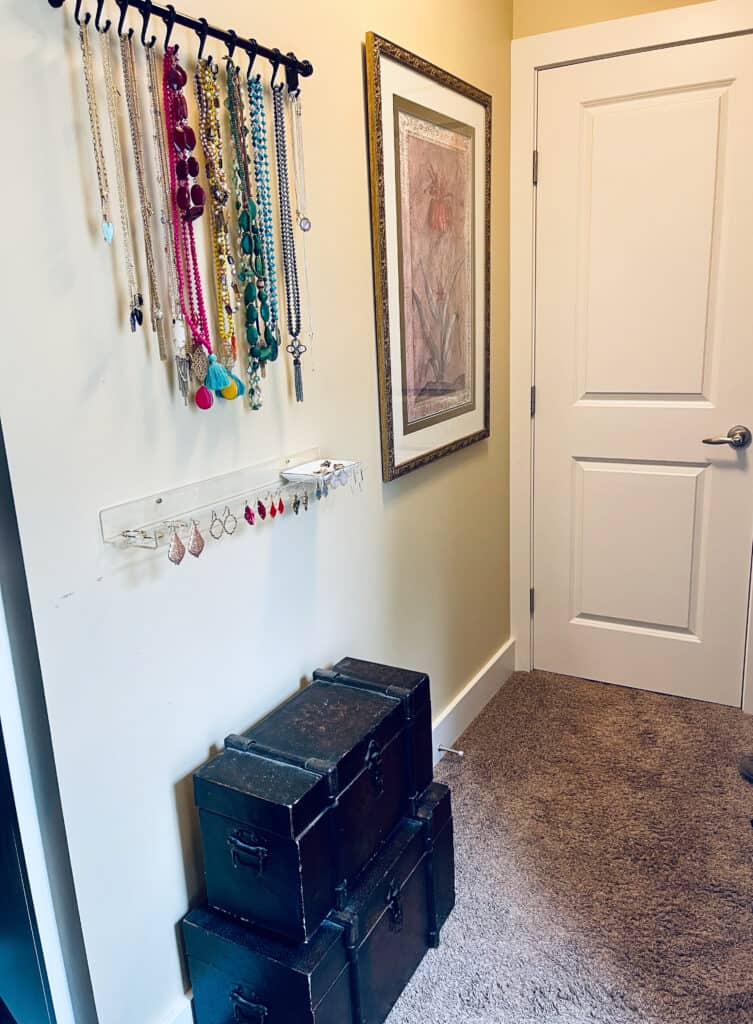 If you're ready to take your closet from overwhelmed to organized, pick one small project to start. The tiny task will create positive momentum to help you get unstuck and organized. First, choose the area of your closet that's an easy win and will bring a smile to your face. Then walk through these organization steps: Clear it out, Clean the space (wipe down/vacuum), Decide how you want to store items, Take measurements and buy any necessary containers/dividers, and Organize and store.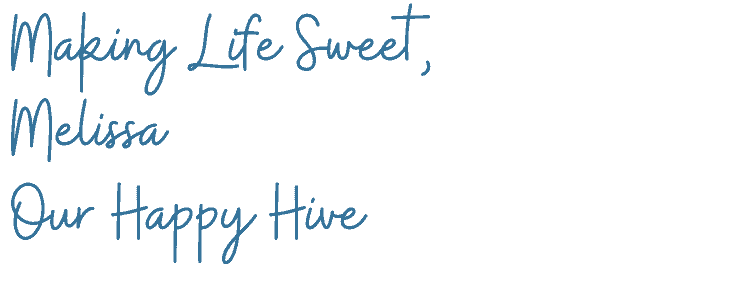 Free-Bee Resource Library
Enter my
Free-Bee Resource Library
for my latest downloadable files and printables! Password is 'honey' -- please copy and paste that in at the link above. Thanks for being a subscriber!!