Inside: Gift ideas for people who love to organize. Get practical gift ideas for the organizer in your life!

Do you (or someone you know) love to declutter, organize, or find clever storage hacks? Recently, I read Marie Kondo's book "The Life Changing Magic of Tidying Up." Marie Kondo is a minimalist and encourages her readers to get rid of anything that doesn't "bring joy." For the things they keep, she recommends everything has a home. If your things don't have a home, they quickly become clutter and before you know it, you'll be right back to where you started.
I agree that everything needs a home and would add, for a family, it's important that everyone understands where things belong. Containers and labeling systems can help you and your family maintain an organized home. Let's check out 28 gifts for people obsessed with organizing!
This post contains affiliate links. For more information, please read my Affiliates Disclosure.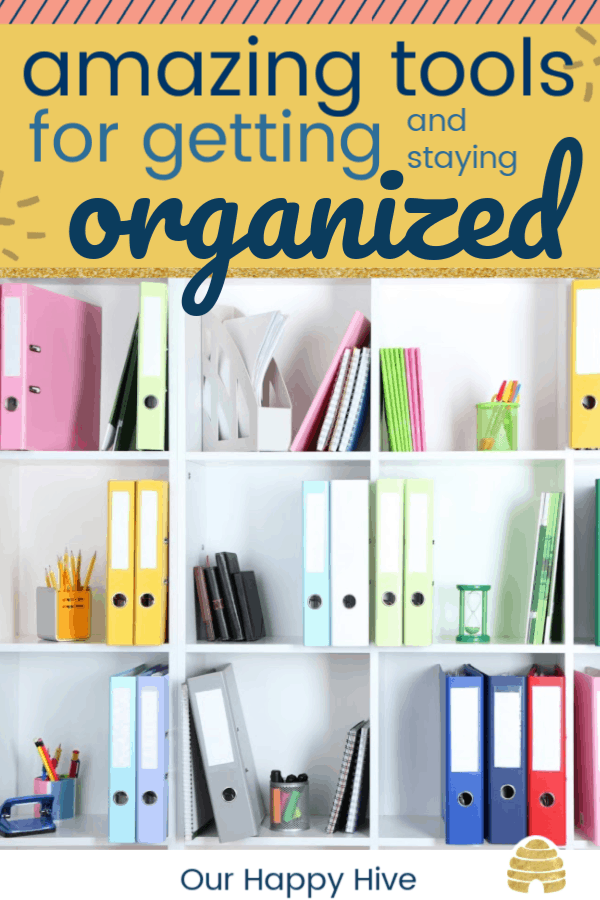 Tools You Can Use
These are a few of my favorite tools to make things look pretty, keep items straight, and help all family members know where things belong.
Label Maker
A simple and inexpensive label maker can help you indicate the purpose of jars, a shelf, a binder, or even a cord. They are easy to use and give a professional flare to any home organization project.
Brother P-touch, PTD210, Easy-to-Use Label Maker
Chalkboard Labels
Do you love the trendy chalkboard look? If so, this option is right up your ally! These labels are another easy-to-use and inexpensive solution. You can write on them with paint pens and stick them to plastic bins, jars, and other containers with a smooth surface. They work great in the pantry, office, or bathroom and are an inexpensive DIY option.
96 Premium Chalkboard Labels Bulk – Free Erasable Chalk Pen – Dishwasher Safe

Cricut Joy
Cricut joy is an electronic cutting machine. You choose your medium e.g. self-adhesive vinyl, the color you desire, and you design the label. You can go from simple to complicated multi-color designs depending on your preference and capability. I've used it to make labels for bins in the pantry, decals for my kid's walls, labels for water bottles etc. The Cricut Joy is more versatile than other label printers. And it's a less expensive option than larger cutting machines. You can cut and write custom labels with this little machine.
Cricut Joy Machine
Laminator
If you have checklists you follow, routines for the kids, or identification cards that are only made out of plastic, then a laminator is a great tool to make the paper more durable. I've used it to cover cardstock health insurance cards so that I could keep them in my wallet. I also have an annual calendar for important dates like birthdays, anniversaries, etc. The laminator is also good to use on things you want to write on with a dry erase marker.
AmazonBasics Thermal Laminator
Cable Clips
Are you tired of having loose cables around your house? These small adhesive cable clips are great to affix to desk or nightstand. I've used them for my phone charging cable so that I don't have to look for it every night as well as for the cord to our baby monitor. They help keep cords in order and take out the guesswork when you're trying to locate them!
Shintop Cable Clips (Colorful,6pcs)
Paper Organization
Bills, receipts, and junk mail are just a few of the paper items that can create a lot of clutter each week. If you're looking to keep a home office in order or minimize paper clutter, these are a couple of tools you can use.
Paper Shredder
Safely get rid of sensitive documents with personal information by purchasing an inexpensive shredder. Stay on top of your organization by making a point to shred immediately after you sort through your mail.
AmazonBasics 8-Sheet Cross-Cut Paper and Credit Card Shredder
Document Scanner
Minimize important papers by scanning them and saving them on your computer. Scanners can help with receipts, warranties, and tax documents.
Epson Perfection V39 Color Photo & Document Scanner
Storage Units
Craft bin
This multi-drawer storage unit was the perfect solution to my kid's craft needs. It consolidated art supplies throughout our house into one small area. Each drawer can be used for a specific purpose, and labels help the kids keep it organized.
Seville Classics 10-Drawer Organizer Cart
Containers
Containers come in all shapes and sizes and can be used to define the purpose of a space. Let's check out some containers that are perfect for your kitchen, bedroom, bathroom, and travel!
Kitchen
OXO canisters
These canisters are ideal for your pantry. Their Cereal box is my personal favorite. It's clear so you can see what type and how much you have. They come in all shapes and sizes that work well with baking supplies, oatmeal, kids snacks, or any type of item you'd buy from the bulk section like nuts and seeds.
OXO Good Grips 3-Piece POP Cereal Dispenser Set
Spice containers
If you want a uniform look and to save money in the long run, glass spice containers are the way to go. Buying no-name brand spices that come in plastic bags instead of bottles are less expensive. You can transfer them into the bottles and save money over time.
SimpleHouseware 12 Square Spice Bottles (6oz) w/label Set
Acrylic containers for refrigerator
Refrigerators have a couple of drawers, but often additional boxes can help to keep your food and drinks organized. They make them to specifically hold eggs, soda cans, yogurt, or vegetables to name a few.
Sorbus Fridge Bins and Freezer Bins
Battery tray
Okay okay, maybe you don't keep batteries in the kitchen, but we do! We have them in our organized "junk drawer." This is an organizing tool my dad found for us. They store all different size batteries and have a tester on it so you can check to see if the battery still has a charge. As a family with young kids and lots of toys that require batteries, this organizer is a must!
The Battery Storage Organizer Case and Battery Tester
Bedroom & Bathroom
Bedside Organizer
If you read at night or like to keep a few items bedside, this nifty organizer helps you to keep it all in reach. My husband uses it to store his books, a pair of reading glasses, and his tablet.
Acrylic bathroom organizer
These nifty containers give you places to store your makeup, toiletries, hair products, and tools.
Hanging Jewelry bag
I love this little gadget for my every-day jewelry. It helps sort my earrings, rings, and necklaces and the see-through plastic makes it easy to quickly find what I'm looking for.
Travel Organizers
If you travel a lot, there are a couple of products you should consider to help you get organized.
Noodle bag for travel
Most of us have a ton of cords these days for all of our electronics. This organizer neatly stores cords for your phone, tablet, and computer. It also includes a place for your USBs or extra batteries.
BAGSMART Small Travel Electronics Cable Organizer Bag
Travel toiletry bag
Years ago, my aunt gave me one of these toiletry bags and I use it everywhere I go. It's so easy to find things in and big enough to carry all of the products I use when I'm traveling.
WAYFARER SUPPLY Hanging Toiletry Bag
Books
Last but not least, if you're looking for a little home organization inspiration, here are a few books I'd recommend.
Some of us love the process of getting and staying organized. Tools that help us in our journey thrill us. They actually bring us joy. If you are looking for a gift for anyone that is obsessed with organizing or if you are trying to get organized yourself, any of these 28 tools can help with the process!