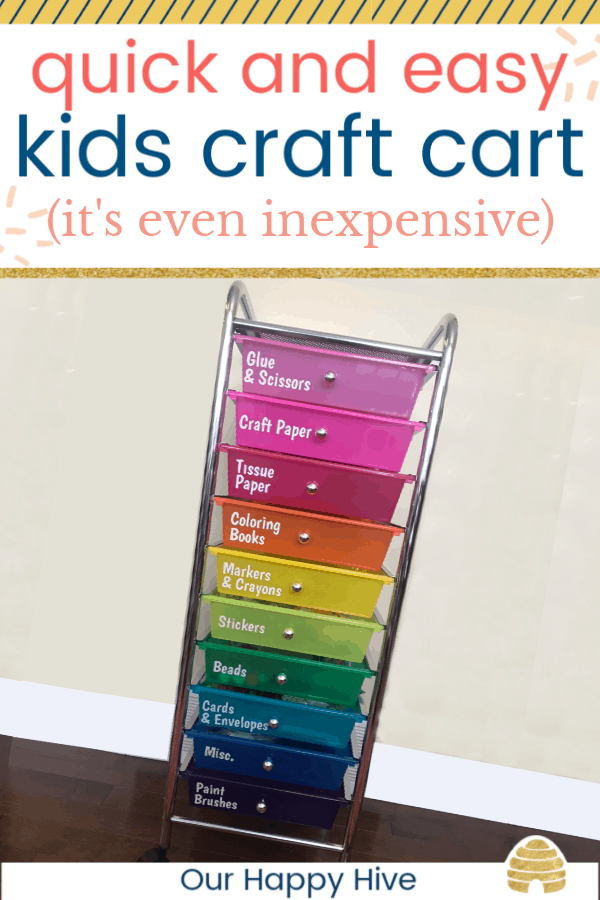 It was another snowy Saturday with the kids. It was too cold to get out and they had been cooped up in our house for days. I racked my brain for what we could do that would keep them entertained indoors another day. Ah…crafts! It was time to have another craft day, but where did I put their paint? And where was their craft paper? Can't we keep this all in one place so I don't have to go on a continual hunt for our art supplies?
The Problem
Until recently, my kids (ages 2 and 5) stayed home with a nanny while my husband and I worked. The nanny was awesome at planning crafts, helping the kids express their creativity, and develop their fine motor skills. Yes, she was practically Mary Poppins! In a few short years, we amassed all types of Crayola products, craft paper, glue, scissors, and baubles to glue on craft projects. I accepted this as something that came with the territory of having your kids at home instead of in daycare.
We started storing these craft supplies in plastic boxes. One was for paint, another for paper etc. Before long, we had supplies in various nooks and crannies throughout the house. It was a mess and we couldn't ever find what we were looking for without checking several places. We needed a better solution and a super easy organization system for kids crafts.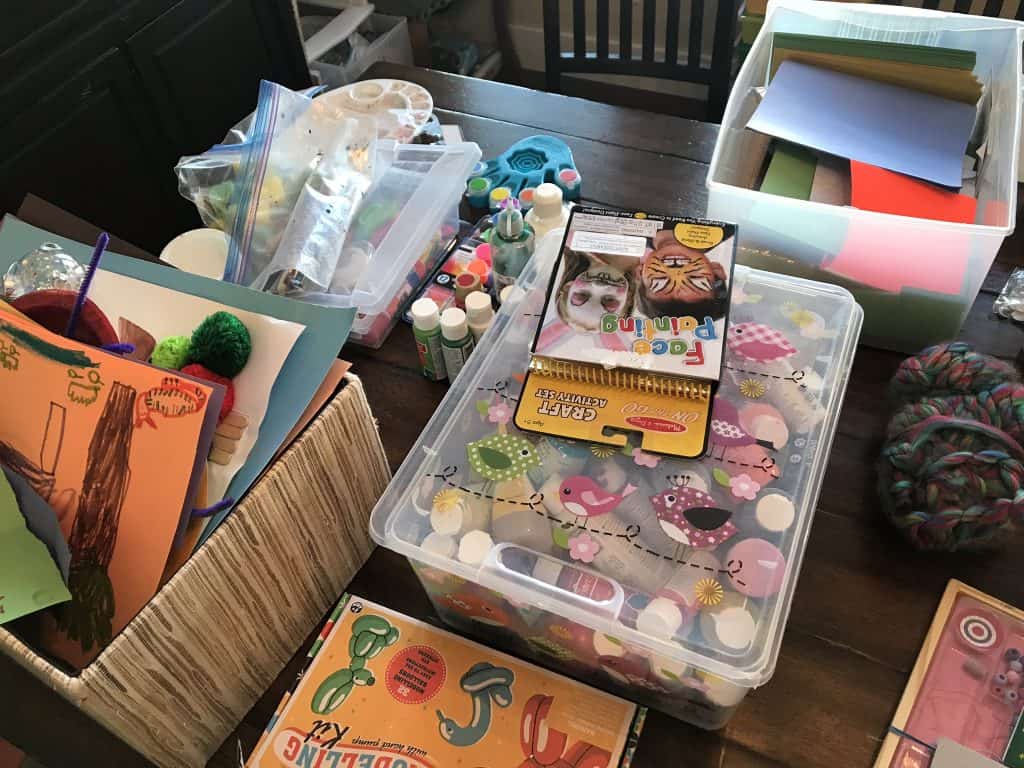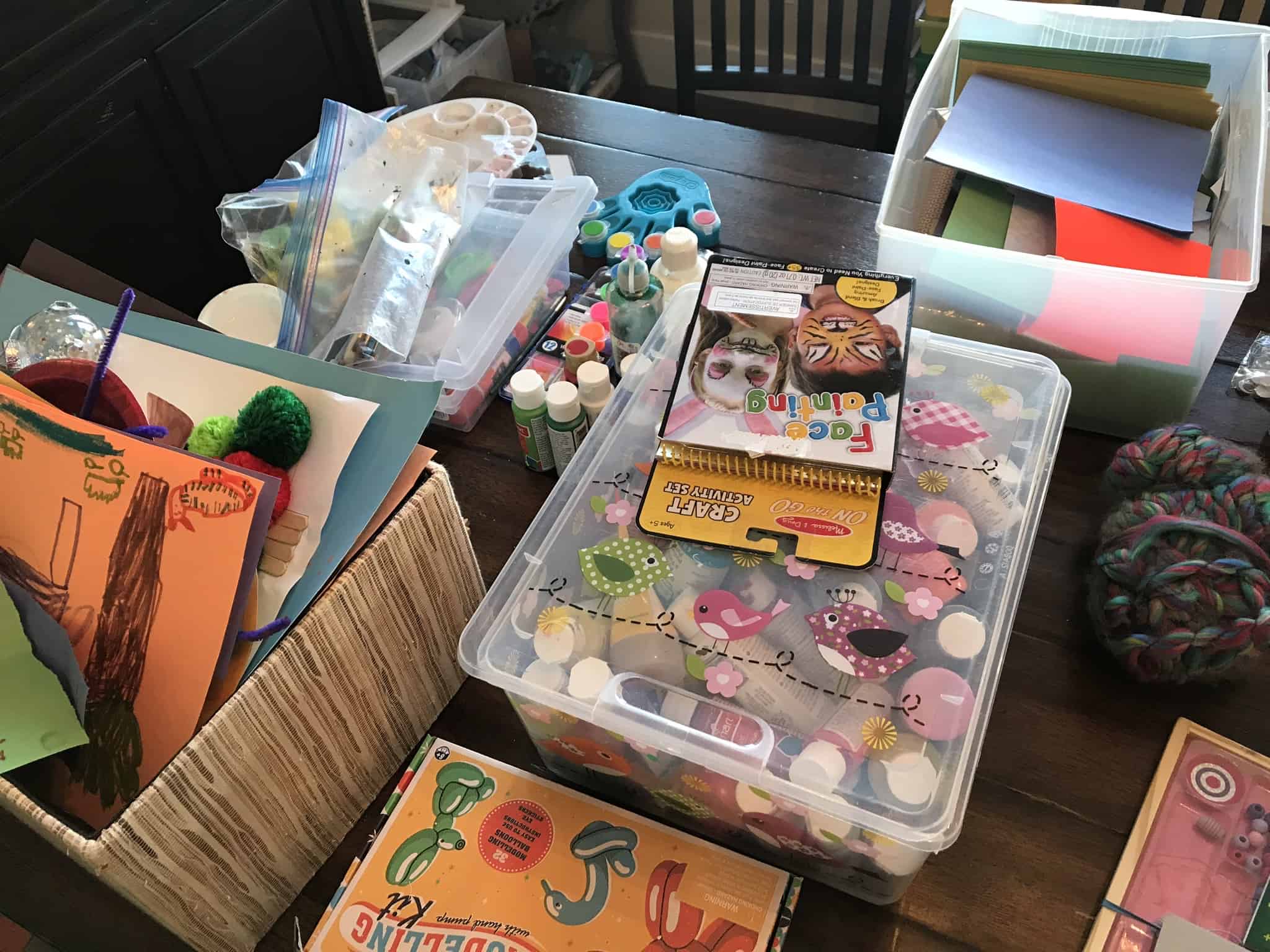 The Vision
I have a long-term vision to turn a space in our basement into a craft area and study space for our children, but now is not the time! That area is currently used to house a play kitchen, tent, and pretend ice cream bar. We needed an easy way to organize crafts, that was convenient, accessible, and not an eye sore. Queue the kid's craft cart!
The Easy & Inexpensive Solution
This art supply cart for kids has 10 drawers, is available in rainbow colors or white, and is on wheels. It was perfect! Even better, it was pretty inexpenisve! I could sort all of the supplies into categories and file them away in their own drawer. The wheels are a particularly nice feature. They allow you to move the cart as needed. Most of the times, we have the Kid's Craft Cart next to our dining table. It's out in the main area of our open concept home, but if we're having a dinner party and want it out of sight, it's super easy to roll into our office out of the way.
How to Organize A Kid's Craft Cart
Once I decided on the solution, it was time to start organizing. Of course, I kicked off the shebang with a sorting and purging process. It's amazing how much stuff you accumulate in a few short years! Once decluttered I then sorted into categories and dedicated a drawer to each category. Within each drawer, I used plastic bags and jars to sort like items.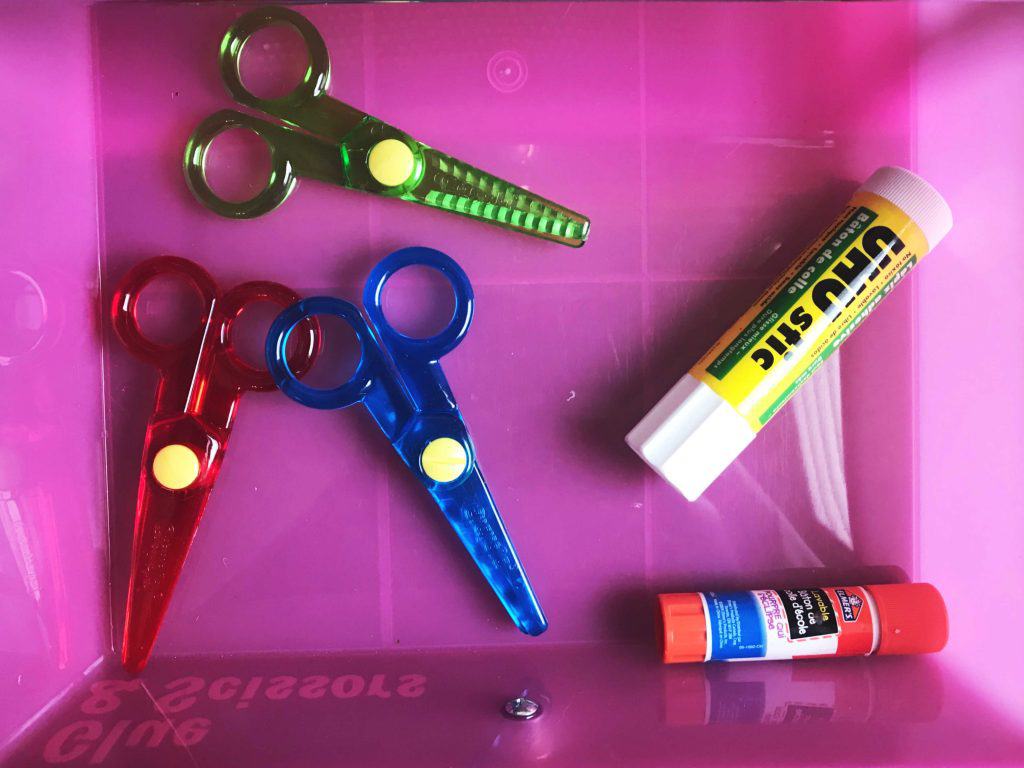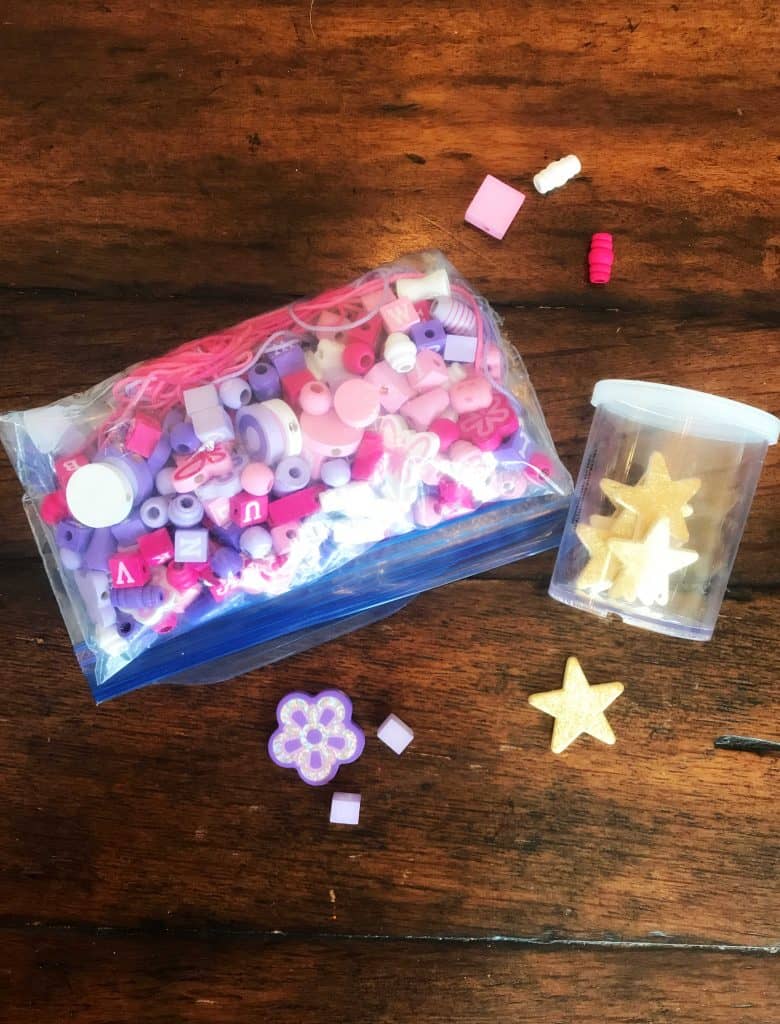 Note, as you decide what to store in the craft cart, there are some things that you may want to keep elsewhere for safekeeping. I learned this the hard way :-(. After returning from a date night with my husband we came home to gold glitter spread like pixie dust throughout our entire main floor. Depending on the age of your kids, you may want to keep a few items out of reach. I strongly recommend glitter being on that list!!! (sigh) Finally, I cut out labels with my silhouette machine so that everyone knew where to find and more importantly where to return items!
Craft Cart Categories
We used the following categories in our cart.
Glue & Scissors
Craft Paper
Tissue Paper
Coloring Books
Markers & Crayons
Stickers
Beads
Cards & Envelopes
Misc.
Paint Brushes
Of course, it depends on what type of craft supplies you have. Other categories could include paint, play dough, tape, you get it! Make the categories that fit your needs!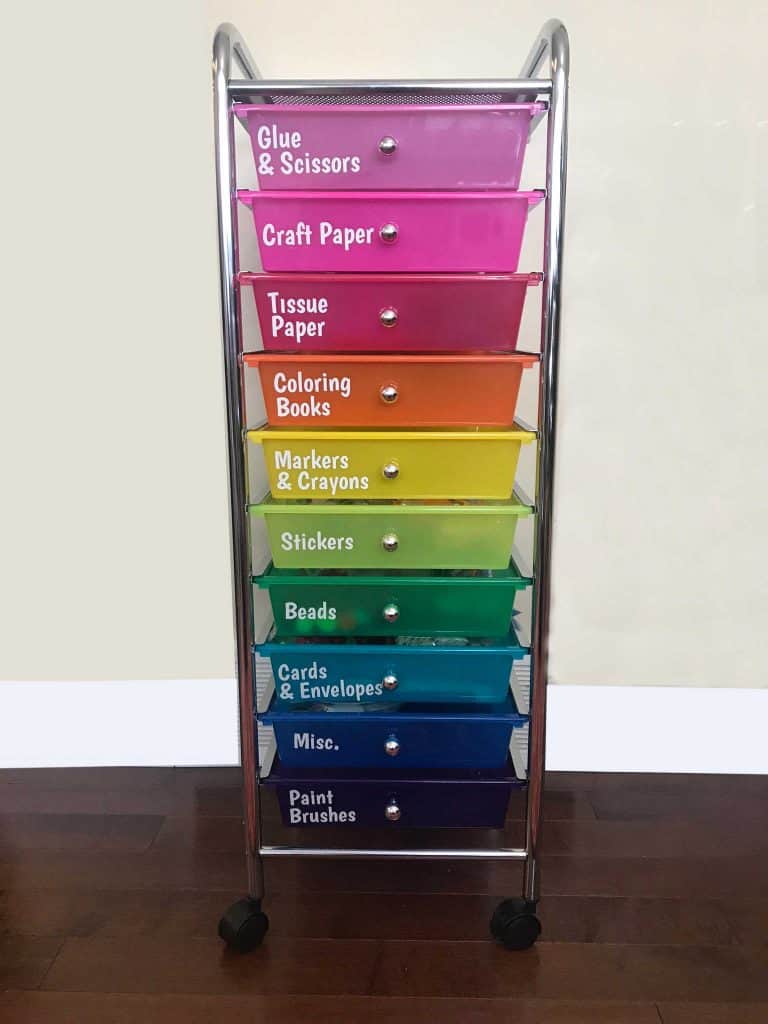 This post may contain affiliate links. For more information, please read my Affiliates Disclosure.
What We Love
A few weeks ago one of my friends reached out to me with a similar storage problem. I shared our Kid's Craft Cart solution with her and she was onboard to do the same in her place. Our kids can now happily express their creativity. Here are a few of the things we found kids and moms love about this super simple arts and crafts cart for kids.
What Kids Love About It
First, let's talk about what the kids love…after all it's for them!
Children love that they can help themselves to their craft supplies when they feel inspired
They love having control over it
They love being able to find things when they want to use them
And, in the words of my daughter, the rainbow drawers are pretty
Why Moms Love It
The great thing is, this is a crowd-pleasing solution. Moms love it too! The craft cart
Helps kids to not be bored
Provides an alternative to technology (tablets, phones, and television)
Stores everything in one place and makes it easier to find craft supplies when you need them
Helps keep your home tidy
Is narrow and can fit even a small space easily
Has many drawers allowing you to organize a wide variety of art supplies
It can be moved around. You can keep it out for craft time and roll it into a closet when you don't need it. It's totally up to you!
Encourages independence since it's easy enough for a 4 year old to use it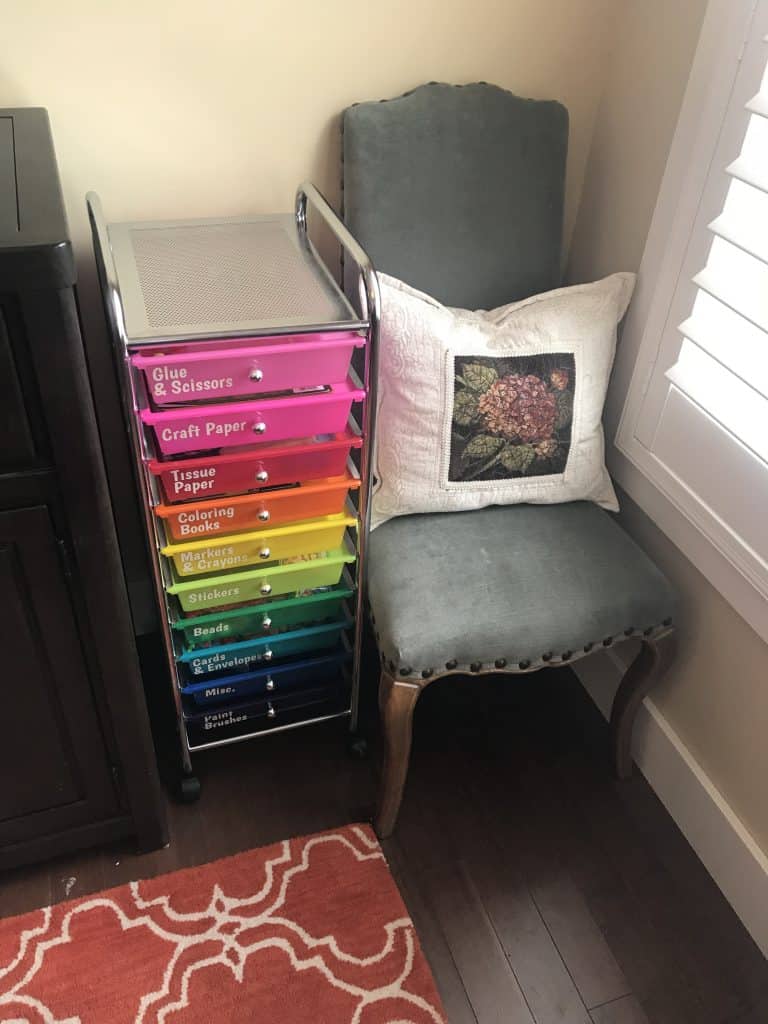 The Downside
We only had a couple of negatives to this easy to use kids craft cart.
The brightly colored drawers don't typically go with the décor of a home, BUT, because you can move it around, there is an easy fix if you're having guests over.
Because it is so easily accessible, be sure to keep some items out of it e.g. sharp scissors or the aforementioned glitter
The End Result
We've now been using the art supply cart for kids for several months. My five year old literally uses it daily. She doesn't have to ask me for help to get things and she's empowered to let her creative juices flow. My two year old tries to do the same thing. He knows where a few odds and ends are, but thankfully doesn't try to access it as frequently as Little Miss. E. This is a perfect storage solution for moms of preschoolers or kindergarteners and older.