Inside: Check out this post for practical tips for planning a family vacation. It includes a free family vacation pdf printable and checklist.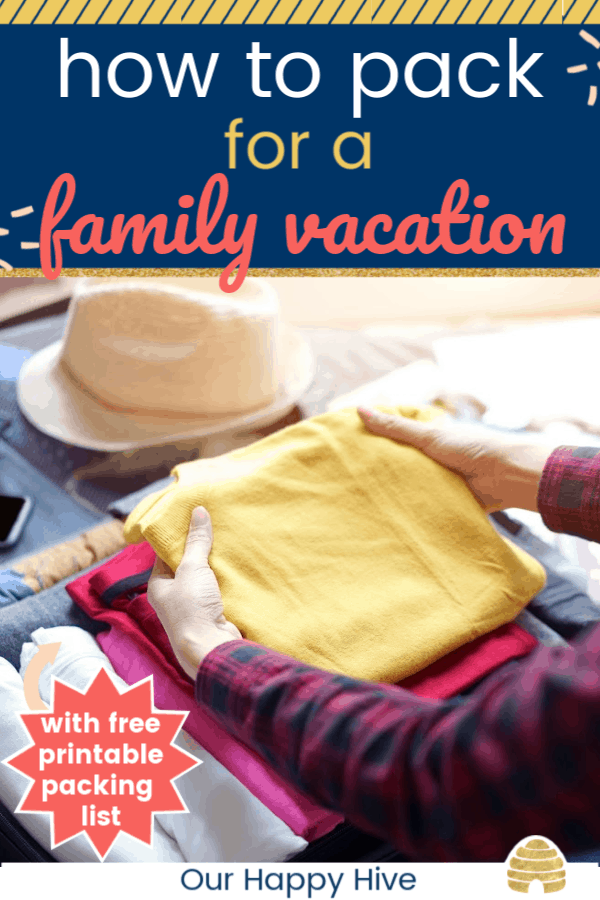 Ahhh First Class! I'm reclined in my seat as the flight attendant brings me a glass of Champaign. It's another night flight to Santiago, Chile. This time, my friends would meet me at the airport when I landed and whisk me off for an unknown adventure before I had to go into the office on Monday.
Early in my career, I traveled all over the world. Every month I took off to Chile, Peru, England, Canada, or Australia. It was exciting to see the world and traveling by myself was a breeze. I traveled so frequently; I could easily throw things together the night before an international escapade. It also didn't hurt that my company made the travel arrangements and had a car pick me up to take me to the airport! It was pretty sweet!
I loved that part of my life, but now I'm on a different adventure! I come with a party of 4, every day is unpredictable, and I personally arrange all of the travel plans.
Yep, I am the travel coordinator for our family of four! The weight is typically on me to finalize the travel destination, pack the kid's clothes (they are still very young), and make accommodation reservations in advance. You get the picture, there are a ton of things to look after and details can easily fall through the cracks. A vacation planner and family packing list help ensure I get everything taken care of in advance and that our travel goes as smoothly as possible!
Let's first talk about some of the things that need to get organized before we talk about how to pack for a family vacation.
Family Vacation Planning Checklist
Family Vacation Planning: Taking Care of Your Home
If you're going to be gone for any length of time, you need to take care of your home. Depending on how long you're gone, you may need to arrange a house sitter or pet care. If it's the summer or you live in a warm climate, you may need someone to water the garden or mow the lawn. Mail and newspapers can easily accumulate and give a sign to strangers that no one's home. You should arrange for the delivery to be placed on hold or for someone to pick it up until you return.
Vacation Preparation Action Items
Housesitter
Pet Care
Mail / Newspaper
Watering the Garden
Mowing the Lawn
No need to write these things down, you can grab my free Vacation Planning Guide at the end of this post.
Family Vacation Planning: Road Trip Preparation
Another thing you need to take care of is your transportation and lodging. Are you doing a road trip, then you may need to get your car inspected beforehand. You'll need to plan your route in advance (unless you're going the unplanned adventure way). You'll also need to make reservations or secure overnight arrangements while you're traveling to your destination and once you arrive there.
Vacation Preparation Action Items (included in the guide)
Get Car Inspected
Plan route on map / smartphone
Make reservations or secure arrangements for overnight stay
Family Vacation Planning: By Air
If you're flying to your destination, you'll need to buy the tickets well in advance. Make sure you have travel arrangements to and from your home airport. Will you drive and park at the airport? Will you use Uber or a Taxi? Maybe you'll have a friend drop you off.
Once you land in your destination, will you need transportation? Consider if you need to rent a car. Here's a little tip for you, depending on where you're going, it could be less expensive to rent a car than it is to take a Taxi or Uber. I recently traveled to Florida and I got a car through Costco Travel that was less expensive than it would have been for rides to/from the airport with Uber.
Vacation Preparation Action Items (included in the guide)
Purchase Airplane Tickets
Secure Travel To/From Airport (potentially car reservation)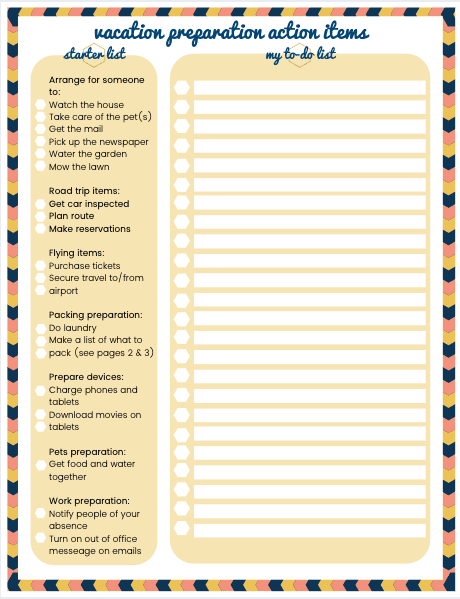 Packing for a Family Vacation: PDF Printable & Checklist
How to Pack for a Family Vacation
Now that we've gotten some of the advance prep out of the way, let's talk about how to pack for a family vacation. When you are a week or less out from your travel. It is time to start packing…especially if you're a mom of littles and you'll be packing for the family.
Do Laundry
As a first step, it's always good to do the laundry in advance. We hang dry most of our laundry, I need to start the process several days in advance so that I'm not trying to hang dry the entire family's laundry at the same time.
Update Your Family Vacation Checklist with Clothes You Need to Pack
Are you going to a warm or cold destination? Will you need a bathing suit or ski jacket? Do you need one or multiple outfits every day? Use the list at the end of this post as a primer to create your family's packing list.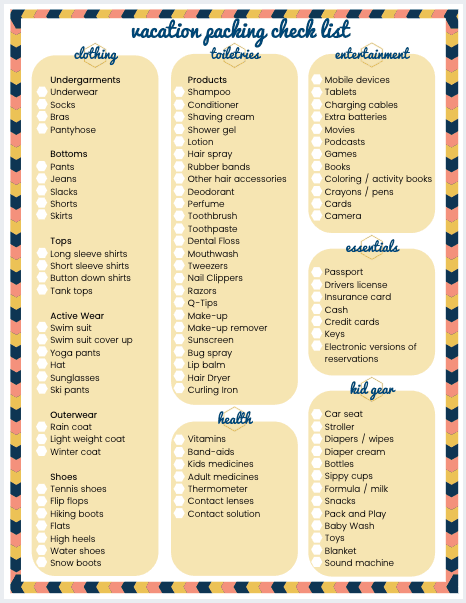 Make A List of Any Children's Items You Need
Since our oldest was born, we have traveled with a small carry-on suitcase dedicated to just children's gear.
Sound Machine – Check
Monitor – Check
Bottles / Sippy Cup – Check
Diapers / Wipes – Check
Blue Bear stuffy – Check
It's also good to put an asterisk * next to anything you need to pack in an easily accessible carry-on bag. We often carry an extra outfit for each kid, extra food and drink, children's Tylenol and a thermometer, and a ton of extra diapers.
Don't forget the Toiletries
Make sure you have the right hair brushes, shampoo, hair bands, etc. If you're only taking a carry on, remember the limits on liquids and be sure to get the right sizes. Where possible, try to use a hair dryer at the location where you're staying instead of packing one.
Decide on the Entertainment
If you have young kids, you'll need a wide variety of things to keep them entertained while on the road or in the air. Books, crayons, iPad, even tic-tac-toe can be super helpful. Don't let it be all about the kids though…think about yourself too. Will you download some podcasts or an audiobook? Maybe you need a couple of those magazines you've been eyeing in the check-out line at the grocery store. Everyone is happier with things to keep them occupied and their minds engaged while traveling.
Vacation Preparation Action Items (included in the guide)
Do Your Laundry
Make a list of what you need to pack for the family
Decide if you need to bring any food
Determine what entertainment you want to take
If you're only taking a carry-on on a plane then make sure you have a travel size toilitries
Download movies from Netflix
Final Prep for Planning Your Family Vacation
Create your list of to-do's that you need to accomplish in the last 48 hours before a trip, confirm flight times, car rentals, and hotel reservations. Make sure you have all documents in order e.g. Passports, Driver's License, etc. Here's a list of things that are commonly on my last-minute to-do list.
Organize Passports
If renting a car, double check that your driver's license isn't expired (trust me, I speak from experience)
Get cash
Charge mobile devices, tablets, and extra batteries
Check-in (if flying)
Confirm rentals and reservations
Download movies on a tablet for kids
Take care of pet food/water
Finalize any last-minute things for work
Making Travel Sweet Again
While travel may not be as care-free as it once was when I was single, it is still very enjoyable. We travel about five times a year as a family. While it requires more effort to get us going, a Vacation Preparation and Packing List helps tremendously. As you prepare for your next vacation, consider what you need to take care of at home and what reservations you need to make at your destination. Create a packing list (using the guide provided) and create a last-minute to-do list. What are you waiting for, your next adventure awaits!!!