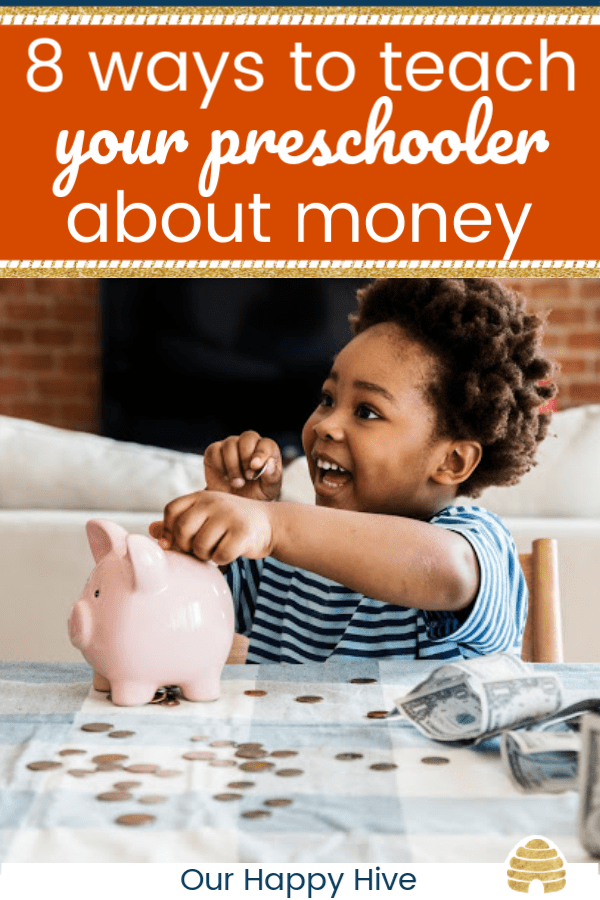 Is your preschooler financially literate? (You might be thinking, Ha ha, yeah right!?!) What age should you teach your kid about money? I recall as a young girl asking my mom to buy me a new outfit (something I wanted but probably didn't need), she told me she didn't have the money to spend on it at the time. My response, "well, just write a check." When that idea was shut down, in all of my young wisdom, I recommended she pull out a credit card. In my mind, checks and credit cards always had funds; I didn't realize they came from the same pool as the wallet! Thankfully, my parents had many good practices with their finances and most of what I learned, I observed from them.
Start Young
It's so alluring to use credit cards whether you have the funds or not. It's easy, convenient, and satisfies our desire for "now," but as many have come to find out, debt is a master and not a servant. In order to help your kids have sound money management practices when they grow up, start young!!! Begin teaching your kid about money and basic financial principals when they are little. It's proven that the more parents talk about money to kids, the more likely they will be smart about money.
Financial Principles You Can Teach Your Kids Before the Age of 5
There are many things we can begin to teach our kids about money before they're even in kindergarten! By modeling behaviors, involving your kids in "real transactions," and incorporating play, your kids can pick up on basic financial principles very easily. Here are eight financial principles you can teach preschoolers.
You need money to buy things
Play grocery store with your littles: Use a play cash register or pretend money to make exchanges for "groceries."
Give your preschooler the cash to pay at a restaurant or store in exchange for service or goods.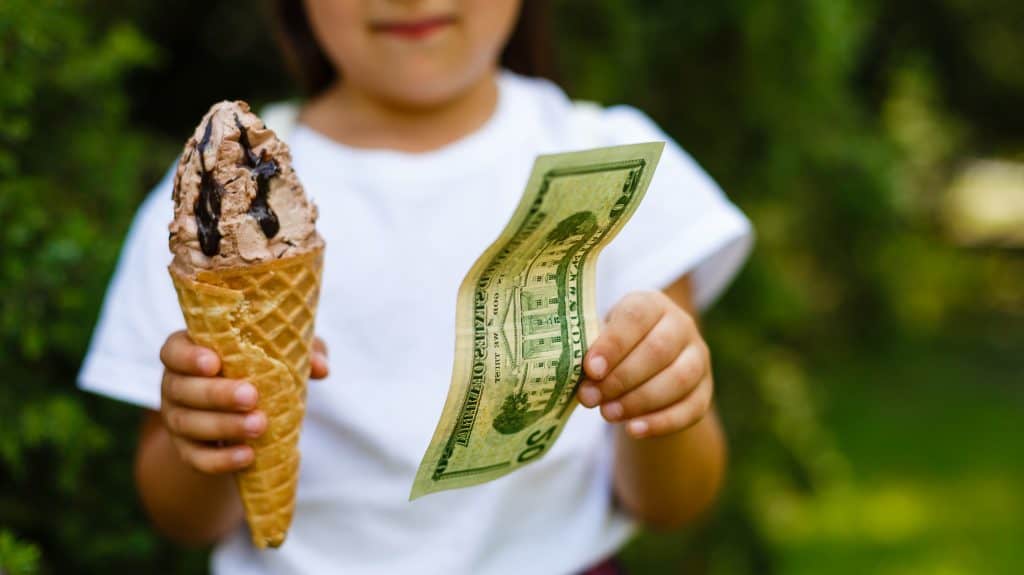 Money is earned by working (note: the investment concept comes later)
Give opportunities for your littles to earn some money. When I was a kid, my mom paid me 1 penny per washcloth/towel I folded!
Explain why mommy/daddy spend time at work.
Waiting before buying is necessary many times
This is a great principle to model. If you want a purse, but know it's not the time to buy it, extrovert your thoughts so that your kids overhear it. "I'd really like this purse right now, but I don't really need it. Maybe it'd be better if I wait for it to go on sale…or after I save $$$."
Think of ways that you can roleplay this one. Kids this age love make-believe. Pretend you're going to a toy store. Put 5-10 toys/stuffies out. Help the kids make price tags for the items. The child can be the salesperson and you're the shopper and then you can trade roles. My daughter loves this type of thing. Be sure as you play to incorporate some of the dialogue about why you need to wait before buying.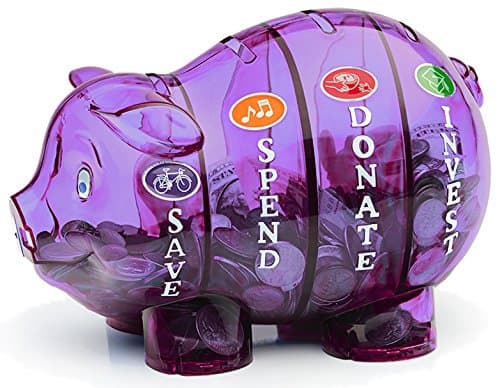 Save money for the future
Check out this piggy bank that helps kids understand that money shouldn't just be spent. It should be saved, spent, invested and even given away.
Wants vs. needs
Ok, this is a big one. Just today, Little Miss E, my daughter, was looking through a book order form she got from school. I think she wanted everything that was in the catalog.
All you have to do is go down the toy aisle or cereal aisle at the grocery store to ignite a conversation around this topic. Have your child help you with the grocery list and finding items. As you place things in your basket, talk about whether it is something your family needs or wants.
Explain to your child the difference between needs and wants, then play a sorting game with items around the house like a stuffed annimal, fruit, shoes, and toys and have your child sorts the items into needs and wants.
You could have them watch this cute little YouTube video on needs vs wants
The amount each coin or dollar represents e.g a quarter is 25 cents
Play with real money…show them different denominations of coins and dollar bills. Have the separate them into piles. Make a game of counting…can you find 4 quarters? Let's count 10 dimes. Write out the numbers on a piece of paper and have them place the appropriate coins under each number.
How credit works
Use something that makes sense to your kids. Money has no "currency" with them [pun intended 😉 ] but candy on the other hand does. Play a game with candy where they ask you for a piece or two. Explain to them that you're happy to give them a couple of pieces of candy now, but that tomorrow, they will need to give you 3 pieces of candy back.
It's good to be generous and give to others
Model giving to organizations like church, missions, non-profits. In some cases, you can involve them, for example, give them a dollar bill to put in the offering plate at church.
You can demonstrate how to give good quality items to charities. Have them pick out canned goods to donate to a food shelter or better yet if they have too many toys, encourage them to identify nice toys or books to give away.
These basic games, discussions, and role modeling can help your young child begin to learn about money. Dave Ramsey also recommends young kids use a clear jar for their piggy bank so they can visibly see what they are putting away reinforcing the concept of saving.
Lastly, don't forget how valuable reading stories together can be when teaching a new concept. A few books that teach young kids about money are:
It's never too early to teach your kids basic principles about money. By beginning early, having open conversations, role modeling, and playing games, your little one will begin their journey to financial literacy. They are more likely to be money savvy as they grow older and hopefully use sound financial principles as they grow in their learning!