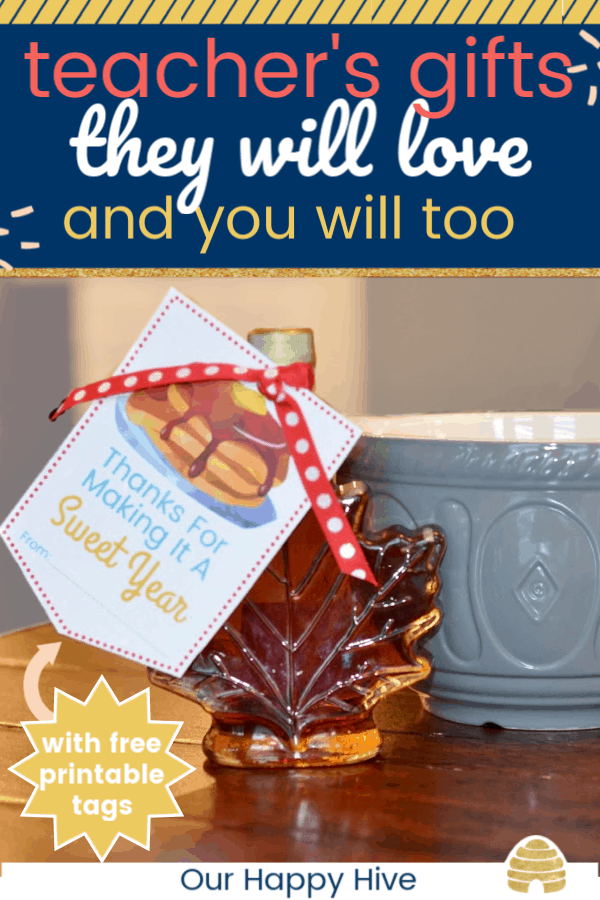 The end of the school year is a wonderful time to give teachers gifts of appreciation. The goal of gift giving shouldn't be to out give the kid next door but to show some love to these warriors that invest in our kids for 80% of the year. It can be a demanding and thankless job, so it's important for kids, even parents, to show gratitude and respect for what they have poured into our children over the course of the school year.
Expert Advice
My daughter is only in pre-school, so I'm the new kid on the block when it comes to teacher gifts. However, we are friends with a husband and wife team, Aaron and Natalie, that have been teaching collectively for 30 years. We were hanging out recently and I picked their brains on the best teachers gifts. Here is their top 10 in no particular order.
Travel coffee mug
Nice water bottle
Gift cards
Nice personalized card from the student (you may be surprised to know that by far this was their favorite!)
Flowers either for the garden or in a vase
Hand cream
Stationary, gel pens, cute office supplies
A charitable donation in their name
Picture frame with a picture of the student and the teacher
Cookie Bouquet
I thought many of these teacher gifts were really do-able options. The note from the student as well as the charitable donations were very thoughtful ideas that I hadn't previously considered.
My Shopping Spree
Using this 'teacher gifts' list as a springboard, I headed to HomeSense (sister store to "HomeGoods" and "Marshalls" in the US) to see what gifts I could find. Little Miss. E goes to two preschools (it's a long story) and between the two she has 6…yes, s-i-x teachers! So, a little planning on my part is definitely required.
6 Printable Tags with Convenient Options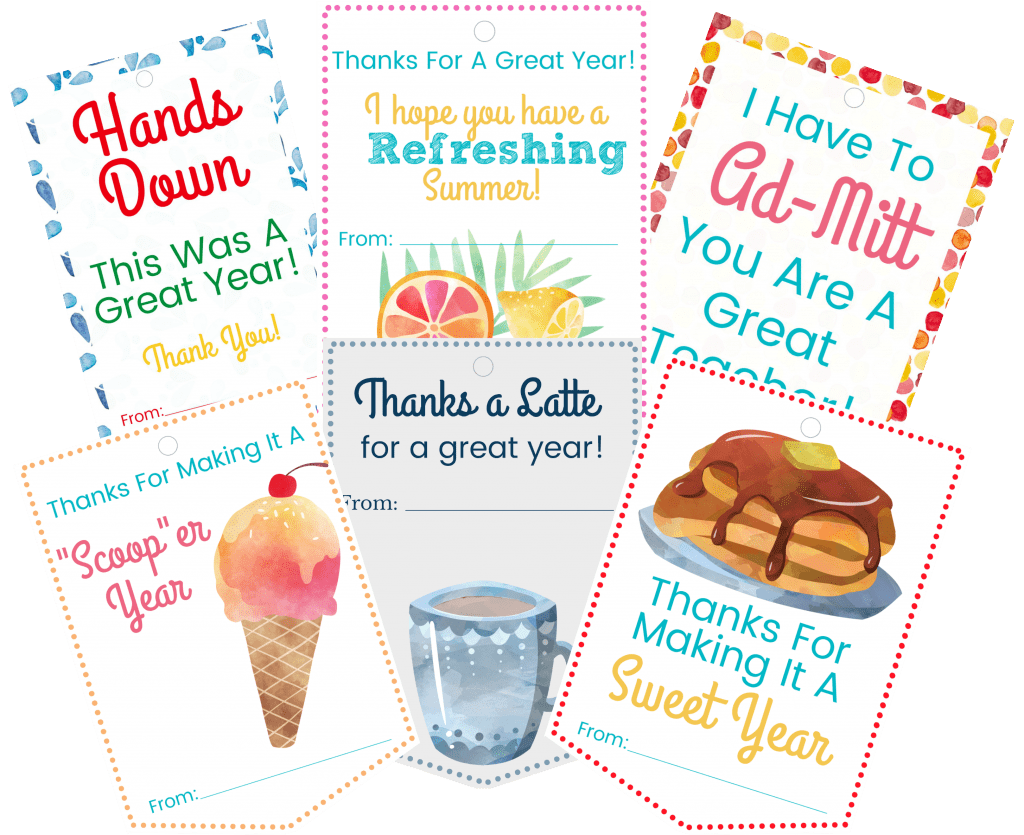 Grab these 6 printable tags from my Free-bee Library for your end of the school year! (subscribe at the end of this post) I know as a busy mom, it can be challenging to make time to plan for extra activities like this, so you'll find several twists that make the gift for each tag even more convenient than the items I've shown.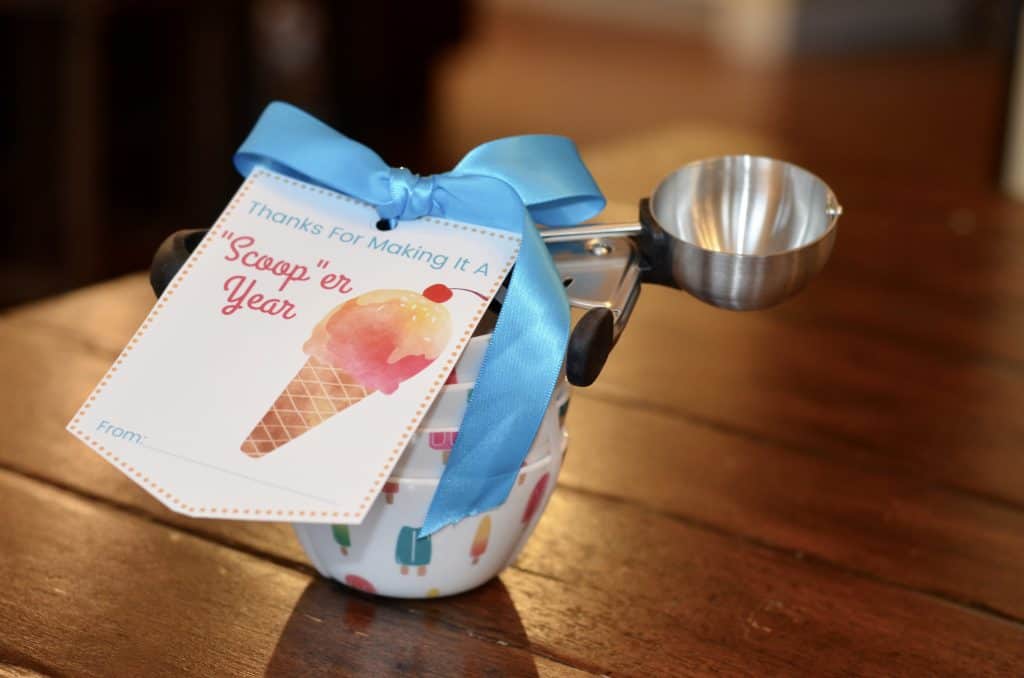 1) Thanks For Making It A "Scoop"er Year
This tag is paired with an ice cream scooper and melamine ice cream bowls, perfect for outdoor use. You can pick up an ice cream scooper at the grocery store, so this one is easy peasy. Other options for this tag, you can get a gift certificate to Dairy Queen, Baskin Robbins, or Marble Slab.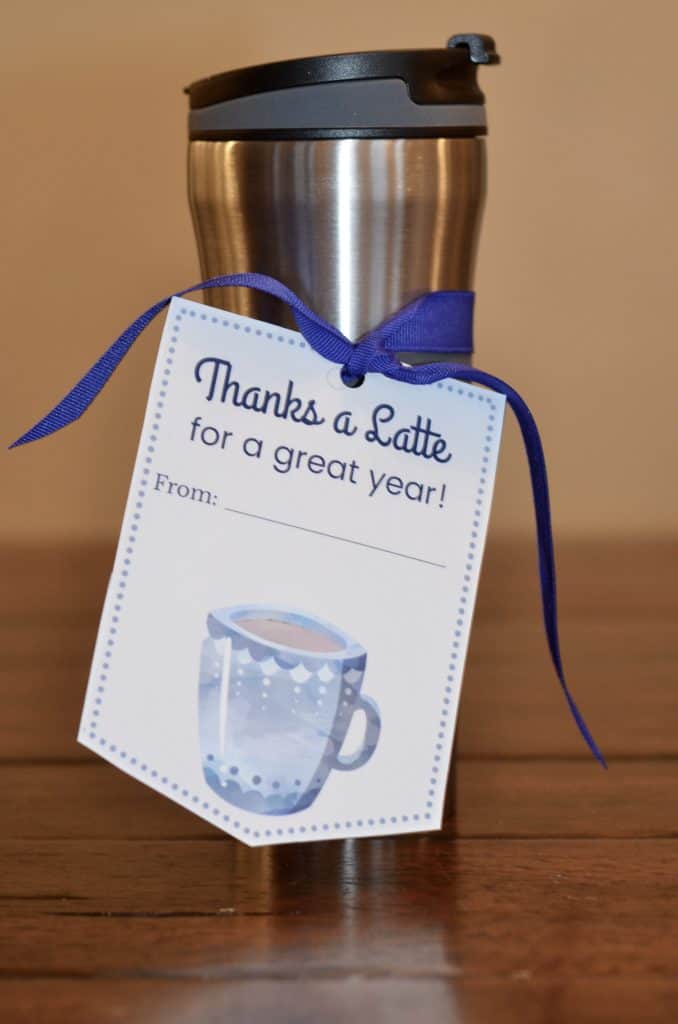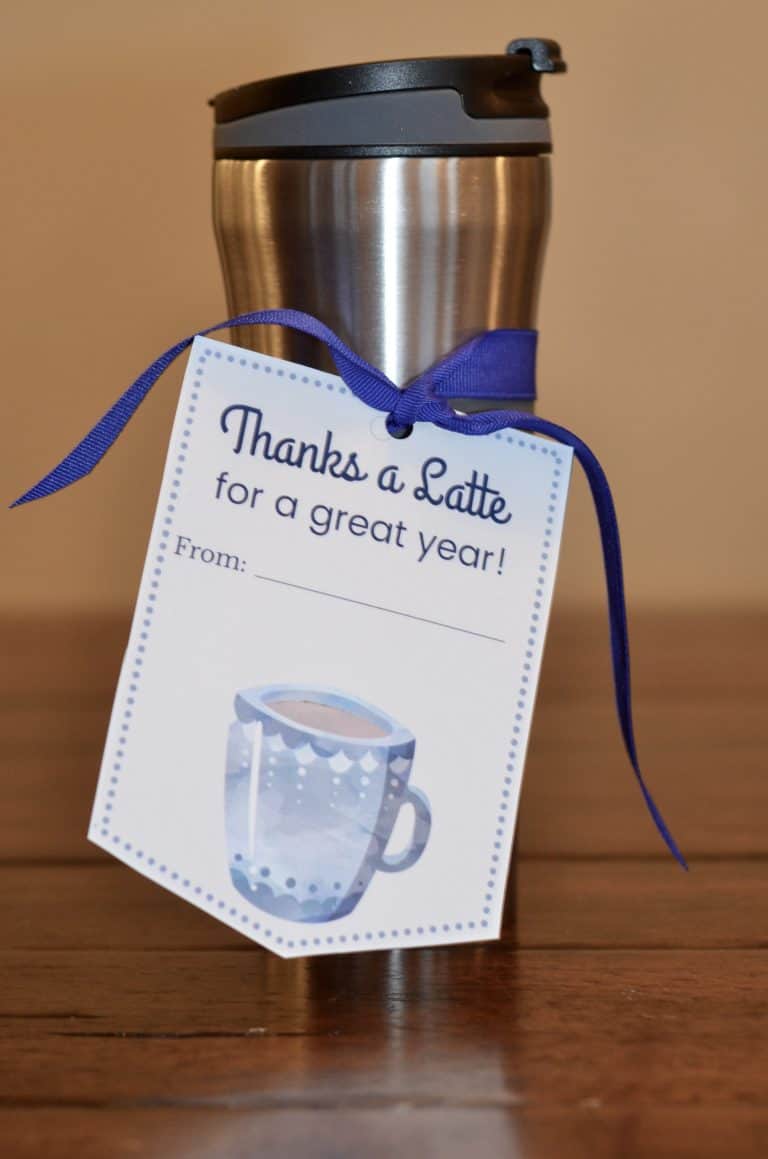 2) Thanks A Latte for a Great Year
Another gift of convenience. You can grab a travel coffee mug at the grocery store, Starbucks, or like me, HomeSense/HomeGoods. You could also pair this gift tag with a bag of espresso beans or a Starbucks gift card.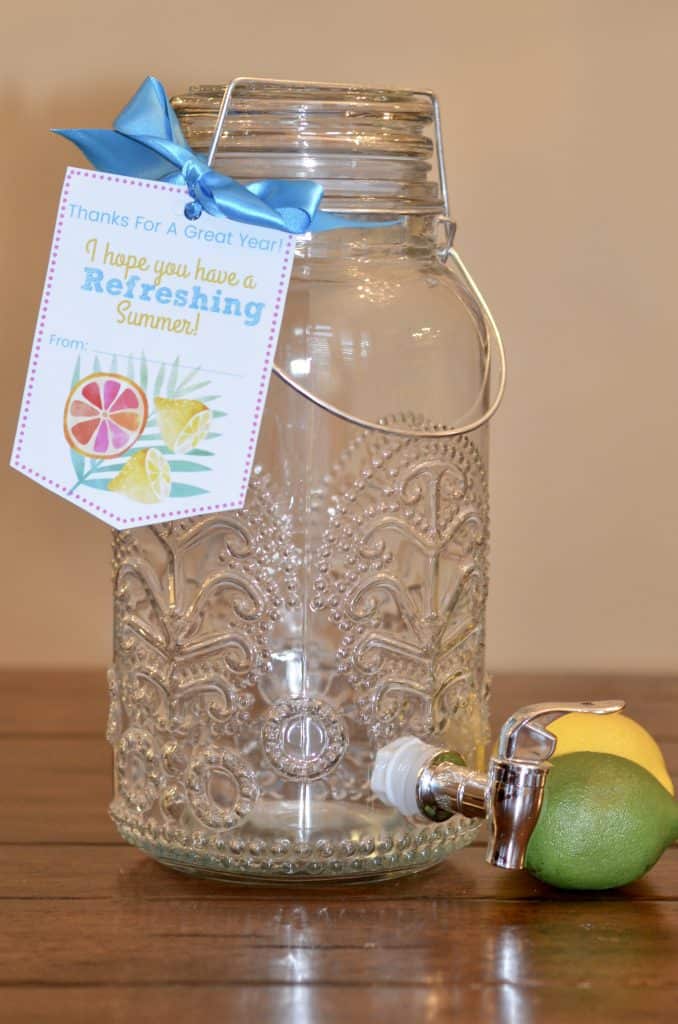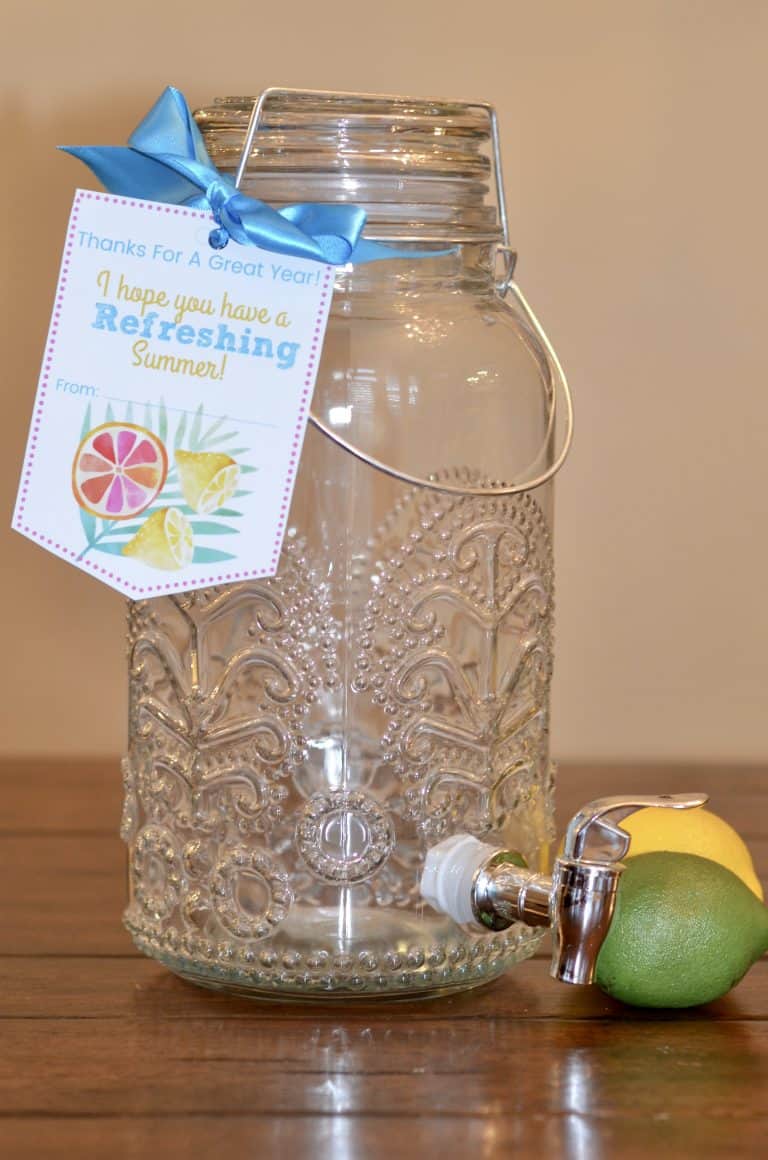 3) Thanks For A Great Year – I hope you have a Refreshing Summer!
This is paired with a lemonade decanter, but you could also put some Kool-Aid or Crystal Lite in a mason jar and use it with this tag.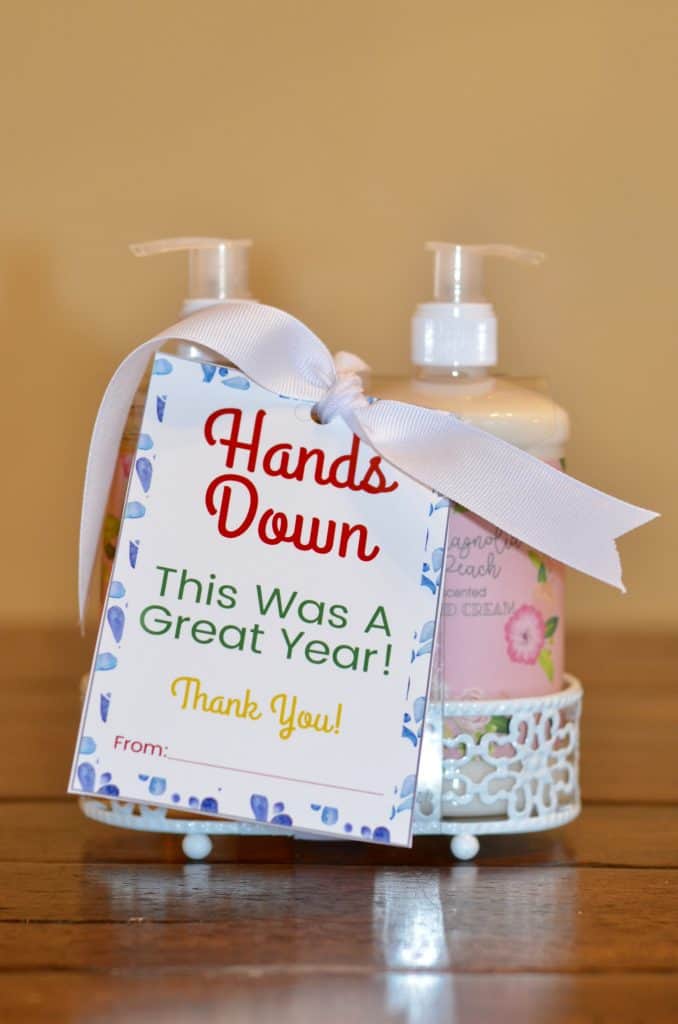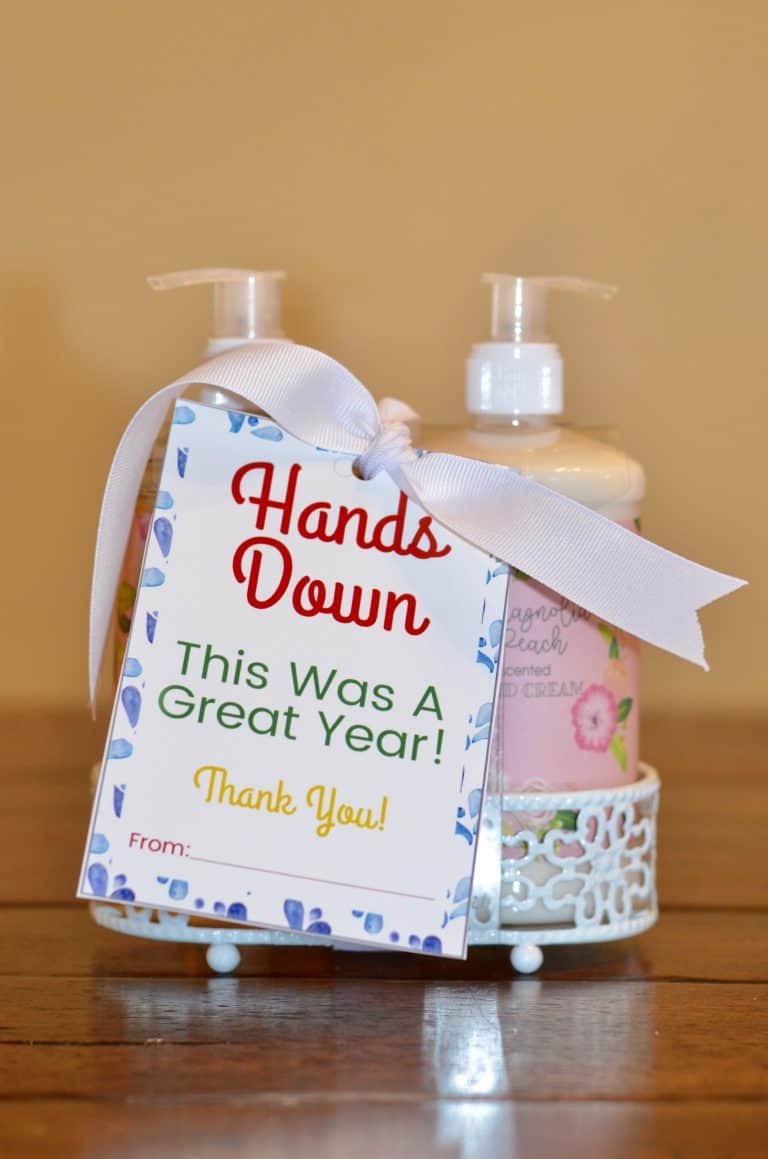 4) Hands Down This Was A Great Year
You can find nice hand soap at any mall, many grocery stores, as well as Target. Pairing a soap with a lotion makes for a nice teacher gift.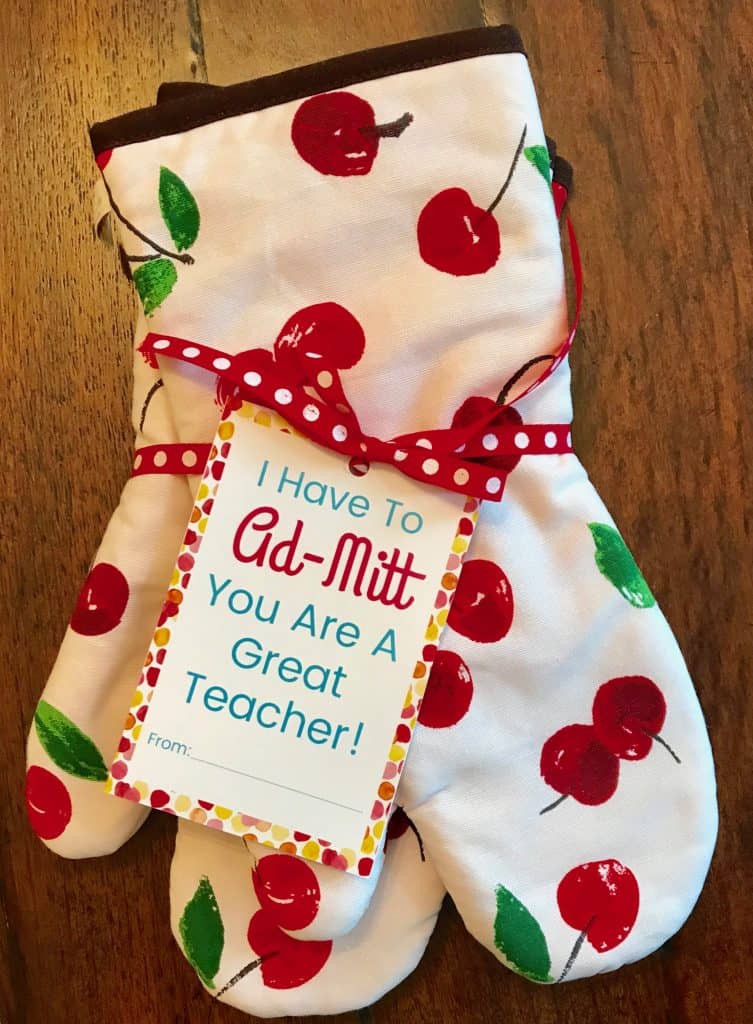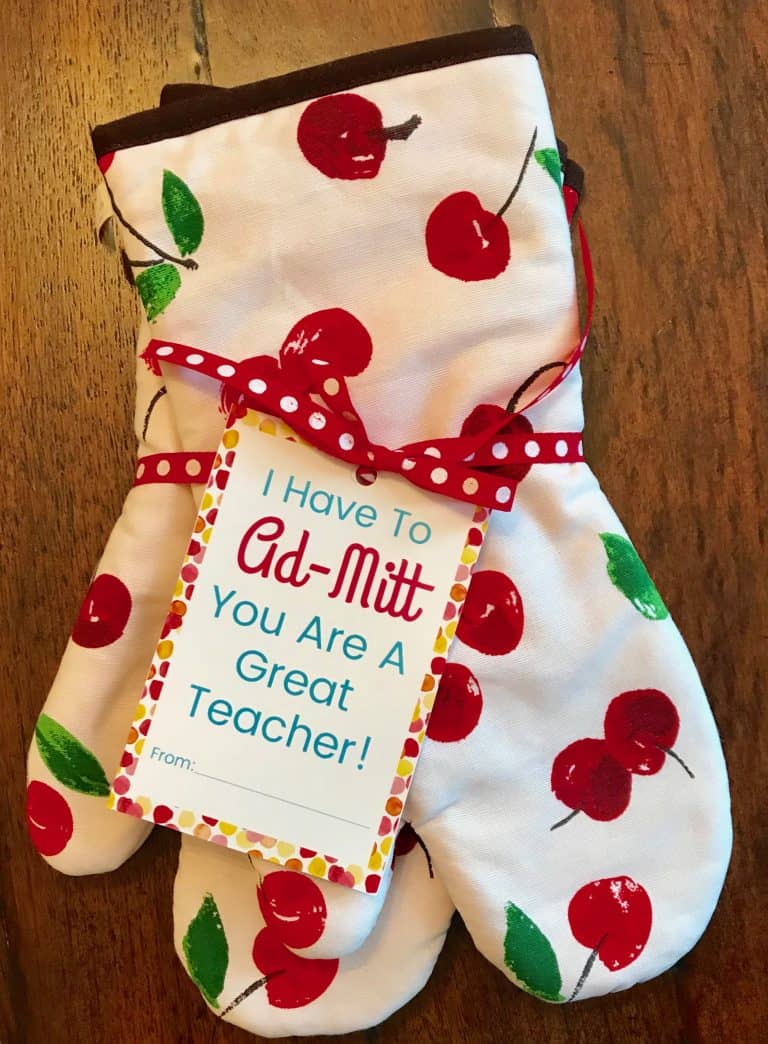 5) I have to Ad-Mitt You Are A Great Teacher
Again, this is another super easy option. Many grocery stores sell oven mitts as well as places like Wal-Mart or Target. If you want to up the game on this gift, you can add a bag of cookie mix with a spatula.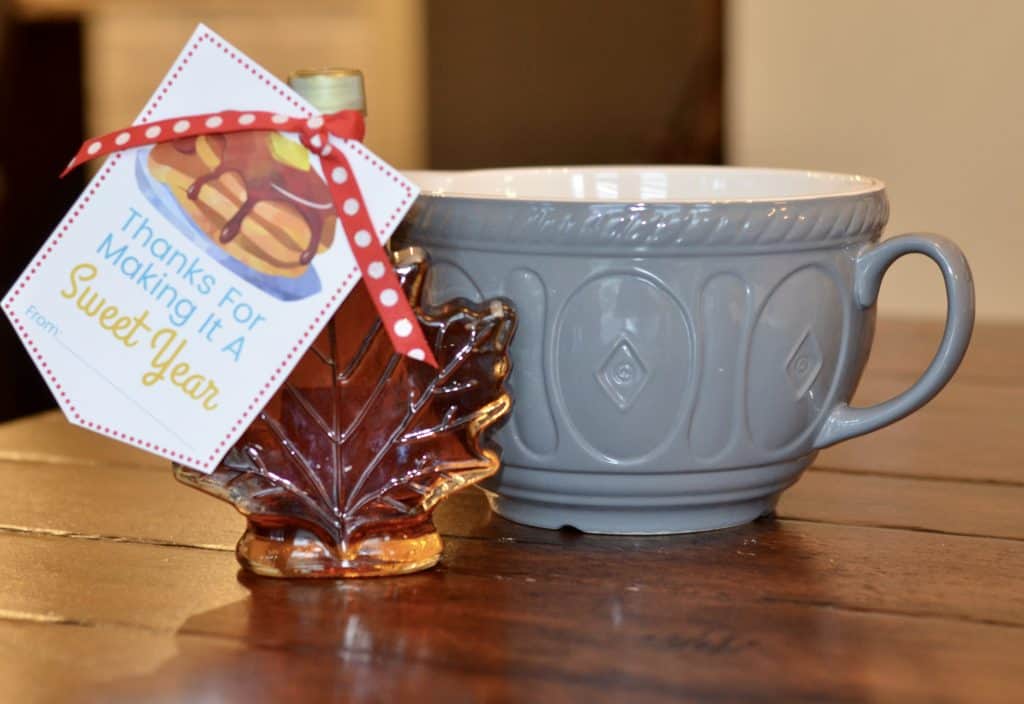 6) Thanks For Making This A Sweet Year
In Canada (where I live) you can find Maple syrup at every store. Given that it's a staple here, I had to include it as a sweet offering for our teachers. While you may not have maple syrup in every store in the US, there are still a wide variety of nice syrups available in the grocery store. Find one that's right for you. As another twist, you could even get a gift certificate to a local waffle house.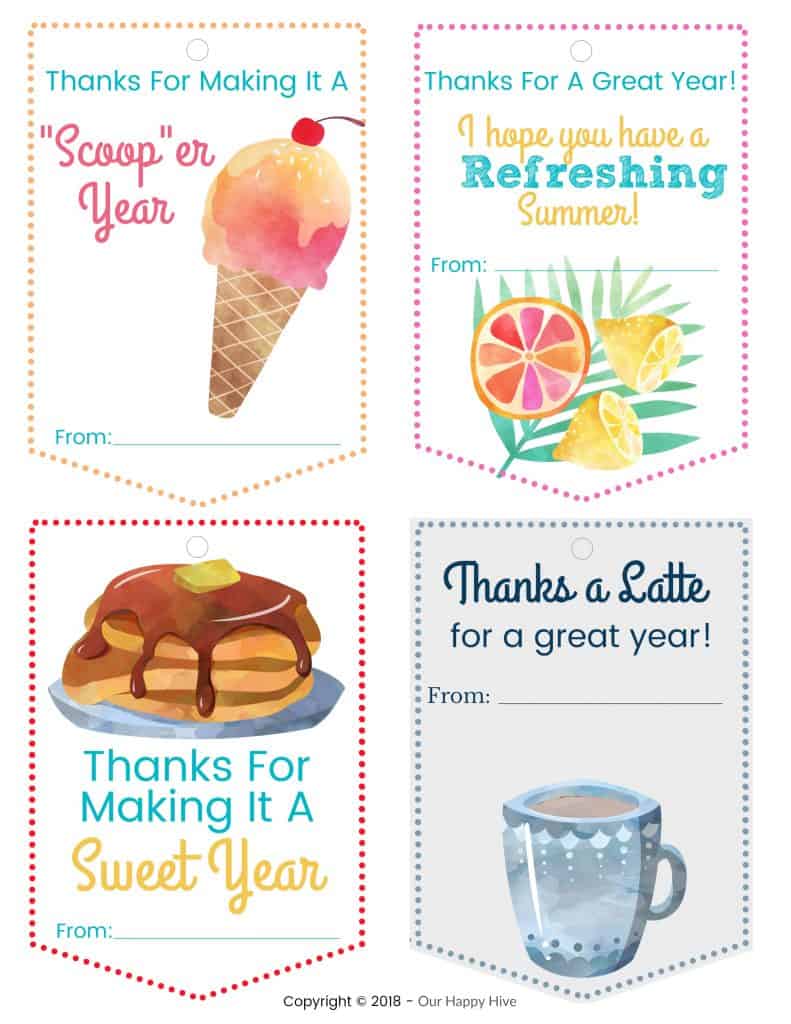 Subscribe below to get access to these free printables + my entire library of free downloads!
You may have access to a color printer at your home, but if you don't it's super easy to upload the file and print it at a local copy shop. I uploaded mine to Staples site and had them print it in color on cardstock. Within an hour it was ready for me to pick up!
Let's Do This!
Showing gratitude doesn't have to be a herculean effort! These gift tags are cute, easy, and flexible. They make it convenient for you and your child to show appreciation for the investment made over the course of the school year. With teacher gifts that range from gift cards to grocery store purchases, to home store buys you have a ton of possibilities. Download and print your copies now!