Do you have a love-hate relationship with your kitchen? It's a place to gather and eat, but also busy with traffic and quickly becomes a dumping ground?
Does your life get so busy that the most used areas in your home become the most neglected? (mine does at times)
It's easy for the kitchen island to become a clutter trap, for cabinets to be crammed with appliances or dishes you forgot you had, and the bottom of your pantry to hold bags of unknown supplies.
Spending time cleaning out and decluttering your kitchen can pay off big time! You can save time and money by getting rid of unused things and getting organized.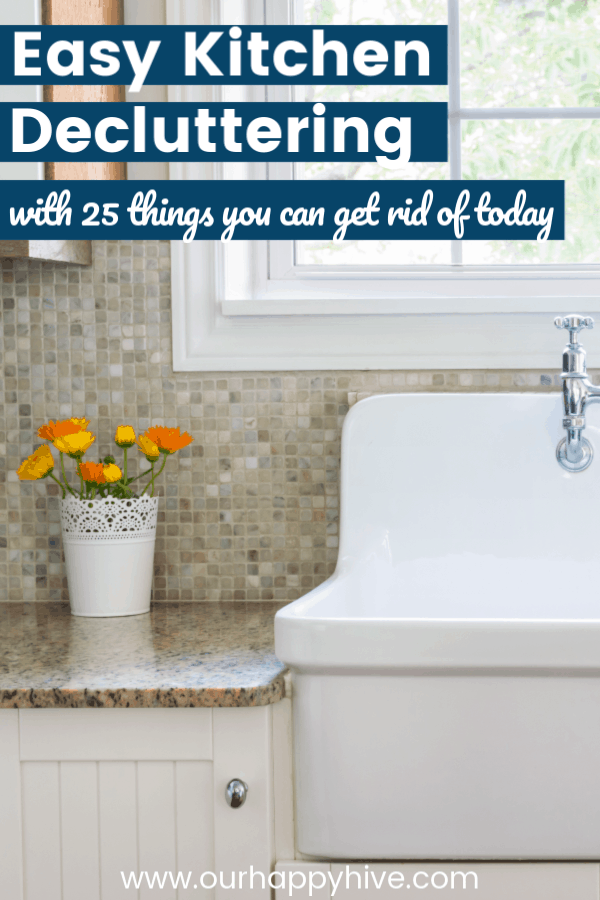 Kitchen Zones
Don't get overwhelmed with the prospect of taking on your entire kitchen! Breakdown the space into smaller zones. If you're like me, you may only be able to do one zone at a time and that's totally okay! You don't have to do the entire kitchen at once to begin to reap the benefits.
Your kitchen zones may include the following:
Countertops
Refrigerator
Pantry
Cabinets
Drawers
Under the sink
Pots and Pans drawer / cabinet
Tupperware drawer / cabinet
Junk drawer / cabinet
Coffee station
ACTION STEPS:
Before you get started decluttering, review the zones and decide which one's are the most important to you or that need the most attention.
Questions To Ask When Decluttering
Next, it's helpful to set criteria for what you need to declutter. Will you use Marie Kondo's "joy" criteria (which I like in many respects) or will it be something more practical, like:
Is it worn out?
Does it still have a purpose/function?
Do I have multiples of it?
Does it make my life easier?
Might I or someone in my family use it?
Is it still in style?
Could I repurpose it for something else?
Decluttering the Zones
Here is a list of things you can easily declutter from your kitchen. I won't call them out by zone, because you may keep them in a different zone than I do. For example, I may keep my appliances at the bottom of my pantry while you keep them in a cabinet.
25 Things You Can Easily Declutter From Your Kitchen
Regardless, of their location in your kitchen, you can still easily declutter these 25 items!
Small cooking appliances you no longer use e.g. a vegetable steamer, bread machine
Expired food (in the pantry and the refrigerator)
Condiment packets
Magnets on the fridge that you don't use
Plastic grocery bags
Extra mismatched coffee mugs
Worn out or mismatched plastic cups
Containers without matching lids
Chipped dishes
Kids plastic dishes that they've outgrown or that is pealing
Old cookware that is chipped or peeling
Seldom used cookie sheets, muffin tins, or pie pans
Dishes or serving plates you never use
Duplicate cooking utensils
Empty bottles
Recipe books you never use
Dish clothes that have holes or are smelly
Worn out cooking mitts
Broken trivets or hot pads
Kitchen gadgets you rarely use
Old party supplies
Old candles or used birthday candles
Expired medicine or supplements
Catalogs, junk mail, receipts flyers, and take-out menus
Placemats or cloth napkins that are worn out or seldom used
Fixing Kitchen Clutter Traps
The 25 items above are easy to identify and discard, but often there are clutter traps in our kitchens that require more work.
I love a clean and clear kitchen counter, but it's a constant battle to keep it that way. The kids little trinkets from a happy meal, school work, junk mail, etc. seem to all make their way to our Kitchen Island. This clutter trap had to be fixed!
We had to look at why the clutter was ending up there to begin with and then put in place a solution to really fix the problem…not just shuffle the junk around.
Clutter Trap Solution
Step 1: Throw away anything that doesn't meet your criteria
Step 2: Put away the things that already have a designated home
Step 3: Assign homes to things you want to keep, but that are orphans
Step 4: Use smart storage solutions for things that don't have a home e.g. a basket, file, bin etc.
Where are your Clutter Traps?
Let me be honest, I still have these places and I imagine many of you do too! My junk drawer used to be one of the biggest targets for this type of clutter until I took time to organize it and fit it with plastic bins with an assigned purpose.
Another common clutter trap in the kitchen is the bottom of the pantry. We've stored small appliances in this area as well as Tupperware bins to store paper goods and party supplies. The problem is, that other things also accumulate in this space, life goes on, and we forget about it until it's time to reorganize.
ACTION STEP:
Take a minute to think about your clutter traps and decide how you're going to handle them. Determine how much time you will need to declutter that space…
Smart Storage Tips For Kitchen Organization
As you declutter, you'll likely start to reorganize a bit. Here are a few smart storage solutions that will help keep your kitchen organized.
Counter Top – Fruit Basket, Mail Tray, and Soap caddy
Refrigerator – Plastic acrylic bins for eggs, sodas, yogurt etc.
Pantry – Plastic bins with labels, DIY Built-in Spice Rack, Canisters for baking ingredients
Tupperware drawer – Plastic bins for lids
Junk drawer – Battery storage, Pens / Pencils containers
Plastic dividers for things like rubber bands, paperclips, spare change
Drawers – group like items and store close to where they are most often used e.g. coffee cups by the coffee maker and water glasses by the refrigerator. Make sure each drawer or shelf has an assigned purpose
Routines
Finally, after you declutter, it's important to make sure you have good routines to keep the clutter away!
Every 6 Months
Do an inventory of your pantry or freezer.
Remove expired food from the pantry or Freezer as you go along
Weekly
Clean out the refrigerator of expired food
Discard containers or lids with missing parts
Daily
Clear the counters
Immediately put dirty dishes in the dishwasher
Sort mail when you bring it into the home
Decluttering your kitchen doesn't have to be burdensome! Break the work down into zones and do it section by section as time permits. Get rid of the easy things first. Next, tackle your clutter traps. Implement smart storage solutions. Finally, incorporate routines that will help you maintain your newly organized space! Bon Appetite!