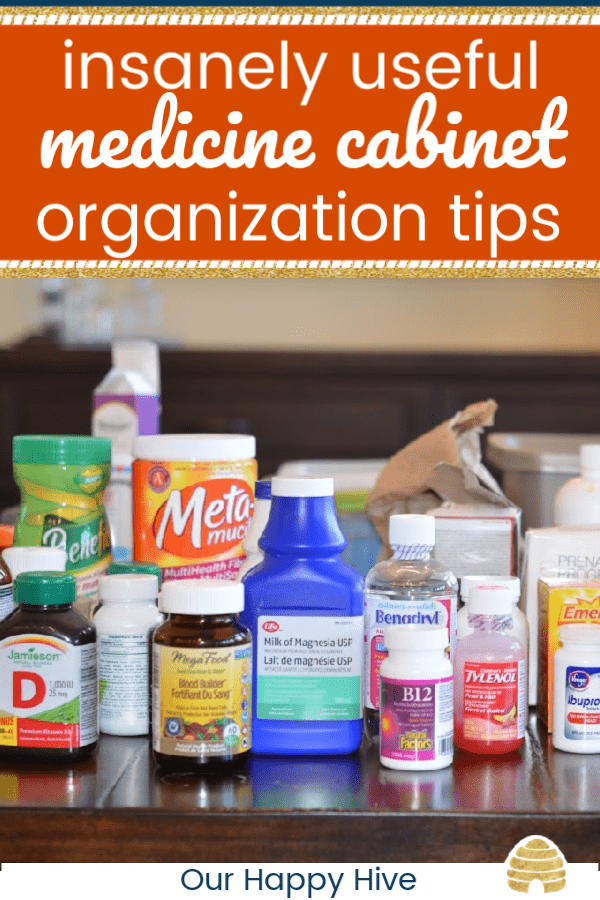 Three of the four of us had a cold last week. 😷 Colds are tricky because you either try to prevent it or treat the symptoms, but you can't really cure them. We tried both…but in so doing, I realized how disorganized our medicine cabinet was. We had kids medicine in travel bags because we just got back from a trip. We had medicine from 2008 in the cabinet…NO LIE! We couldn't find the thermometer and when we did, it was broken. Seriously we were one hot mess!!! We are in major need of a Medicine Cabinet overhaul. If you haven't sorted through your medicine cabinet in a while and it's in need of a little organization, check out the below tips, supplies, and steps to get it back in order.
This post contains affiliate links. For more information, see my disclosures here.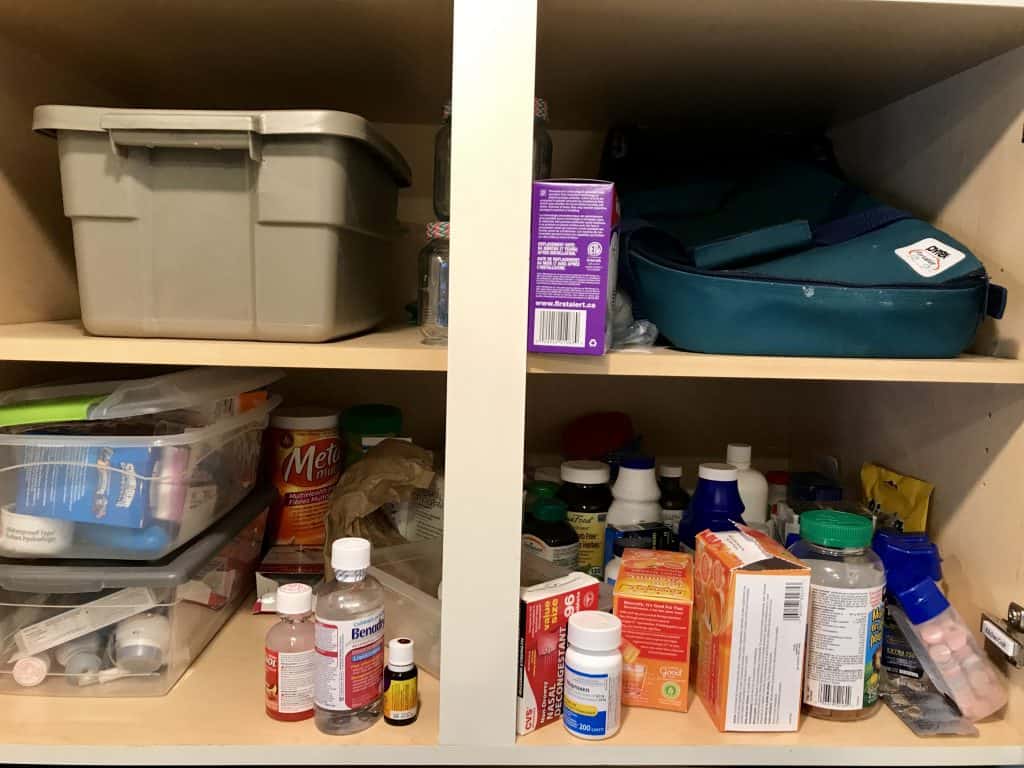 Things to consider for your medicine cabinet
Location
You'll want a place that is convenient, but not too hot or humid.
Safety
As you think about the location, consider the safety aspect. If you have young kids, you don't want something they can reach.
Access / Security
You should also consider security. If you have a lot of prescription drugs in your house, you may also want to consider some sort of lock on the cabinet. Many prescription drugs are being traded or sold.
We are using the space above our refrigerator. It's convenient, we don't have other items to store there, and it's not easily accessible to the kids.



Supplies You'll Need

Depending on the amount of space you have for your medicine/supplies you likely want to get some containers to help keep it organized long term. A few options are:
Stackable Bins either open or closed depending on your preference
Or a Turntable / Lazy Susan
The dollar store is a great place to find this sort of thing.
You'll also want to consider how you're going to label the containers. A few options include:
Taped-on index card
Printed Labels
Custom labels made with a Silhouette or Circuit machine (like I used)
Lastly, depending on your personal situation, you may also opt for a lock box or daily sorter where you can fill each compartment with the pills you need each day for a week or two.
Steps to organization
Now that you have finalized your location, here are a few steps to help get your old or new space organized!
1. Gather all medications/supplies
Remove everything from your existing cabinet and collect any medicine/supplies from other locations in your home.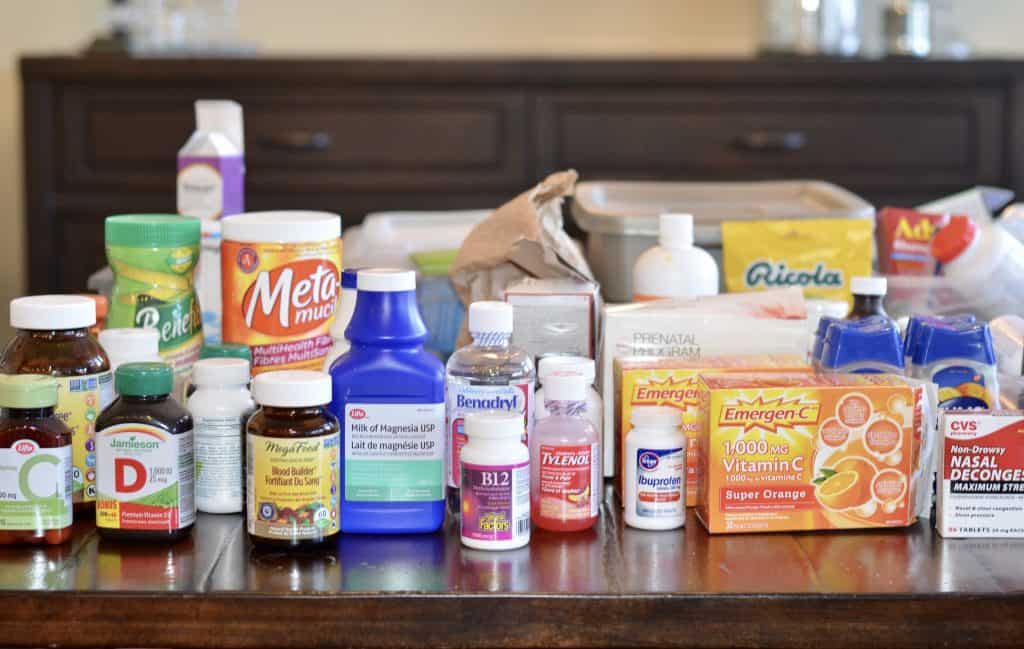 2. Expire the Expired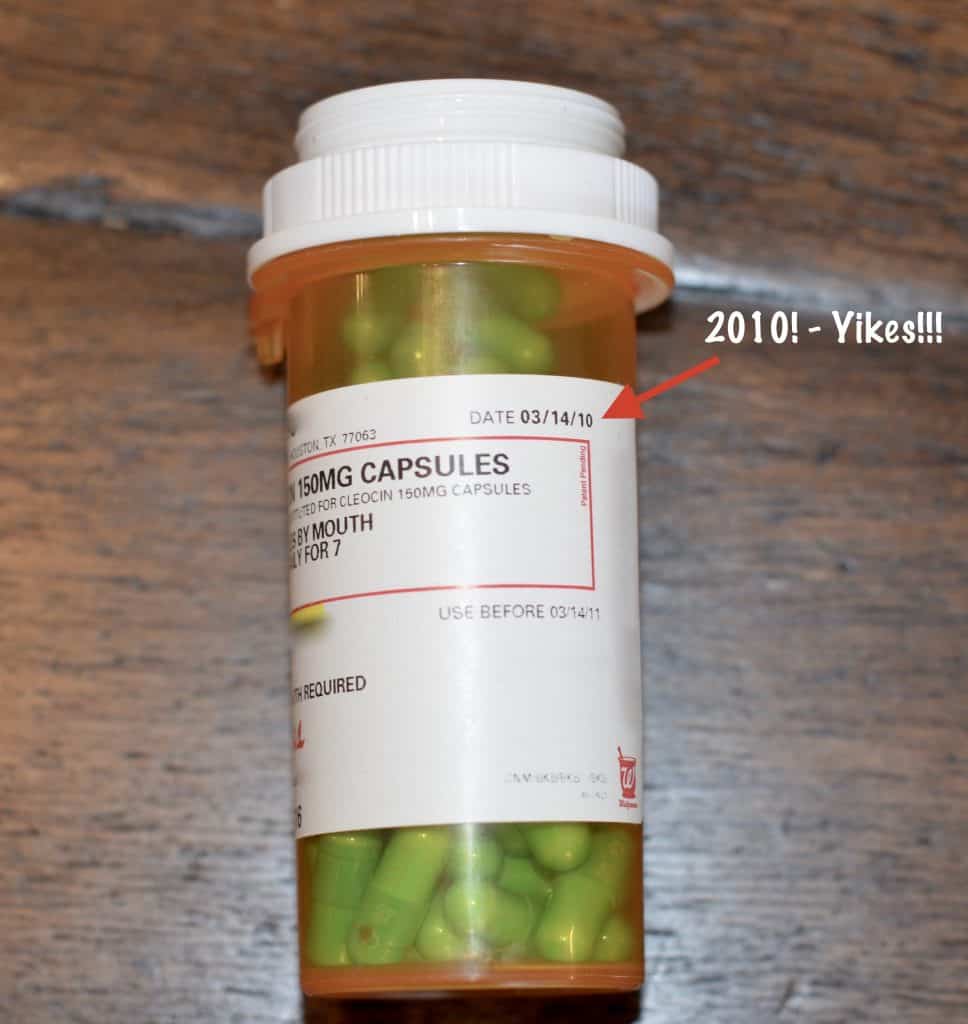 Review the expiry date on the medicines and sort through anything that is expired. It's important to note that you shouldn't just throw away or even flush old medicines down the toilet. Probably 50% of what I had in my cabinet had expired…long ago!
In Canada, all pharmacies have a take back program where you can return your unused and expired medications. The United States has a similar program. You can find out more about safe disposal of old medicines with the links below. Note: When we took our old meds to the pharmacy, they requested that the next time, we remove all of the pills from their various containers and put them in a plastic bag. If you don't do it yourself, they'll have to. 😳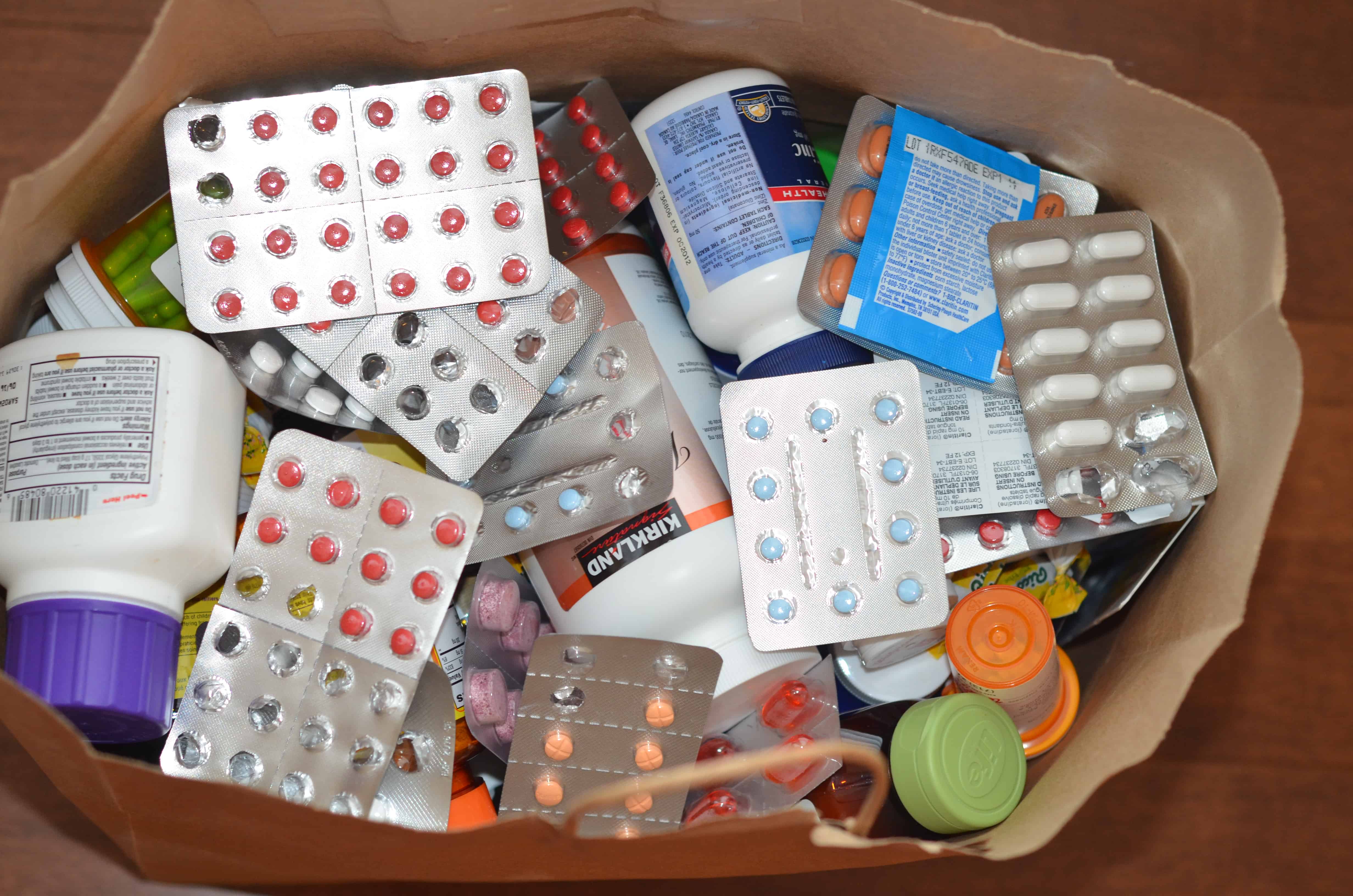 3. Categorize
Group items into "like categories." Consider how much room you have and the number/granularity of categories that make sense for you. Below is a list of common categories:
Kids
Adults
Pets
Cough / Cold / Flu
Allergies
Pain Relief
Stomach
First Aid / Bandages
Vitamins
Prescriptions
Creams / Ointments
Breathing
Misc.
I used 7 categories and opted to have one box just for the kid's medicines. I didn't want us to have to sort through the other medicine or risk medication error by giving them adult medicine if we were in a crunch.
4. Put into Containers
If your containers are a variety of sizes (like mine were) you'll want to consider which groupings should go in the smaller vs. larger containers. Place items in containers. I chose ones with lids so that I could stack if necessary.
5. Make Labels
Now it's time to make your labels and attach them to the containers. This is one of the most satisfying parts to me. It's sad that I take so much delight in organizing…I know, I know!
6. Grand Finale
Yay! it's time to put the containers in your space. Ahhh- oh, it feels so good to have a place for everything and everything in its place. Step back, take it in…enjoy! Now, the challenge is keeping it that way!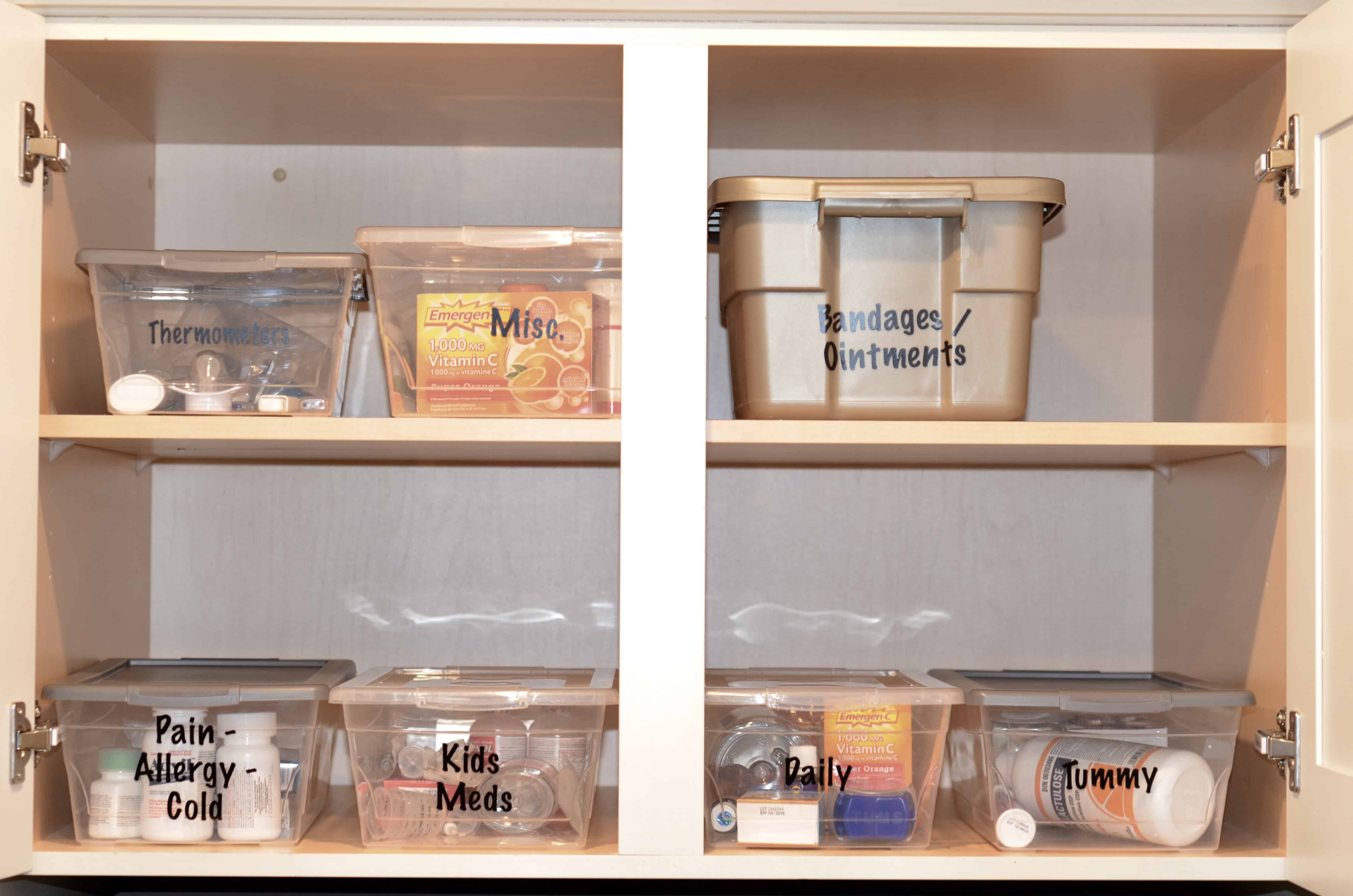 Always Be Prepared
As a parent, you need to be like the boy scouts…"Always Prepared!" It's good to make sure that you have basic first aid items on hand. Now that you've cleaned out the expired items and taken stock of what you have, compare it with the list of First Aid Items the Red Cross recommends having in a kit. http://www.redcross.org/get-help/how-to-prepare-for-emergencies/anatomy-of-a-first-aid-kit
Don't let a disorganized medicine cabinet catch you by surprise when you or your family are sick and in a panic to find something to help. By following the above tips and six easy steps, you'll have a well organized, easily accessible, and safe medicine cabinet.


This post contains affiliate links. For more information, see my disclosures here.
Free-Bee Resource Library
Enter my
Free-Bee Resource Library
for my latest downloadable files and printables! Password is 'honey' -- please copy and paste that in at the link above. Thanks for being a subscriber!!