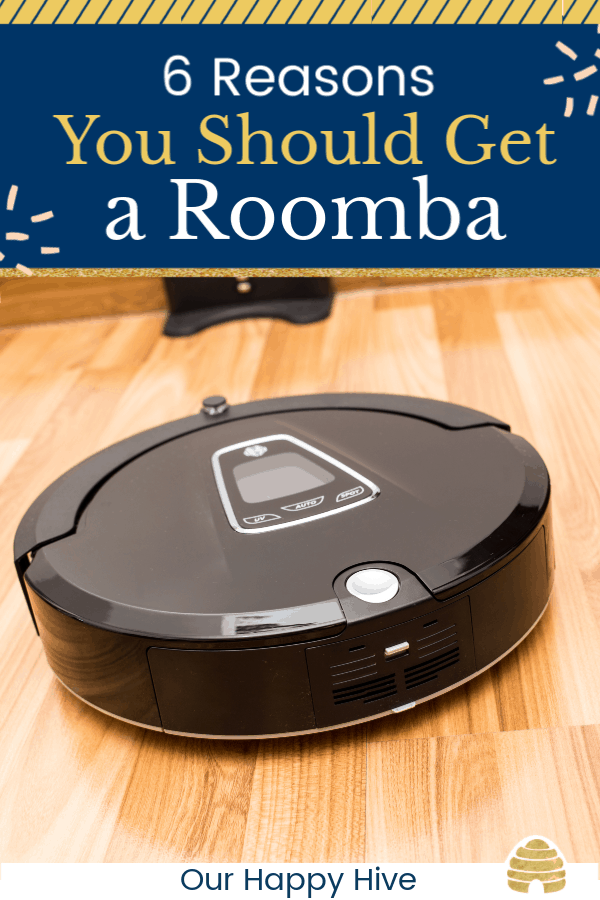 My husband is, um, let's say a little particular about floors. Add to that the fact that we have two little humans in our house and you can imagine the tension that may exist on a regular basis. So, the Roomba® 805 Vacuuming Robot seemed like a perfect Christmas gift! The reality is, we have many years of kid messes ahead of us and a long time before we have the extra time in our schedule. It was our hope that the Roomba would be one answer to one small, but consistent dilemma in our house.
This post contains affiliate links. For more information, see my disclosures here.
Roomba® 805 Vacuuming Robot Features
Just press CLEAN or schedule Roomba to run up to 7x per week.
Roomba works on all floor types
At just 3.6" tall, is specifically designed to fit under most furniture, beds and kickboard
Auto Vacuum/Recharging
2 Virtual Walls included
AeroForce Technology
Self Adjusts Floor/Carpet
Includes 1 Additional Filter
First Impressions
When we first tried it out, my husband was not convinced. The Roomba has a very irregular pattern and does not seem to be efficient at all. Initially, he didn't think that it really worked but when we emptied the basket that collects all of the debris he was happily surprised with all of the dust, lint, crumbs etc. that it collected. At that point, he was open to giving it a trial run. After a few more trial runs, he was convinced that it was a good purchase and something that was positive for our family.
Pros
So the upside is exactly what we were hoping for. It works and so we don't have to! We can set it and forget it and when we come back, it's done the work while we were off taking care of other responsibilities. The Roomba has good suction and gets up a ton of lint, dust, crumbs, etc. This is a huge plus if you have an inside pet. It's also great if someone in your house has Asthma…the less dust the better! We also had a great experience using it on both our hardwood floors and carpeted areas. Another plus is that the Roomba can get under beds, tables, sofas etc. (depending on furniture height). How often do you vacuum under your bed or sofa?!? Again, another great way to get rid of dust that's lingering in your home! The Roomba is easy to move from one room to another or one floor of the house to another. We use it on all three levels of our home. If you have an open concept house or a larger room, the virtual walls are great to barricade areas where you want the Roomba to focus its effort. We use the virtual walls to encourage it to tend to just the dining area (remember we have young kids).
Cons
The cons are few and far between. This is a convenience product, so all of the cons have to do with convenience. As I mentioned with our first impression, the Roomba is not efficient. It can take 30 minutes to clean the same space I could clean with traditional vacuum in 10 minutes. Also, like I shared before, it leaves a random pattern. This doesn't matter on wood floors, but it may be important if you have carpet- depending on your personal preference. Lastly, the Roomba can get stuck and stop on the job. If you have furniture that is close to the height of the Roomba, it might get stuck. If you have a cord that isn't plugged into the wall, it could get caught up in it. If one of your kids accidentally leaves a sock under your bed, it might get wrapped around the roller. (not that this is a completely hypothetical example and has NEVER happened at my house 😉 )
Tips
We love our Roomba and use it regularly. We have a few tips that we've implemented to help optimize the Roomba as a tool for our family.
We plan ahead- It's best to use it at a time when you don't need to be in the space. Some families use it when they go to bed, some use it when they are going out, we use it when we're in a different space e.g. kids are playing in the basement or upstairs getting ready for bed.
Move chairs and barstools- In order to make the job as easy as possible for the Roomba, we move our chairs and barstools out of the way. The Roomba has the technology to get through and around these, but it can take more time, so we try and make it easy so that it can be more expedient.
Use the virtual walls- It's our preference to have the Roomba focus on smaller areas. So, instead of doing our entire open concept main floor, we have it focus on the dining area, then the living room, then the kitchen etc. It seems to figure out the space better and be more effective/efficient. The virtual walls can be used to wall off the space.
Bottom Line
The Roomba was a great purchase. It's a tool we can use to help with daily maintenance at our house. It enables us to focus on other priorities while helping our house to look clean. It's a great tool for those that have young kids where there is a constant stream of crumbs on the floor or art project leftovers. If someone in your house is "particular" about the floors, the Roomba can help alleviate the daily tension that may exist from the crumbs of everyday life!
Do you have a Roomba? Let me know what you love about it. Are you considering getting one? What questions do you have?


Save
Save
Save
Save
Save
Save
Save
Save
Save
Save
Free-Bee Resource Library
Enter my
Free-Bee Resource Library
for my latest downloadable files and printables! Password is 'honey' -- please copy and paste that in at the link above. Thanks for being a subscriber!!