Inside: Ready to organize your bathroom, but don't know where to start? This post will walk you through bathroom storage tips, how to organize your bathroom, and how to keep your bathroom tidy. It's time to have a good start to your day, stop wasting time shuffling clutter, and make this busy room organized so you can easily find what you're looking for!

It's 5 a.m. and your alarm rings. There is a busy day ahead with back to back appointments. You woke up extra early so that you could get dressed in peace and quiet before the kids wake up. You can't wait to sit on your oversized couch and sip on a hot cup of joe before starting this already stressful day.
Quietly you roll out of bed and walk to your small bathroom. The counters are cluttered and you struggle to find your toothbrush. As you reach for a hair tie, it falls into the toothpaste slimed sink. Now you need a brush for your hair and it's nowhere in sight. You just used it yesterday, it can't be far. Your blood starts to pulse through your veins…so much for that peaceful start to your morning. You'll be lucky if you have time to make a coffee for the road.
The bathroom is high traffic space in every home. It's a busy area that's utilized daily.
They say kitchens and bathrooms sell homes and I believe in part, that's because of how much we use them. We want them to be beautiful and need them to be highly functional. But often, the challenge is space. Many bathrooms have too little storage space so thoughtful organization is essential.
The fact is, a cluttered bathroom can be super frustrating. But with a few simple steps, you can transform your bathroom into an oasis of clean and tidy order. This guide will provide you with helpful tips and tricks if you've been wondering how to organize the bathroom.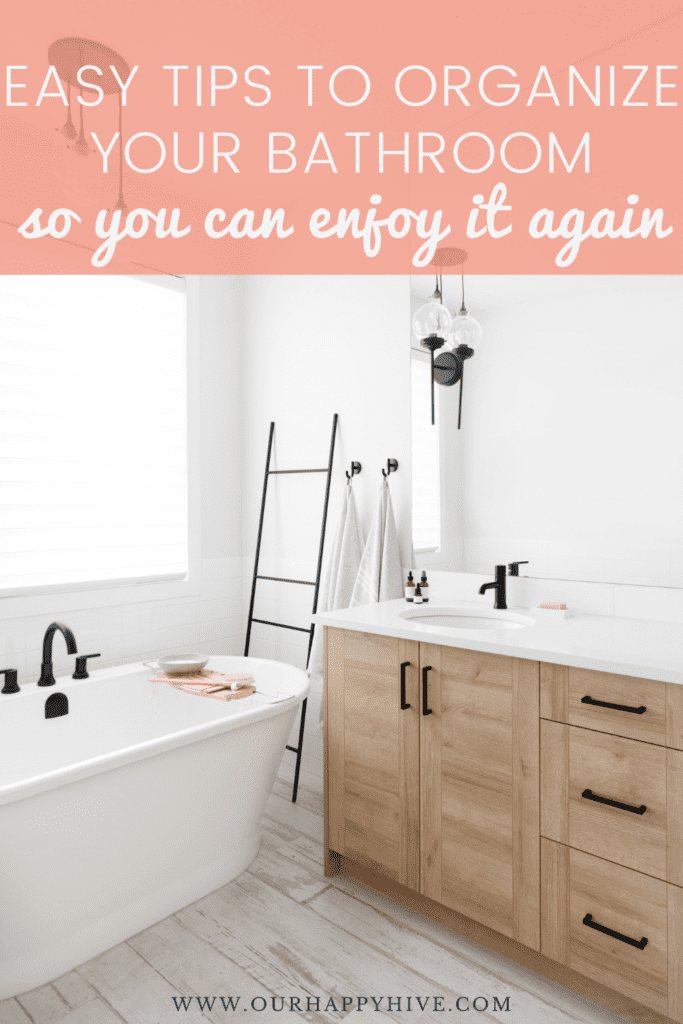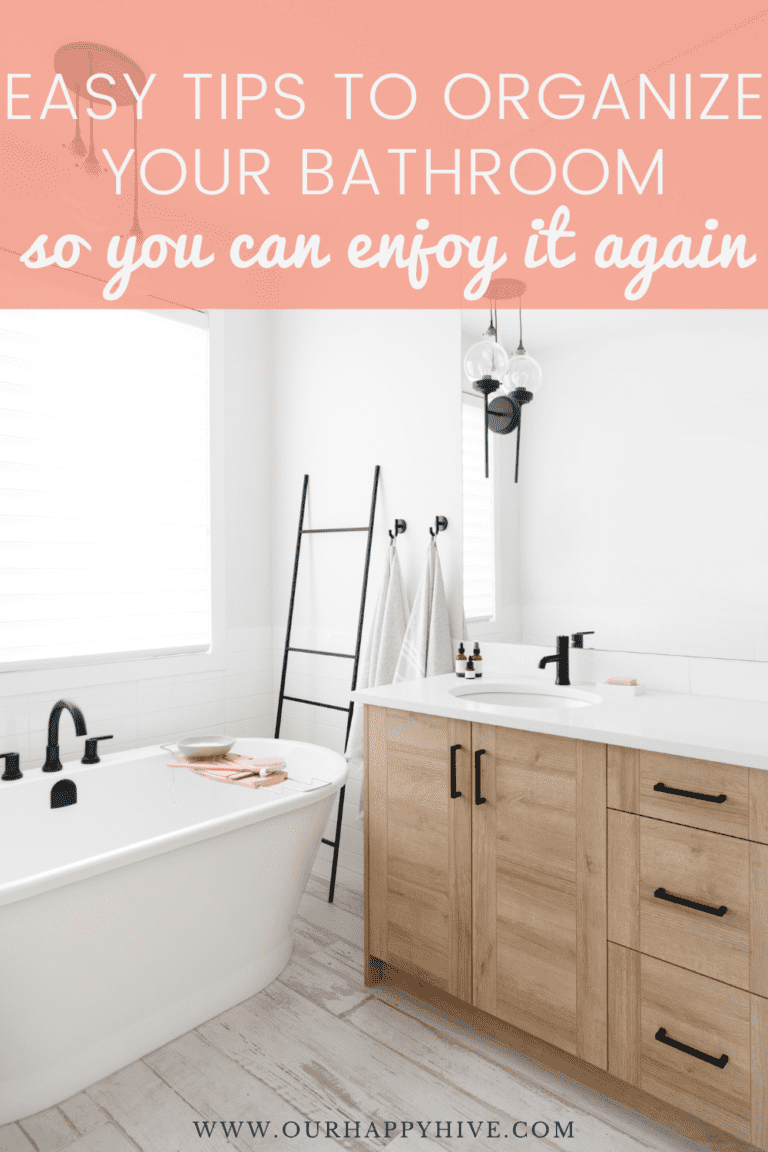 Benefits of having an organized bathroom
Organizing your bathroom isn't just about aesthetics. It's about functionality, creating a peaceful start and end to your day. A tidy bathroom helps your daily routines go smoothly. Additionally, it can reduce stress and anxiety in the home by providing a sense of order and peace.
Moreover, having an organized bathroom frees up space. This can be especially helpful in small bathrooms. By finding and creating extra storage, you can avoid clutter and make the most of your available space.
1 – How to Maximize Your Bathroom Storage
The first step in how to organize the bathroom is to find and create extra storage. I always encourage people to go vertical with their storage to maximize their space. You go vertical by utilizing the back of doors, the inside of cabinet doors, and your wall space.
For instance, a floating shelf to store toiletries or hooks on the walls to hang towels. I used a wine rack behind the toilet to store scrolled up towels.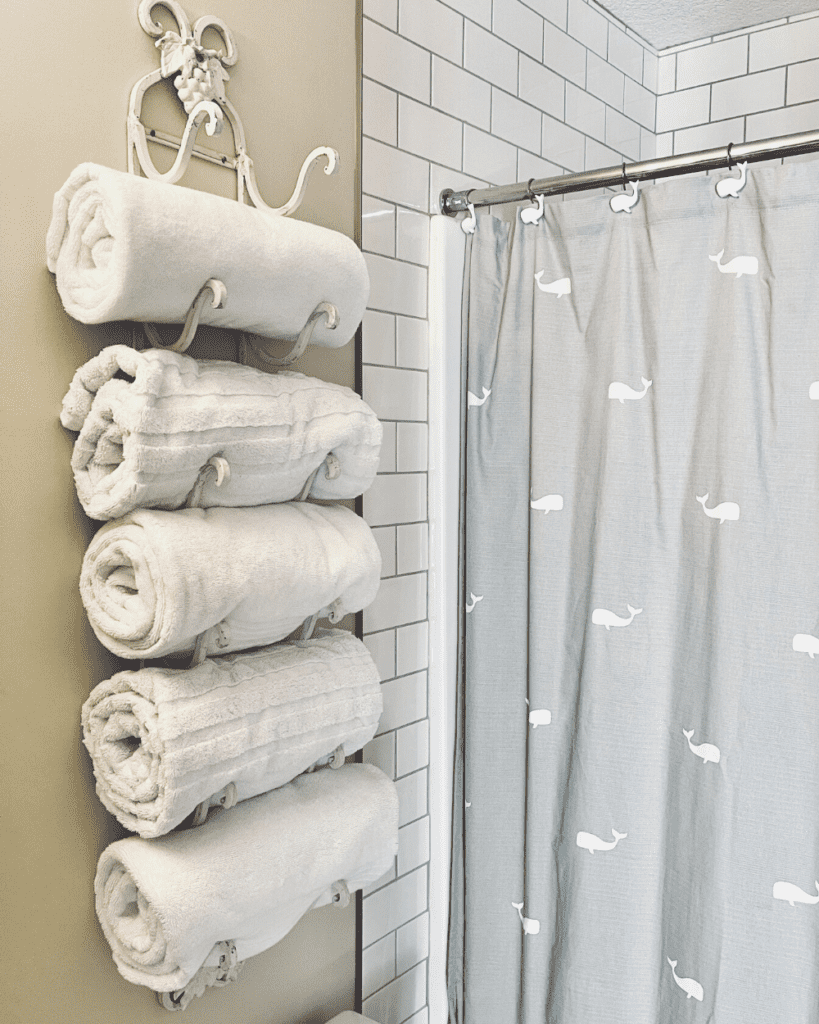 Seven Creative Bathroom Storage Options to Maximize your space
Use a free-standing cabinet or add a tiered organizer if you have extra floor space
Use hanging shoe organizers on the back of the door. This is a great way to store items like shampoo, lotion, and other toiletries.
Hang hooks. Hang hooks on the back of the door or walls to store items like robes and loofahs.
Use jars and canisters that you can place directly on your counter top
Store items in baskets. Place items like towels and washcloths in baskets for easy access.
Use a towel ladder. Towel ladders are a great way to store extra towels and linens.
Place extra linens such as washcloths and hand towels in bins for easy storage.
2 – How to Organize the Bathroom
Now that you've identified some extra storage solutions, it's time to get to work. Organizing toiletries is one of the most important steps for getting your bathroom in tip-top shape. Here are some tips for organizing the bathroom:
Start by removing all items from one zone in the bathroom e.g. under the bathroom sink, or one drawer in the vanity. This will help you get an overall look of the space.
Discard expired toiletries, worn-out towels, products you no longer use, and broken items. (hot rollers from 1989, I'm talking to you!!!)
Put like items together. Group items by type, such as cosmetics, dental supplies, hair products, cleaning supplies, and first aid items.
Sort items into categories. This can help you prioritize what you need and what you don't.
Create zones with baskets, bins, or drawer dividers. Divider inserts can help you keep items like makeup and skincare products organized.
Designate a space for every item. You want to make sure every item has an assigned home, or it will become clutter very quickly.
Use a vanity to store items such as cosmetics, lotions, hair products and perfume. Use clear storage containers under the sink to keep backstock. This can be a great place to store extra toiletries, bulk items you get from stores like Costco or Sam's Wholesale Club. Clear jars or lazy susan's can also be placed on the counter for things like cotton swabs and makeup brushes.
Finally, label containers. Labelling your containers will make it easier to find items quickly. It also helps you and others (…ahem the kids) put things back.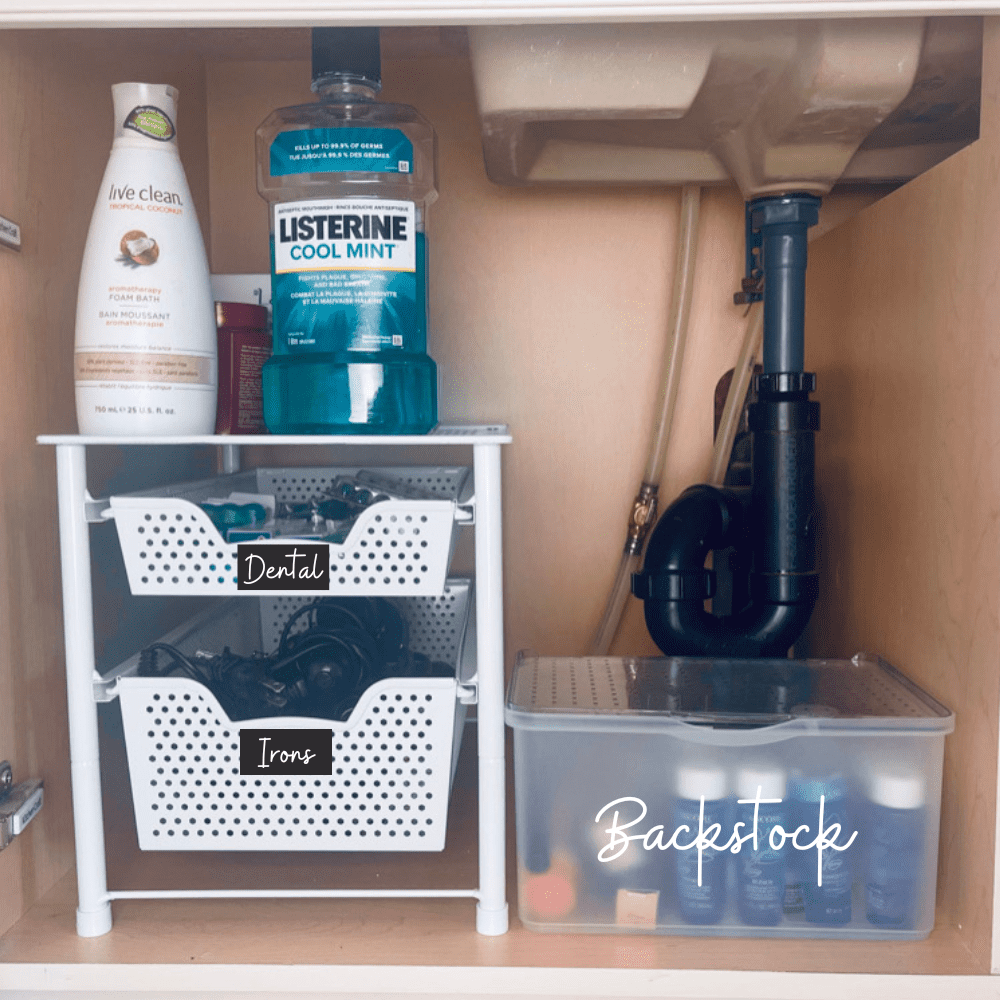 Decluttering your items, sorting into like categories, creating zones and designating a space for every item will make a huge impact on your daily routines. For more ideas check out this post on Dollar Store Bathroom Organization.
3 – How to KEEP the bathroom organized
Once you've sorted and stored your items, it's important to keep the bathroom organized. Here are some strategies for keeping your bathroom organized:
Purge regularly. Get rid of items that are expired or no longer used. This will help you maintain an orderly bathroom.
Keep items contained on the counters. Use a tray to place canisters or hand soap.
Set up a cleaning routine. Regularly cleaning the bathroom is essential for keeping it organized. It could include things like:
Wipe down counters and sink each day.
Spray and squeegee the shower.
Sort and hang dirty clothes.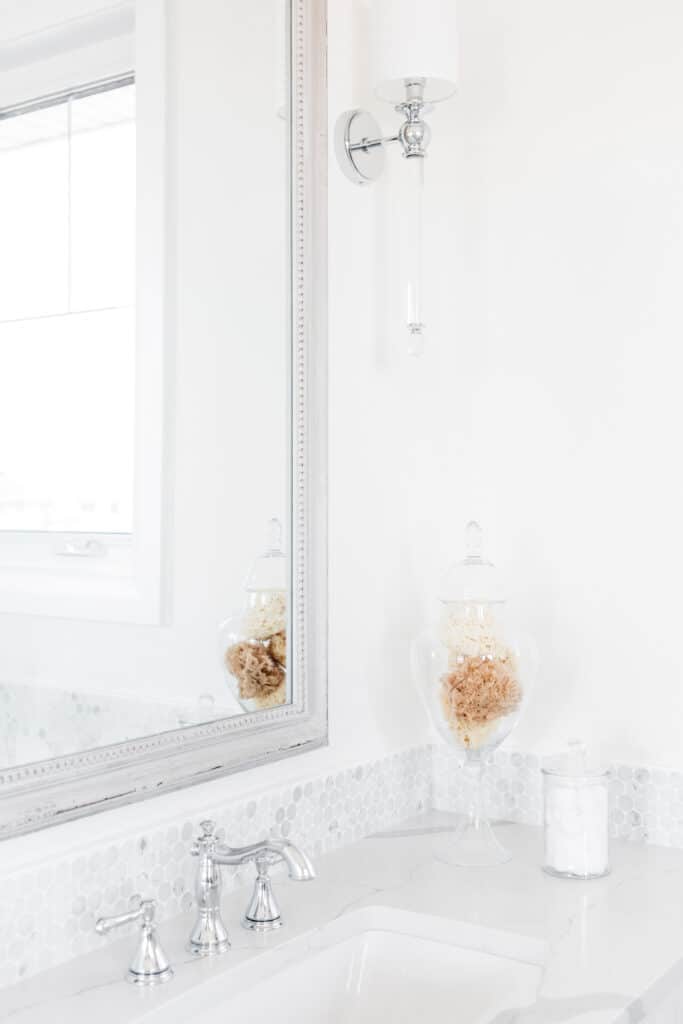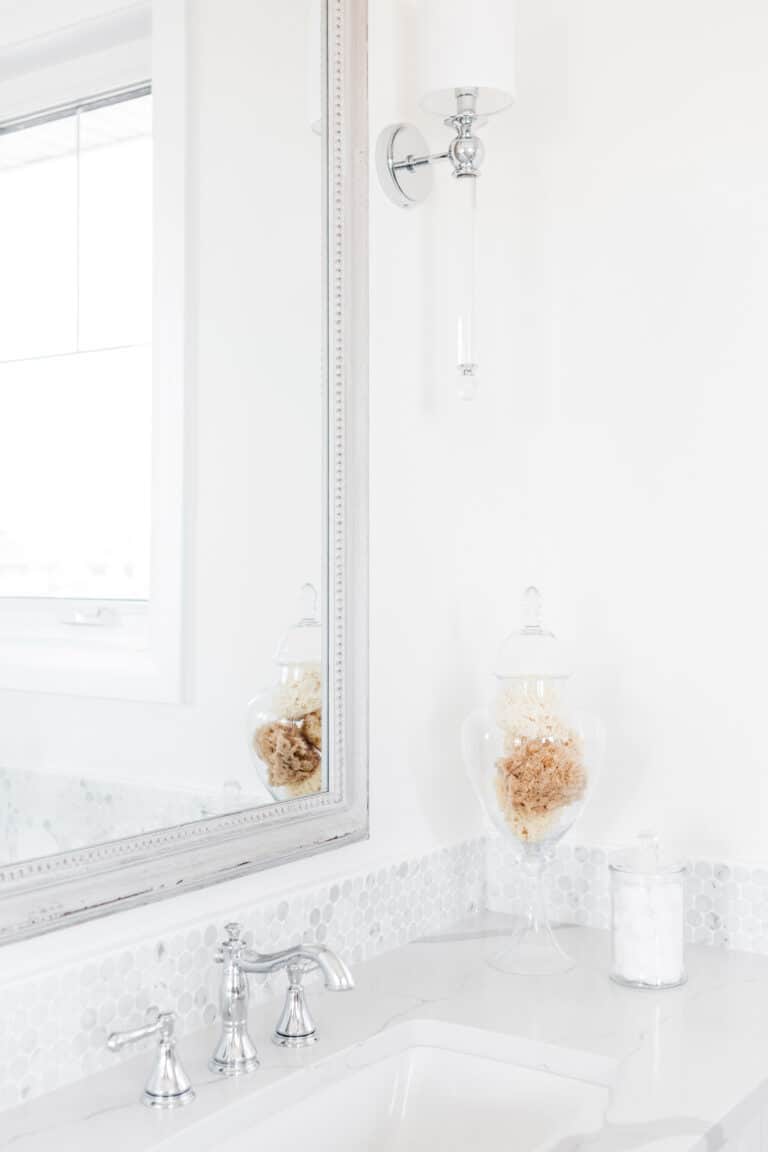 How to Organize Your Medicine Cabinets
Many people keep medicines in their bathroom. They may store them under the sink, in a closet, or in the medicine cabinet on the wall.
Use the medicine cabinet to store items such as bandages, tweezers, and antiseptic cream.
Place items in labeled containers. Label containers for items such as cotton swabs and adhesive bandages.
Put items in baskets. Place items like thermometers and flashlights in baskets for easy access.
One thing to note, if you have little ones in your home, you'll want to be sure to place medicines up high so they can not access them.
You can check out my full post on Medicine Cabinet Organization Hacks here.
Simple Steps to Organize the Bathroom
Organizing your bathroom is a great way to keep your space organized and efficient. With a few simple steps, you can transform your bathroom into a clean and tidy haven. From finding and creating extra storage to using organizing hacks, there are a variety of ways to get your bathroom in tip-top shape. So, get ready to organize your bathroom this week with these simple steps!