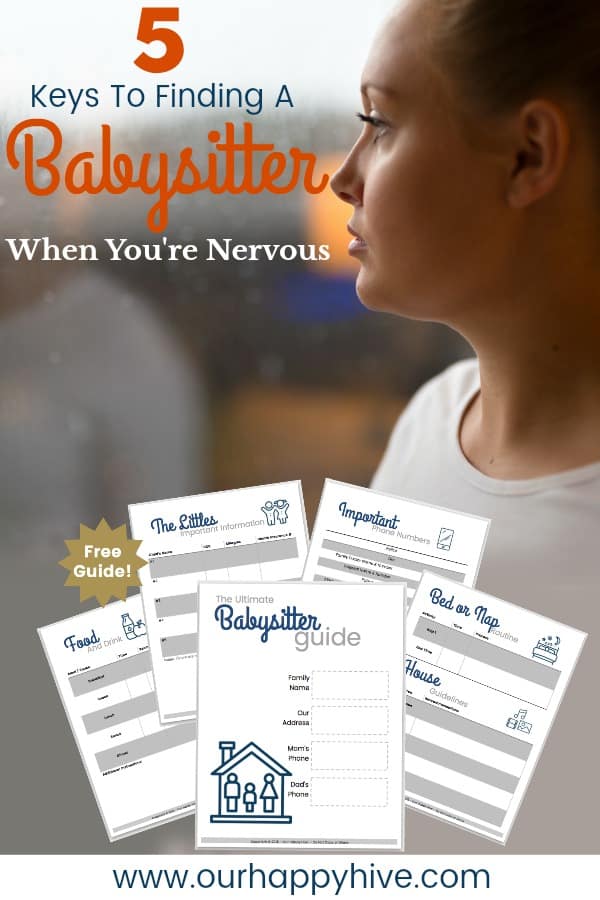 Finding a babysitter to take care of the tiny humans that matter the most in your world is a HUGE decision for countless parents. Relying on extended family is the first choice for many parents who desperately need a night out, yet family is not always an option! Parents then have to take a leap of faith if they want or need to get out of the house with their spouse.
Many moms struggle with fears about entrusting their littles to someone else, or question how to find a reliable babysitter. I get it, I've been there too! Living 1000+ miles away from any family, being relatively new to our community, and knowing that not everyone is trustworthy, hiring a babysitter was a big step for us!!! I'm excited to share with you that it is totally possible to find a responsible sitter (EVEN IF YOU FEEL LIKE YOU DON'T KNOW OF ANY OPTIONS) and prepare them for success.
1) Mom- Are You Ready

The first key is to make sure you're ready. You've probably heard the saying, "If mama ain't happy, ain't nobody happy." The same goes with entrusting your kids to a babysitter, "If mama ain't ready, ain't nobody ready." Only you can decide when you will be comfortable leaving your kids with someone other than family. Some moms are ready a month after the baby is home from the hospital! Often these are not first-time moms!!! Other moms want their child to be able to talk and communicate. And some moms wait until they face a situation that demands both parents to be gone and they have no other option. There is no "right" age…it's totally up to you mom…your needs and your comfort level. Some of the steps below may help you become more comfortable in finding and hiring a babysitter that's right for your family.
2) Identifying Desired Skills, Experiences, and Qualifications

Key number two is to make sure you know in advance the types of experiences and qualifications that will be best for your family. Consider the following:
Years of Experience: Do you want someone with more experience, like a mother of grown children or are you ok with a teenager that lives in the neighborhood?
Type of Experience: Do you prefer that the babysitter has experience with newborns, toddlers, preschoolers, elementary etc. Does he/she need to have experience with handling multiple children at once?
Certifications: Some organizations, like the Red Cross or YMCA, offer babysitter certifications that teach basic first aid, age-appropriate activities etc. You may also want to make sure they have CPR training etc. What, if any, certification is important to you?
Transportation: Depending on where the babysitter lives as well as your flexibility to pick-up/drop-off, you may want to ensure he/she has transportation to/from your house.

3) Finding a Babysitter
Ok, this step is a tough one for many moms, but you have more options than you know! Finding a babysitter I trust is a top priority for me, I prefer to network and either find a person I already know or a friend of a friend. A few ways to find a sitter when you feel like you don't have any options:
If you've already considered the people you know, think about people your husband knows. He may have a female colleague that has a babysitter she'd recommend, or might have a long time friend that has a teenager that could help.
Ask friends from your book club, church, or neighborhood if they know of anyone.
Post on Facebook so that all of your friends can see your need. Note: you can specify that only friends in your city can see the post
Post on your neighborhood website / Facebook page. Specifically, ask for recommendations from other moms.
Call a local church or youth organization to see if they have recommendations.
If you have a friend that is a high school teacher, ask them for suggestions.
Call the local university, talk to the administrators in the education or early childhood development program. They will be able to direct you to a job board or career website.

4) How to Ensure the Babysitter is a Good Fit
For the fourth key, you'll want to make sure the babysitter is a good fit for your family. Mom…you are entrusting your children to this person. It is perfectly ok to interview and do trial runs with potential babysitters. You may want to meet the "candidate" for coffee or have them over for cookies to chat and get to know them better. Check out this interview guide for example questions you could ask.
Communicate your expectations up front to make sure you're on the same page. Are you ok with the babysitter being on their phone, eating your food, watching tv, taking the kids to a nearby playground etc?
If you find someone you don't know very well, do a trial run when you're at home. It can be extremely helpful to have a new babysitter start on a day when you're around but working on a project at home. Sure, it's a little investment, paying them when you're around, but it can help your kids get comfortable and allow you to observe how they interact. I especially like this option when we've had a teenager with little experience.
Another way to increase your comfort is to start off by only being gone for an hour or two and staying nearby. As you get to know the babysitter better, you can stay out longer and venture further away from home.
5) Preparation is Key
Once you find the right person, you'll want to make sure they have important information at their fingertips. This is the fifth and final step! Below is a checklist of key information you'll want to provide.
Download this sweet FREE Babysitter Guide Printable with even more details than in the checklist.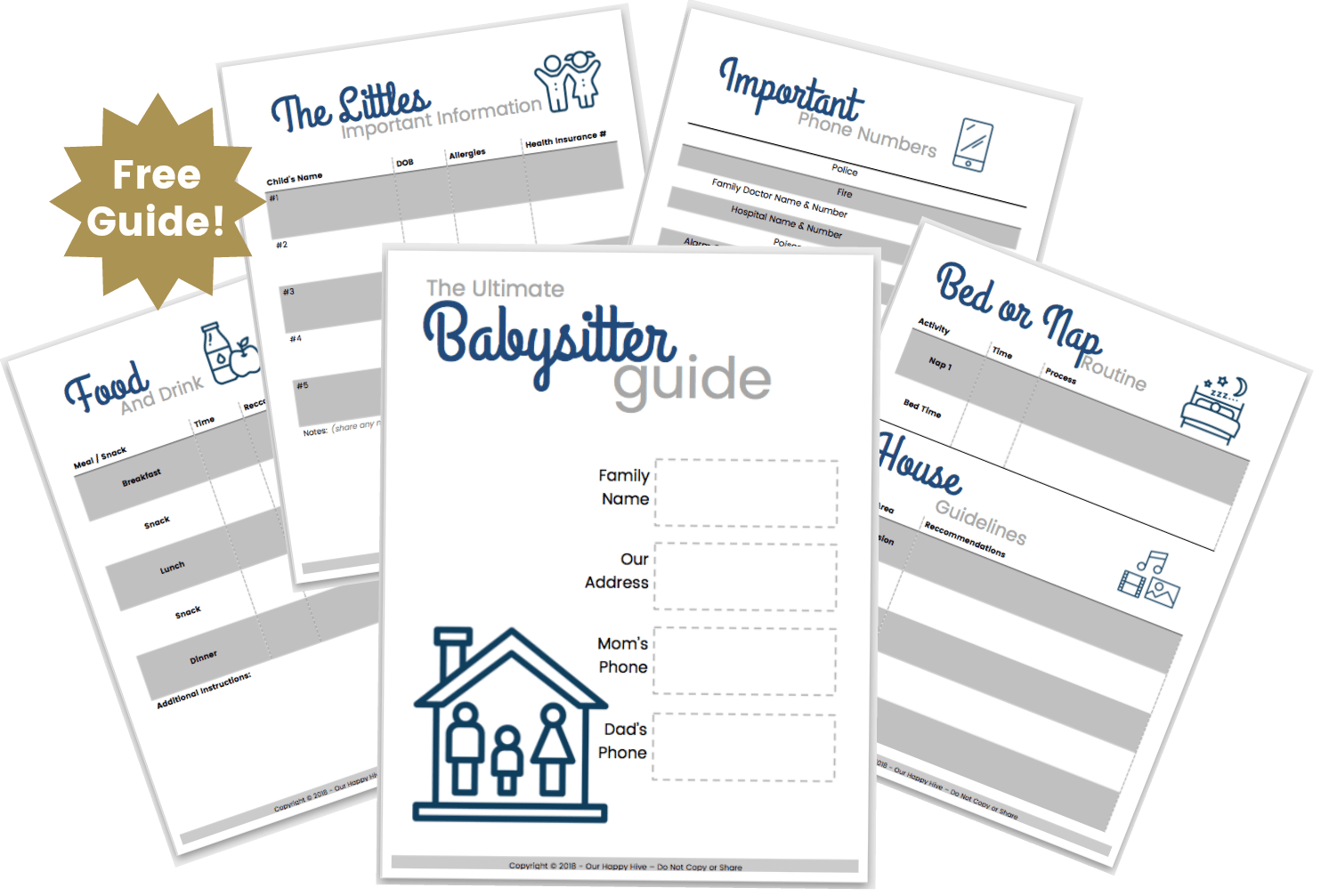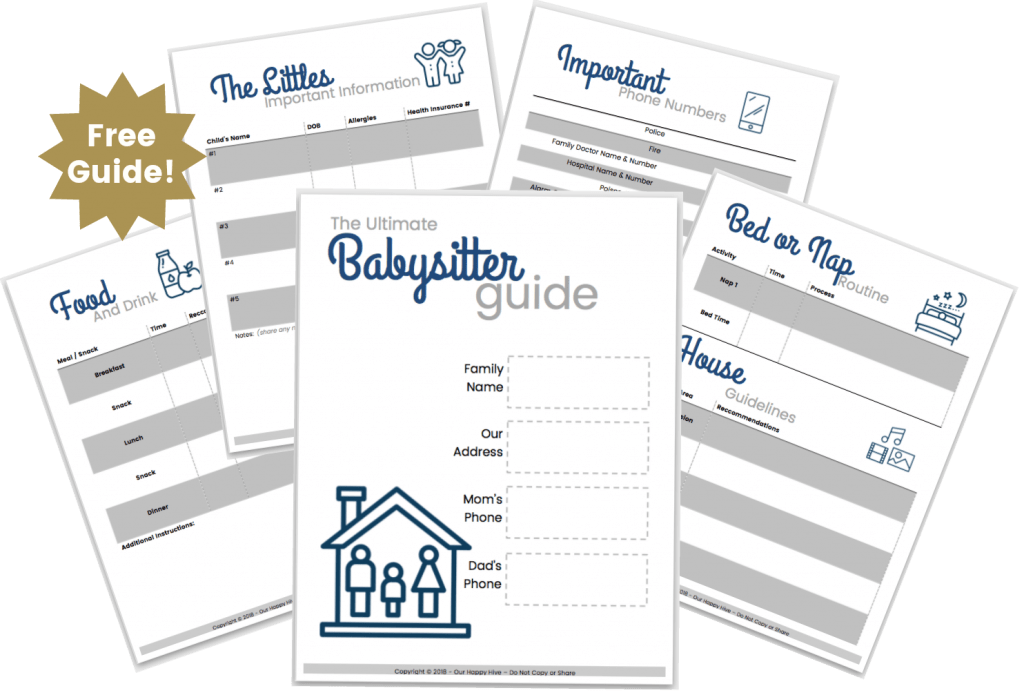 Babysitting Checklist:
Ensure the babysitter has access to a phone – especially if you don't have a home phone.
Provide a list of important phone numbers (mom and dad's, trusted neighbors, doctor, etc.) and health details e.g. insurance, family doctor, allergies, and health concerns.
Share your existing or create a unique alarm code for the babysitter. I speak from personal experience here. More than once we have had the alarm go off when the babysitter was at our house. It frazzles everyone including your kids if the alarm goes off for a long time.
Communicate how you want the babysitter to handle it if someone rings the doorbell, or if a neighborhood child comes over and wants to play.
Provide information about meals, snacks, and drinks.
Go over how to turn on the tv, Netflix, Apple TV, and/or internet if they need to use it.
Date Night's A Go!
Ok Mom- you've thought this through! You're ready and you can do this! Finding a babysitter isn't a light decision, but you've already considered your families' needs and the desired experience and qualifications. You have a plan for how to find and select the best fit for your family. You've decided if you need to do a trial run and you now have access to the FREE babysitter guide to make sure they have all of the critical information in hand. While you may feel a little nervous or have some mom guilt, you have taken all of the steps to make sure this babysitting adventure will go smoothly! Don't sweat it. You're going to be able to go out on a date night again, entrust your kids to a trustworthy sitter, and set them up for success while you're away!