To Does your preschooler bite other kids? My daughter did. (sigh) Let me explain…shortly after my daughter turned 3 she started preschool. At the time, Little Miss E was very social, articulate, and excited to be with other kids. The first day was a breeze…she loved it! There were only good reports from her and the teachers. Fast forward one short week and you can imagine my surprise when I learned she bit another child! Little Miss E wasn't a biter. This was a first and I was shocked!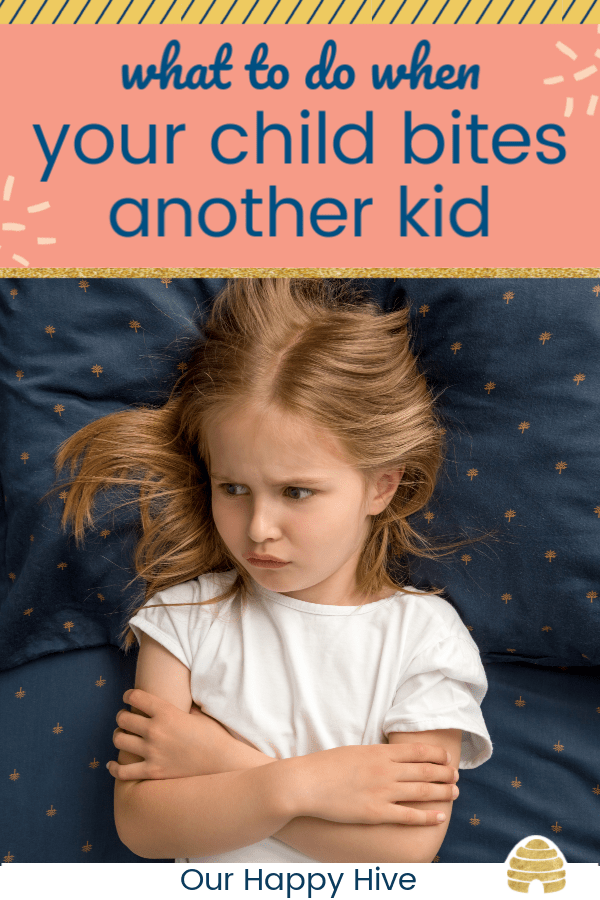 You're Not Alone
First of all, if you find yourself in this situation, it's important to note that this is not uncommon. Toddlers and preschoolers bite kids. I was concerned about my child harming another and I profusely apologized to the teacher. In her wisdom and experience, she calmly explained that Little Miss E wasn't the first and wouldn't be the last child to bite in her classroom. I'll admit that news was a little but not entirely comforting.
Why Preschoolers Bite
Children bite for a variety of reasons. It could be because they don't have the words to express how they feel, or they could be frustrated, afraid, or angry. If the child is going through significant change, they may be more likely to bite. In the case of my little, she had just started preschool, was the youngest in the class, had a 3-month-old brother at home, I had just returned to work and my husband (a.k.a her best friend) was out of town that week. (just a little change) To top it off, an older boy sat on the letter "E" when the kids were told at the beginning of class to sit on the alphabet rug. This was the only letter "Little Miss E" knew at the time and she thought it was her assigned seat.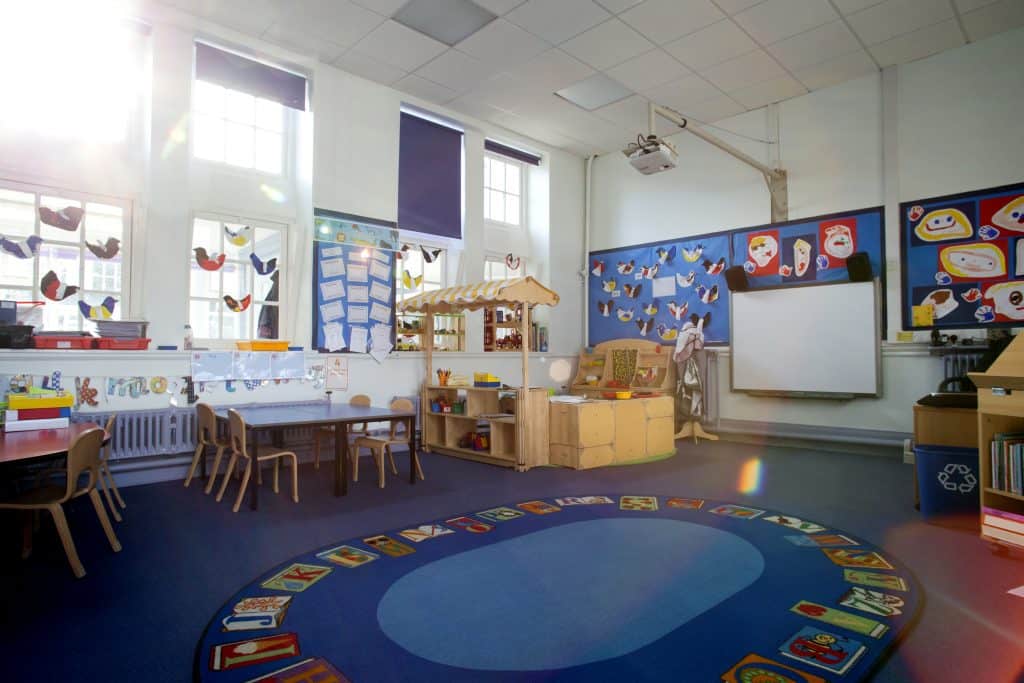 How to Respond
To start with, if you're like me, you're probably concerned about this situation. Questions, may be flooding your mind… "was this a one-time event?" "is she too young for school?" "will this continue?" "how can I talk to my child about this to help them learn, but not feel ashamed?"
1) Stay Calm & Seek Understanding
It's important to stay calm, show love, and ask questions. I tried to get Little Miss E to tell me the situation in her own words. On the car ride home, we discussed that she did not have the appropriate response and that we'd need to apologize to the boy in her class.
2) Give it Space
Don't pounce! You may want to get to the bottom of it and correct it right away, but if you move too quickly you'll end up adding more pressure to the situation. We tried to very slowly unpack what happened and what she could do next time. There were a few days until the next class, so we spaced out the dialogue so not to shame or overwhelm her.
3) Help your child understand the human side
A preschooler may not understand that they caused pain to another person. Likely, they were just reacting in the moment. We tried to help "E" understand that her actions had hurt the little boy. We asked questions like "How would you feel if someone bit you?"
4) Incorporate Play
Instead of just talking through the situation, use a variety of tools to help your little learn about behaviors and how to respond. You can have him/her watch a cartoon that teaches values. (I find Daniel Tiger is really great for this and have recorded the series on PVR for this very reason.) Use books that you read at bedtime to help them understand. Check out this post for examples of books we've used to help teach values and life skills. You can even have your child color pictures to help them learn.
Over the next couple of days we read a book called "Teeth are not for biting" and we watched several Daniel Tiger shows that helped her understand alternatives actions she could take if she was mad (e.g. "Stomp three times and you will feel better.") I also created a coloring page that I printed from my computer with a little bear and the words "I'm sorry" at the top. She then colored one for the boy and one for the teacher and delivered them to class the next day.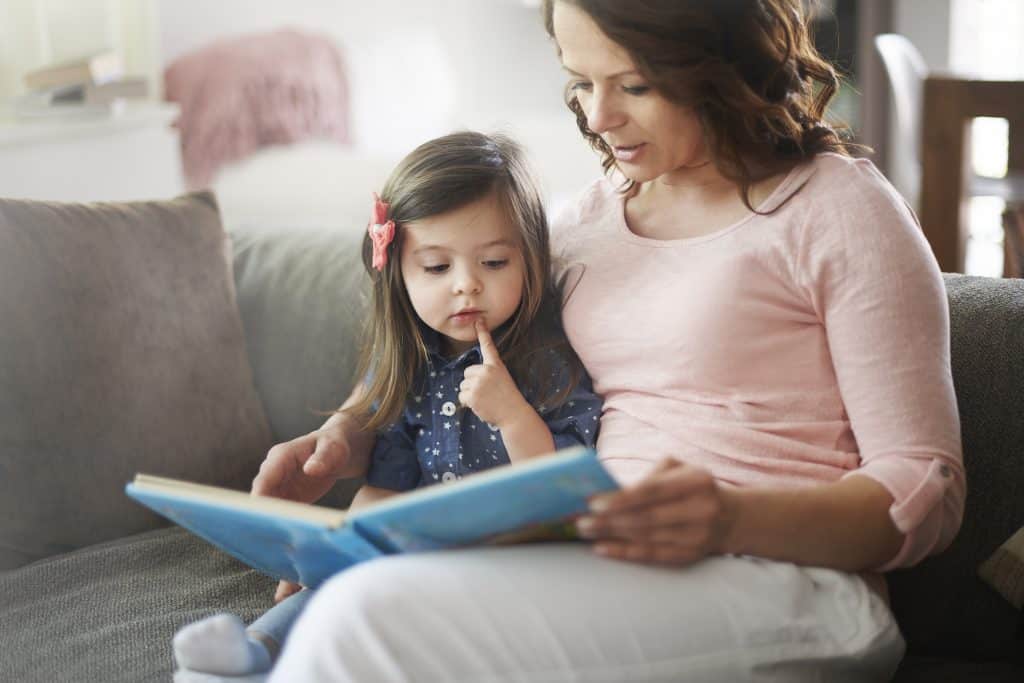 5) Role Play
If your child tends to bite in a situation that happens on a regular basis, it can be beneficial to role-play with them. Prior to the role-play, talk through the options of how he/she could respond. Do role reversal, where you act like you are your child (the aggressor), and then change and act like you're the other kid (the victim/perpetrator).
With Little Miss E we role-played the same situation that initially led to the biting incident. Every day, the kids arrive at class and sit in a circle on the alphabet rug. We recreated the rug in our living room by placing letters on the floor. I (mom) acted like I was a kid and immediately went and sat on the letter E, and then she had to come in and sit on another letter. Let me just say, the first round didn't go well. She got mad and pushed me. So, then we reversed roles. She came into the "classroom" first and sat where she wanted to on the rug, I came up to her and said I wanted to sit there. Of course, she said no, I then modeled the other options she could take. We did this a few times and even got dad involved. Side note: she loved this game. For weeks, she'd ask to play "class" and wanted me to put letters on the floor.
By the time we were done, I had hoped, but I wasn't 100% confident it would go well the next day. My husband dropped her off and watched as she entered the classroom. Wouldn't you know that the same little boy went directly to the E on the rug and sat there before our girl was even in class? My husband held his breath as he watched her cross the room. I'm happy to report that she chose another letter. She wasn't happy about it, but she handled her frustration better. She also never bit another kid since that first time.
Don't Sweat It
While I hope you don't ever find yourself in this situation, if you're reading this post, the chances are that you might have already experienced it. 😬 It's ok if you have…or if you do in the future…don't sweat it. Biting is a common response for toddlers and preschoolers. Remember, you're not alone! Stay calm, give it space, talk it through, incorporate play, and use role play to help your little learn how to respond differently in the future. It's a normal growing pain and won't stay this way for long!


Free-Bee Resource Library
Enter my
Free-Bee Resource Library
for my latest downloadable files and printables! Password is 'honey' -- please copy and paste that in at the link above. Thanks for being a subscriber!!