Do you have a space that just isn't working for your family? You feel like you can never find the thing you're looking for, there's always clutter or a mess, or it's just too small and things don't fit! Maybe this space never functioned as you needed it to or it stopped functioning. These are clues that it's time to get organized. Yes, getting organized can even help a space to not feel small any more. In just 5 steps you can organize any room in your home!
How do I organize my house?
Every home organization project should follow the same steps. It doesn't matter if you're hoping to organize your Laundry Room, Kitchen, or Mud Room. If you follow these 5 steps to organize any room in your home, you'll end up with space you love that fits your family's needs.
Where to Start with Home Organization
Step 1) State Your Objective
Write down what you are trying to accomplish? Is there a need you're trying to prepare for or a problem you're trying to solve? Why is the end product important to you? What do you hope to achieve at the end of all your work?
You can put as much or as little effort you want into this step. The bigger the project, the more effort I would give. It's important to know your "why" before you get started. This will help fuel your motivation when you hit road bumps or find yourself in the messy middle.
Also, this is a good opportunity to make sure your spouse and other family members are on the same page!
Example:
Our mudroom should be a place where the family can easily remove and store their shoes and accessories including hats, gloves, sunglasses, etc. It should also serve as a command center, enabling us to prepare for the week and quickly get out the door. It's important to me that it's pretty and inviting.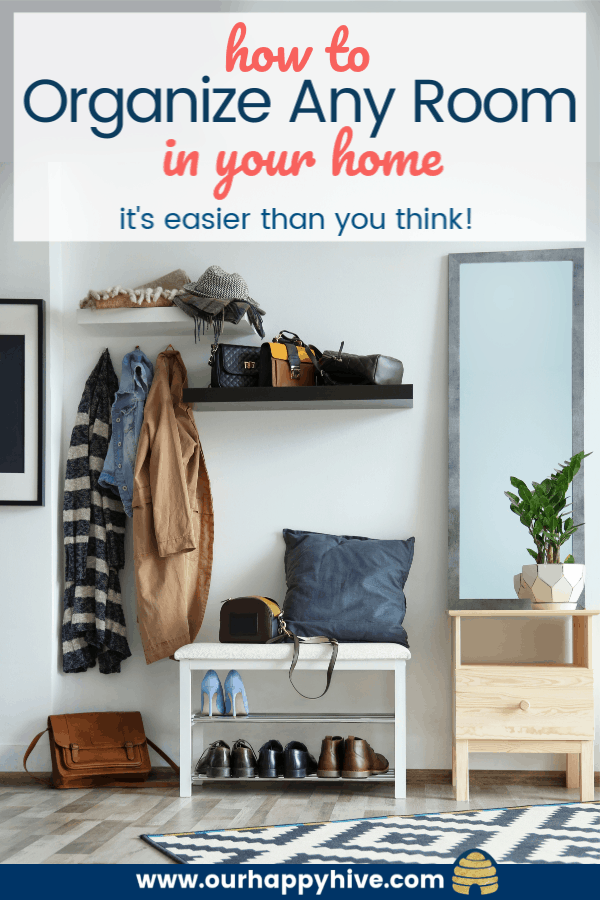 Step 2) Assess the Current State of the Room
The next step to organize any room in your home, think about the current state of your space. What is working and what isn't working. Make a list.
Example:
Working
Not Working
· Coat hooks for adults

· Cubbies for the kids

· Drawers for winter accessories

· Basket for summer accessories

· Cat's space for food/litter box

· Coat hooks for kids

· Shoe storage

· Seating to put on / take off shoes

· Calendar Dry Erase board too high on the wall to write on
Step 3) Define the Future State of the Room
The third step to organize any room in your home…think about how you want the room to function. Is it supposed to be inviting, calm, relaxing, functional, or a place for social gatherings, etc? Does it need to fit the needs of one person or of multiple people? What aspects need to be accounted for when you organize the space?
Example:
Things to organize in our mudroom:
Families shoes
Seasonal gear (coats, hats, scarves, sunglasses, etc.)
School gear (backpacks, lunch bag, etc.)
Papers (Kid's Crafts and School papers To be signed)
Family Calendar (school schedule + extracurricular activities)
Step 4) Summarize the Gap
In your current state assessment, you identified what's working and not working. In the future state, you defined how you want the space to function. For the fourth step steps to organize any room in your home, compare the two current state with the future state. Detail what needs to be fixed or planned for in your final plan.
Example:
Mud Room Needs:
Designate a place to sit and put on shoes
Solve the shoe storage problem so that we're not always tripping over them.
Create a space for the kid's art work
Define a home for papers that need to be signed and returned from home
Make sure there is a calendar for scheduled activities
Step 5) Create a home organization plan
Now that you know what needs to change to better organize your space, list the steps you need to take to organize the space so that it works for you. Make a note of how much time each step will take and if you need to involve anyone else or assign it to another family member. This is the fifth and final step to organize any room in your home
Common home organization steps include:
Declutter and remove items that are not necessary in the space
Group like items
Identify storage solutions
Buy any necessary items to make the space functional (note, err on the side of caution here…it's easy and fun to go out and buy a lot of stuff that doesn't really fix your problem.)
Install new storage solutions
Example:
Mudroom Plan:
| | | |
| --- | --- | --- |
| Step | Time Required | Owner |
| Declutter shoes and winter gear…remove anything the kids have outgrown | 20 minutes | Melissa |
| Sort gear by family member and place in the appropriate cubby | 20 minutes | Melissa |
| Have family members organize their cubby (backpacks, lunch bag, shoes, and winter gear) | 30 minutes | Each Family Member |
| Buy a file for the wall to keep kids papers that need to be signed and returned to school | 1 day | Melissa |
| Buy hooks to place at a lower level on the wall for kids coats | 1 day | Melissa |
| Create Labels for each bin or cubby | 1 day | Melissa |
Note: this plan is not complete, but it gives you an example of what you might include in your plan. Check out this post for more ideas on how to create a home organization plan.
Take Action and Start Organizing Your Home Room by Room!
Now, it's time to get organized! Execute your plan! Decide on the approach that works best for you. Are you a one and done kind of person? Do you want to tackle the project in one fell swoop and does your schedule allow that? Or, do you need to do a little at a time? For example, you might declutter one day and sort another. Or Declutter in the morning and sort in the afternoon.
Once you figure out your approach, commit to it and take action!
You can apply this 5 step process to any home organization project including organizing a closet, garage, or bedroom. This process will help you know where to begin, what needs to change or be fixed, and how to go about your project!