Inside: Learn a clever storage method that will help you make the most of your space and keep your home organized.
Discover eight different areas in your house where you can use this simple technique and enjoy its many benefits
!
As we go through life, we tend to collect a lot of things.
Stuff like clothes, papers, tools, and kitchen utensils can
quickly
fill up our homes and make them messy
.
Some people stack and pile things up in the traditional way to store their belongings. But this often takes up more space and makes it harder to find what you need. That's where the vertical filing storage method comes in.
By arranging things
vertically
, you can save space, stay organized, and
easily
get to the things you want
.
Let's explore eight surprising places in your home where you can use vertical filing to keep things in order
.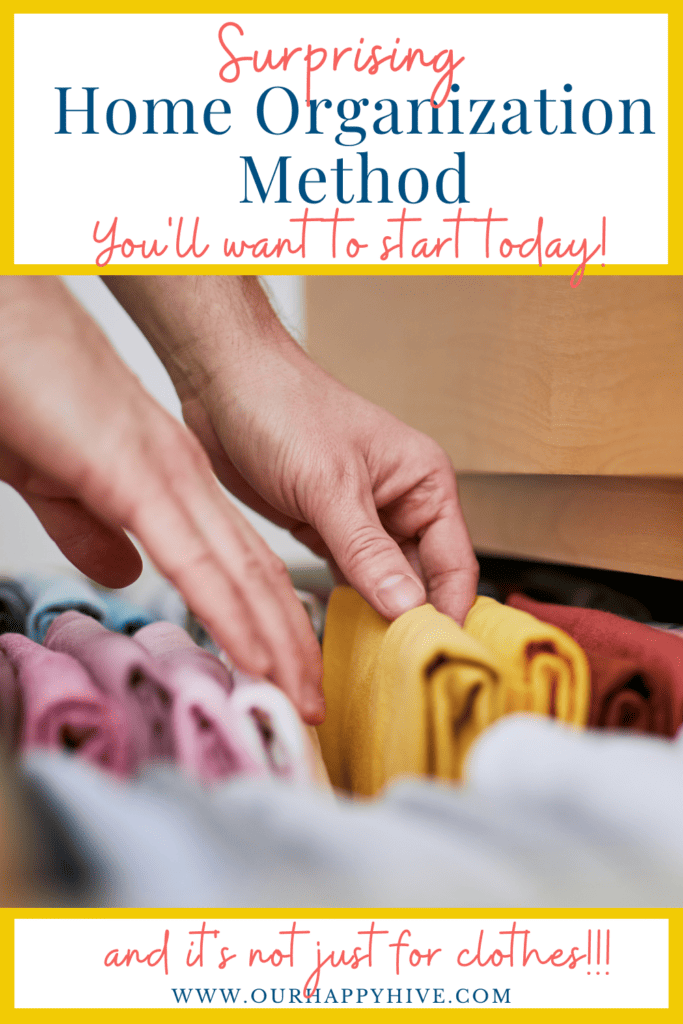 Why Stacking Doesn't Help Home Organization & Storage
Stacking items doesn't actually help with home organization and storage. It causes a few problems. First, it takes up a lot of space, which makes it tough to fit everything in one area. Second, it's hard to reach the things at the bottom of the stack. You might even forget what's down there! Third, it's frustrating and time-consuming to search through a pile of things to find what you need.
Although stacking seems like a convenient way to store items, it actually makes finding them more complicated
.
Storing things
vertically
solves these problems and makes your home more organized and efficient
. Who wouldn't want that?!
What is the Vertical Filing Method?
So, what exactly is the vertical filing method?
Well, it's a way of organizing documents, papers, or other items by placing them upright,
just
like in a file cabinet
.
You're probably familiar with a filing cabinet for papers. This is a great example of traditional vertical filing. With this approach, you put the files
vertically
in a drawer or on a shelf, with the labels facing out so you can
easily
see what's inside
. This saves space and helps you find and grab specific items
quickly
.
But in recent years, a well-known organizing consultant named Marie Kondo introduced another kind of vertical filing
. She called it "vertical folding" and used it for organizing clothes.
With this method, you fold your clothes into neat rectangles and store them upright in drawers or on shelves instead of piling them
from the bottom to top of the drawer.
This way, you can see all your clothes at once and choose what to wear more
easily
. It also helps prevent wrinkles and damage.
Vertical storage doesn't only work for clothes, though. It's a fantastic way to organize many other things too!
What are the Home Organization Benefits of Vertical Filing?
Storing things vertically instead of stacking them horizontally has several advantages:
Maximizes storage space: When you store items vertically, they take up less space compared to stacking them horizontally. This means you can store more things in the same amount of space.
Improves visibility: Storing items vertically allows you to see all your items at once, making it easier to find what you need quickly. You don't have to search through a pile of things to find a specific item.
Reduces clutter: Vertical storage helps you keep items organized and in their proper place. This reduces clutter in your home and makes it easier to keep things tidy.
Protects items: When you stack items horizontally, they can get damaged or wrinkled, especially clothes and papers. Storing them vertically protects them from such harm.
Saves time: With vertical storage, you can save time. You can easily see and access items without having to move things around or dig through a pile of stacked items.
In summary, storing items vertically helps you stay organized, save space, and keep your belongings in good condition.
What are the Disadvantages to Vertical Filing?
Storing things vertically instead of stacking them horizontally has many good points, but there are also a few things to think about:
Not for all things: Vertical storage works well for most things, but it may not be suitable for heavy or big items that need a strong base or support.
Not so steady: Storing things upright may not be as steady as stacking them flat. If they aren't organized or secured properly, they could fall or tip over.
You might need extra stuff: Sometimes, vertical storage means you need more things like shelves or containers, which could cost more money.
Overall, while there are a few things to consider with vertical storage, it's worth it because it helps you use space better, see things easily, keep things tidy, and protect your stuff.
8 Surprising Household Items to Vertically Organize
Here are some surprising household items that can be stored vertically:
1. Washcloths: Store your washcloths vertically in a drawer or bin. You'll be surprised how many more can fit in the space.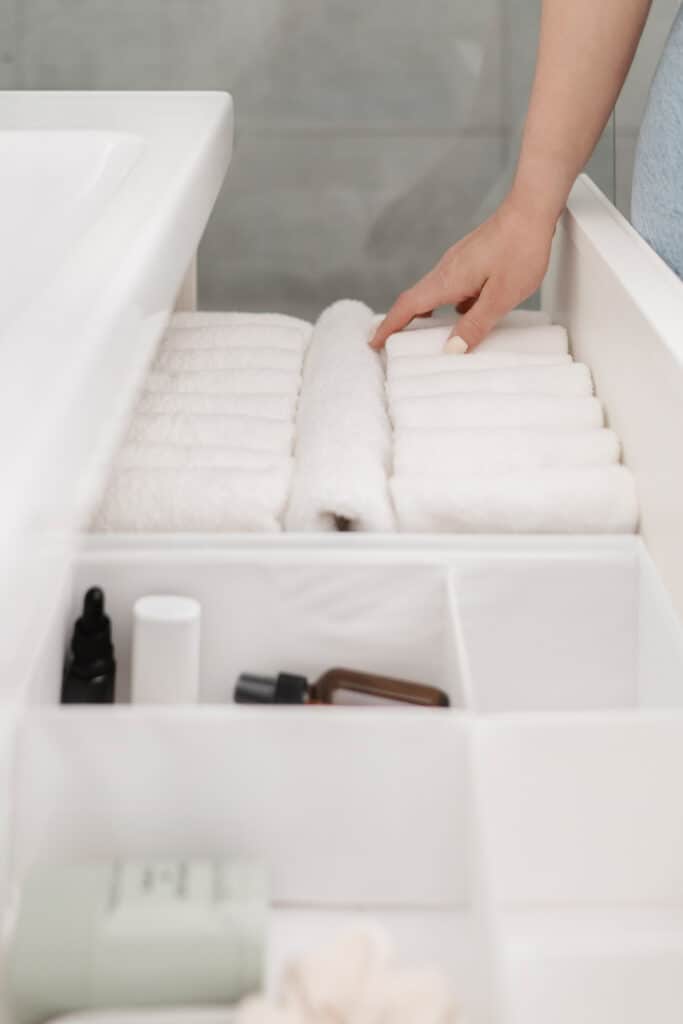 2. Freezer Items: On a shelf in the freezer, store products in packaging boxes or bags vertically from left to right. You'll now be able to see everything on the shelf at once without things getting lost in the back of the shelf or the bottom of a stack.
3. Handbags and purses: Store your handbags and purses vertically on a shelf or in a closet organizer.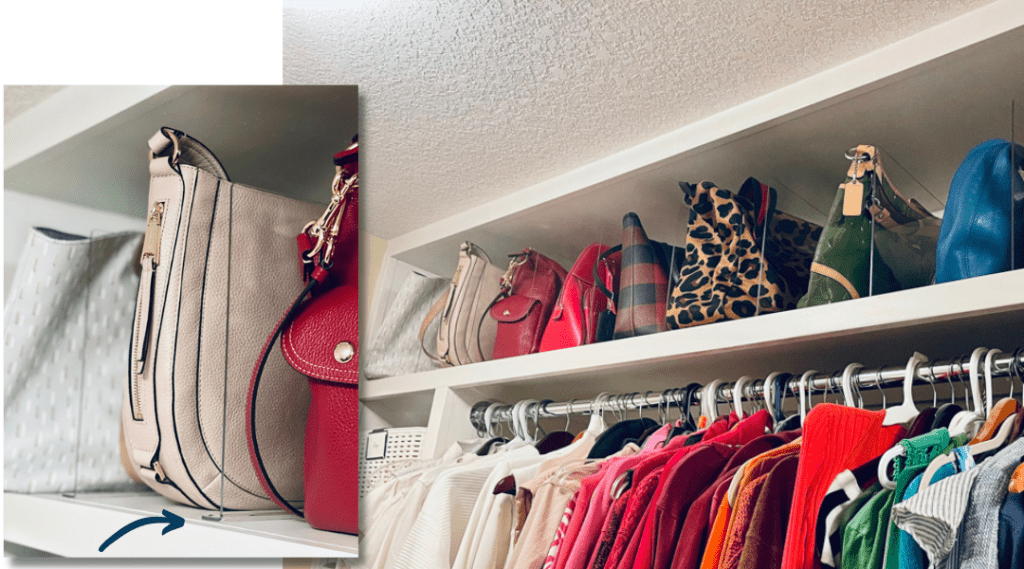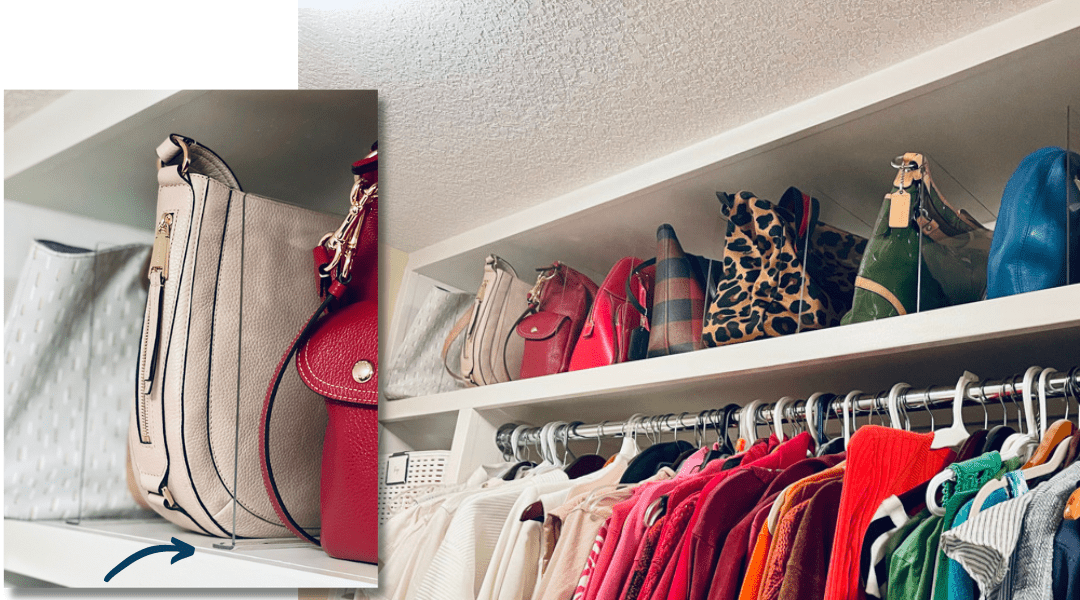 4. Kitchen utensils: Instead of stacking the utensils on top of each other, they are arranged vertically in the drawer. For example, spoons are laid on their side and "spoon" each other from left to right instead of top to bottom.
5. Clothes: Use the vertical folding method to store clothes in drawers or on shelves, as mentioned earlier. This method saves space and makes it easier to see all of your clothes at a glance.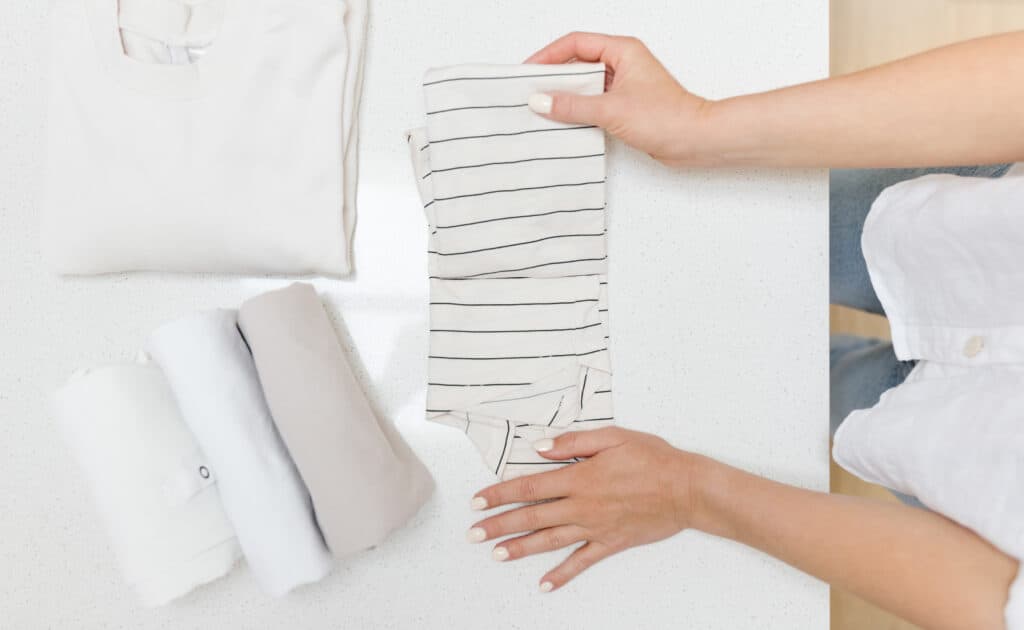 6. Cutting boards: Store your cutting boards vertically in a rack or holder rather than stacking them horizontally.
7. Baking sheets and trays: Store baking sheets and trays vertically in a tray organizer or on a wire rack.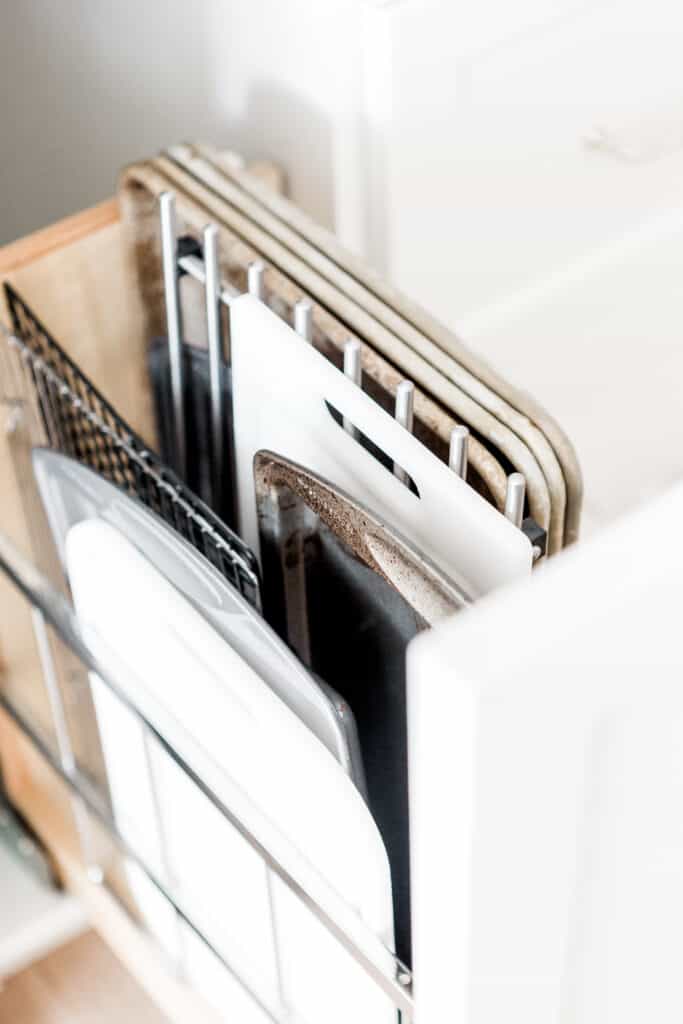 8. Dish Clothes: Similar to wash clothes, dish towels can be stored vertically in a drawer either from front to back or from left to right.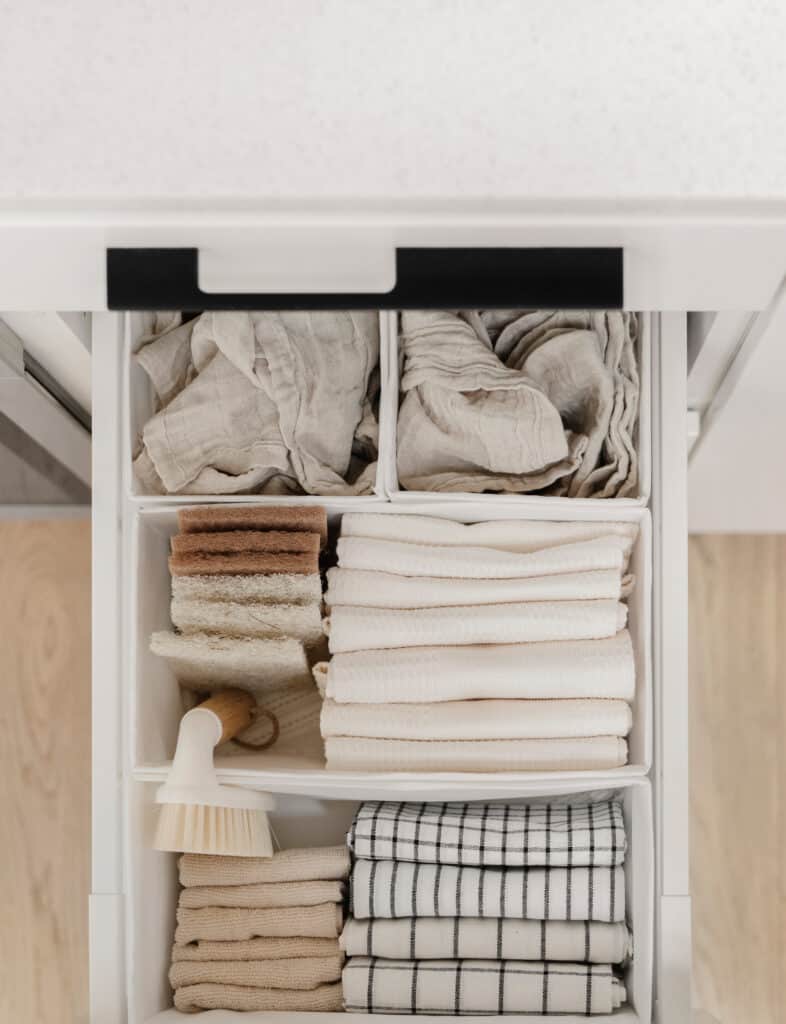 And the fantastic thing is, the list could go on and on. You could also store bed linens, table clothes, board games, legos, puzzle boxes, and more with the vertical storage method. Our family even uses it for how we pack our clothes in our suitcases.
By storing these household items vertically, you can save space and keep them organized and easily accessible. This storage method prevents items from getting lost or buried under other items, making it easier to find and use what you need. I'd love to hear what creative ways you have used the vertical storage method in your house. Leave a message below and share!