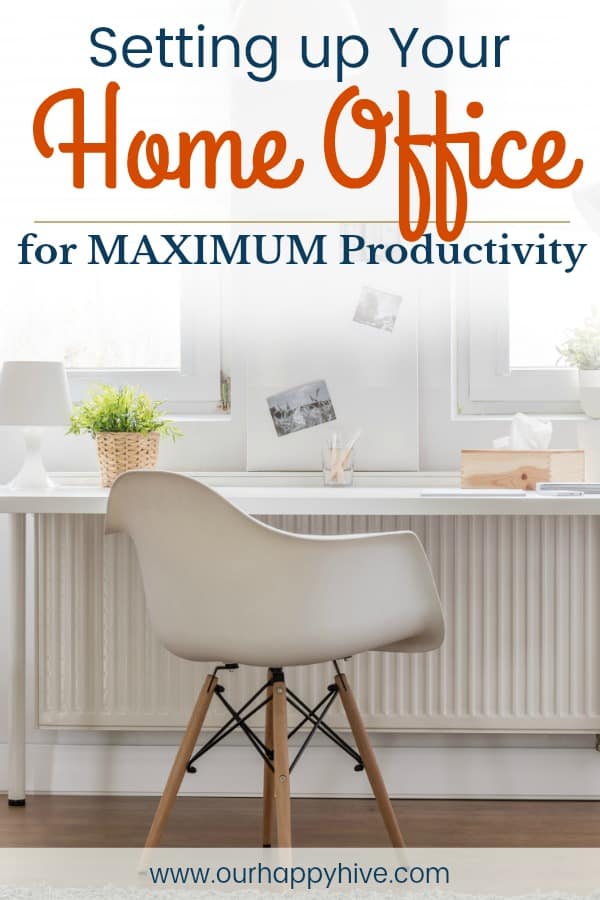 Did you know that millions of North Americans work from home at least once a week?  I started working remotely seven years ago. Initially it was just a few days here and there, but after a couple of years (and a move to Canada) I became a full time remote worker. Over the years I've learned about how to set up a home office for maximum productivity.
Previously I wrote about "6 Simple Steps for Successfully Working from Home (with kids in the mix)." That post focused on things like setting a schedule, boundaries, and self-care. To read it, click here. This post will focus on the physical aspect of your home office and the tools that will help boost your productivity.

Dedicated Work Space
This may seem like a no-brainier, but it's worth sharing.  It's easy to underestimate the importance of having a dedicated work space.  I'm fortunate to have a separate room as my home office. My husband also works out of the home at times and doesn't have this same luxury.  Initially he would work from our kitchen counter or my desk if I wasn't using it, but we found that wasn't sufficient. Ultimately, we moved a desk into our guest room. This modest accommodation allowed him to have a place where he could focus, leave his reference material, and become mentally engaged when he worked from home.  Whether you have an entire room or a desk in a quiet part of your house, this is the first step to ensuring maximum productivity when working from home.

Get a Bigger Monitor
I have always worked from a laptop, but recently I bought a larger monitor (27 inch) that I connect to my laptop.  The larger monitor felt better on my eyes, but it also allowed me to multi-task in a way I wasn't able to previously.  Interestingly, research shows that a bigger monitor and/or dual monitors helps increase your productivity. Larger screen real estate decreases the time it takes to complete various tasks. For example, I can have two documents open side by side and not have to toggle when using one as a reference document. I can also draft emails using source documents without having to open and minimize windows. Another plus, I can keep a chat box open while I work on various projects.  This enables increased communication with my counterparts.  Maximum productivity is realized from a large monitor that helps you reduce redundant tasks.

Integrated Technology
We have a busy house. With two little ones, nap schedules, preschool drop off and pick up, a nanny to help while I work and a husband that works from home on occasion, things pop up all of the time. It could be really easy to get distracted and leave the task at hand. The integration of technology enables me to stay focused and minimize work interruptions when working from my home office.   If I'm on a conference call and my nanny has a question about one of the kids, she can text me and the message pops up on my computer, iPad, and phone.  I can respond to her without having to get off the call.  Our home alarm system even helps with reaching maximum productivity.  If someone rings the doorbell, the doorbell camera sends me a message and allows me to check what's going over my phone. Prior to having integrated technology, when someone rang the doorbell, I'd need to get off the call or pause it while I took care of the visitor. Now, I can tell if it's just the mailman dropping off a package or someone that needs to talk with me.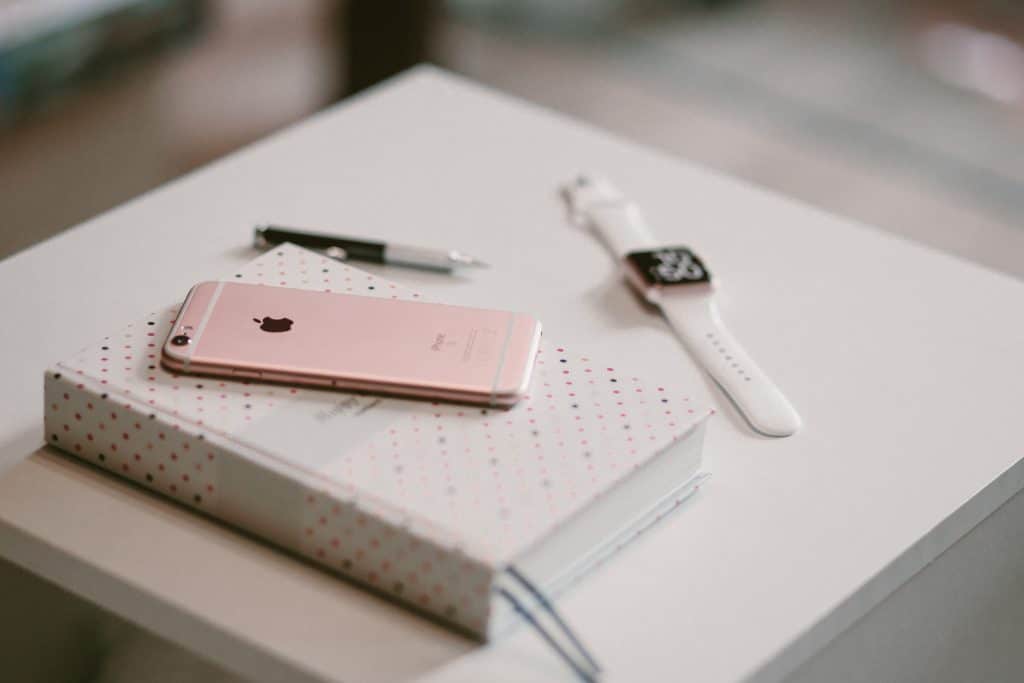 A Pedometer, Fit Bit, or Apple Watch

By now you've probably heard that sitting for too long is worse than smoking! Taking short breaks during long tasks and getting the blood pumping allows you to clear your head, increase focus, and maintain performance.  In my experience, short breaks happen more naturally when working in a business office. Based on the output from my Fit Bit, I could easily walk 5,000 steps going to and from meetings, walking to the printer, and going out to grab lunch. When I first started working from a home office I was shocked to learn that I would only get in a few hundred steps though the course of my work. I've worn a pedometer, Fit Bit, and Apple Watch at times.  The first two allowed me to track how much I was actually moving during the day.  The Apple watch does the same, but also gives me reminders to stand if I've been sitting for too long.  By standing during meetings, walking around during a call, or taking a 5 minute break and walking through your house or up and down stairs, one can actually increase their mental clarity and encourage maximum productivity.
Note: We are a participant in the Amazon Services LLC Associates Program, an affiliate advertising program.  For more information, see my disclosures here.
In Conclusion
Working from home has unique challenges sometimes different from a business office. The more you can do to create a structure and environment that sets you up for success on the front end, the more productive you can be.  I'd love to hear what other tips you've found that are helpful for increasing your productivity when working from home!


Free-Bee Resource Library
Enter my
Free-Bee Resource Library
for my latest downloadable files and printables! Password is 'honey' -- please copy and paste that in at the link above. Thanks for being a subscriber!!