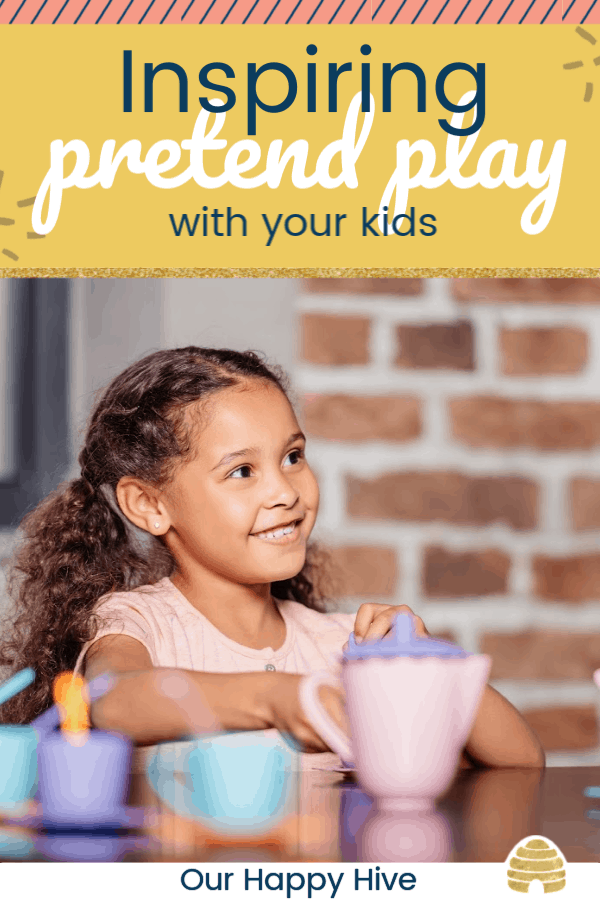 We've all had those days when we don't have any ideas of things to do with our kids. Maybe it's raining outside, they've spent too much time with media, or they are just done with the usual activities. As moms, we have a few choices. Let's be real, there are days when we just want to put a movie on so that we can juggle the other 20 things on our plate. But, at the same time, we have that tugging inside that tells us, there's a better way to use the time.
As a busy mom that works from home, writes a blog, and helps manage the household, the days when I scrape the bottom of the activity barrel, I need something that's fun for the kids, low maintenance (meaning I already have things on hand), and can keep the kids attention for more than a few minutes. It's the icing on the cake if there's a developmental component to such an activity. That's why I love love love pretend play! It ticks all of the right boxes…fun, engaging, low maintenance, and so so many benefits to childhood development.
The imagination is a wonderful thing. Books and movies can transport us to a world of make-believe and ignite our souls. Pretend play does the same for our kids. It takes them to a magical place where they are queen for the day, a valiant warrior, or doing things they may feel inadequate to do in real life. Isn't childhood our first opportunity to discover our imagination, kindle our creativity, and tap into our core inspiration? Let's explore together how pretend play benefits our kids and ways we can encourage them to pretend more!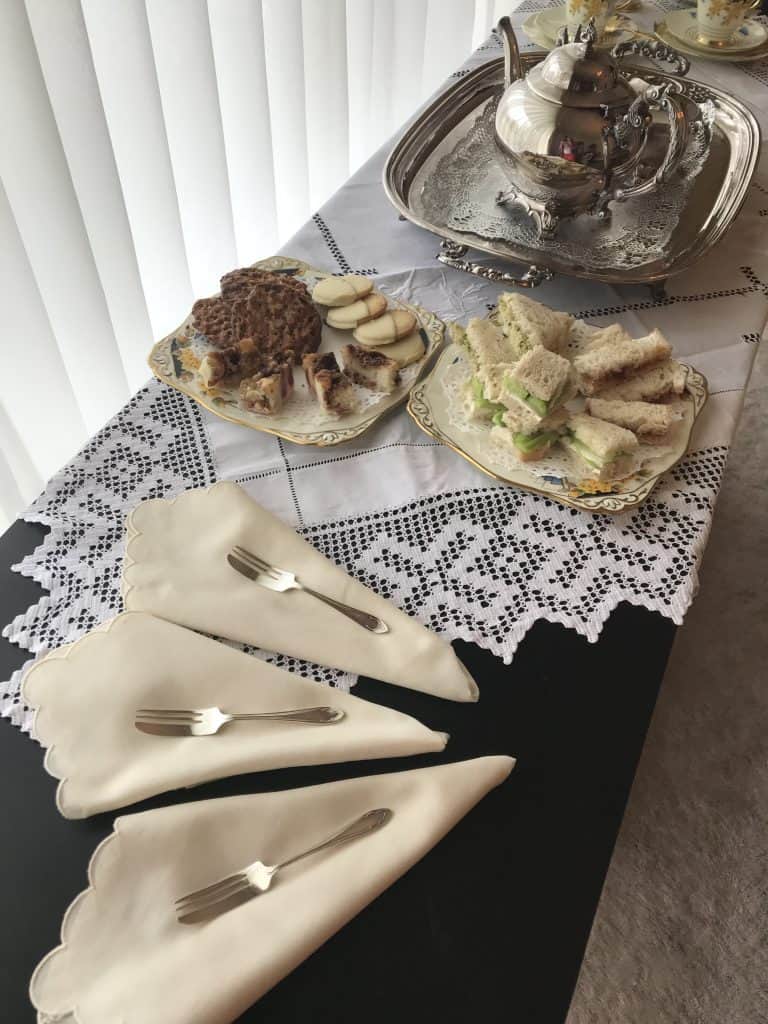 Tea for Three
Recently, we visited Nanny for a week during our summer vacation. It was one of those days like I mentioned earlier. Nanny lives out in the countryside, it was raining and Baby G was going down for a nap. Little Miss E needed something (other than TV) to fill the afternoon schedule. Tapping into my Mother-In-Love's British background, we had a tea party. Nanny pulled out her fancy hats, long necklaces, and even her silver tea set, and fine bone china. Little Miss E. ate it up! (so did Nanny!) Once our PB&J sandwiches were made and the tea (or milk) was ready, it was time for all of us to engage in pretend play. Truly, there aren't many things all 3 generations can do with little prep and that's little to no cost!

Benefits of Pretending
Pretend play isn't just something fun for a little one to do. According to Dr. Scott Barry Kaufman, a cognitive psychologist specializing in the development of intelligence, creativity, and imagination, "Systematic research has increasingly demonstrated a series of clear benefits of children's engagement in pretend games from the ages of about two and one half through ages six or seven." Some of the benefits include:
Social Skills
When preschoolers engage in pretend play, they imagine being someone else. They act like how they think that a person would act, therefore building their social awareness and empathy skills.
Language Skills
When my daughter was 2 years old, she declared that she would be the "manager" and my husband would be the "employee." We had no idea that she even knew these words much less how to use them in context. When pretending, children use words they may not use in the course of their normal lives. The words come to life and gain meaning as they reinforce their understanding by acting them out.
Thinking skills
As children engage in pretend play, they use their decision-making skills by creating their "story" and what happens within the story. If they're playing with other kids or even mom and dad, they will likely tap into and develop their problem solving skills. Even in pretend play, things don't always go the way you hope. HealthyChildren.org shares "Kids learn as they play. As they practice making decisions, play with imagination, and take active leadership, they also grow in confidence and resilience."
Creativity
At the heart of make believe play is creativity. In our play kitchen, we originally had limited "food" items. Things like cotton balls became meatballs and yarn became spaghetti.
Physical Skills
Like other types of play, pretend play can encourage the use of motor skills. As children grab their stethoscope to pretend to be a doctor or build an ice cream with a cherry on top. They are engaging their fine and gross motor skills.
Reflection Skills
Kids will often act out the things they've seen, heard or experienced. I've heard my daughter tell her stuffed animals, "if you do that again, you're going to time out." Hmm…I wonder where she heard that!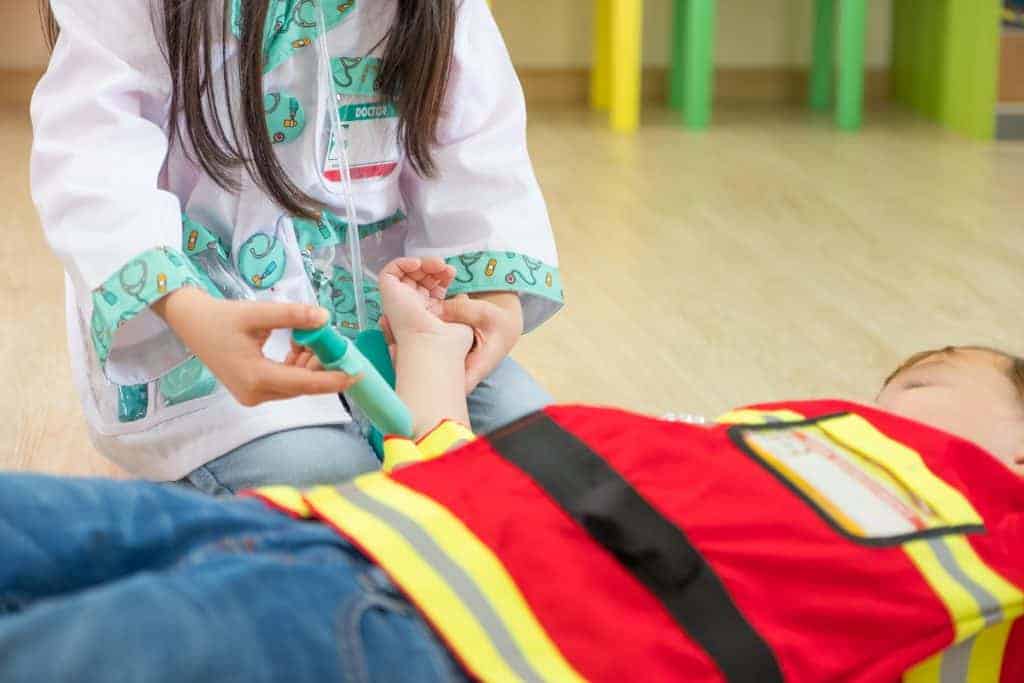 5 Tips to Encourage more Pretend Play?
Pretend play is one of the easiest kid activities for busy moms to orchestrate. If you want to make it even easier consider these 5 simple tips that will help you encourage more pretend play as well as be ready for any time you find yourself at the bottom of the kid activity barrel.
Think of items you already have around the house, (don't buy new toys). Gather your old clothes, tea-sets, pots and pans, etc.
Create Imagination Bins. Put all of the dress up clothes in one bin, or a play tea-set with a tablecloth and fancy hats in another bin.
Commit to letting go and not over crafting play. As parents, we're accustomed to being in charge, but this is a time to let the kids be the leaders.
Play with your kids! Little Miss E and I play "mailbox" every week. We draw pictures for each other and put them in a play Mailbox by Melissa and Doug. She loves this time! She treasures the things I draw and seriously wants to play together daily.
Have a list of Pretend Adventures – Simple cards with different ideas or stories the kids can jump into, keeps pretend play fresh! You can brainstorm a list by yourself or with your kids. Or, I've made it even easier for you…just get my FREE Pretend Play Imagination Cards at the end of the post.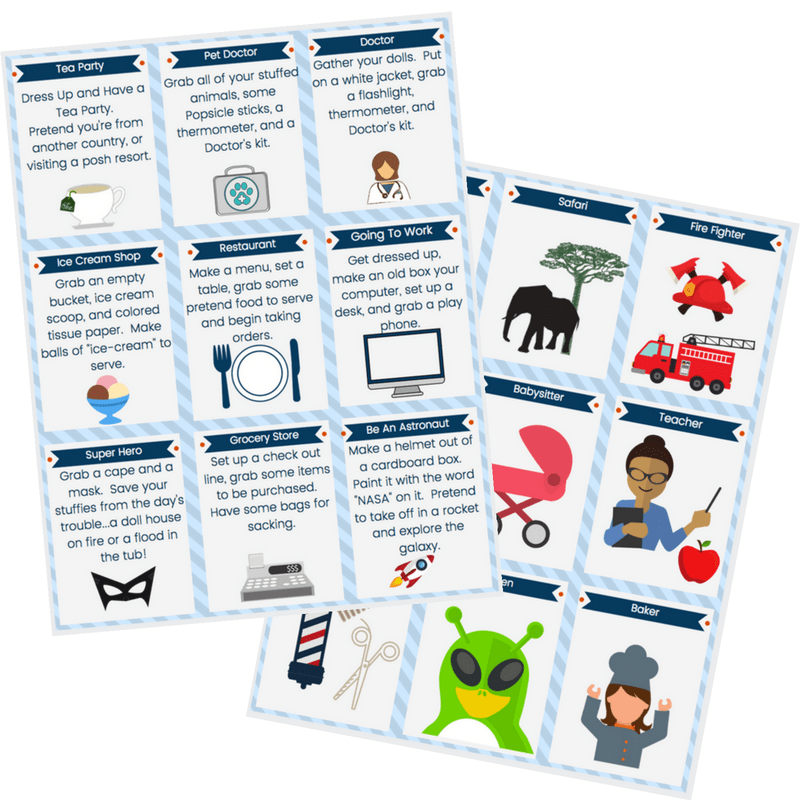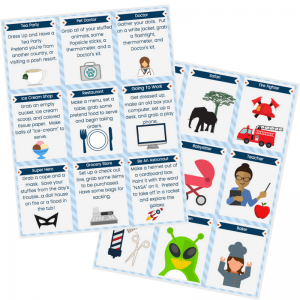 On any day, without much notice, you and your kids can escape to a world where there's a beautiful castle and a princess that needs rescuing…or a valiant hero defending the planet from aliens that are invading. Mama, you got this! Don't sweat those days when you get to the bottom of the barrel. Know that you have a fabulous and simple option that not only interests the kids but also is actually good for the personal development.


Get My Free Pretend Play Imagination Cards