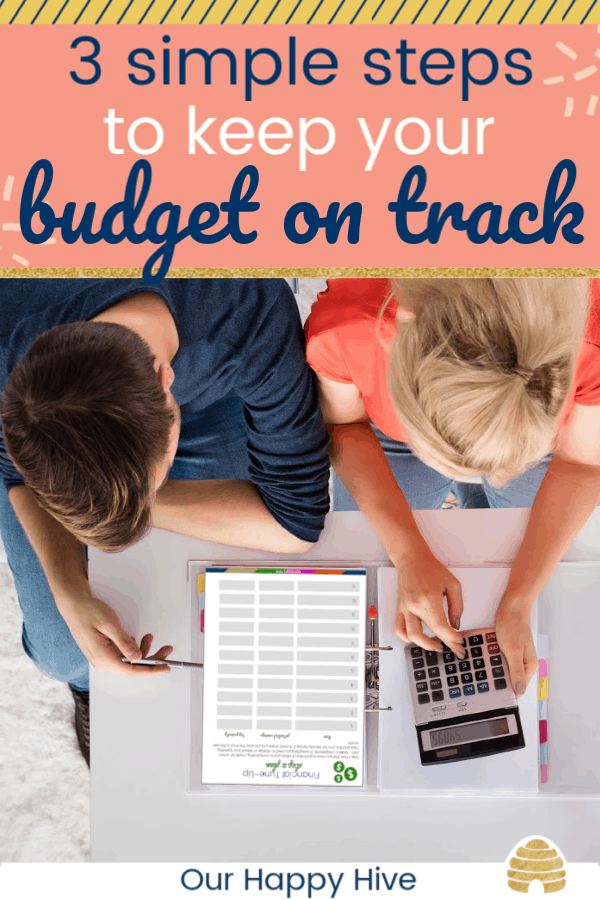 Have you ever blown your monthly budget in the first few weeks? Maybe you find budgets hard to implement and track. Or maybe, over time, you slowly drift further away from the original financial goals. Budgets are key to saving money and keeping your spending in check. Read on to learn about an easy 3 step Financial Tune-Up to help you keep your budget on track so you can spend less and save more.
Yoga Anyone?
This past year a new yoga studio opened up in our neighborhood, less than a 3 minute drive from our house! I thought this would be the perfect answer to fitting into my schedule my desire to exercise. Even better, it was HOT YOGA…something to look forward to on those days when it feels too cold to get out of bed. (I live in Canada, so we have more cold days than I'd like to remember)
With barriers removed, I knew this would be the perfect solution to my dilemma. And it worked…for a while. I got to the studio several times a week and even made new friends that live in my neighborhood, which is gold to an extrovert. My plan was working.
Until…
Fast-forward a few months and my toddler began to have severe separation anxiety. He was up for hours every night wanting to be with mommy and daddy. All of the sudden my perfectly laid plan crumbled. At this point, I was getting so little sleep that getting up early and sneaking out in the dark shroud of morning light was not realistic. Several months passed before I accepted the fact that I was paying a large amount for Yoga but only going once a week. Not the best use of our resources.
The Reality
The reality is, this same thing happens every day to families across North America. Whether it's a gym membership or online subscription, our needs, interests, or abilities change and before you know it, you are paying for things you don't need. But, Melissa, I budget, and I manage my budget every month! Ok, that's great if you fall into that category, but even if you watch your budget and don't overspend you could still be paying for things you shouldn't.
Just like tires get out of alignment through regular wear and tear, our budgets can get out of whack as time passes. One month we say yes to an online subscription, the next we add an app with a monthly fee to our phone. Maybe you're paying for an activity or service for your kids that you rarely use. Just like unwanted calories, overspent budgets can sneak up on you and eventually; you're confronted with an ugly truth.
The Answer
So what are we to do? Every 3-6 months, it's helpful to do a financial tune-up. A financial tune-up requires taking a step back and assessing how you're spending your money and refining your spending so that you keep your budget on track. You may already be tracking your budget on a monthly basis and have an idea of how you're doing OR you may be one who just checks the bank account's bottom line every so often. Either way, this is a time to take a hard look at how things are going, to evaluate your spending habits, and assess if there are things you need to change. Isn't the idea of saving more and wasting less appealing?
Check out this 3 step Financial Tune-Up that will help you quickly identify opportunities to keep your budget on track!
Step 1: Assess your current spending habits. Ask yourself these questions:
1) Are there any memberships that you should quit? E.g. A gym membership
2) Are there any subscriptions you need to end? E.g. An audiobook subscription, magazine subscription or online service
3) Are you paying for things you shouldn't pay for:
books – consider the library
bottled water
banking – go to a bank that doesn't charge for a checking account
ATM fees
Extended warrantees
Computer programs – consider Google Drive
4) Are you paying your credit card bills on time or paying late fees?
5) Do you need to reevaluate any services? For example, compare Auto Insurance or Home Insurance prices, switch cable or mobile service providers.
6) Are there more economical ways to buy the same items? E.g. Purchasing the cheaper air filters (that actually work better) or saving money on groceries.
7) How are your impulse buys? Do you have to buy something every time you go out? What about for your kid, do you find you're always getting them a little item from the store?
8) How about your eating out, take out, or food delivery habits…are they in check or have you been overly dependent because you're just tired of cooking! (been there! 🙋🏻)
9) Are you regularly spending on unexpected or unbudgeted expenses like stopping by a coffee shop or fixing something in your home or car?
10) Are you mainly spending money on your wants or your needs?
11) Are you generous to a fault? Maybe you enjoy treating others, or feel that it's the right thing to do, but you have budgeted for it. Examples including paying for dinner for a group, buying an unplanned gift for another, or treating your friend to a mani/pedi.
12) Do you regularly look for deals?
13) Do you have a monthly budget that includes saving goals?
14) Do you have an emergency fund? This is for the urgent and unexpected expenses.
The right question
The question isn't whether you can afford these items or not. Maybe you feel like $10 here or $20 there isn't a big deal, but trust me, it adds up! Let's say you overspend by $100 a month, that's over $1000 a year. What else could you do with an extra $1000?
Step 2: Create a Plan
Now that you have a good idea of where you're overspending, create an action plan. Make a complete list of everything you need to change or reduce your spending. Then prioritize your list. Identify the top 2-3 areas where you can save the most in the next month.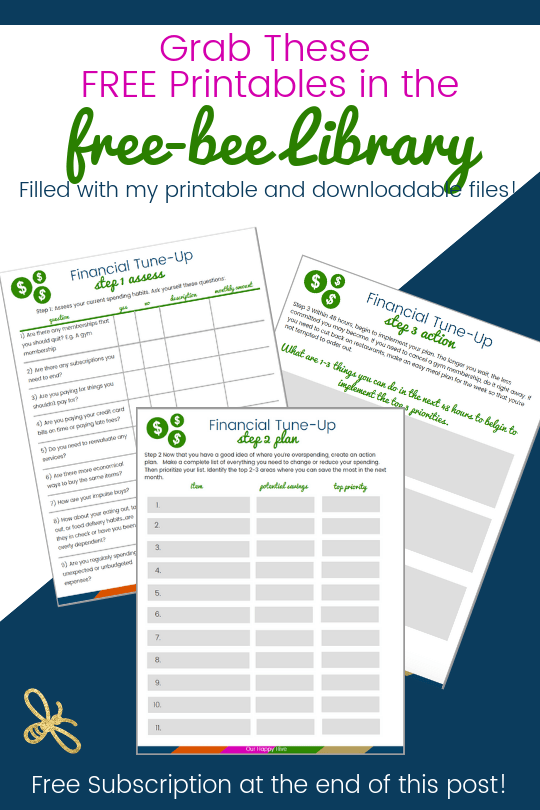 Step 3: Take Quick Action
Within 48 hours, begin to implement your plan. The longer you wait, the less committed you may become. If you need to cancel a gym membership, do it right away. If you need to cut back on restaurants, make an easy meal plan for the week so that you're not tempted to order out.
Be sure to grab my free printables at the bottom of the post to do your own financial tune up and create a plan to save more money each month!
Want to be Stretched?
Maybe your budget is in good shape and you're sticking to your original plan, but you want to save more money. Consider doing a financial challenge. What would happen if you cut out restaurants for a month or said no to Starbucks or even your weekend glass of wine? What if you committed to buying nothing other than groceries for a month? How much could you save?
The Quarterly Financial Tune-Up
Establishing a monthly budget can be extremely helpful in meeting your savings goals. Tracking your budget monthly is a great way to help you keep your budget on track. Doing a quarterly or bi-annual financial tune-up is taking things a step further and reevaluating your spending habits.
It's easy for spending to get out of whack. Life gets busy and you become overly dependent on restaurants, the holidays come and you get in the spirit of giving, or maybe, you've signed up for online subscriptions you intended to cancel, but it slipped through the cracks. In order to keep your budget on track do a 3 step financial tune-up: Assess, Plan, and Act!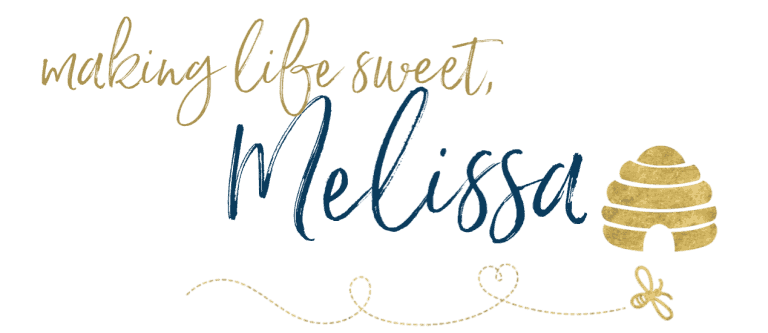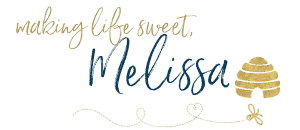 Free-Bee Resource Library
Enter my
Free-Bee Resource Library
for my latest downloadable files and printables! Password is 'honey' -- please copy and paste that in at the link above. Thanks for being a subscriber!!