Safe Sunscreens
Who doesn't want to keep their kids safe and healthy when out in the sun? We all know the dangers of too much exposure to the sun. You've probably even experienced some of the negative effects yourself…a burnt nose, skin peeling, or maybe skin discoloration or worst yet…cancer! We all love that summer glow and no one wants the harmful side effects of the sun but have you ever considered what ingredients are in sunscreens?
As moms, we routinely slather up our kids in the summer in order to protect them and we believe we've done the right thing to keep them safe! Public health and sunscreen companies have done a good job of informing us of the risks associated with too much sun, but have done a poor job of communicating about the dangers of widely used ingredients in sunscreen.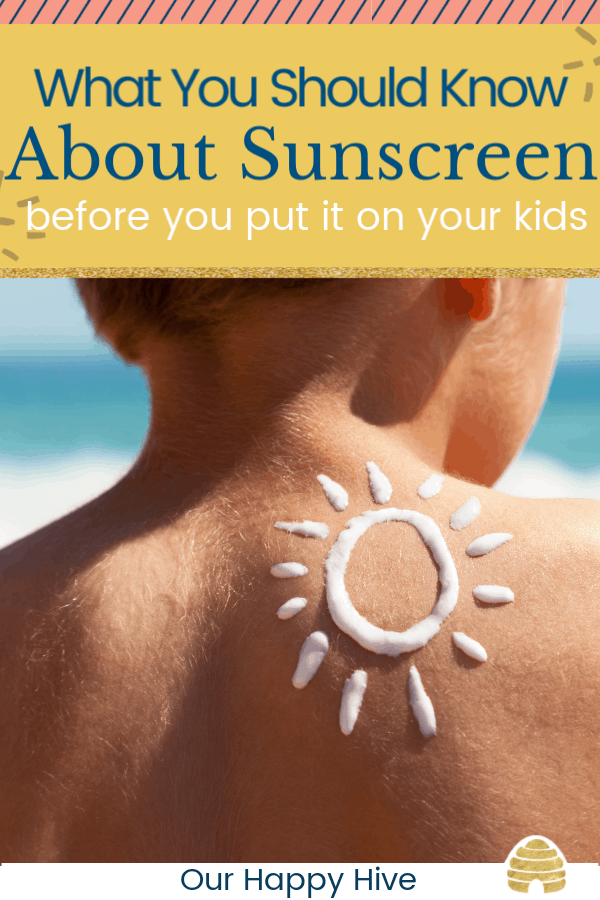 According to Consumer Reports, the reality is that the Food and Drug Administration doesn't make a distinction between kids and adult sunscreen, nor does it hold kids sunscreen to a higher safety standard. Bottom line, there is not much difference in kid vs adult sunscreen. Does that make you a little nervous? What if you're slathering up your 6-month-old…or three year old?
So, now that I've got your attention…here's what you need to know.
Active Ingredients in Sunscreens
There are two primary types of filters used in sunscreens: Mineral and Chemical filters.
Mineral based filters – contain natural minerals that cover the surface of the skin (translation- not absorbed) to physically block the rays. These types of blocks are typically made with zinc oxide and titanium dioxide.
Chemical filters – contain synthetic ingredients, which are absorbed into the skin (your body's largest organ!!!). Octinoxate and Oxybenzone are the most hazardous with the latter being found in almost 65% of non-mineral sunscreen according to the Environmental Working Group's testing.
The Down Side of Both Mineral and Chemical Based Sunscreens
The negative side of Mineral based screen
Mineral based sunscreens can be thick and leave a white residue on your skin. Many mineral based sunscreen makers are now using nanotechnology to reduce the size of the particles, helping it to be thinner and colorless when applied to the skin. As I mentioned previously, mineral based sunscreen stays on top of the skin and is not absorbed into the body. The one caution is that there is limited information about what happens with nanoparticles if the skin is broken. If you have eczema, for example, you would want to cover up a different way, perhaps with a shirt etc.
The negative side of Chemical based sunscreen
The most common sunscreens contain chemicals that mimic hormones (a.k.a. hormone disruption.) Hormone disruption occurs when chemicals have similar functions as our natural hormones, but in a way that is not beneficial to our bodies. Research shows that chemicals in sunscreens act like estrogen and may reduce sperm count in men and contribute to endometriosis in women. Additionally, some chemicals in sunscreens can cause allergic skin reactions.
Sunscreen Ingredients to Avoid
The Environmental Working Group, EWG, has reviewed the existing data about human exposure and toxicity for the nine most commonly used sunscreen chemicals. The most worrisome is oxybenzone added to nearly 65 percent of the non-mineral sunscreens in EWG's 2017 sunscreen database.
The chart below shows the 5 most toxic chemicals commonly found in sunscreens.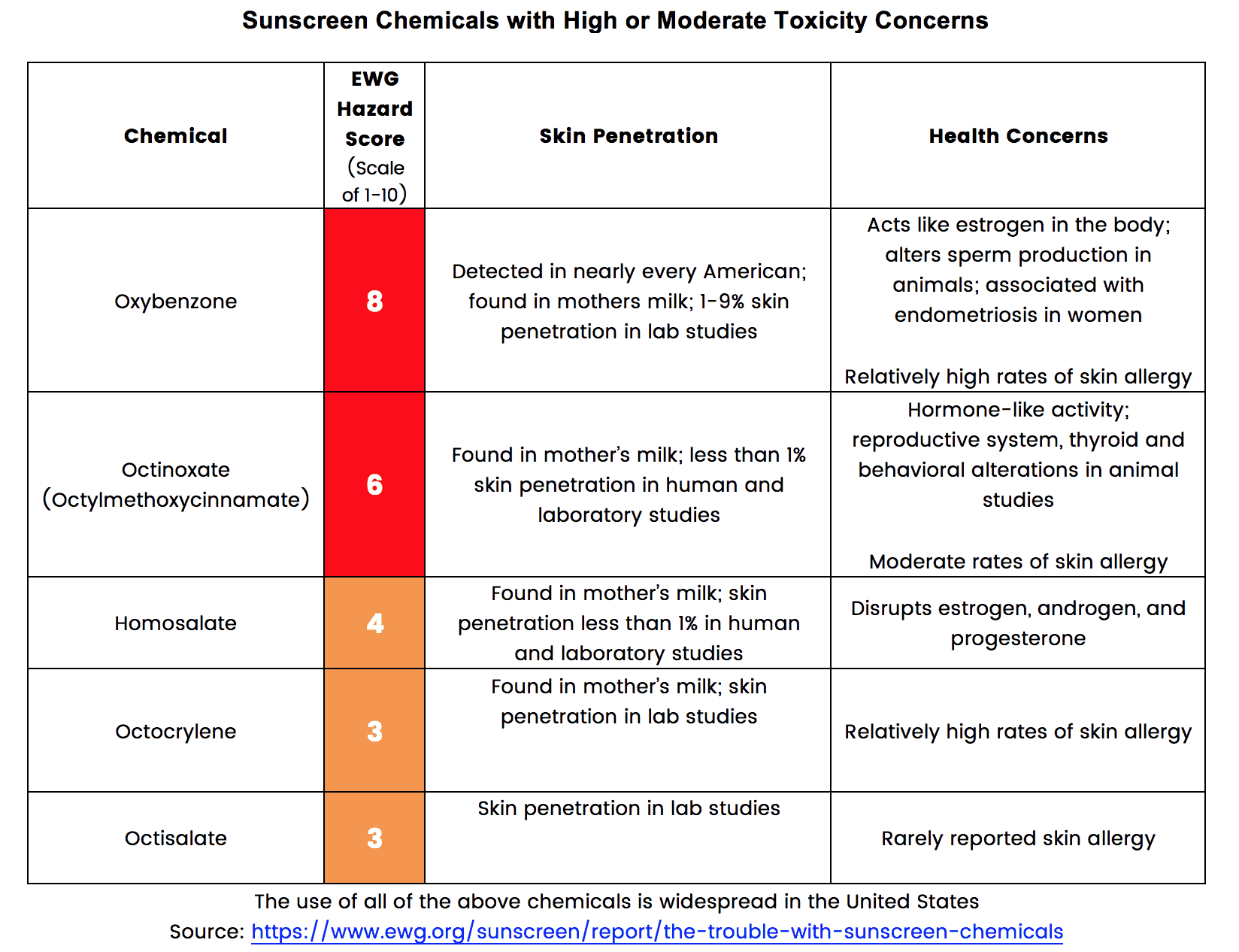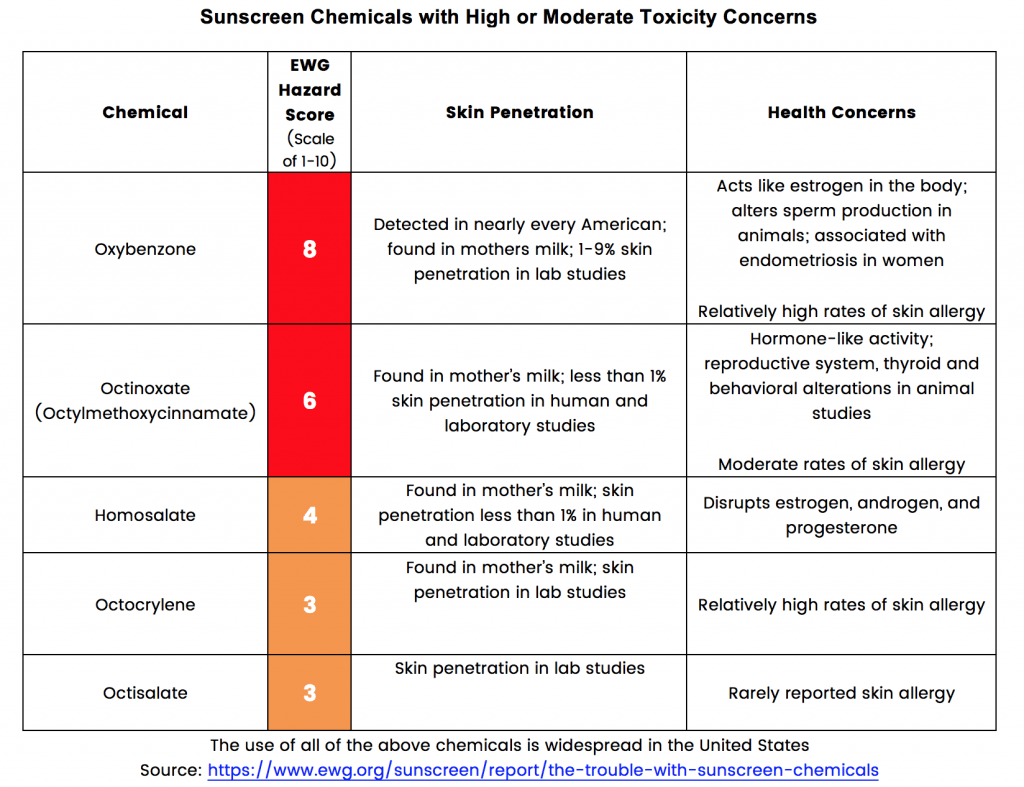 Concerns with Spray Sunscreens
Ok, listen up mamas, you probably love spray sunscreens because they are so easy to use on a squirmy little one, BUT the reality is that spray sunscreens create even more of a concern! When the product is sprayed, toxic particles become easy to breathe in. Children who aren't paying attention (e.g. 99.9% of children) are the most likely to breathe in the fine mist. Research shows that inhaled nanoparticles enter the bloodstream through the lungs. (Not good!)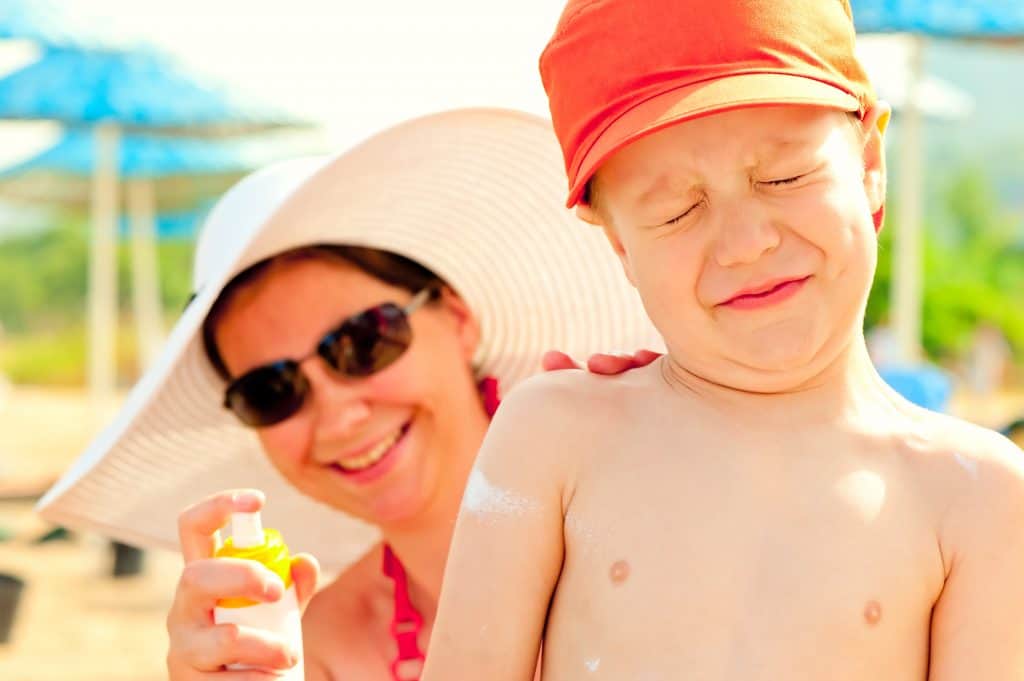 What's a mom to do?
There are a variety of things you can do maintain a healthy relationship between your family and the sun! Sunscreen is just one part of the equation!
Cover Up! Make sure you and your kids wear hats and protective SPF-rated clothing.
Don't spend too much time in the sun – stay indoors when the sun is the most intense.
Enjoy moderate amounts of the sun without sunscreen. This may sound counter-intuitive, but the sun actually helps your body produce Vitamin D! "Optimizing your vitamin D levels may reduce your risk of as many as 16 different types of cancer, including pancreatic, lung, ovarian, breast, prostate, and skin cancers." – Check out this article from Dr. Mercola for more information
Make a DIY Sunscreen with essential oils
Use EWG's "Skin Deep" guide to research sunscreens or download their app "Think Dirty" for the convenience of researching products on the fly. Most stores tend to carry a wide variety of sunscreens with chemical filters and just a couple of options with mineral filters.
The last couple of summers we've used the below products from The Honest Company. The sunscreen stick has a rating from the EWG of a "O" and the cream has a rating of a "2." The stick is thicker and leaves more of a white residue, but it's easy to put on a kid that's wants to get outside ASAP! The cream is not as thick and blends into the skin making the natural tone look slightly lighter.

Honest Purely Simple Sunscreen Stick, Fragrance Free, 0.67 Ounce
The Honest Co. Honest Mineral Sunscreen SPF 50+
Many places sell Honest Company so it was easy to find, but if you're not a fan or want to look into other options check out the EWG guide or the Think Dirty app mentioned in #5 above!
Note: We are a participant in the Amazon Services LLC Associates Program, an affiliate advertising program designed to provide a means for us to earn fees by linking to Amazon.com and affiliated sites. For more information, see my disclosures here.
What's your Risk Tolerance?
We all know that skin cancer is a huge health concern in North America. Many people believe that the benefit of sunscreens outweighs the risks. With that said, there are STILL RISKS! Maybe it's not skin cancer, but who want's to expose their child to hormone disruption, skin allergies, or any risk for that matter.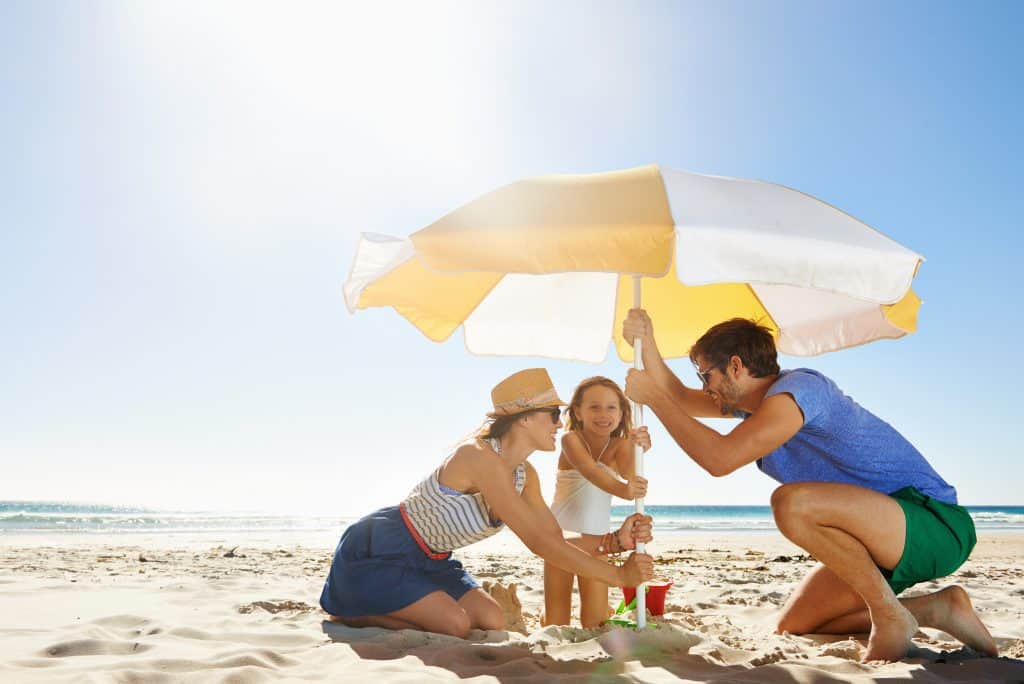 Summer Lovin'
While staying out of the sun is the safest option, let's be real, that ain't gonna happen over the summer with your littles! You can choose the time of day that you're outside and ensure they wear appropriate clothing, but, more than likely, part of your strategy will be to use sunscreen. By taking a simple step of avoiding chemical based sunscreens and using mineral based cream (not spray) sunscreens provide the safest option. Before slathering up your kids or yourself this year, take a few minutes to do some product research to make sure your sunscreens are safe and not toxic!


Free-Bee Resource Library
Enter my
Free-Bee Resource Library
for my latest downloadable files and printables! Password is 'honey' -- please copy and paste that in at the link above. Thanks for being a subscriber!!