Have you ever felt like you it's difficult to balance everything in life without feeling overwhelmed? Maybe you feel like it's a challenge to get everything done in a day both at work and at home. Do you feel like you can never catch up? If you can relate, read on to discover the power of using lists to stop being overwhelmed.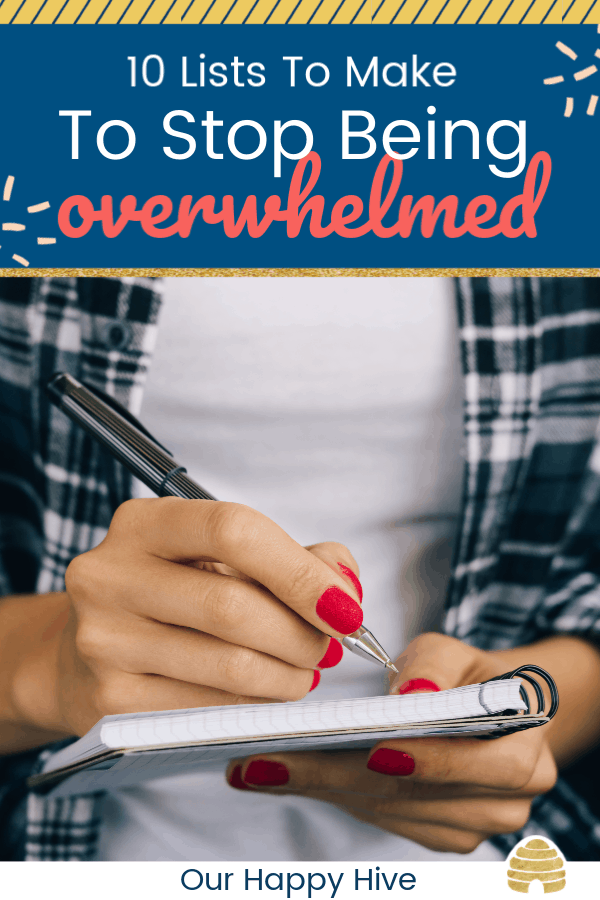 It was 2007, my boss quit. I was one of the youngest on the team and put into the temporary leadership role. I was responsible for a boat-load of work and a team that wasn't excited about a new leader.
Temporarily I reported directly to the Senior Vice President and my in-person time with her was limited. Knowing that I would get just a few minutes, I was always armed and ready to cover the topics that were most important on my to-do list.
Red, Orange, and Yellow streaked across my page- indicating the most important things to cover. My color-coded list was long and detailed. It covered every project my team was working on and helped me to keep track of the current status and outstanding needs. Each item I categorized as High, Medium, and Low priorities with the corresponding colors of Red, Orange, or Yellow.
List making was a hidden strength and it came to my rescue during this season of life. It helped me prioritize tasks, keep track of details, and reduce overwhelm. The same is true in my home life today.
Benefits of List Making
Lists are wonderful tools. They are used in so many different ways, but the benefits are the same regardless! Lists provide a visual and tangible output and can help decrease overwhelm and stress.
Lists help stop overwhelm by
Helping you go from feeling to facts. Lists provide a realistic, un-emotional, and visual output. Instead of feeling like "I have so much to do", you can visually see "oh, I only have 5 things to do." Or, maybe the list shows that you have 50 things to do. Either way, by writing down your list, you can see the real magnitude of what you're trying to accomplish and then create a plan of attack.
Enabling you to prioritize the work. Maybe you had 50 things on your list. Not all 50 are created equally. Some things are "must do now"…while other things are "would like to do soon".
Freeing up mental space. By getting things down on paper, you are able to release the mental space they occupied for other important tasks.
Helping you to stay focused. Instead of going down various rabbit trails, lists help you to remember the task at hand and then what you need to do next. You'll get more done in less time and be more productive!
Helping you communicate with others. If you are going on a vacation and have 101 things to do, by writing the tasks down and sharing the list, you can enroll others in accomplishing the items. You don't have to do everything on the list yourself!
How To Make A Daily To Do List
Let's talk about how to make a basic daily to-do list.
Do a brain dump of all of the things you need to accomplish that day.
Prioritize your list. I typically categorize my tasks into three groups Priority 1 – Must Do, Priority 2 – Should Do, and Priority 3 – Would like to do
Write your list in order of Priority
Do You Struggle with Prioritizing
If you have a hard time prioritizing, I have a tool you can use. Have you heard of the Urgent – Important Matrix? It's also known as the Eisenhower Matrix. Why Eisenhower? Well, President Eisenhower, the 34th President of the United States, developed the grid when he was a commander in the Army. He created the grid to help him with the decisions he needed to make. Others use the grid to help prioritize the things they need to get done.
It's really simple! Take a look at your to-do list and categorize each item by two factors.
Important or Not Important
Urgent or Not Urgent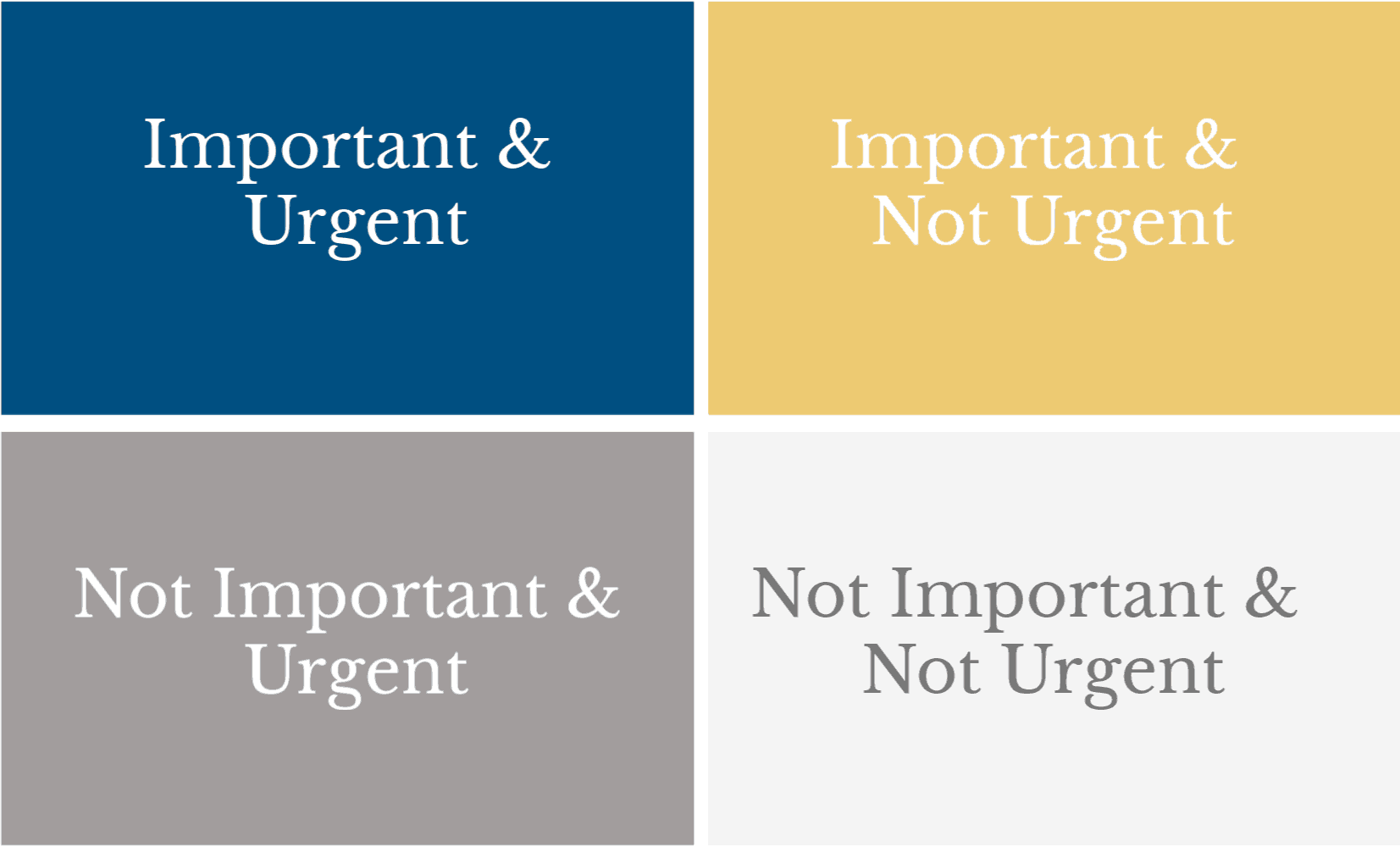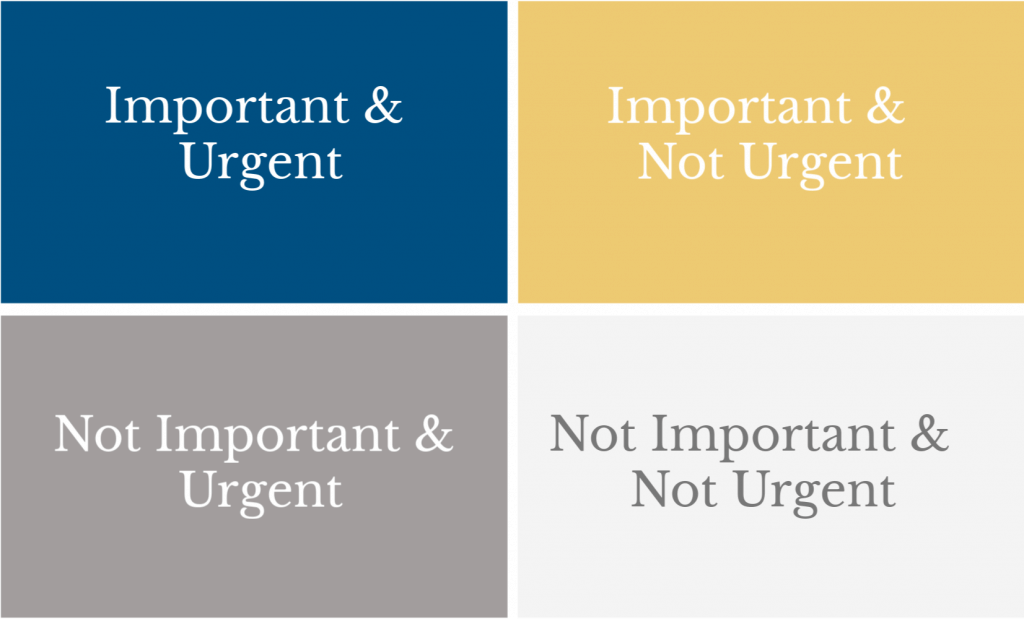 If you need to really zero in on your priorities, focus on the things that are "Important." Your first priorities are the things that are Important & Urgent. This is your "Must Do" list!!! The items that you listed as Not Urgent but Important are your second level priority items. The remaining items are things to either delegate, delay, or eliminate.
In our personal lives, it can be tough to delegate, but maybe these are things you can recruit your spouse or kids to do. Anything that is listed as Urgent & Not Important- these are the things you need to figure out how to stop doing!
The Process Applies to All Types of Lists
The simple process I described about making and prioritizing a to-do list can apply to any type of list. Whether you're making a project list, like I did for work or a list of the things you need to do before you go on vacation, the same process can be applied.
10 Lists To Make To Stop Being Overwhelmed
The simple truth is, lists help us to stop being overwhelmed. There are many lists you can make and use on a weekly basis and other's you'll only need for special events. Below are the top 10 lists to help reduce stress and overwhelm!
To Do List
Stop Doing List
Weekly Meals
Grocery list
Bills To Pay + Due Date
Cleaning list
Chore list
Appointments to make
Things to pack
Food for an important event (e.g. Christmas etc)
If you're tired of being overwhelmed and want to make a change, try making one of these lists. Remember to do your brain dump, prioritize the items, then start tackling the tasks. Lists help you prioritize, stay focused, and clear mental space. Best of all, you can use lists to stop being overwhelmed!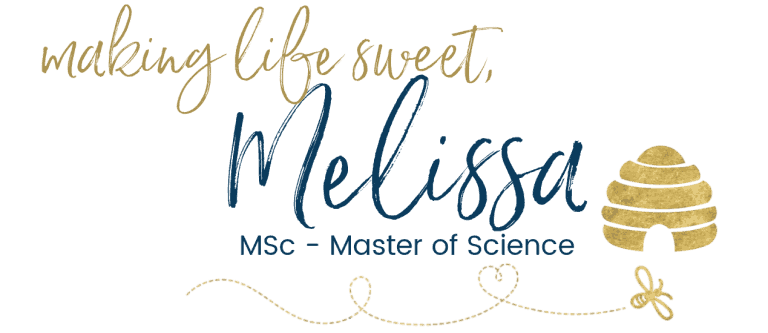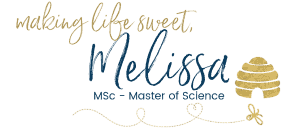 Looking For More Inspiration? Check Out These Posts:
Free-Bee Resource Library
Enter my
Free-Bee Resource Library
for my latest downloadable files and printables! Password is 'honey' -- please copy and paste that in at the link above. Thanks for being a subscriber!!