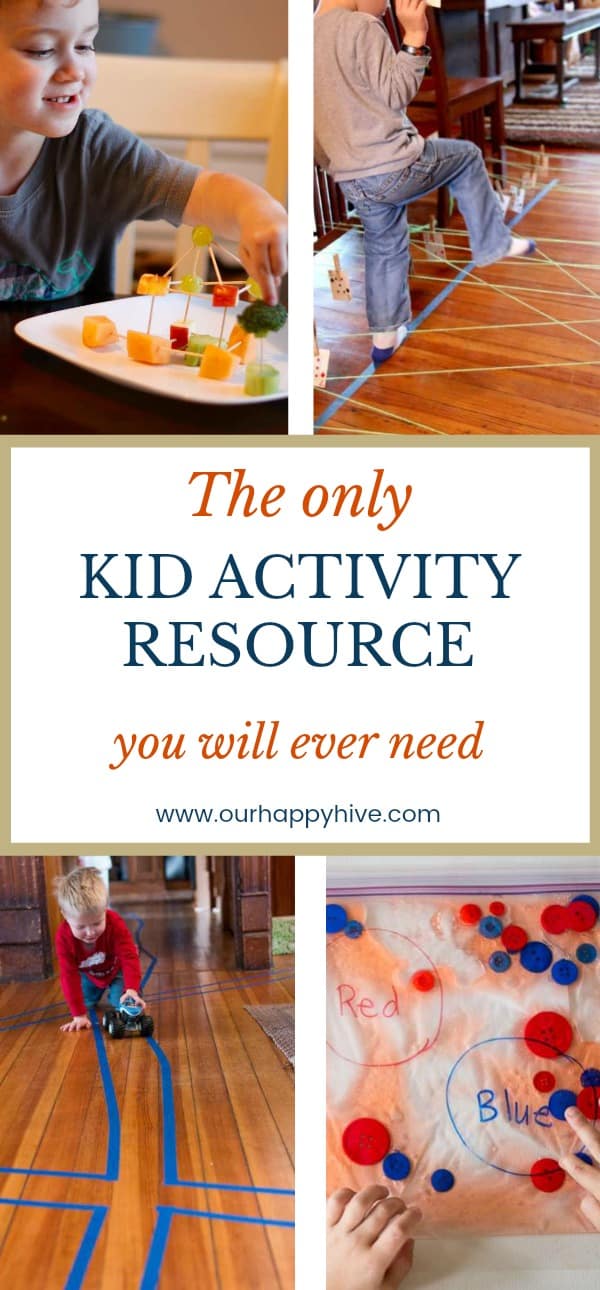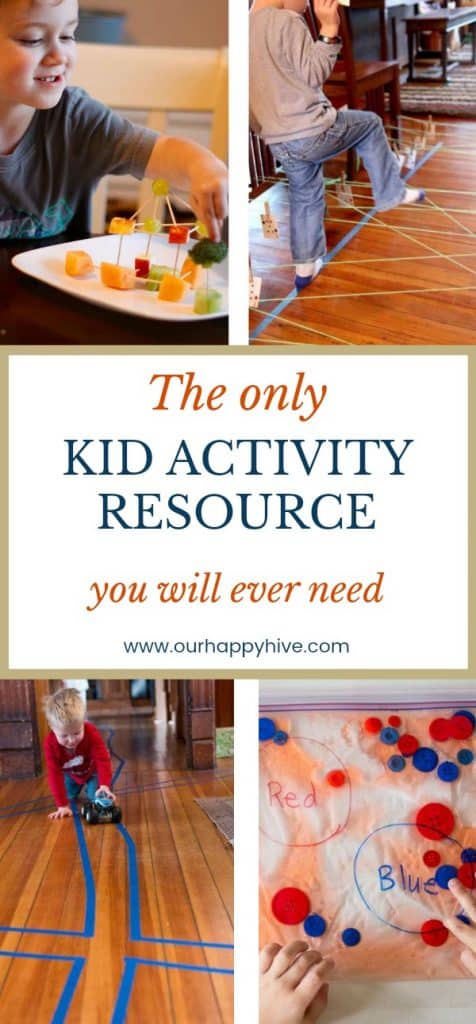 Do you struggle with finding practical ideas of things to do with your busy toddlers or curious preschoolers? Maybe you look to Pinterest, but the kid activities you come across are extravagant or you don't have the materials on hand. You might fit into the camp that doesn't have time to search for fun, interesting, and engaging activities to do with your kids, but you crave to have those go-to hands on activities to do with your littles. I have a wonderful kid activity resource to share with you! It's called "Hands On As We Grow"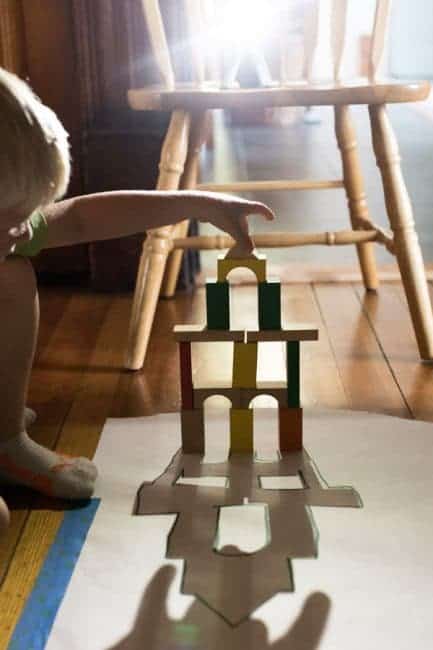 This post contains affiliate links. For more information, see my disclosures here.
What is Hands On As We Grow?
Hands On As We Grow offers simple, stress-free activities that bring your family closer. It is all about learning to do hands on activities with your kids. They share lots of practical and easy kid activities on their website and delivered straight to your Inbox every week. You'll find crafts, art projects, gross motor activities, and fine motor activities regularly on the blog.


My Experience With This Kid Activity Gold Mine

When Little Miss E was a toddler, I really struggled with finding kid activities that were age appropriate and that I could do on the spur of the moment. I work part time and am a SAHM (stay-at-home-mom) the rest of the time. (notice I didn't describe SAHM as part time – those hours don't exist in this role!) Having one foot in both worlds, I felt like I didn't have time to do some of the well thought-out and creative activities or even play dates for that matter that the full-time SAHMs could do. I still wanted to do fun things with my kids, but needed something that was already half-way there. Where the thinking and planning was already done and all I had to do was execute. That's when I came across "Hands On As We Grow." Jamie has done most of the legwork for you.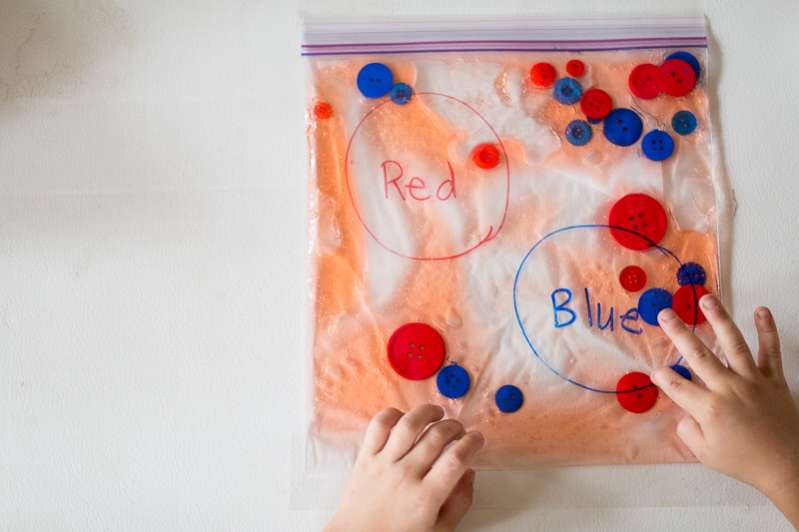 You will find things Like…
Jamie has lots of great kid activities ideas on her blog, which was where I started, but I loved it so much, that I went ahead and purchased a couple of her eBooks. In her eBooks she provides 5 weeks of activities for a specific age group. She provides a supply list, a weekly guide with a simple but fun activity for each day, and blank templates for you to do your own planning. Her eBook also includes a Go-To List. You can print off and reference if you want to swap out one of the pre-planned activities or if you have a lull in your day and need to engage the kids in a different way.
"The Activity Room"
The eBook only has 5 weeks of ideas included, but Hands On As We Grow also provides a monthly subscription option called "The Activity Room."
The Activity Room is an online monthly program that delivers activities, designed just for toddlers and preschoolers, to you every week. It's best suited for parents of kids aged 18 months to 5 years old, and includes variations for the specific age of your child. The Activity Room makes it easy for you to be present with your kids as you bring the family together.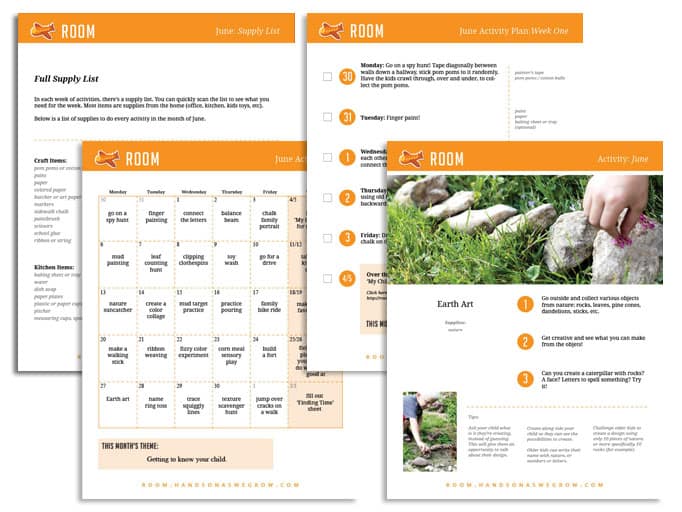 As A Member of The Activity Room
Each month you'll receive:
Monthly activity calendar comprised of "doable" activities for your toddler or preschooler, with supplies you have on hand
Supply list for the full month. You should have most of these on hand. But just to be certain, they've made it easy for you to check the list and grab the few things you'll need at the store – so you're ready for the whole month.
Weekly email with each week's activity plan supply list so you can easily gather up everything you need and be ready for the week!
Access to a private Facebook group to connect with other members of The Activity Room to help inspire, motivate and keep on track.
Monthly themes designed to help you become a better parent and bring your family together.
Our Happy Hive Readers Discount
Hands On As We Grow, has offered my readers a Free 7 Day Activity Challenge as well as 60% off of their popular Early Years Bundle of Activity Plans! Woo Hoo!!! Who doesn't love a discount?!? While you're there, you should definitely look into The Activity Room, their monthly option that comes straight to you!
This post contains affiliate links. For more information, see my disclosures here.
Try the FREE 7 Day Activity Challenge


Get 60% off of the Early Years Bundle of Activity Plans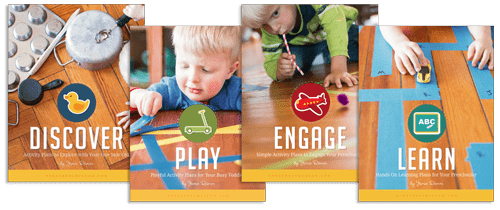 Check out "The Activity Room" for only $9 a month




Free-Bee Resource Library
Enter my
Free-Bee Resource Library
for my latest downloadable files and printables! Password is 'honey' -- please copy and paste that in at the link above. Thanks for being a subscriber!!