Inside: Discover the secret to a clutter-free haven! Learn how daily home routines transform chaos into order, reducing stress and boosting productivity. Embrace expert tips for tidiness today!"
Imagine a life where the morning frenzy is replaced by a peaceful start, and the clutter that once ruled your home is banished for good. It's not a distant dream but is totally possible through the power of daily home routines. These routines are your secret weapon—a way to eliminate clutter, streamline tasks, and infuse serenity into every corner of your home. Whether you're a busy parent juggling responsibilities or a professional seeking solace, these quick daily tidying habits will prevent clutter and provide daily organization. Get ready to declutter, destress, and rediscover the harmony your home truly deserves.
The Problem with a Lack of Routines
Last summer was quite the challenge! I'd wake up and find my 5-year-old and 8-year-old kids at it again, squabbling over the remote or who gets the best spot on the couch. It was like a daily wrestling match! My husband and I were just craving a bit more sleep and a peaceful summer, but the absence of our usual routines turned it into a never-ending struggle.
We were in dire need of a change, and the answer came in the form of more structure and new routines. And believe me, it's not only about kids and families—this applies to all of us and how we manage our homes. Especially when it comes to preventing clutter and maintaining tidiness!
Meet Sarah: A Cluttered Chaos
Sarah is missing out on the magic of daily home routines to keep her home organized. She tends to do things spontaneously without any consistent schedule. This leaves her feeling overwhelmed and stressed because there's always something demanding her attention, and she's uncertain where to start.
Imagine this: a sink piled high with dishes she's been putting off for days, heaps of laundry accumulating because she lacks a specific laundry day, and kitchen counters drowning in mail, magazines, and other items she hasn't taken the time to sort through. Sarah is caught in a whirlwind, and it's causing her a lot of stress.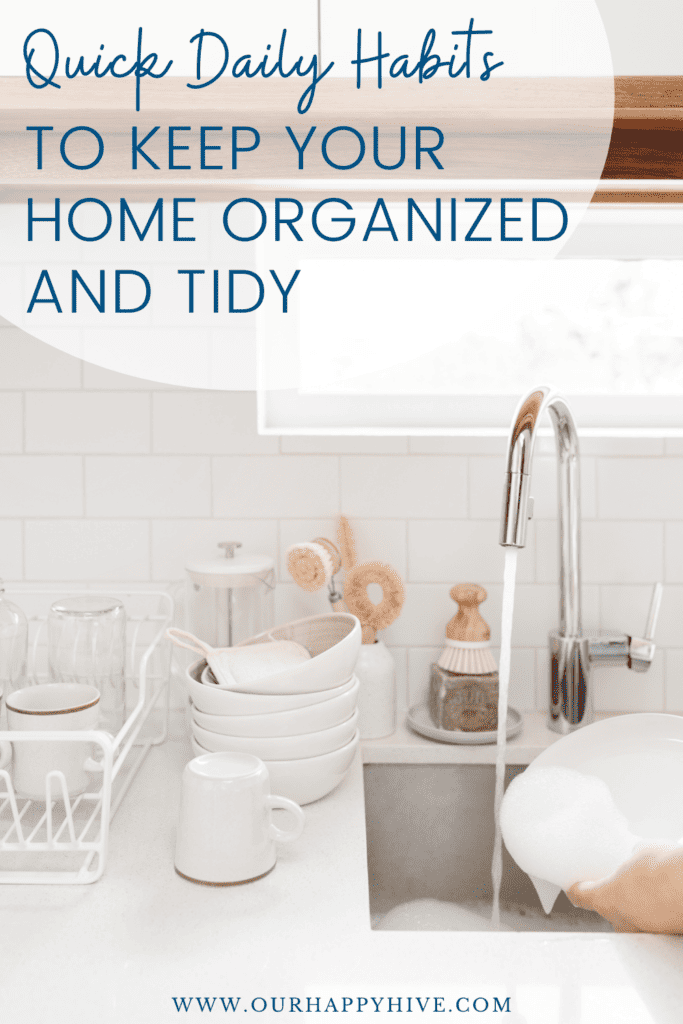 Why Routines Matter for Clutter Prevention and Home Organization
But here's the silver lining: routines can be a game-changer for home organization and clutter management. Here's why having routines at home matters:
1. Efficiency: Routines supercharge your productivity. When you have established routines for household tasks, you can tackle them quickly without constantly wondering what's next. This leads to greater productivity and smarter use of your time.
2. Consistency: Routines bring much-needed predictability. With a set routine, you can plan your days without the worry of surprises, reducing stress and uncertainty.
3. Organization: Routines are like your anti-clutter armor. When you follow routines, tasks get done regularly, which prevents clutter from taking over and ensures everything has its place.
4. Accountability: Routines help you stick to your commitments. When you have routines in place, you're more likely to follow through and accomplish what you set out to do.
Golden Routines to Adopt for Clutter Prevention and Home Organization
Ready to transform your home organization game with daily routines for a clutter-free home? Here are some golden routines to adopt:
Taming Clutter with 4 Daily Home Routines:
1. Wind Down: Carve out a specific time each day, preferably before bedtime, to quickly tidy up your main living areas. Put away items that are out of place.
2. Mail Magic: Create a designated area for incoming mail and tackle it daily. Dispose of unwanted mail immediately using a nearby recycling bin.
3. Drop Zone Power: Designate a "drop zone" near your home's entrance for shoes, bags, and jackets. Regularly sort through these items and return them to their rightful spots.
4. Food Check: Regularly check pantry and fridge items for expiration dates. Discard expired or spoiled food to keep your kitchen organized.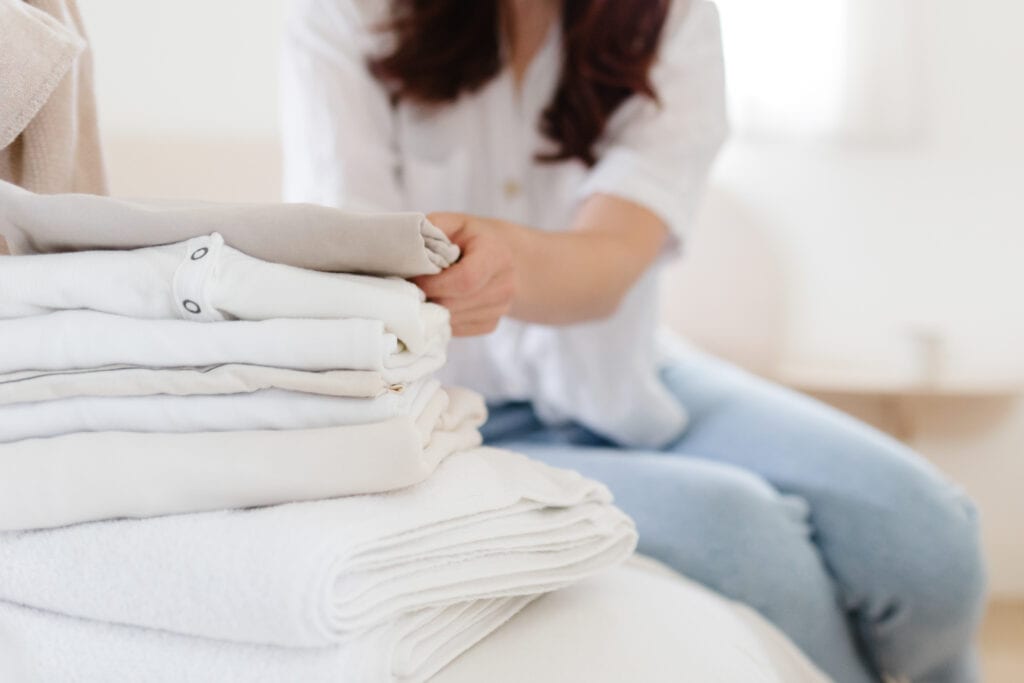 Keeping it Clean with 4 Daily Home Routines:
1. Dish Duty: Make washing dishes after meals a routine. Wipe down surfaces and put away kitchen tools and appliances used during meal prep.
2. Laundry Love: Develop a system for sorting, washing, and folding laundry on a regular basis. This may involve doing a load of laundry each day, or designating specific days of the week for laundry tasks. Make sure to also put away clean laundry promptly to avoid clutter.
3. Clean Sweep: Create a cleaning schedule for deep cleaning tasks like vacuuming and dusting. Stick to the schedule for an organized home.
4. Bedtime Bliss: Establish a nightly routine to prepare for the next day. This could include organizing, setting out clothes, and clearing remaining clutter. A little effort each night leads to smoother mornings.
The Transformation: Sarah's Success Story with Daily Home Routines
Now, imagine Sarah embracing these routines. A remarkable transformation! Check out how her life could change:
1. Chill Vibes: Stress levels plummet. With routines, she's free from constant worry about tasks. She knows when things will be done.
2. Getting Stuff Done: Sarah becomes a task-master. Routines mean less time on chores and more on things she enjoys.
3. Clean and Clear: Dishes and laundry are no longer piling up. Sarah's home looks and feels organized.
4. Me Time: Sarah's routines include self-care. Balancing her well-being boosts her energy, productivity, and focus.
Getting Started: Your Turn to Embrace Daily Home Routines
By adopting these simple routines, Sarah's quality of life gets a major upgrade. Less stress, more productivity, and a newfound sense of control over her daily routine.
Ready to dive in? Don't feel pressured to take on all 8 routines at once. Start small—pick 1 or 2 that resonate with you. Here's how:
Spot the Stressors: Identify the areas causing you the most stress. It might be laundry, the entryway, or kitchen clutter.
Make it Tiny: Break down tasks. For example, maybe you want to make your bed daily, but are struggling. Start by just pulling up the sheets and comforter. Once you're in the habit with that, add in arranging the pillows. No task is too small…your goal is to just get started!
Set the Schedule: Decide how often you'll tackle each task and create a schedule. Maybe laundry twice a week and nightly kitchen cleanups?
Check It Off: Make a checklist. Crossing things off feels great and keeps you on track.
So there you have it, your ticket to a clutter-free haven and a calmer you. It's not just about cleaning up – it's about creating a home that inspires peace of mind. Armed with these daily routines, you're not just taming clutter, you're reclaiming your space and sanity. So it's time for you to dive in, one routine at a time, and watch the transformation unfold. Your home, your haven, and your peaceful retreat await!